Connected Enterprise Market Statistics: 2030
The global connected enterprise market size was valued at $267.74 billion in 2020, and is projected to reach $3,167.62 billion by 2030, growing at a CAGR of 28.4% from 2021 to 2030.
In the wake of COVID-19 pandemic, the connected enterprises have prevented a significant downfall of the economy as the customers demand was to shop and buy digitally. However, while most nations' economies fell during the pandemic, the digitization of the enterprises has limited the damage on the economy. Thus, this was the economic impact on connected enterprise providers.
A connected enterprise not only monitors equipment, but also links them to all of the company's critical hubs, enabling predictive analytics and deeper insight in real time. Businesses get a competitive edge over their competitors by using connected enterprise as it makes their operations faster and attracts customers by offering more advanced services. In addition, it enables businesses to gain advantage of getting more customers since customers prefer more technologically advanced services at relatively low cost.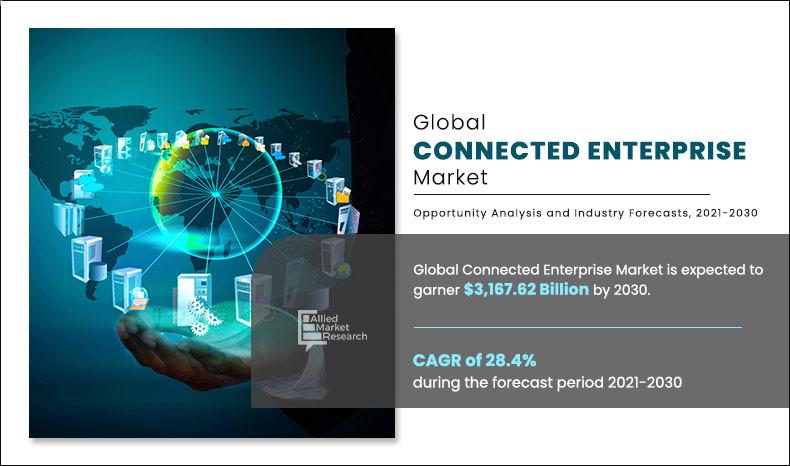 The energy & utility business has been urged to embrace connected devices as smart city programs have grown in popularity. For example, a rule from the European Union mandates that by the end of 2020, all EU member states have installed smart power meters in 80% of their households. Countries are progressively embracing smart metering technologies as a result of such advances, which is further driving the connected enterprise market growth. However, low technological skills and use of unreliable and improper devices is restraining the growth of the market. On the contrary, developing economies offer significant opportunities for connected enterprise companies to expand their offerings, owing to factors such as increasing adoption of digital platforms by the companies, rise in penetration of smartphones, and others. Moreover, growth in developments & initiatives toward digital technologies is anticipated to provide a potential growth opportunity for the market. 
The report focuses on growth prospects, restraints, and trends of the connected enterprise market analysis. The study provides Porter's five forces analysis to understand the impact of various factors such as bargaining power of suppliers, competitive intensity of competitors, threat of new entrants, threat of substitutes, and bargaining power of buyers on the connected enterprise market outlook.
Segment review
The global connected enterprise market is segmented on the basis of offering, type, end user, and region. By offering, the market is differentiated into solutions and services. By services, it is differentiated into professional services and managed services. Depending on type, it is fragmented into manufacturing execution system, customer experience management, enterprise infrastructure management, asset performance management, remote monitoring system and others. The end user covered in the study includes Manufacturing, IT and Telecommunication, Retail and E-commerce, BFSI, Healthcare, Energy and Utility, and Others. Region wise, the market is analyzed across North America, Europe, Asia-Pacific, and LAMEA.
The key players operating in the global connected enterprise market include Accelerite, Bosch GmbH, Cisco Systems, GE Digital, Honeywell International Inc., IBM, MindTree Ltd., PTC, Rockwell Automation, Inc. and UiPath. These players have adopted various strategies to increase their market penetration and strengthen their position in the connected enterprise industry.  
COVID-19 impact analysis
The spread of the coronavirus has ushered in a technological revolution in healthcare. Furthermore, the good outcomes of implemented automation solutions have pushed businesses to migrate to a completely automated environment, which is expected to fuel demand for the connected enterprise industry. Moreover, businesses have been pushed to transition to a fully automated environment due to the positive consequences of automation solutions that have been adopted. This, in turn, has become one of the major growth factors for the connected enterprise market during the global health crisis.
Connected Enterprise Market

---
By Component
Solution segment accounted for the highest market share in 2020.
Top impacting factors
Increasing need of automation and cloud computing across industries
In order to transform the company processes, improve consumer experiences, and quickly respond to emerging risks and opportunities, companies are turning to digital technology. In addition, industry partnerships using linked technology and are gaining popularity as a means of increasing agility, productivity, and business process management. For instance, in October 2021, Tata Motors, an Indian multinational automotive manufacturer and Microsoft India, a subsidiary of Microsoft Corporation, announced a strategic partnership to give Indian consumers with connected and customized driving experiences.
Moreover, the increasing demand for better customer services and automated processes is driving the growth of the market. Furthermore, organizations are seeking new and creative methods to set themselves apart from their competition and resist threats from newcomers. Connected solutions are becoming more popular as a way to generate new income streams and increase profit margins. Thus, the increasing need of automation and cloud computing across industries is propelling the growth of the market.
Connected Enterprise Market

---
By Type
Manufacturing execution system segment accounted for the highest market share in 2020.
Businesses increasingly relying on digital methods
Automation allows a business to operate at peak efficiency, saving time, energy, and money while also enhancing overall production. In addition, because of its flexibility, cloud computing is proven to be a catalyst for developing IoT activities among businesses. Additionally, clouds have largely addressed the challenge of data management, allowing connected devices in an organization to store their data directly in the cloud, allowing for analytics and decision-making. Moreover, the low costs of cloud systems and with greater fluency in cloud operations, the businesses are managing their operations and budgets significantly. Furthermore, it provides businesses with a comprehensive view of end-to-end enterprise operations and organizations are able to make quick, optimal decisions that lead to profitable outcomes. Thus, the increasing adoption of cloud computing in businesses is fueling the growth of the market.  
Technological advancements on digital platform
The advancements in technology such as integration of artificial intelligence (AI) and machine learning (ML) is expected to provide boost to the growth of the market. For years, artificial intelligence and machine learning have been gaining momentum in the computer world. Small company owners will continue to use these technologies into new and current processes as these technologies are integrated into additional solutions in connected enterprises industry. Moreover, the introduction of 5G connectivity is anticipated to provide better digital performance of the businesses. This development is a significant step forward in the development of the internet of things (IoT), since 5G networks are better equipped to handle the surge of linked smart gadgets. Thus, the technological advancements on digital platform are expected to provide lucrative opportunities for the market to grow. 
Connected Enterprise Market

---
By Region
Asia-Pacific would exhibit the highest CAGR of 31.4% during 2021-2030
Key Benefits For Stakeholders 
The study provides in-depth analysis of the global connected enterprise market share along with current trends and future estimations to illustrate the imminent investment pockets.
Information about key drivers, restrains, and opportunities and their impact analysis on the global connected enterprise market size are provided in the report.
The Porter's five forces analysis illustrates the potency of buyers and suppliers operating in the connected enterprise market.
An extensive analysis of the key segments of the industry helps to understand the connected enterprise market trends.
The quantitative analysis of the global connected enterprise market forecast from 2021 to 2030 is provided to determine the market potential. 
 Connected Enterprise Market Report Highlights
Aspects
Details
By Offering

Solutions
Services

Professional Services
Managed Services

By Type

Manufacturing Execution System
Customer Experience Management
Enterprise Infrastructure Management
Asset Performance Management
Remote Monitoring System
Others

By End User

Manufacturing
IT & Telecommunication
Retail & E-commerce
BFSI
Healthcare
Energy and Utility
Others

By Region

North America (U.S., Canada)
Europe (Germany, UK, France, Italy, Spain, Rest of Europe)
Asia-Pacific (China, Japan, India, Australia, South Korea, Rest of Asia-Pacific)
LAMEA (Latin America, Middle East, Africa)

By Key Market Players

Accelerite
Bosch GmbH
Cisco Systems
GE Digital
Honeywell International Inc.
IBM
MindTree Ltd.
PTC
Rockwell Automation, Inc.
UiPath