Connector Market Research, 2032
The global connector market was valued at $83.2 billion in 2022, and is projected to reach $177.7 billion by 2032, growing at a CAGR of 7.9% from 2023 to 2032.
Connector can be defined as a device or component that is used to join electrical or electronic circuits together. Connectors can vary widely in terms of their size, shape, design, and they can be used in a variety of different applications, such as automotive, aerospace, telecommunications, and consumer electronics industries.   Connectors can be classified into different types on the basis of their design and application, such as circular connectors, rectangular connectors, network connector, housing connector, board-to-board connectors, and wire-to-board connectors. In addition, RCA cable connectors are being used in speakers and gaming headphones, which has increased the sales of RCA cable connectors. They can be differentiated on the basis of their performance characteristics, such as their voltage and current ratings, their contact resistance, and their durability & reliability. Connectors play a crucial role in the functioning of many electronic and electrical systems, as they allow different components to communicate with each other and transfer signals or power.
The connectors market refers to the industry that designs, manufactures, and sells connectors for use in various applications. This market includes connectors used in a wide range of industries, such as aerospace, automotive, consumer electronics, industrial automation, and telecommunications. As a result, the connectors market is a highly competitive and dynamic industry, with numerous manufacturers and suppliers offering a wide range of products to meet the needs of various industries and applications.
The impact of COVID-19 on the connectors market has been mixed, with some sectors experiencing a decline in demand, while others have seen an increase. However, with the ongoing vaccination programs and easing of restrictions in many parts of the world, the connectors market is expected to recover during the forecast period.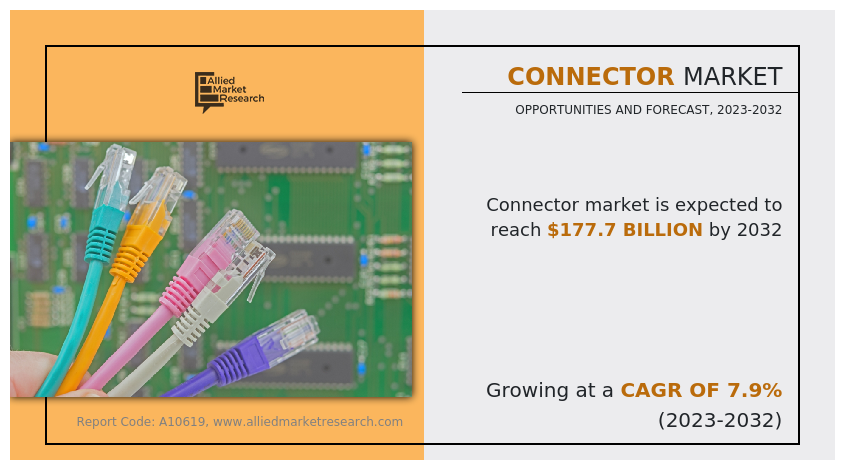 The connector market is segmented into Product and End User.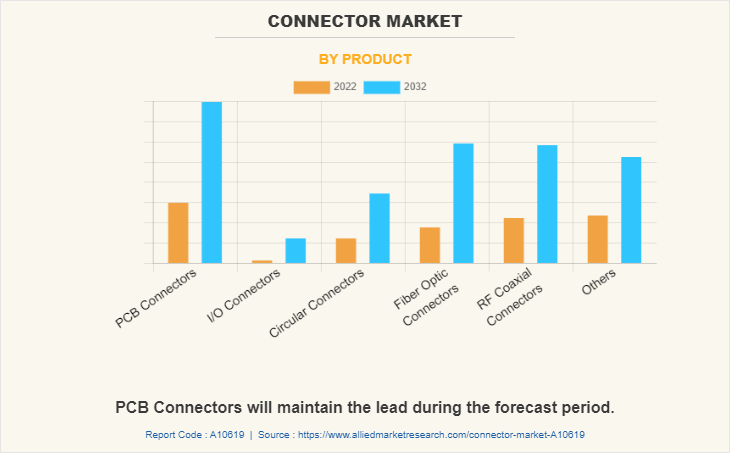 By product type, the market is divided into PCB connectors, I/O connectors, circular connectors, fiber optic connectors, RF coaxial connectors, and others. PCB Connectors will maintain the lead during the forecast period.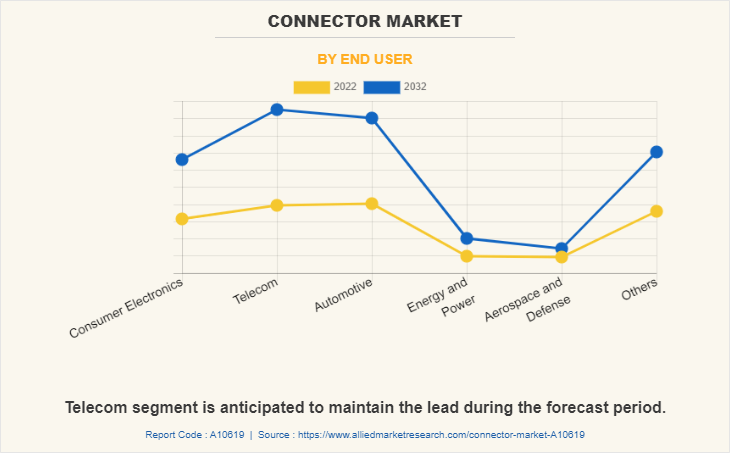 By end user, the market is segregated into consumer electronics, telecom, automotive, energy & power, aerospace & defense, and others. Telecom segment is anticipated to maintain the lead during the forecast period.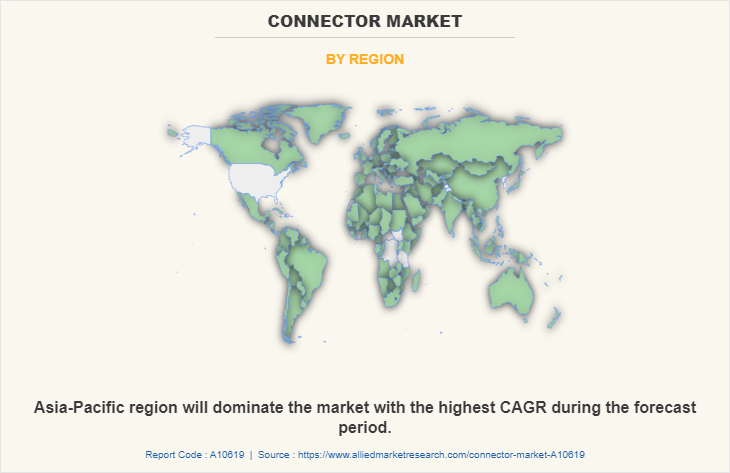 Region-wise, the connector market trends are analyzed across North America (the U.S., Canada, and Mexico), Europe (UK, Germany, France, Italy, and the rest of Europe), Asia-Pacific (China, Japan, India, Australia, and the rest of Asia-Pacific), and LAMEA (Latin America, the Middle East, and Africa). Asia-Pacific, specifically the China region, remains a significant participant in the global Connector industry. Major organizations and government institutions in the country are intensely putting resources into this industry.
Country Analysis
Country-wise, the U.S. acquired a prime share in the connector market in the North American region and is expected to grow at a significant CAGR during the forecast period of 2023-2032. The US is a significant player in the global connectors market. The country has a well-established electronics industry, which drives the demand for connectors. In addition, the increasing demand for high-speed connectivity and data transfer is expected to drive the demand for high-performance connectors. Overall, the US connectors market is expected to remain a significant contributor to the global connectors market in the coming years.
In Europe, the rest of Europe, dominated the Connector market share, in terms of revenue, in 2022 and is expected to follow the same trend during the forecast period.  The connectors market in the rest of Europe is a significant and growing industry, with demand driven by a range of industries and applications. Europe is home to several leading connector manufacturers, who offer a wide range of connector solutions for various applications. The telecommunications industry is a significant market, with demand for connectors for fiber-optic networks, data centers, and mobile devices.
In Asia-Pacific, China is expected to emerge as a significant market for the connector industry. Connectors are widely used in various applications in China, including electronics, automotive, aerospace, telecommunications, and industrial equipment. They play a crucial role in enabling reliable and efficient connectivity between different systems and components and are essential for the smooth operation of many types of equipment and devices. For instance, in April 2023, Tesla announced the launch of its CyberVault wall connector. This product is specially designed for Chinese customers to keep the charging cable with its connectors in the vault. Thus, such upcoming product launch and development in the region is anticipated to help propel the connector market during the forecast period.    
In the LAMEA region, Latin America countries garner significant market share in 2022 due to rise in initiatives to increase connectivity in rural areas is anticipated to provide lucrative opportunities for expansion of the Latin America connectors industry during the forecast period. Rural communities have suffered gradual depopulation for years, as the opportunity gap between rural and urban areas widens. Digitalization and connectivity can help reverse this trend as it offers many opportunities. Governments in developing nations of Latin America are investing heavily on connecting rural and remote areas to facilitate them with internet connection. Thus, above mentioned factors will help propel the connectors market in the region during the forecast period.
Top Impacting Factors
The connectors market has experienced growth due to various factors. One of the primary drivers is increase in demand for high-speed connectors,network connectors and housing connectors which is fueled by the need for advanced communication infrastructure to support digitalization. This has resulted in significant investments in advanced technologies, particularly in developed and developing nations, leading to the development of new high-speed connectors. In addition, the adoption of smart technologies in the automotive industry and rise in investments in defense and submarine cables support the growth of the high-speed connector market. However, the complex fault detection and error removal process caused by underwater earthquakes can hinder market growth. Nevertheless, the market presents several opportunities, particularly with the growing number of data centers. As companies increasingly rely on data centers for their operations, the demand for connectors is expected to increase.
Competitive Analysis
The global connector market size is highly competitive, owing to the strong presence of existing vendors. Vendors of the Connector market with extensive technical and financial resources are expected to gain a competitive advantage over their competitors because they can cater to market demands. The competitive environment in connector market growth is expected to increase as branding, new product development, innovation, contract, collaboration, acquisition, product launch, expansion and different strategies adopted by key vendors increase. Competitive analysis and profiles of the major global connector market players that have been provided in the report include 3M, ABB Ltd., Ametek Inc., Amphenol Corporation, Aptiv PLC, Foxcon (FIT), Hirose Electric Co. Ltd., HUAWEI TECHNOLOGIES CO. LTD, Japan Aviation Electronics Industry Ltd., J.S.T. MFG. CO., LTD., Koch Industries Inc., Luxshare Precision Industry Co., Ltd., NEXANS, PRYSMIAN S.P.A., TE Connectivity Ltd., and Yazaki Corporation.
Key Developments/ Strategies
According to the latest Connector market forecast, TE Connectivity, Amphenol Corporation, Koch Industries, Inc. (MOLEX), Luxshare Precision Industry Co., Ltd., and Aptiv PLC are the top 5 key players in the Connector market. Top market players have adopted various strategies, such as branding, new product development, innovation, contract, collaboration, acquisition, product launch, and expansion to expand their foothold in the connector market.
In March 2023, Amphenol offered a reverse bayonet coupling connector that is easy to install in the field, making maintenance effortless. The GTC-E Series, which is based on Amphenol's GT Reverse Bayonet Coupling Connector Series, is ideal for use in rail and mass transit, heavy equipment, machine tools, and factory automation applications. This connector features a UL94-V0 hard plastic insert, and an easy-to-install and easy-to-remove crimp contact that uses industry standard crimp tooling to make on-site repairs and maintenance simple.
In March 2023, Hirose Electric released the IT14 Series, a hermaphroditic board-to-board connector that supports up to 112Gbps PAM4 transmission speed.
In January 2022, TE Connectivity (TE) launched DBAS 9 connector. In the severe environments of military and space applications, the DBAS 9 connector is specifically intended to enable increased configuration choices, enabling additional design freedom.
Key Benefits For Stakeholders
This report provides a quantitative analysis of the market segments, current trends, estimations, and dynamics of the connector market analysis from 2022 to 2032 to identify the prevailing connector market opportunities.
The market research is offered along with information related to key drivers, restraints, and opportunities.
Porter's five forces analysis highlights the potency of buyers and suppliers to enable stakeholders make profit-oriented business decisions and strengthen their supplier-buyer network.
In-depth analysis of the connector market segmentation assists to determine the prevailing market opportunities.
Major countries in each region are mapped according to their revenue contribution to the global market.
Market player positioning facilitates benchmarking and provides a clear understanding of the present position of the market players.
The report includes the analysis of the regional as well as global connector market trends, key players, market segments, application areas, and market growth strategies.
 Connector Market Report Highlights
Aspects
Details
Market Size By 2032
USD 177.7 billion
Growth Rate
CAGR of 7.9%
Forecast period
2022 - 2032
Report Pages
297
By Product

PCB Connectors
I/O Connectors
Circular Connectors
Fiber Optic Connectors
RF Coaxial Connectors
Others

By End User

Consumer Electronics
Telecom
Automotive
Energy and Power
Aerospace and Defense
Others

By Region

North America (U.S., Canada, Mexico)
Europe (UK, Germany, France, Italy, Rest of Europe)
Asia-Pacific (China, Japan, India, Australia, Rest of Asia-Pacific)
LAMEA (Latin America, Middle East, Africa)

Key Market Players
Hirose Electric Co., Ltd., Ametek Inc., ABB Ltd., Aptiv PLC, TE Connectivity, Foxconn Interconnect Technology Limited (FIT), Japan Aviation Electronics Industry Ltd., Amphenol Corporation, 3M, Luxshare Precision Industry Co., Ltd., Prysmian S.p.A., J.S.T. Mfg. Co., Ltd., Koch Industries, Inc. (MOLEX), Nexans, Huawei Technologies Co. Ltd.
Analyst Review
According to insights from the CXOs of leading companies, the global connector market is expected to grow significantly over the coming years, driven by the rise in demand for electronic devices and automation across various industries. The market is expected to benefit from the rise of advanced technologies such as the Internet of Things (IoT) and Industry 4.0.
In addition, the connector market is expected to face challenges related to cost and competition due to increase in pressure to reduce costs and improve efficiency while maintaining high quality standards. The market is anticipated to be affected by factors such as change in regulations, political instability, and economic downturns.
To remain competitive in the connector market, key players are focusing on introducing technologically advanced products. In addition, prominent strategies adopted by market players include product launches, acquisitions, partnerships, and expansion. In 2022, Asia-Pacific accounted for a major share of the market, which can be attributed to the presence of major players in the region. The region is expected to exhibit the highest compound annual growth rate (CAGR) due to the increasing adoption of connectors in various fields. Overall, the connector market is expected to continue to grow and evolve over the coming years, driven by a range of technological and market trends.