Consent Management Market Statistics: 2030
The global consent management market size was valued at $318.3 million in 2020, and is projected to reach $2,271.1 million by 2030, registering a CAGR of 21.9% from 2021 to 2030. Consent management platform (CMP) is an Application Type that helps user collect and handle personal information in a GDPR compliant way. It helps gain insight into the personal data lifecycle from the moment of opt-in to the data removal, enabling to track, monitor, and respond to the data subject's request and consent preferences.
Growing concern of data privacy globally has resulted in the adoption of strict initiatives and regulations that provide more focus on data storage and protection within local country servers. Similar to the European Union's General Data Protection Regulation (GDPR), major countries within Asia are also adopting similar rules, thereby putting privacy as the top priority.
In 2020, the global consent management market share was dominated by the software segment, and is expected to maintain its dominance in the coming years. Digital disruption is predicted to contribute to the significant growth of the consent management market. Digital disruption is perfect choice for several small businesses as it helps them reach new customers, reduce costs of selling, and is increasingly related to proven ROI. This is often expected to extend interactions of companies with consumers and secure a multi-channel experience for little and enormous businesses.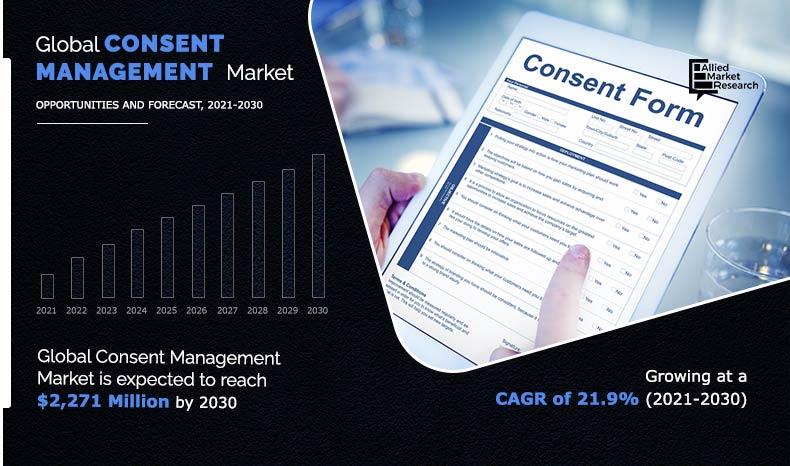 Within the consent management market analysis, the services segment is estimated to emerge as the fastest growing segment. Several vendors within the consent management market offer professional services and supply consulting supported client-specific requirements. They provide educational support, such as training and classroom lectures (online and offline), to assist clients understand their software and related processes. They also assess the risks related to any project and help deploy far better consent management software or replace the prevailing one
Segment review
The global consent management industry is segmented on the basis of component, application type, and deployment mode. Based on component, the market is bifurcated into software and services. Based on application type, the market is divided into mobile type and web type. By deployment mode, it is classified into on-premise and cloud. Region-wise, the market is analyzed across North America, Europe, Asia-Pacific, and LAMEA.
Consent Management Market

---
By Component
Service segment is projected as one of the most lucrative segments.
Get more information on this report :
Request Sample Pages
COVID-19 Impact Analysis
The COVID-19 pandemic had an overall positive impact on the consent management platform market, owing to a significant shift toward increased internet activity following the implementation of social distancing norms and work-from-home policies. This helped in boosting the number of investments in the market for consent management platforms by many organizations. Furthermore, increasing number of cyber-attacks during the pandemic prompted policymakers and government agencies to enforce data privacy regulations and policies more strictly, thereby driving the growth of the consent management platform market even further during the pandemic.
Consent Management Market

---
By Region
APAC is projected as one of the most significant region.
Get more information on this report :
Request Sample Pages
Top impacting factors   
Factors, such as growing significance of building trust among users and ease of compliance policy, propel the consent management market growth. However, rapid increase within the user bounce rate and lack of proper guidance for consent management platform are primarily restraining the market. Moreover, growing awareness about privacy among users and increasing online platforms and digital advertising trends are primarily creating a lucrative opportunity for the consent management market growth.
Eases policy compliance
With consent management platforms, enterprises can easily adhere to General Data Protection Regulation (GDPR) and California Consumer Privacy Act (CCPA) policy guidelines.
Organizational policy compliance is essential as it not only prevents data breaches or be imposed with heavy dues to non-compliance but also because customers have a strong inclination toward organizations that strictly follow compliance policies. According to a survey done by privacy compliance technology company TrustArc, more than 57% of customers prefer brands with GDPR compliance policy badges (or a seal) over brands that do not. This ease in policy compliance motivates many organizations to invest in consent management platforms.
Growing awareness about data privacy among users
Data privacy has become a major concern for individuals of the digital era. Personal information protection has been recognized as a fundamental right in several nations. Moreover, many countries and their governments have been enforcing policies that can help ensure their citizen's personal data is being handled properly. Policies, such as the European Union's (EU) General Data Protection Regulation (GDPR), United States' California Consumer Privacy Act (CCPA), and India' Personal Data Protection Bill (PDP), with a keen focus on the protection of personal user data are being enforced globally. This trend is expected to make the global digital advertising market more transparent and help the market to expand in the consent management market forecast period.
Key Benefits For Stakeholders
The study provides an in-depth analysis of the consent management industry along with current trends and future estimations to elucidate imminent investment pockets.
Information about key drivers, restraints, and opportunities and their impact analysis on the consent management market size is provided in the report.
Porter's five forces analysis illustrates the potency of buyers and suppliers operating in the consent management market platform.
The quantitative analysis of consent management market for the period 2020-2030 is provided to determine the consent management market trends.
Key Market Segments
By Component
By Deployment Mode
By Application Type
BY REGION
North America
Europe

UK
Germany
France
Rest of Europe

Asia-Pacific

China
India
Japans
Rest of Asia-Pacific

LAMEA

Latin America
Middle East
Africa
Key Market Players
ONETRUST
QUANTCAST
PIWIK PRO
TRUSTARC
COOKIEBOT
IUBENDA
TRUNOMI
CROWNPEAK
BIGID
CIVIC