Constipation is a chronic disorder which causes abnormal bowel movements and results in hardened feces which persists for several weeks or even longer. It is defined medically as fewer than three stools per week and severe constipation as less than one stool per week. It causes infrequent stools, difficult stool passage with pain and stiffness. Acute constipation may cause blocking of the intestine, which may even require surgical intervention. The symptoms of constipation include bloating, lower abdominal discomfort, rectal bleeding, anal fissures caused by hard stools, incomplete evacuation, gastric pain, and strain during the bowel movement. Being an idiopathic condition, there is uncertainty regarding the causes of this disease. However, the two disorders that cause constipation are pelvic floor dysfunction, and colonic inertia. There are many causes of and associations with constipation including dehydration, side effects of certain medications, low fiber diets, hormonal disorders and high levels of estrogen and progesterone during pregnancy.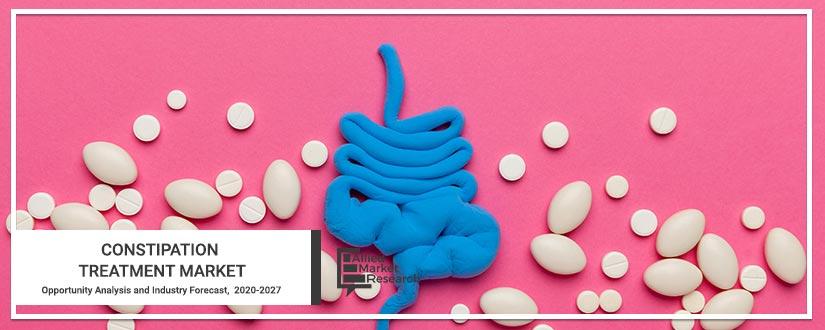 Chronic idiopathic constipation (CIC) is a severe form of constipation and it is a gastrointestinal disorder which leads to discomfort while defecating. It is often seen in geriatric populations especially adults. Diagnosis of chronic idiopathic constipation is tedious due to the dearth of physiological evidences and physicians try to diagnose the condition by evaluating parameters like weight, blood in stool, and low blood count.
COVID – 19 scenario analysis:  
The COVID-19 pandemic has emerged as a humanitarian as well as economic crisis, creating strain on the society and affecting millions of people and businesses
Industry closures and people are asked to stay in their homes which has cause taken a huge toll in terms of money and economic growth
Over 4 million people affected globally, with 300 thousand losing their lives due to SARS-CoV-2
Healthcare organizations are already working in battle mode, preparing new plans to respond growing COVID-19 patients, right from sourcing rapid diagnosing kits to sufficient PPE kits for workers
Due to diversion of medical field towards treating COVID-19, the funding to R&D activities related to chondroitin sulfate has been reduced and this segment have to face negligence subsequently causing negative impact on constipation treatment market
Top impacting factors: Market Scenario Analysis, Trends, Drivers and Impact Analysis
The factors such as rising expenditure in R&D activities for the developments of innovative drugs, developments in healthcare infrastructure, rise in the aged and geriatric population, sedentary lifestyle, changing dietary habits, and inadequate consumption of fast food in high quantity, frequently are leading to rise in demand for constipation treatment market growth in coming years.
Along with the growing complexity in the healthcare domain there is need to provide better treatment and solutions to the upcoming challenges. Presence of healthcare professionals with optimum knowledge and expertise, high prevalence IBS, chronic constipation and the development of latest drugs and treatment procedures and advancements associated with gastrological mechanisms have revolutionized the growth of constipation treatment market. The irritable bowel syndrome (IBS) is a chronic, recurring gastrointestinal tract disorder that is found affecting between 7%–18% of the population worldwide. Treatment of IBS currently is a multifaceted approach, as a direct single approach therapy hasn't been effective so far. Hence, the multi approach therapy is a combination therapy consisting of changes in diet, exercise, stress management, and medication. Efforts are being made and various key players are engaged in R&D activities associated with getting a direct breakthrough treatment for IBS and chronic constipation which creates lucrative opportunities in the market.
Recent developments and innovations to boost the growth rate
The prime objective of constipation treatment is to normalize the frequency and quantity of stool in order to promote normal defecation. Heavy investments in R&D and numerous studies on pharmacologic and non-pharmacologic treatments for constipation proven successful in terms of overcoming some of the challenges like temporary status and efficacy and comparatively are better than their predecessors who have shown mediocre performance and lack of efficacy.  However, the latest innovations such as enterokinetic agents and intestinal secretagogues have shown positive outcomes being capable in delivering high efficacies and low incidences of adverse events. Research on biofeedback and surgical treatment have proved efficient as well as better quality of life for patients with refractory constipation. These factors would boost the market for constipation treatment. For instance, Astellas Pharma, Inc. in working on a novel drug and submitted new drug application for Linaclotide for patients with chronic constipation in Japan. Similarly in January 2017, FDA announced approval for the Linzess manufactured by Allergan Plc. and Ironwood Pharmaceuticals and Tulane manufactured by Synergy Pharmaceuticals for the treatment of chronic idiopathic constipation 
Emerging Economies Opening New Opportunities for Market 
Constipation is a common disorder experienced by every individual and is evident in 8% to 32.5% of population worldwide. Increasing geriatric population, sedentary lifestyle and changing dietary habits in developed as well upcoming economies and thus creating lucrative markets, especially the unexplored markets in the developing economies is expected to increase the demand for constipation treatment across the globe in the near future. More than 50% of the people belonging to age group above 50 years of age are prone suffer chronic constipation. The average prevalence of constipation in adults has been around 16% worldwide; whereas 33.5% prevalence was seen in adults aged 60 to 110 years. There is high prevalence of irritable bowel syndrome in emerging markets such as Asia Pacific and Latin America which would lead to tremendous growth of market in coming years.
Key benefits of the report:
This study presents the analytical depiction of the global constipation treatment industry along with the current trends and future estimations to determine the imminent investment pockets.
The report presents information related to key drivers, restraints, and opportunities along with detailed analysis of the global constipation treatment market share.
The current market is quantitatively analysed from 2020 to 2027 to highlight the global constipation treatment market growth scenario.
Porter's five forces analysis illustrates the potency of buyers & suppliers in the market.
The report provides a detailed global constipation treatment market analysis based on competitive intensity and how the competition will take shape in coming years.
Questions answered in the Constipation Treatment Market research report:
Who are the leading market players active in the constipation treatment market?
What are the current trends that will influence the market in the next few years?
What are the driving factors, restraints, and opportunities in the constipation treatment market?
What are the projections for the future that will help in taking further strategic steps?
 Constipation Treatment Market Report Highlights
Aspects
Details
By Therapeutics

Laxatives
Chloride channel activators
Peripherally Acting Mu-Opioid Receptor Antagonists
GC-C Agonists
5-HT4 Receptor Agonists

By Disease Type

Chronic idiopathic constipation (CIC)
Opioid-induced constipation (OIC)
Irritable bowel syndrome with constipation (IBS-C)

By Distribution Channel

Hospital Pharmacies
Retail Pharmacies
Online Pharmacies

By Region

North America (US, Canada, Mexico)
Europe (France, Germany, UK, Italy, Spain, rest of Europe)
Asia-Pacific (Japan, China, India, Australia, South Korea, rest of Asia-Pacific)
LAMEA (Brazil, South Arabia, South Africa, rest of LAMEA)

Key Market Players
AstraZeneca plc, Takeda Pharmaceutical Company Limited, Abbott Laboratories, Valeant Pharmaceuticals International Inc., Bayer AG, Pfizer Inc., Sanofi, Synergy Pharmaceuticals, Inc., Janssen Pharmaceutical Company, Boehringer Ingelheim GmbH, Ironwood Pharmaceuticals.