Construction Aggregates Market Research, 2031
The global construction aggregates market size was valued at $375.3 billion in 2021, and is projected to reach $621.1 billion by 2031, growing at a CAGR of 5.05% from 2022 to 2031. Construction aggregate is the most mined and grained product on the globe and is the basic component of composite materials such as concrete and asphalt concrete. These materials are extracted from natural sediments such as limestone and granite by drilling and blasting rocks to smaller pieces. These construction aggregates are used as basic materials for airport runaways, highways, railroads, and parking lots. These materials also used for water filtration, purification, and control of soil erosion. Due to shortage in production of the natural resources used for the construction applications, the construction aggregates became a vital material for construction applications.. Moreover, owing to serious concerns about depletion of natural resources, construction aggregate remains a component of infrastructure, commercial, industrial, and housing development projects.
The construction aggregates market was severely hampered during the lockdown period as construction activities were halted for a brief period of time. However the market quickly recovered after the restrictions were lifted.
Growing urbanization and industrialization is leading to growing construction industry, is leading to increase in the number of residential and commercial units, . Innovation in the construction sector, rise in tourism activities, and rapid growth in the residential sector are some other factors expected to support growth of the construction aggregates market to a significant extent. Moreover, in concrete, aggregate is used to provide strength to structures and, most importantly to reduce cracks. Growth in the tourism industry, coupled with increased investments in development of recreational projects is expected to propel the market growth.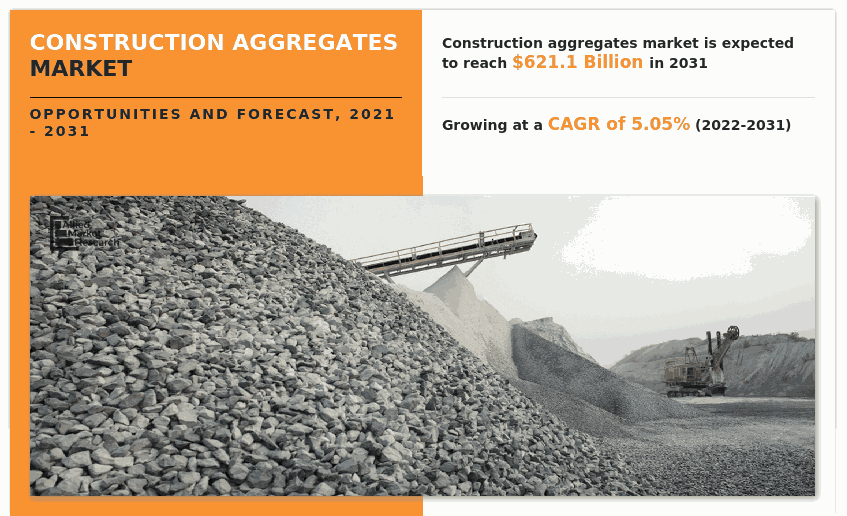 Moreover, innovations in technologies for production of aggregates to increase efficiency of manufacturing process and productivity with high quality products is expected to drive global construction aggregates market growth during the forecast period. For instance, Hydro-Clean washing unit by Haver & Boecker cleans toxic materials from aggregates and reduces water consumption by around 75% as compared to conventional wooden washers. Furthermore, initiation of Building Information Modeling (BIM) is rapidly accompanying digital transformation in the construction sector. BIM provides support, in terms of time management, cost planning, and sustainability for use of raw materials, waste reduction, and overall project performance improvement. These factors are expected to drive the market growth.
Construction Aggregates Market

---
By Type
Sand & gravel holds the largest share in the construction aggregates market
High transportation cost of construction aggregates is expected to restrict the market growth. Transportation cost amounts to around 50% of the overall administrative cost incurred on construction aggregates as construction locations are far away from mining location. Hence, high transportation costs of aggregates are expected to restrain growth of the construction aggregates market during the forecast period.
Construction Aggregates Market

---
By Applications
Residential holds the largest share in the construction aggregates market
Furthermore, during the outbreak of the COVID-19 pandemic, construction, manufacturing, hotel, and tourism industries were majorly affected. Manufacturing activities were halted or restricted. Construction and transportation activities, along with their supply chains were hampered on a global level. This led to decline in manufacturing of construction aggregates as well as their demand in market, thereby restraining growth of the market. In addition, industries are gradually resuming their regular manufacturing and services. This is expected to lead to re-initiation of construction aggregate companies at their full-scale capacities, which is expected to help the construction aggregates industry to recover by end of 2022.
Strict mining laws encourage adoption of sustainable building aggregates that are expected to create lucrative opportunities for the market.
Construction Aggregates Market

---
By Transportation Mode
Truck holds the largest share in the construction aggregates market
The construction aggregates market is segmented into Type, By Applications and Transportation Mode.By type, the market is divided into crushed stone, sand, and gravel. By application, it is categorized into commercial, residential, and industrial. By transportation method, it is segmented into trucks, trains, and ships. Region wise, the market analysis is conducted across North America (the U.S., Canada, and Mexico), Europe (the UK, France, Germany, Italy, and rest of Europe), Asia-Pacific (China, Japan, India, South Korea, and rest of Asia-Pacific), and LAMEA (Latin America, the Middle East, and Africa). In 2020, Asia-Pacific was the highest contributor to the global construction aggregates market share and LAMEA is anticipated to secure a leading position during the forecast period.
On the basis of type, in 2022, the sand & gravel segment dominated the market, in terms of revenue, and is expected to register the highest CAGR during the forecast period. By application, in 2021, the residential segment expected to contribute a major revenue share in the construction aggregates market. However, the non-residential segment is expected to exhibit highest CAGR in the future. By transportation mode, the truck segment led the market in 2021, in terms of revenue. However, the train segment is anticipated to register highest CAGR during the forecast period. Region wise, Asia-Pacific garnered the highest revenue in 2020; however, LAMEA is anticipated to register highest CAGR during the forecast period.
Construction Aggregates Market

---
By Region
Asia-Pacific holds the largest share in the construction aggregates market
COMPETITION ANALYSIS
The major players profiled in the construction aggregates market analysis include Adelaide Brighton Ltd., Cemex SAB de CV, CRH plc, Heidelberg Cement AG, HOLCIM, Martin Marietta Materials Inc., ROGERS GROUP INC., SIKA Group, Vicat SA, and Vulcan Materials Company. Major companies in the market have adopted business expansion and acquisition as their key developmental strategies to offer better products and services to customers in the market.
Key Benefits For Stakeholders
This report provides a quantitative analysis of the market segments, current trends, estimations, and dynamics of the analysis from 2021 to 2031 to identify the prevailing construction aggregates market opportunities.
The market research is offered along with information related to key drivers, restraints, and opportunities.
Porter's five forces analysis highlights the potency of buyers and suppliers to enable stakeholders make profit-oriented business decisions and strengthen their supplier-buyer network.
In-depth analysis of the construction aggregates market forecast.
Major countries in each region are mapped according to their revenue contribution to the global market.
Market player positioning facilitates benchmarking and provides a clear understanding of the present position of the market players.
The report includes the analysis of the regional as well as global construction aggregates market trends, key players, market segments, application areas, and market growth strategies.
 Construction Aggregates Market Report Highlights
Aspects
Details
By Type

Crushed Stone
Sand & Gravel

BY APPLICATIONS

Non-Residential
Residential

By Transportation Mode
By Region

North America (U.S., Canada, Mexico)
Europe (Germany, U.K., France, Italy, Rest of Europe)
Asia-Pacific (China, Japan, South Korea, India, Rest of Asia-Pacific)
LAMEA (Latin America, Middle East, Africa)

Key Market Players
Adelaide Brighton Ltd., CEMEX S.A.B. de C.V., CRH, Heidelbergcement AG, Holcim Ltd., Martin Marietta Materials Inc., Rogers Group Inc., SIKA group, Vicat SA, Vulcan Materials Company