The global construction industry market size was $9,500.5 billion in 2019, and is expected to reach $9,771.9 billion by 2022. In addition, the global manufacturing industry market size was $4,923.5 billion in 2019, and is expected to reach $5,089.8 billion by 2022.
The novel coronavirus pandemic has had a bewildering and disrupting impact on the worldwide economy and trade since the initial cases were registered in China in December 2019. In the following months, many of the worst-hit parts globally were major manufacturing hubs and real estate sectors that observed abrupt supply chain troubles and halt in production. Further, owing to this rapidly-spreading epidemic, the manufacturing and construction industry in the U.S. and several European nations have seen sharp declines, indicating uncertainties about supply chain interruptions and reviving financial market fears of a recession.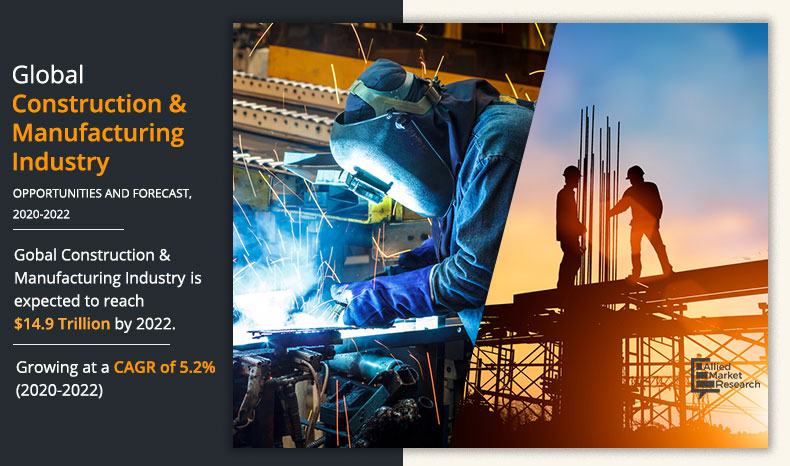 In addition, even the worldwide foreign direct investment (FDI) inflows saw a sharp decline. Emerging and least developed countries (LDCs), mainly in Africa, are specifically exposed to the unfolding effects of this pandemic. As per the United Nations Conference on Trade and Development (UNCTAD), FDI flows would drop extremely up to 40% during 2020–2021. Various developed and emerging nations, including LDCs, have announced numerous measures intended to limit impacts of the disease, protecting local industries for strategic sectors, which includes energy sector, health industry, and telecommunication to preserve real economy, mainly by offering bailouts or bonds for businesses and public in general. Further, adverse effects of the epidemic on FDI investments are expected to be high in the automotive, energy, airlines, building construction, and oil & gas industries. There is ambiguity and unpredictability regarding the spread of the virus.
COVID-19 should be a wakeup call for the manufacturing industry, emphasizing that Industry 4.0 (IR4) technologies are essential for subsistence in a global marketplace that necessitates more flexible and agile manufacturing systems and supply chains. With IR4 technologies such as internet of things (IoT), big data, 3D printing, artificial intelligence (AI), and advanced robotics, manufacturers could realize aids of employing a digital-first approach to a physical business.
In addition, rise in requisite for remote communication and asset management throughout the epidemic has emphasized the need for cutting-edge manufacturing technologies, which consist of future 5G solutions and cloud-based services. The suppleness empowered by such technologies has permitted early adopters to observe profits of their investments. Such instances of adaptability and resilience are prospective to lead to an acceleration in the implementation of advanced manufacturing technologies and processes as businesses seem to adjust to the evolving "new normal".
COVID-19 Impact Analysis on Construction & Manufacturing Industry by Construction Industry

---
By Type
Dry barrel segment is projected to grow at a significant CAGR
However, presently, COVID-19 disease is having a mixed effect on sales of several industries such as home & gardening tools, packaging, e-commerce, and indoor air quality products. Do-it-yourself (DIY) home improvement activities are up under lockdown, which drives new and improved sales for home & gardening tools. Retailers of gardening equipment and home improvement products are seeing unprecedented demand for DIY power tools and hardware purchases as consumers in seclusion utilize their time to finish home enhancement projects. Further, with the rise in demand for packaged foods, medicines, and online deliveries of foods & essential products, the packaging industry is also observing huge demand for packaging products such as disposable cartons, bags, and bottles.
COVID-19 Impact Analysis on Construction & Manufacturing Industry by Construction Industry

---
By Vertical Manufacturing Industry
Equipment and Machinery contributed highest revenue in 2019.
Manfacturing Industry
The novel coronavirus is spreading swiftly causing overall manufacturing supply chain with unpredictable challenges. The major problem connected with these troubles include closure of manufacturing facilities, shortage in labor, low production, and scarcity of raw materials. Noteworthy reduction in number of suppliers has directly obstructed numerous manufacturing plants. For instance, in March 2020, Ford, Volvo Group, and Honda closed their manufacturing facilities and sent most of their workforce home in an effort to avoid the spread of this disease. Likewise, several corporations including Saint Gobain, Whirlpool, and Bharat Forge temporarily shut down their manufacturing processes in India to support the government initiative of lockdown in the country.
COVID-19 Impact Analysis on Construction & Manufacturing Industry by Construction Industry

---
By Vertical Construction Industry
Building Construction segment holds highest share in 2019
Construction Industry
Several issues that the construction industry supply chain partners are facing during the pandemic include shutdowns of construction sites, shortage of labor, and scarcities in raw materials. Construction in many countries largely depend on international shipments of materials, which include steel, stone, aluminum, copper, and fixtures. For instance, in February 2020, the Port of Los Angeles recorded a 23% year-on-year decline in shipping containers, owing to halt in industrial facilities in China. It is anticipated that more declines would occur in imports, if the situation remains same. Such kind of supply chain disruption is not unique to the U.S. as contractors worldwide are expressing worries in obtaining certain materials.
Further, dearth of workforce, in addition to possible supply chain bottlenecks of equipment & materials is anticipated to result in project delays in ongoing construction projects. This may further lead to less expenditure in the future projects. Ambiguity about actual duration of existing lockdown situation makes it difficult to predict retrieval of the construction industry.
Hvac Industry 
The heating ventilation and air conditioning (HVAC) industry has also been adversely impacted by the coronavirus pandemic as several component manufacturing facilities are shut down in numerous economies such as EU countries, the U.S., Japan, and India. This has subsequently led to a substantial slowdown in manufacture of HVAC machinery and equipment. Lockdowns levied by governments of several countries in the wake of COVID-19 epidemic has not only disturbed manufacturing but also the consumer demand for HVAC machinery and equipment. 
Packaging Industry
Packaging is an integral part of pharmaceuticals, food, and fast-moving consumer goods (FMCG) and an entire group of segments that come under the purview of the essential services maintenance act (ESMA), India. Several packaging plants, pharmaceutical, and food plants all over the world are operational now. However, lockdown imposed by governments of several countries has caused short supply of raw materials, dearth of workers, and transport restrictions. In addition, with newer directives by governments to ensure operations of transport for essential services, transportation and logistical challenges are expected to be resolved soon. Hence, packaging companies are expected to encounter a short-term impact on supply chain of food and pharma packaging.
Nevertheless, pertaining to serious and worsening conditions globally, nations need coordination and cooperation between themselves, which includes help and sensible as well as mature conduct of individuals to effectively fight against the virus. Moreover, as all countries are interconnected, wrong policies or actions taken by one country could cause a severe influence on other nations. It is a critical time for all states and nations to coordinate, cooperate, and assist each other rather than political point-scoring and disputing to conquest this deadly virus for preventing economic and financial structure.
The report on "COVID-19 Impact Analysis on Construction and Manufacturing Industry" is divided into construction industry and manufacturing industry. The construction industry is further bifurcated into building construction, transportation infrastructure, construction materials, and construction services. The building construction segment accounted for the highest revenue with over one-third of the construction industry market share in 2019. In addition, the manufacturing industry is further split into packaging, heating, ventilation, and air conditioning (HVAC), equipment and machinery, and manufacturing services. The equipment & machinery segment held the dominant market position accounting for over half of the manufacturing industry market share in 2019.
Key Benefits For Stakeholders
Comprehensive research methodology of the global construction & manufacturing industry
Evolution of coronaviruses outbreak
Detailed and extensive market overview with key analyst insights
Exhaustive analysis of macro and micro factors influencing the market guided by key recommendations
Detailed and broad market segments with forecasted revenues from quarter 1 of 2019 to quarter 4 of 2022
Key industry innovations & opportunities 
Recent strategies of market players to keep themselves operational
The report offers detailed analysis of construction & manufacturing sector. The data is analyzed through systematically gathering and analyzing qualitative information to determine stakeholder benefits in the construction and manufacturing industry
Segments
Construction Industry

Building Construction
Transportation Infrastructure 
Construction Materials
Construction Services

Manufacturing Industry

Packaging
Heating, Ventilation, and Air Conditioning (HVAC)
Equipment and Machinery
Manufacturing Services