Global Construction Chemicals Market Outlook - 2026
The global construction chemicals market size was valued at $32.0 billion in 2018, and is expected to grow $50.6 billion by 2026, at a significant CAGR of 5.9% between 2019 to 2026. 
Construction chemicals are specialty products that are crucial for sustainable infrastructure and energy conservation in construction industry to increase durability of buildings, and to provide added fortification from environmental hazards. Infrastructure is the most attractive segment in the Global Construction chemicals market. It would be the first preference for new entrants due to surge in population and urbanization that drives the need for sustainable infrastructure and environmental friendly products. Chemical products such as concrete admixtures similarly help in minimizing the quantities of cement and water generally required during the construction.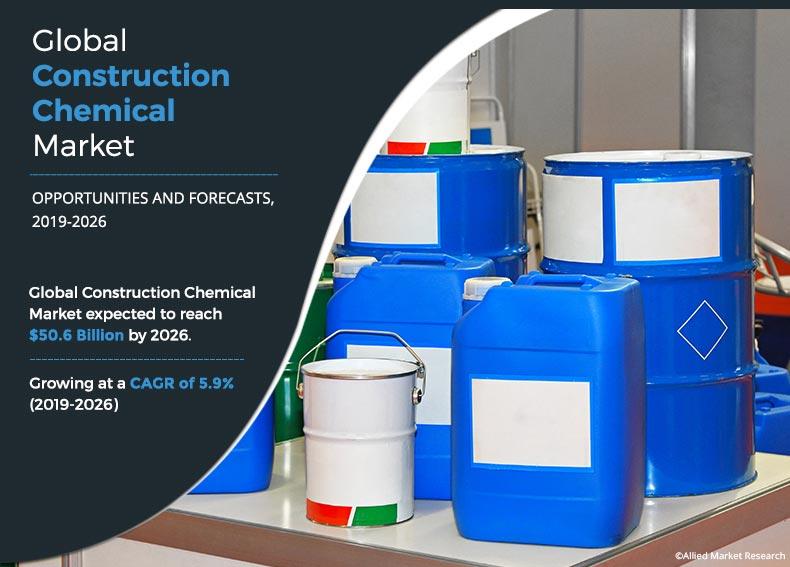 The construction industry accounted for $8.7 trillion in 2013, 10% of the global GDP. The essential dynamic here is that while global GDP is expected to grow by an average of 3.5% per year for the next 12 years, construction output will increase by 4.3% per year. Hence, the construction industry is expected to represent a much bigger part of the global economy by 2026.
Top investment pockets
Infrastructure is the most attractive segment in the Global Construction chemicals market. Infrastructure would be the first preference for new entrants due to surging population and urbanization giving driving the need for sustainable infrastructure and environmental friendly products. Residential is the second most attractive segment for new entrants in construction chemicals market. This segment was the highest revenue generating in 2018, representing nearly half of the global market.
Source: AMR Analysis
Segment Review:
Construction chemicals are crucial for sustainable infrastructure and energy conservation in construction industry. The Global Construction chemicals market is segmented based on type as concrete admixtures, waterproofing & roofing, repair, flooring, sealants & adhesives, and others. In 2018, the concrete admixtures segment occupied highest share in the market. Admixtures are used during the first stage of construction. Ligno-based, SNF (Sulfonated Naphthalene Formaldehyde) & SMF (Sulfonated Melamine Formaldehyde)-based and PCE-based are the three types of admixtures mostly prevalent in the market. Ligno-based admixtures were the first generation admixtures with lower performance as compared to SNF & SMF- and PCE-based admixtures. PCE-based admixtures are the third-generation admixtures and are usually 3-4 times more expensive than SNF & SMF-/Ligno-based admixtures. The Asia-Pacific region has the highest consumption rate for admixtures owing to the huge number of infrastructure projects undertaken.
By end-use, the market is divided into residential, industrial/commercial, infrastructure, and repair structures. Construction chemicals are required to meet the requirements of the burgeoning world population and the incumbent urbanization. In industries, construction chemicals are necessary for stability and durability of the structures. Infrastructure is crucial to any economy, particularly emerging markets, as their growth rate is high. Construction chemicals are widely used in residential infrastructure, owing to the rise in demand for housing and domiciliary buildings in urban areas. The repair segment is relatively less explored in this market, though this end-use of construction chemicals is critical towards the maintenance of structures globally. Residential and infrastructure end-use segments collectively accounted for more than half of the market share, in terms of revenue, for the year 2018.
Geographically the market is segmented into North America, Europe, Asia-Pacific, and LAMEA. The rapidly growing economies in Asia-Pacific and LAMEA have tremendous potential for construction chemicals, as the fast growing urbanization is necessitating the growth of residential complexes and buildings are in high demand in response to the perennial urbanization globally. Construction firms initiate comparatively larger number of residential projects with high-grade construction materials to provide improved structural integrity and sustainability. Asia-Pacific and LAMEA regions are foremost in these ventures due to high urban displacement.
China Review:
China is the leader in APAC market consuming more than 15% of the Global Construction chemicals, other high development regions include Japan and India. The residential and infrastructure segments of the market dominate in this region owing to the unremitting growth of urban demographic and better infrastructure.
Key players in this market are adopting expansion and acquisition as key business strategies to expand their market share. For example, in May 2016, Arkema SA increased production capacities of Bostik Smart Adhesives in Malaysia for cementitious construction products. Whereas, Sika AG acquired L.M. Scofield in April 2016, to expand its concrete business in North America, L.M. Scofield is a U.S. based concrete color additives manufacturing firm. The key players profiled in Global Construction chemical market include BASF SE, Arkema SA, Ashland Inc., Fosroc International Limited, Mapie S.p.A, Pidilite Industries, RPM International Inc., Sika AG, The Dow Chemical Company and W.R. Grace & Company.
Top Winning Strategies
The key players in the Global Construction chemicals market are adopting different key business strategies such as acquisition, expansion, and product launch to withstand in the global competitive market. The market players profiled in this report are construction chemical manufacturers and solution providers who serve the product globally to several end-user industries. The data pertaining to market players and their strategic moves are gathered through press releases of respective companies, various blogs, available on the website and primary calls made to the experts in the industry.
Acquisition and expansion are the leading strategies adopted by the key players in this market in order to widen their market reach in construction chemicals market. RPM International Inc. and Sika AG were the leading companies, which have adopted acquisition as their key business strategy.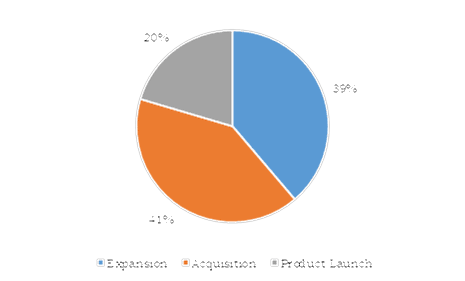 Source: Press Releases, Company Publications and AMR Analysis
Key Benefits for Global Construction Chemicals Market:
The report provides quantitative analysis of current market and estimations through 2018-2026 that assists in identifying the prevailing market opportunities
The projections in the report are based on the current construction chemicals market trends and future market potential
Comprehensive analysis of geographic regions helps in determining the prevailing opportunities in these regions
SWOT analysis highlights the strength and opportunities of leading companies operating in the market
Exhaustive analysis of the Global Construction chemicals market by type helps in understanding the varieties of chemicals that are currently being used and that would gain prominence in the future
Key market players within the construction chemicals market are profiled in the report and their strategies are analyzed thoroughly, which help in understanding the competitive outlook of the Global Construction chemicals market share.
 Construction Chemicals Market Report Highlights
Aspects
Details
By Type

CONCRETE ADMIXTURES
WATERPROOFING & ROOFING
REPAIR
FLOORING
SEALANTS & ADHESIVES
Others

By Application

RESIDENTIAL
INDUSTRIAL
INFRASTRUCTURE
REPAIR STRUCTURES

By Geography

North America
Europe

Germany
Russia
France
UK
Turkey
Rest of Europe

Asia-Pacific

China
Japan
India
Rest of Asia-Pacific

LAMEA

Brazil
South Africa
Saudi Arabia
Rest of LAMEA

Key Market Players
ARKEMA SA, ASHLAND INC., BASF SE, FOSROC INTERNATIONAL LTD., MAPEI S.P.A., PIDILITE INDUSTRIES LIMITED, RPM INTERNATIONAL INC., SIKA AG, THE DOW CHEMICAL COMPANY, W. R. GRACE & CO.