Construction Fabrics Market Research, 2031
The global construction fabrics market was valued at $10.6 billion in 2021 and is projected to reach $15.6 billion by 2031, growing at a CAGR of 4.0% from 2022 to 2031.
Key Report Highlighters:
The report depicts detailed insights into the construction fabrics industry trends and new growth opportunities.
The report provides a complete analysis of the market status across key regions and more than 15 countries across the globe in terms of value ($ Million)
The report identifies the construction fabrics market growth segments and emerging application areas.
The report provides competitive dynamics by evaluating business segments, product portfolios, target market revenue, geographical presence, and key strategic developments by prominent manufacturers
The report facilitates strategic planning and industry dynamics to enhance decision-making for existing market players and new entrants entering the construction fabrics industry.
Bio-based building materials are environmentally friendly and have a good impact on society. In addition to lowering carbon and energy emissions, bio-based materials are unmatched alternatives to conventional ones since they give thermal comfort while requiring less energy for buildings to function. Utilizing plant-based building materials advances the development of eco-friendly, long-lasting, and productive multifunctional materials.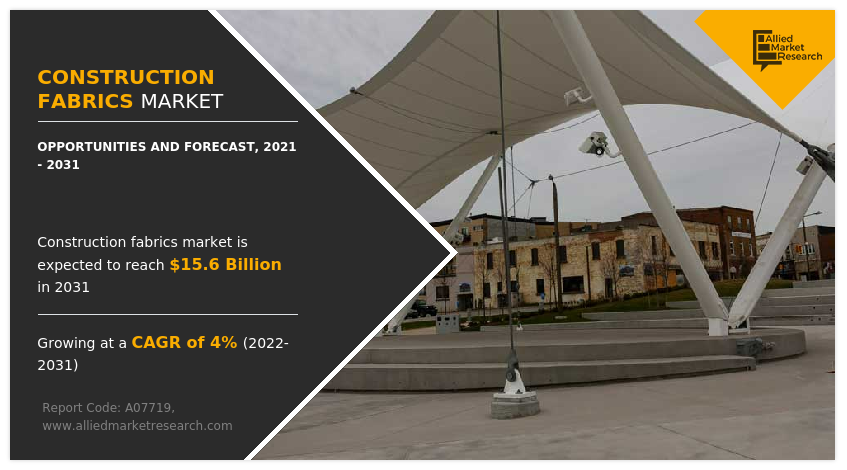 Construction fabrics are commonly defined as structural fabrics that are used to create tensile surfaces, such as canopies, roofs, and other types of shelter. Architectural fabrics are often held in place by tension forces generated by a structural framework, a cable system, internal air pressure, or a combination of these. The fabric used to create the membrane normally has an impermeable polymer coated on both sides of a woven base cloth, along with a tough topcoat. Open weave textiles and translucent foils are only a couple of the many types that are available. High-performance, long-lasting, polymer-coated, and resilient architectural membrane materials are construction fabrics. Along with strength, resilience, lightness, chemical resistance, and tolerance to extreme weather conditions, they also have self-cleaning qualities. They are constructed from an inner layer of high-strength cloth or mesh, which has a protective polymer coating applied to both sides. This aids in preventing the transfer of moisture, heat, and air as well as protecting the fabric from mechanical and chemical harm.
The rise in modern construction activities has been an important factor in driving the construction fabrics market
In addition, energy-saving facade materials are being developed as a result of technological advancements. These cutting-edge items capture solar energy and are widely used as a secondary source of electricity generation in many business and residential structures. The expansion of the construction fabrics market can be ascribed to an increase in consumer spending power, particularly in China, Japan, India, Brazil, and the GCC nations, as well as the requirement to give employees a secure working environment. Furthermore, the use of metal composite material offers a durable, harmonious, and modern appearance to the building. Increasing usage of such composite material to build facades is projected to boost the market construction fabrics growth over the coming years. 
Nowadays peoples are more focused on building and construction designs and have more sunlight, greener, high-performance, cost-saving, and eco-sustainable structures. Textiles are essential in meeting these needs. Textiles are used in a variety of building and construction-related applications, including geotextiles, architectural textiles, construction textiles, eco textiles, green roofs, and innovative 3D printing technology. Buildtech or Buildtex are terms used to describe textiles used in construction and buildings. Textile materials are utilized indoors and outdoors for uses both visible and hidden. Traditionally, rugs and curtains were made of fabrics. But nowadays, textiles are utilized for thermal and acoustic insulation, as well as for structure protection from the sun, wind, fire, and water. 
Urbanization and modernization are both crucial factors in the market's expansion. When building facades, a number of aspects, such as waterproofing, fabrication, durability, and resilience to extreme conditions, come into play. The market is expected to develop as consumer opinions change and attention to a building's exterior look increases. Increased renovation spending is a result of rising disposable income, which is predicted to accelerate market expansion. Growing investments in the advancement of the residential and commercial construction industries in developed countries, such as the U.S. will further boost the demand for construction fabrics. 
The global construction sector has been severely impacted by the COVID-19 outbreak. In addition, the total lockdown in several cities in important nations including China, the U.S., Germany, the U.K., and India had a big impact on the worldwide economic downturn in 2020. In addition, the virus' quick spread has compelled the cancellation of numerous current residential, commercial, and industrial construction projects across the globe. As a result, it is anticipated that the demand for construction goods will decline over a shorter period of time due to the slower growth in the building and real estate industries caused by the decreased demand for buying homes and offices. Furthermore, the relaxations in lockdown measures provided by the federal governments, coupled with the release of economic relief packages across prominent countries, such as the U.S., U.K., China, and Germany, are expected to bring the market growth on track. 
"Facades are widely utilized in commercial and residential buildings to protect the interior and give an aesthetically pleasing outer architecture. Because corporations have large construction budgets, the product is widely employed in commercial buildings. The rise in the number of commercial buildings, such as retail stores, hotels, medical centers, warehouses, and garages, in India, China, Brazil, and the Middle Eastern countries are expected to spur the growth of the market over the forecast period." 
The product is projected to be used in different residential buildings during the projected period. This is mostly attributable to increased consumer awareness of energy conservation, particularly in the U.S., the UK, Germany, China, and Japan. Additionally, as part of the government's planned development, residential buildings are now built through public-private partnerships (PPPs). The structures in this category typically have high-quality facades. 
Strategically, major market players are concentrating on mergers and acquisitions to broaden their regional reach and overall product ranges. For instance, the Canadian producer of façade solutions Erie Architectural Products Group (Erie AP) was purchased by YKK AP America Inc. (YKK AP) in December 2019. The strategic acquisition would enable YKK AP to diversify its product portfolio and global reach. In addition, major market participants like Bouygues and ROCKWOOL Group are investing in R&D to launch cutting-edge façade technologies that lower overall energy use and carbon emissions. 
Leading market competitors are increasingly concentrating on establishing joint ventures to install facade goods for certain applications, like stadiums, metros, and airports. For instance, Skanska and Hartsfield-Jackson Atlanta International Airport inked an additional deal in January 2021. With the help of New South Construction, FS360, and Synergy Construction, the Concourse T-North Extension and Modernization Project will be built in Atlanta, Georgia, USA. Skanska will lead the joint venture. Additionally, Skanska's portion of the contract is valued at almost USD 56.0 million. 
The global construction fabrics market is segmented into type, material, application, and region. Depending on the type, the market is classified into woven, non-woven, and others. Based on material, it is categorized into polyester, nylon, PTFE, cotton, silicon glass, ETFE, and others. Based on application, the market is segmented into acoustic fabrics, tensile architecture, awnings & canopies, and others. Region-wise, the market is studied across North America, Europe, Asia-Pacific, and LAMEA.  
The major players operating in the global construction fabrics market include ENDUTEX COATED TECHNICAL TEXTILES, EREZ Thermoplastic Products, Freudenberg SE, HIRAOKA & Co., Ltd, Saint Gobain, Sattler AG, seaman corporation, Serge Ferrari Group, Sioen Industries NV, TAIYO KOGYO CORPORATION. 
Construction Fabrics Market

---
By Type
Woven segment is projected as the fastest growing segment.
The non-woven segment was the highest revenue contributor to the market in 2021 and is projected to grow with a CAGR of 4.1%. Nonwovens polymeric house wrap material reduces air infiltration, increasing energy efficiency and offering optimal moisture management, all while saving the builder and homeowner money during installation and after the sale. House wrap innovations include translucency, which reduces installation time and offers high strength, along with no VOC (volatile organic compound) release in either production or application, fulfilling increasingly demanding government sustainability programs.
Construction Fabrics Market

---
By Material
ETFE is projected as the fastest growing segment.
The polyester segment was the highest revenue contributor to the market and the ETFE segment is projected to register the highest CAGR of 4.5%. PVC-coated polyester is the most commonly used architectural fabric. It can be linked relatively readily at seams by welding, is relatively affordable, has a respectable structural strength and translucency, and has a respectable life expectancy. 
Construction Fabrics Market

---
By Application
Tensile architecture is projected as the fastest growing segment.
The awnings and canopies segment was the highest revenue contributor to the market in 2021 and is projected to grow with a CAGR of 3.8% from 2022 to 2031. The tensile architecture segment is estimated to reach $3,371.3 million by 2031, at a significant CAGR of 5.1% during the forecast period. The number of construction, renovation, and refurbishing activities is increasing across the globe. In addition, governments from many nations are making large investments in the construction of important infrastructures like stadiums, parking lots, and other amenities.
Construction Fabrics Market

---
By Region
Asia-Pacific is projected as the fastest growing region.
Asia-Pacific has garnered a major share and is projected as the fastest-growing region. The Asia-Pacific construction fabrics market is anticipated to experience the largest growth. Several global firms are looking to expand their presence and market share in the Asia-Pacific region by expanding their operations in emerging economies, such as China, India, and several Southeast Asian countries.  Construction fabric's largest and fastest-growing market in Asia-Pacific. Due to the increase expansion of the polyester, consumer durables, and transportation industries, the construction fabrics market in the region is expanding.
Key Benefits For Stakeholders
This report provides a quantitative analysis of the market segments, current trends, estimations, and dynamics of the construction fabrics market analysis from 2021 to 2031 to identify the prevailing construction fabrics market opportunities.
Market research is offered along with information related to key drivers, restraints, and opportunities.
Porter's five forces analysis highlights the potency of buyers and suppliers to enable stakeholders to make profit-oriented business decisions and strengthen their supplier-buyer network.
An in-depth analysis of the construction fabrics market segmentation assists to determine the prevailing market opportunities.
Major countries in each region are mapped according to their revenue contribution to the global market.
Market player positioning facilitates benchmarking and provides a clear understanding of the present position of the market players.
The report includes an analysis of the regional as well as global construction fabrics market trends, key players, market segments, application areas, and market growth strategies.
 Construction Fabrics Market Report Highlights
Aspects
Details
Market Size By 2031
USD 15.6 billion
Growth Rate
CAGR of 4%
Forecast period
2021 - 2031
Report Pages
252
By Type
By Material

Polyester
Nylon
PTFE
Cotton
Silicone Glass
ETFE
Others

By Application

Acoustic Fabric
Tensile Architecture
Awnings and Canopies
Others

By Region

North America (U.S., Canada, Mexico)
Europe (Germany, France, UK, Spain, Italy, Rest of LAMEA)
Asia-Pacific (China, Japan, India, South Korea, Australia, Rest of Asia-Pacific)
LAMEA (Brazil, Saudi Arabia, South Africa, Rest of LAMEA)

Key Market Players
seaman corporation, Freudenberg SE, ENDUTEX COATED TECHNICAL TEXTILES, Serge Ferrari Group, saint gobain, sattler ag, TAIYO KOGYO CORPORATION, EREZ Thermoplastic Products, Sioen Industries NV, HIRAOKA & Co.,Ltd
Analyst Review
According to the insights of the CXOs of leading companies, the construction fabrics market has enormous opportunities owing to the increase in demand for tensile architecture in the coming future in the developing regions. Modernization and urbanization are playing a vital role in the growth of the market. Several factors including waterproofing, fabrication, durability, and resistance to extreme climate come to play during the construction of facades. Changing perceptions of consumers and increasing focus on the exterior appearance of a building are anticipated to boost the growth of the market. Rise in disposable income is leading to increased investments in renovations, which, in turn, is estimated to augment the market growth. Surge in investments in the advancement of the residential and commercial construction industries in developed countries, such as the U.S., can stoke the growth of the market.