Consumer IoT Market Outlook – 2030
The global consumer IoT market size was valued at $70.52 billion in 2020, and is projected to reach $292.83 billion by 2030, registering a CAGR of 13.9% from 2021 to 2030. Consumer IoT is a term used to denote connected gadgets designed for the consumer market, such as smart wearables, smartphones, smart homes, and others that gather and offer information via Internet. There are various real-life applications of consumer IoT such as home security & smart domestic, personal healthcare, wearable technology, and asset tracking, among others. 
The consumer IoT market has been positively impacted by the COVID-19 pandemic outbreak.
The growth of the global consumer IoT market is anticipated to be driven by factors such as adoption of smart devices, and rising number of internet users. In addition, growing consciousness about fitness & surge in disposable incomes in emerging economies, boosts the overall market growth. However, increasing risk of data breaches associated with consumer IoT acts as a major restraint for the global consumer IoT industry. On the contrary, increasing government funding in R&D related to IoT and rising favorable government regulations to encourage green buildings is expected to create lucrative opportunities for the consumer IoT industry.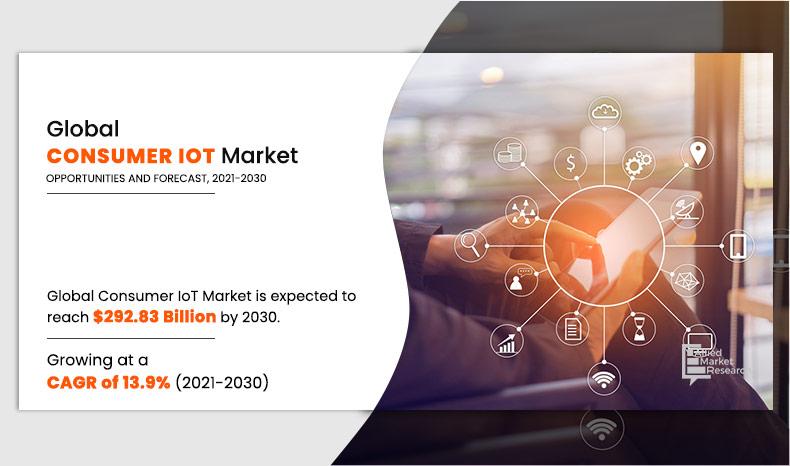 Segment Overview
The global consumer IoT market is segmented into offering, connectivity, end user, and region. By offering, the market is classified into hardware, software, and services. The connectivity covered in the study include wired, and wireless. On the basis of end user, the market is classified into home automation, consumer electronics, automotive, healthcare, and others.
Region wise, the consumer IoT market trends are analyzed across North America (U.S., Canada, and Mexico), Europe (UK, Germany, France, Italy, and rest of Europe), Asia-Pacific (China, Japan, India, South Korea, and rest of Asia-Pacific), and LAMEA (Latin America, Middle East, and Africa). North America dominated the consumer IoT market in 2020, and is projected to register significant growth rate during the forecast period, owing to growth of the consumer electronics sector. However, Asia-Pacific is expected to witness significant growth rate by the end of the forecast period, followed by LAMEA.
Leading consumer IoT manufacturers such as Honeywell International Inc., Siemens AG, and Intel Corporation, are focusing on the investment on technologically advanced, cost-effective, and more secure products and solutions for various applications.
Consumer IoT Market

---
By Offering
Hardware segment is expected to secure leading position during forecast period.
Top Impacting Factors
The prominent factors that impact the consumer IoT market growth are high demand for connected & wearable devices, and surge in usage of IoT device in automotive. In addition, rise in growth of wireless platform drives the consumer IoT market. However, data privacy and security related concern restricts the market growth. On the contrary, surge in demand for IoT devices in development of smart cities is expected to create lucrative opportunities for the consumer IoT market.
Competitive Analysis
Competitive analysis and profiles of the major consumer IoT market players such as Cisco Systems, Inc., Honeywell International Inc., Infineon Technologies, Intel Corporation, International Business Machines Corporation (IBM), Microsoft Corporation, NXP Semiconductors, Siemens AG, STMicroelectronics, and TE Connectivity Ltd. have been covered in the report. These key players have adopted strategies, such as product portfolio expansion, mergers & acquisitions, agreements, regional expansion, and collaboration, to enhance their market penetration.
Consumer IoT Market

---
By End User
Home Automation segment is projected as one of the most lucrative segments.
COVID-19 Impact Analysis
The outbreak of COVID-19 has significantly affected the electronics and semiconductor sector. Business and manufacturing units across various countries were closed, owing to increase in number of COVID-19 cases, and are expected to remain closed in 2021. Furthermore, partial or complete lockdown has disrupted global supply chain posing challenges for manufactures to reach customers.
The COVID-19 pandemic is impacting the society and overall economy across the globe. The impact of this outbreak is growing day-by-day as well as affecting the overall business globally. The crisis is creating uncertainty in the stock market and is resulting in falling business confidence, massive slowing of supply chain, and increasing panic among the customer segments.
Asian and European countries under lockdowns have suffered major loss of business and revenue, due to the shutdown of manufacturing units. The operations of the production and manufacturing industries have been heavily impacted by the outbreak of the COVID-19 disease, which further impacted the growth of the consumer IoT market.
In addition, the COVID-19 pandemic has impacted the electronics sector, as the production facilities have stalled, which, in turn, have boosted the demand for electronics and semiconductor products in the industries. Its major impact includes a large manufacturing interruption across Europe and interruption in Chinese parts exports, which may hinder the consumer IoT market. 
Consumer IoT Market

---
By Region
Asia-Pacific would exhibit the highest CAGR of 16.3% during 2021-2030
Key Benefits for Stakeholders
This study comprises analytical depiction of the global consumer IoT market size along with the current trends and future estimations to depict the imminent investment pockets.
The overall consumer IoT market analysis is determined to understand the profitable trends to gain a stronger foothold.
The report presents information related to key drivers, restraints, and opportunities with a detailed impact analysis.
The current consumer IoT market forecast is quantitatively analyzed from 2020 to 2030 to benchmark the financial competency. 
Porter's five forces analysis illustrates the potency of the buyers and the consumer IoT market share of key vendors.
The report includes the market trends and the market share of key vendors.
Key Market Segments
By Offering
Hardware

Processor

Microcontroller (MUC)
Microprocessor (MPU)
Digital Signal Processor (DSP)
Application Processor

Network infrastructure
Sensors
Others

Software
Services
By Connectivity
Wired
Wireless

Wi-Fi
Bluetooth
ZigBee
Others
By End User
Home Automation
Consumer Electronics
Automotive
Healthcare
Others
By Region
North America
Europe

UK
Germany
France
Italy
Rest of Europe

Asia-Pacific

China 
Japan
India
South Korea
Rest of Asia-Pacific

LAMEA

Latin America
Middle East 
Africa
Key Market Players
Cisco Systems, Inc.
Honeywell International Inc.
Infineon Technologies
Intel Corporation
International Business Machines Corporation (IBM)
Microsoft Corporation
NXP Semiconductors
Siemens AG
STMicroelectronics
TE Connectivity Ltd.