Container Homes Market Overview:
The global container homes market size is expected to reach $73,070.5 million by 2025, from $44,768.6 million in 2017, growing at a CAGR of 6.5% from 2018 to 2025.
Container homes are homes developed using shipping containers used to carry goods on trains, trucks, and ships. These houses can be built using both new or idle containers and old or scrap containers. Architects are building houses of different shapes and sizes using these giant blocks. With use of shipping containers, the builders can construct sustainable and affordable homes with high quality. In addition, these container homes are marketed as environment friendly homes, as these homes are made from used containers, which conserve metal resources. Companies such as Giant Containers, Container Homes USA, SG Blocks Inc., and other leading players occupy a major share in the container homes market.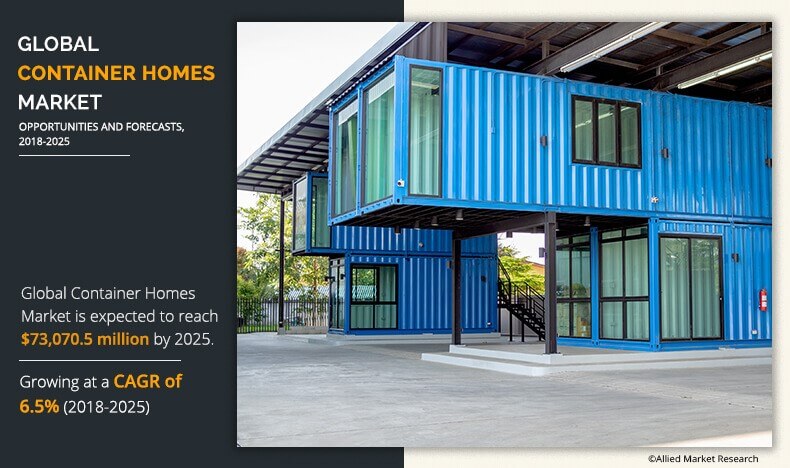 Get more information on this report: 
The reduced construction cost majorly drives the demand for container homes market as most of the architects are building homes developed using old shipping containers, where there more than 14 million out-of-service containers are easily available in market at a low cost. Furthermore, the homes built using containers can be constructed within short period of time as compared to regular homes and require less cost for construction. In addition, the container homes are easy to install and relocate, as these homes can be built in factory and installed at the required location, or they can be constructed at site directly according to the requirement. These factors majorly drive the demand for container homes in the market. Moreover, the government, in many developed regions, such as Europe and others, has formulated initiatives that focus on designing, building, and operating structures following green building concept, for efficient use of energy and resources used for construction. This in turn increases the demand for homes built using old containers. However, the homes built using old and scrap containers have limited life span. These homes can last only 25-30 years, as these old containers have higher possibility of corrosion, which is expected to hinder the growth of the container homes market.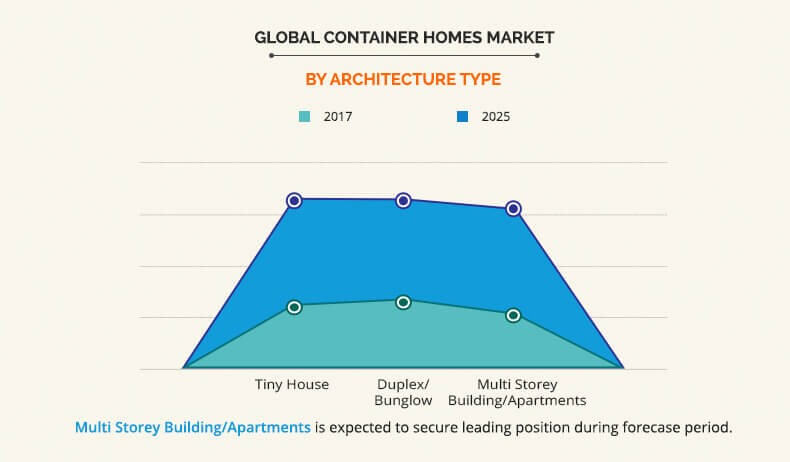 Get more information on this report: 
The container homes can protect interior architecture from the changes in the external environment, as proper insulation is provided in these prefabricated homes. This in turn is expected to boost the demand for container homes in cold regions. Furthermore, the growth in population and urbanization in large and developed cities increases the need for new construction, where the limited availability of space is a major constraint. This in turn boosts the demand for compact and movable homes. Container homes are smaller in size and can be moved from one place to another. This factor is expected to fuel the demand for container homes. However, the container homes need to install robust HVAC systems for heating and cooling the internal architecture in extreme hot and cold regions, respectively. These factors hinder the growth of the market.
Nonetheless, scarcity of housing units in developing economies, such as Africa, is expected to provide lucrative growth opportunity to architectures to expand business in this region. Furthermore, increase in focus toward adoption of affordable housing structures is also expected to provide lucrative growth opportunities in the container homes market.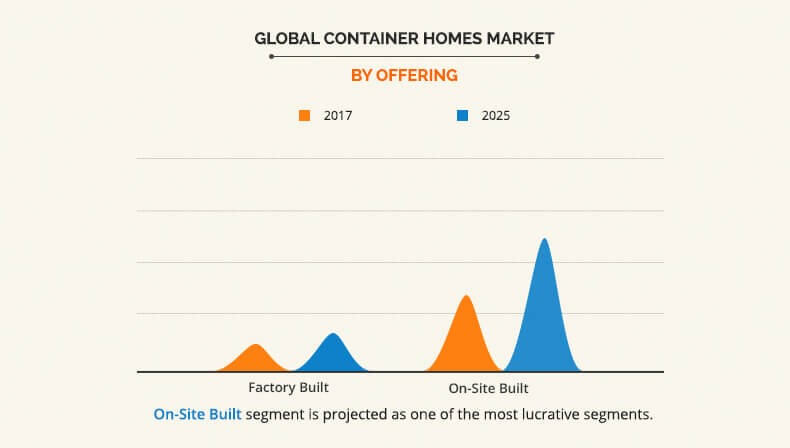 Get more information on this report: 
The global container homes market is segmented by container type, offering, architecture type, construction type, end user, and region. The container type segment includes type of containers used for building homes, which are new/idle containers and old/scrap containers. In 2017, the old/scrap containers segment dominated the market, in terms of revenue, and is expected to maintain this trend in the coming years. The offering segment is further bifurcated into factory-built homes and on-site built homes, among which on-site built container homes segment is expected to secure the highest share during forecast period. By architecture type, the market is divided into tiny houses, duplex/bungalows, and Multistory buildings/apartments. The multi storey buildings/apartments segment is expected witness the highest CAGR during the forecast period.
By construction type the market is sub segmented into fixed and movable homes. Based on end-user, the market is categorized into residential homes, recreational homes, emergency homes, and nursing homes. The residential homes segment is anticipated to dominate the global container homes market throughout the forecast period. Based on region, the market is analyzed across North America, Europe, Asia-Pacific, and LAMEA. In 2017, North America accounted for the highest share in the container homes market and is anticipated to secure the leading position during the forecast period.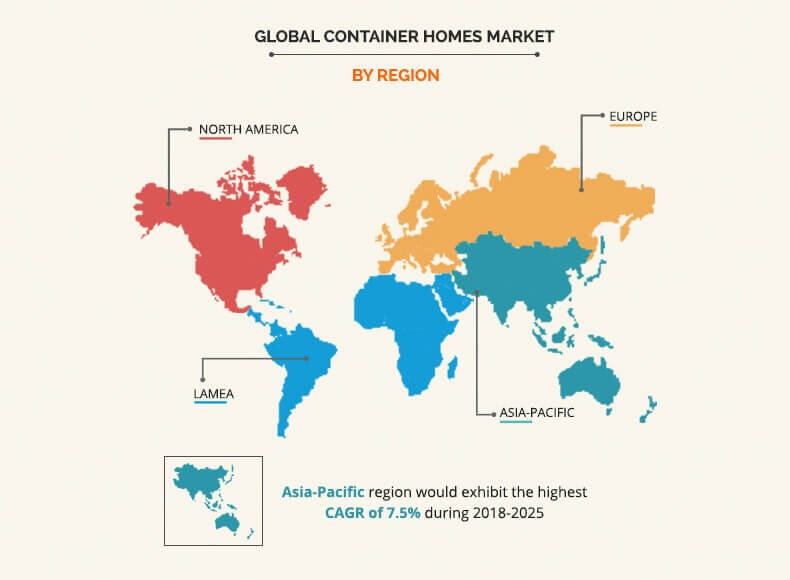 Get more information on this report: 
Competition Analysis
Competitive analysis and profiles of the major container home market players, such as Anderco Pte Ltd., Container Homes USA, Giant Containers, HONOMOBO, Royal Wolf., SG Blocks, Inc., Shanghai Haicheng Special Steel Container Co., Ltd., Speed House Group of Companies., Supertech Industries, and Temohousing are provided in this report.
Key Benefits forContainer Homes Market:
The report provides an extensive analysis of the current and emerging market trends, and dynamics in the global container homes market.
In-depth analysis is conducted by constructing market estimations for the key market segments between 2018 and 2025.
Extensive analysis of the market is conducted by following key product positioning and monitoring of the top competitors within the market framework.
A comprehensive analysis of all regions is provided to determine the prevailing opportunities in these geographies.
Key market players within the container homes market are profiled in this report and their strategies are analyzed thoroughly, which help understand the competitive outlook of the global container homes market.
Container Homes Key Market Segments:
By Solution
New/Idle Container
Old/Scrap Container
By Offering
Factory Built
On-Site Built
By Architecture Type
Tiny House
Duplex/Bungalow
Multistory Building/Apartments
By Construction Type
By End User
Residential Homes
Recreational Homes
Emergency Homes
Nursing Home
By Region
North America
Europe

Germany
UK
Italy
Netherlands
Rest of Europe

Asia-Pacific

China
India
Japan
Australia
Rest of Asia Pacific

LAMEA

Latin America
Middle East
Africa
Key Players
Anderco Pte Ltd.
Container Homes USA
Giant Containers
HONOMOBO
Royal Wolf.
SG Blocks, Inc.
Shanghai Haicheng Special Steel Container Co., Ltd.
Speed House Group of Companies.
Supertech Industries
Temohousing