Container Orchestration Market Statistics - 2026
The global container orchestration market size was valued at $332.7 million in 2018, and is projected to reach $1,382.1 million by 2026, growing at a CAGR of 17.2% from 2019 to 2026. Container orchestration involves managing the service life of containers. It aids in automating scheduling of hosts, deployment, health monitoring, resource sharing of containers, containers scaling & descaling, and load balancing. When a new container is to be deployed into a cluster, the container orchestration tool schedules the deployment and finds the most appropriate host to place the container depending on predefined constraints. Containers can be placed according to their proximity in relation to other hosts or metadata or labels. Container orchestration manages the lifecycle of containers after running the containers on host. 
Rise in implementation of micro-services architecture, surge in adoption of application container technology, rise need for the containers & scheduling workloads, and proliferation of open-source container platforms are expected to impact the growth of the global container orchestration market. However, lack of cloud architect skills required for operating the container orchestration tools is anticipated to hamper the market growth. On the contrary, increase in investment on application container technology and container orchestration for IoT devices are expected to offer lucrative opportunities for market expansion.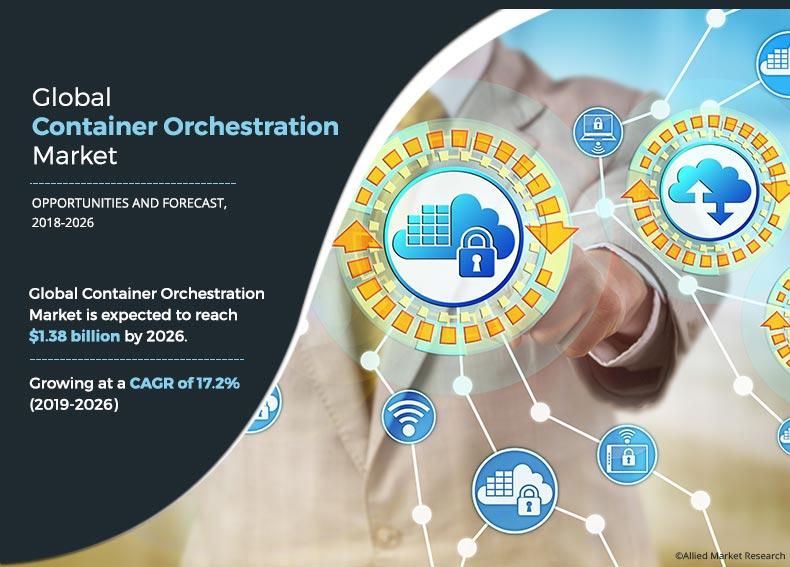 In 2018, North America garnered the highest container orchestration market share, due to major penetration of application container technology in this region by large enterprises. Furthermore, rise in adoption of cloud computing technology & IoT is anticipated to boost the adoption of the application container orchestration technology. Moreover, continuous advancements in IT infrastructure, large-scale adoption of cloud computing, presence of major number of container orchestration market vendors, and accessibility to skilled staff to operate on the container orchestration tools are expected to contribute toward the market growth in this region.
Container Orchestration Market

---
By Component
Service segment is projected to show highest growth during the forecasted period.
The report focuses on the growth prospects, restraints, and global container orchestration market trends. Moreover, the study includes the Porter's five forces analysis of the industry to understand the impact of various factors such as bargaining power of suppliers, competitive intensity of competitors, threat of new entrants, threat of substitutes, and bargaining power of buyers on the container orchestration market growth.
Container Orchestration Market

---
By Organization Size
SMEs segment is projected to show highest growth during the forecasted period.
Segment review
The global container orchestration market is segmented into component, organization size, industry vertical, and region. Depending on component, the market is bifurcated into platform and services. According to organization size, it is categorized into large enterprises and SMEs. On the basis of industry vertical, it is segregated into BFSI, government, IT & telecom, retail, healthcare, and others. Region wise, it is analyzed across North America, Europe, Asia-Pacific, and LAMEA.
Container Orchestration Market

---
By Industry Vertical
IT and Telecom Sector segment dominated the market in 2018.
The key players operating in the global container orchestration market analysis include Amazon Web Services, Inc., Cisco Systems, Inc., D2iQ, Inc., Docker Inc., Google LLC, Microsoft Corporation, Oracle Corporation, Rancher, Red Hat, Inc., and SUSE.
Container Orchestration Market

---
By Region
North America region is expected to dominate the market during the forecast period.
Top impacting factors
Increase in adoption of application container technology
Rapidly growing trend of containerization is driving the adoption of container orchestration tools. For instance, according to the survey data by "The New Stack," adoption of the container orchestration technology acts as a catalyst for the growth of the global container orchestration market. Around 60% of respondents who have deployed containers in production are also using Kubernetes, one of the leading container orchestration platforms widely in production, which propels the growth of the market.
Container technology is being widely adopted, owing to the fact that it serves as an emerging and reliable means to quickly package, deploy, and run application workloads without the need for moving hardware or operating systems physically. Furthermore, it helps organizations to enable a self-sufficient runtime and abstract away the particulars of the underlying operating system and hardware. Application container technology securely categorizes applications and allows to run them simultaneously for efficient resource utilization. 
The survey published by the Cloud Foundry indicated growth in number of containers being deployed. In 2016, merely 37% of container organizations had more than 100 containers deployed, whereas in 2018 it increased to 47%. According to a survey conducted in 2016 by The New Stack survey, around 45% companies using containers in production have deployed a container orchestration platform. However, in 2017, this figure ascended to 61%. Moreover, a survey conducted in 2018 by the Cloud Native Computing Foundation (CNCF) indicates that more than 80% of companies use container orchestration tool in production to manage the service life of containers and enable efficient scaling of them to optimize the results. 
Rise in implementation of micro-services
Micro-service is an architectural style, which structures an application as a collection of small autonomous services, modeled around a business domain. It serves as a modern approach in an application's architecture compared to a monolithic architecture where all applications' components and functions are in a single instance. In addition, micro-service architecture addresses the issues that users face in a monolithic application. 
It permits rapid, frequent, and reliable delivery of large, complex applications. The container orchestration platform enables to automate the deployment of containerized micro-services, which makes it easier to manage all of the components and micro-services of all IT applications. Thus, increase in adoption of micro-services architecture for building applications is propelling the need for container orchestration. Kubernetes, a container orchestration system designed by Google, is one of the popular choices by developers due to its functionality of rapidly introducing their application from development to production. 
Usage of container orchestration for IoT devices
Enterprises are utilizing Internet of Things (IoT) devices such as security cameras, office printers to lighting & heating, and ventilation & air-conditioning (HVAC) systems. Industry verticals such as healthcare and manufacturing are deploying IoT with the aim of increasing efficiency in running the IoT devices, declining costs, and attaining a competitive edge. However, as per the Cisco reports, approximately three quarters of all the IoT projects result in failure. Thus, organizations are utilizing container orchestration tools for connecting IoT and edge devices with distributed containers & network elements in the cloud or physical servers. Without container orchestration, the number of devices that can be successfully deployed are considerably less. Enterprises build their IoT and edge network on top of an orchestration platform to avoid the event where additional devices will be unable to communicate with the network which could result into complete network failing.
Kubernetes is emerging as a popular choice of orchestration platform for building hybrid cloud services, and is expected to play a key role in the upcoming IoT and edge deployments. For instance, early adopters of Kubernetes to deploy IoT devices include the fast food company, Chick-fil-A Inc., which deployed mini data centers at 2,000 of their restaurants, where it has more than 6,000 devices running Kubernetes. The deployment helped the company to reduce its reliance on internet connections while noticeably reducing latency. Such implementation of container orchestration among various organizations for IoT devices is expected to offer lucrative opportunities for the container orchestration market growth during the forecast period.
Key Benefits for Stakeholders:
This study includes the analytical depiction of the global container orchestration market forecast and trends to determine the imminent investment pockets.
The report presents information related to key drivers, restraints, and opportunities.
The current container orchestration market size is quantitatively analyzed from 2018 to 2026 to highlight the financial competency of the industry.
Porter's five forces analysis illustrates the potency of buyers & suppliers in the container orchestration industry.
 Container Orchestration Market Report Highlights
Aspects
Details
By Component
By Organization Size
By Industry Vertical

BFSI
Government
IT & Telecom
Retail
Healthcare
Others

By Region

North America (U.S., Canada, Mexico)
Europe (UK, Germany, France, Rest of Europe)
Asia-Pacific (China, Singapore, Japan, Australia, Rest of Asia-Pacific)
LAMEA (Latin America, Middle East, Africa)

Key Market Players
Red Hat, Inc., Oracle Corporation, Cisco Systems, Inc., Amazon Web Services, Inc., Google LLC, Docker Inc., D2iQ, Inc., SUSE, Microsoft Corporation, Rancher