Contract Packaging Market Research, 2031
The global contract packaging market size was valued at $52.1 billion in 2021, and is projected to reach $102.8 billion by 2031, growing at a CAGR of 6.9% from 2022 to 2031. Contract packaging, also known as co-packaging, is a packaging service offered by packaging firms to various manufacturers. The contract packaging services broadly include package design, product packaging and can also include storage and distribution of the products.
The contract packaging market was hampered during the outbreak of COVID-19 pandemic, owing to restrictions on manufacturing activities. In addition, the economic slowdown reduced the purchasing power of the masses and negatively impacted the demand for personal care products.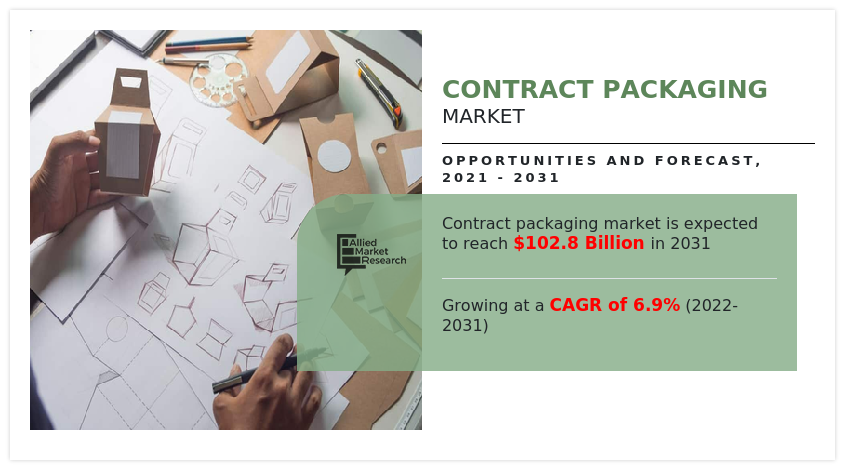 Packaging is necessary for keeping the product safe during transportation and during its shelf life. Packaging is an important aspect of any tangible product. However, packaging of a product involves a large number of resources and initial investments. Therefore, to address this issue, third-party packaging firms, also known as contract packaging firms, are hired by manufacturers to carry out the packaging of their products. Moreover, contract packaging offers expertise and resources required for packaging. Hence, increase in number of small and medium scale businesses across the world and benefits offered by the contract packaging firms are anticipated to drive the demand in the contract packaging market. Rise in e-commerce industry has also been instrumental in surging the demand for tertiary packaging across the world; thereby positively influencing the contract packaging market. In addition, various packaging intensive industries such as pharmaceutical, consumer goods, food & beverages and electronics, are witnessing a surge in demand owing to various factors such as rise in disposable income, rise in population, and favorable government guidelines toward businesses in many countries. Thus, rise in above industries is anticipated to positively influence contract packaging market growth.
Major players in the contract packaging industry are aligning with other companies to serve customer better and sustain the competition. For instance, in March 2022, Nulogy Corporation a provider of supply chain collaboration solutions, partnered with The Blackrock Group, a global supply chain consulting services provider. This partnership is aimed towards providing a accelerate speed-to-market service for contract manufacturers and contract packers via their complementary digital platforms. Furthermore, on October 2021, Silgan Holdings Inc. a manufacturer of triggers and pumps to sprayers and closures, acquired Unicep Packaging, a filling and packaging services provider. The name of the merger is Silgan Unicep. This acquisition is accepted to enhance the market position of Silgan Holdings Inc.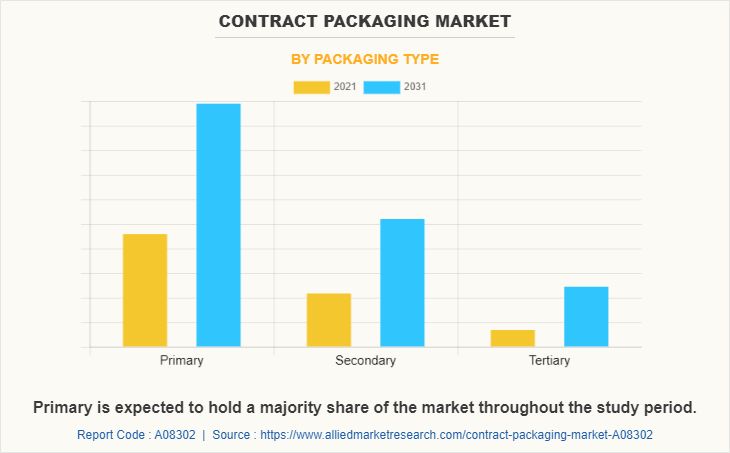 The novel coronavirus rapidly spread across various countries and regions, causing an enormous impact on the lives of people and the overall community. It began as a human health condition and later became a significant threat to global trade, economy, and finance. The COVID-19 pandemic halted the business of contract packaging firms due to restrictions on manufacturing activities. The economic slowdown initially resulted in reduced production in various end-user industries of contract packaging firms. However, owing to the introduction of various vaccines, the severity of COVID-19 pandemic has significantly reduced. As of mid-2022, the number of COVID-19 cases have reduced significantly. This has led to reopening of manufacturing and contract packaging companies at their full-scale capacities. Furthermore, it has been more than two years since the outbreak of this pandemic, and many companies have already shown notable signs of recovery.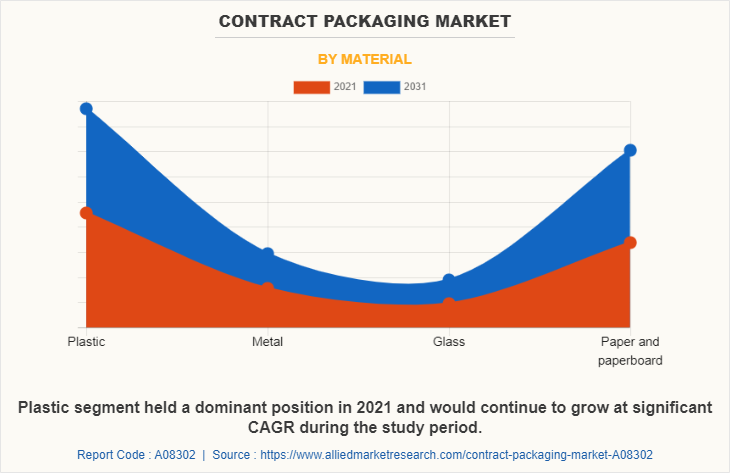 Furthermore, there have been many advancements in packaging technology such as smart packaging, anti-microbial packaging, water soluble packaging, and corn starch-based packaging. These advancements in packaging media have low-carbon foot-print and feature sustainability. Such advancements in packaging technology are anticipated to provide lucrative opportunities for the contract packaging firms to witness growth during the forecast period.
The contract packaging market is segmented into Packaging Type, Material and End-User Industry. By type, the market is categorized into primary, secondary, and tertiary. On the basis of material, it is categorized into plastic, glass, metal, and paper & paperboard. And on the basis on end user, the market is categorized into food & beverage, pharmaceutical, electronics, personal care, and others. Region wise, the market is analyzed across North America, Europe, Asia-Pacific, and LAMEA. Asia-Pacific held the majority contract packaging market share in 2021, accounting for the highest share, and is anticipated to maintain this trend throughout the forecast period. This is attributed to increase in its demand in consumer goods and food and beverages sectors.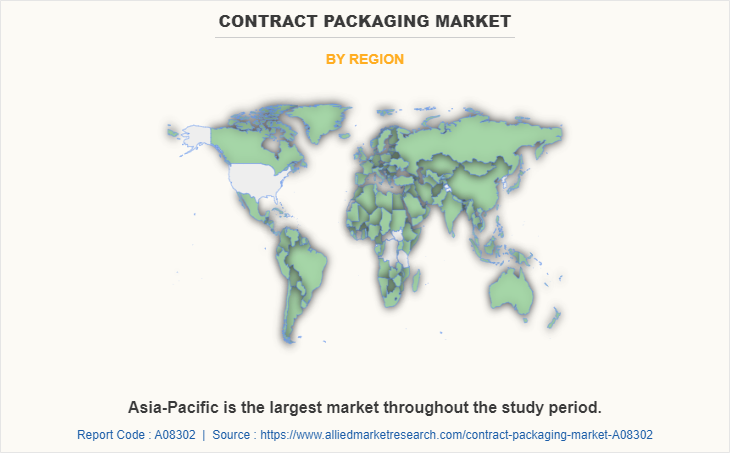 Competition Analysis 
Key companies profiled in the contract packaging market forecast report include Aaron Thomas Company Inc., AmeriPac Inc., Assemblies Unlimited Inc., Co-Pak Packaging, Assured Edge Solutions, Deufol, DHL, Hollingsworth, Green Packaging Asia, Jones Packaging, Kelly Products Inc., Sharp Packaging, Sonic Packaging Industries, Stamar Packaging, Sterling Contract Packaging Inc., Silgan Holdings Inc., and Wepackit Inc.
Key Benefits For Stakeholders
This report provides a quantitative analysis of the market segments, current trends, estimations, and dynamics of the contract packaging market analysis from 2021 to 2031 to identify the prevailing contract packaging market opportunities.
The market research is offered along with information related to key drivers, restraints, and opportunities.
Porter's five forces analysis highlights the potency of buyers and suppliers to enable stakeholders make profit-oriented business decisions and strengthen their supplier-buyer network.
In-depth analysis of the contract packaging market segmentation assists to determine the prevailing market opportunities.
Major countries in each region are mapped according to their revenue contribution to the global market.
Market player positioning facilitates benchmarking and provides a clear understanding of the present position of the market players.
The report includes the analysis of the regional as well as global contract packaging market trends, key players, market segments, application areas, and market growth strategies.
 Contract Packaging Market Report Highlights
Aspects
Details
By Packaging Type

Primary
Secondary
Tertiary

By Material

Plastic
Metal
Glass
Paper and paperboard

By End-User Industry

Food and Beverage
Pharmaceutical
Electronics
Personal Care
Others

By Region

North America (U.S., Canada, Mexico)
Europe (Germany, France, Italy, U.K., Rest of Europe)
Asia-Pacific (Rest Of Asia Pacific, China, Japan, India, South Korea)
LAMEA (Latin America, Middle East, Africa)

Key Market Players
Sharp Packaging, Assemblies Unlimited Inc., Wepackit Inc., co-pak packaging corp., AmeriPac Inc., Kelly Products Inc., Sonic Packaging Industries, Silgan Holdings Inc., Aaron Thomas Company Inc., Assured Edge Solutions, Stamar Packaging, Green Packaging Asia, Sterling Contract Packaging Inc., DHL, Jones Packaging, Deufol, Hollingsworth