Corrugated Packaging Market Research, 2031
The global corrugated packaging market was valued at $134.5 billion in 2021, and is projected to reach $198.8 billion by 2031, growing at a CAGR of 4.1% from 2022 to 2031.
Report Key Highlighters:
20 countries are covered in the corrugated packaging market report. The segment analysis of each country in both value ($million) and volume (kilotons) during the forecast period 2021-2031 is covered in the report.

Historical data and regulations are also covered in the report.

Over 3,700 product literature, annual reports, industry releases, and other such documents of major industry participants have been reviewed in order to obtain a better understanding of the market.
The corrugated packaging industry is in demand due to increased internet usage and e-commerce. It is used to protect products during distribution, develop brand identification, and manage shipping costs. It provides stylish and exceptional packaging that benefits brand reputation, product safety, consumer appeal, and product marketing and distinction.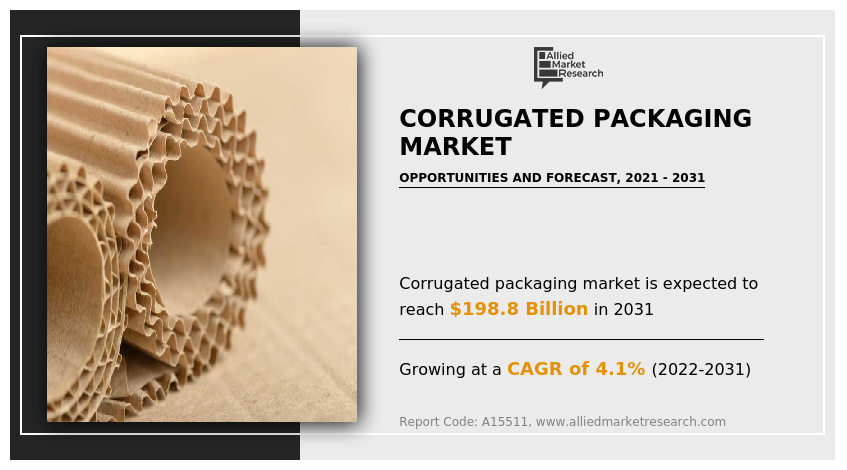 Corrugated packaging is typically made of paperboard and is suitable for food, pharmaceuticals, equipment, and a variety of other products. Corrugated packaging is made by folding, cutting, and shaping sheets of high duty layered papers and can be used to produce food packaging boxes, cardboard boxes, juice boxes, milk cartons, and other objects. Corrugated cardboard is thicker and stronger and is commonly used to create shipping boxes and even furniture. Corrugated box packaging is a part of the recycling industry and is comprised of shredded and compressed recycled cardboard, paper, paper waste, and sawdust.
It represents technological, design, material handling, and environmental advancements which act as a cushion for the product, keeping it safe throughout long-distance transit, shipping, and handling. It is also designed to withstand the wear and tear of usual daily transportation operations which make easier and faster to load products. Corrugated packaging is frequently combined to create double or triple wall boxes that are stronger and thicker than most other types of packaging. This enables corrugated boxes to be utilized in the shipping business, where large objects are transported. Corrugated boxes that are lighter and less expensive are utilized in retail packaging and food packaging. Pizza boxes, for instance, are composed of single-walled corrugated cardboard.
Corrugated board is a recyclable packaging material created from discarded cartons and other sources of second-hand paper. The composition of cardboard and paper-based packaging includes recycled materials or lumber industry by products such as sawdust and wood chips. As per the TRVST, a leading sustainability conglomerate, estimates that around 70% of commercially transported cardboard boxes are collected for recycling. Corrugated cardboard is now one of the most commonly and successfully recycled materials in the world. Carton composition ranges from 70 to 90% recycled materials, making them an excellent alternative to plastic and wood packaging.
Rise in demand from the food and beverage and personal care industries is predicted to propel the market growth during the forecast period.
Corrugated packaging is durable and resilient, preserving food and beverage products while they are shipped over long distances and are handled by a variety of consumers. Corrugated boxes can also be customized to be right sized to hold the products. Corrugated packaging is used in personal care to protect it from infection and other damages. Rigid corrugated packaging is significant in the personal care industry as it enables customers to express their lifestyle or image choices. An effective corrugated packaging design includes accurate labelling, temperature resistance, simplicity and flexibility, cost-effectiveness, and sustainability.
However, the availability of substitutes as corrugated packaging is predicted to hinder the growth of the corrugated packaging market during the forecast period. Flexible plastic packaging, offers big advantages like corrugated packaging to manufacturers and retailers as it reduces packaging weight, resulting in cheaper shipping and warehousing costs and the requirement for much less space. Consumers benefit from features such as single serve portions, easy opening and peeling choices, and the food tastes better in reactive pouches than in traditional tin cans. According to the United States Department of Agriculture (USDA), the Indian corrugated packaging food industry sold 23.81 metric tons of dairy products in 2021. With more than 75% of sales occurring in urban areas, India's food retail expansion and diversification is projected to act as accelerators for dairy packaged products, particularly corrugated packaging.
The corrugated packaging market is segmented into wall type, packaging type, end-use industry, and region. On the basis of wall type, the market is categorized into single wall, double wall, triple wall, and single faced. On the basis of packaging type, it is divided into boxes, trays, sheets, container, and others. On the basis of end-use industry, the market is classified into food & beverages, personal care, pharmaceuticals, electronic goods, and others. Region wise, the market is studied across North America, Europe, Asia-Pacific, and LAMEA.
Key Players and Strategies:
Major players operating in the global corrugated packaging market forecast includes DS Smith Plc, Georgia-Pacific, LLC., International Paper, Mondi Group, Nine Dragons Worldwide (China) Investment Group Co., Ltd., Oji Holdings Corporation, Packaging Corporation of America, Rengo Co., Ltd., Smurfit Kappa, and WestRock Company. These players have adopted several growth strategies to strengthen their position in the market.
For instance, in April 2022, DS Smith Plc introduced corrugated cardboard packaging for medical devices. This product launch intends to promote environmental protection across the supply chain. The packaging can be utilized for e-commerce delivery, with cardboard inserts storing various elements of the gadget. It is also claimed to reduce costs.
In November 2022, Smurfit Kappa expanded its business by investing 22 million USD in its manufacturing plants in Olomouc in the Czech Republic and Obaly Sturovo in Slovakia respectively.  The two operations received extensive modifications, including the installation of cutting-edge technology to increase production and meet rising customer demand for paper-based packaging solutions. This growth will raise demand for corrugated packaging products.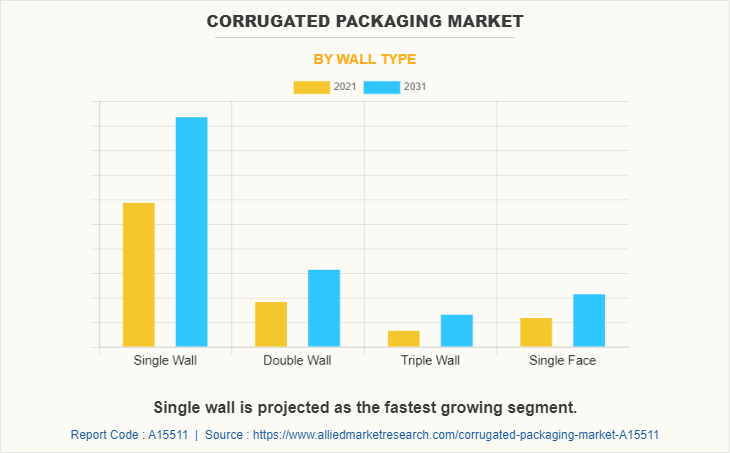 The single wall segment accounted for the largest share of the global corrugated packaging market in terms of revenue, in 2021. Single wall corrugated packaging is placed between two sheets of liners to produce single wall corrugated packaging. A fluted corrugated sheet separates an inner and outer liner in single wall corrugated packaging. Single wall board is used in shipping boxes that are less in weight.  Single wall corrugated boxes provide a cost-effective packaging solution for general consumer use and for e-commerce or online businesses. It is designed for light to medium-duty usage, making it ideal for house removals for storing, organizing, and transferring items.
The boxes segment accounted for the largest share of the global corrugated packaging market in terms of revenue, in 2021. Corrugated boxes are provided as slotted boxes, telescope boxes, rigid boxes, and folded boxes. Slotted boxes are made of one solid piece with a stitched, taped, or glued manufacturer's junction with top and bottom flaps. It is perfect for usage as storage containers, retail packaging, and product packaging. Due to their manageable sizes, telescopic corrugated boxes are used for packing shoes, garments, kitchen ware, and many other products. Corrugated boxes are utilized for prestige, luxury, elegance, and quality packaging, and are ideal for small, high-end items such as jewelry or electronics.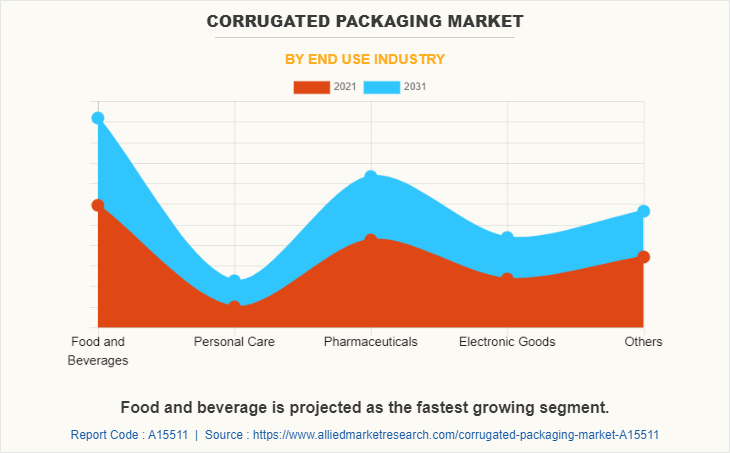 Food and beverage segment dominated the global corrugated packaging market in 2021. Corrugated boxes are among the most cost-effective secondary packaging materials utilized in the food and beverage sectors. Corrugated packaging is essential for preserving food quality and providing food safety over a long shelf life, which is critical for cakes, candies, and frozen ready-to-eat bakery goods. Corrugated packaging is non-reactive, making it an excellent choice for packing, transporting, and keeping food over long periods of time. Corrugated food packaging requires the use of safe packaging materials that are acceptable to customers while also ensuring food safety.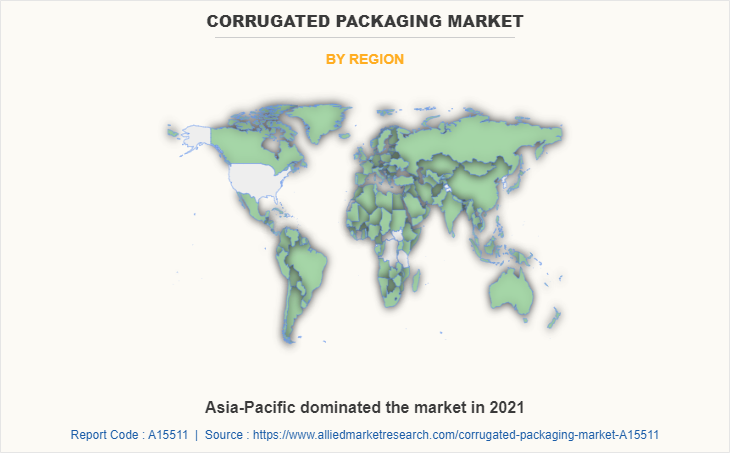 In Asia-Pacific corrugated packaging market share is projected to register a robust growth during the forecast period. In Asia-Pacific, corrugated packaging is mostly used for consumer goods, home appliances, medicinal products, and other. Corrugated packaging is used in the pharmaceutical industry to keep moisture out of the product and to make it resistant to external influences like moisture, biological contamination, oxygen, moisture, adulteration, mechanical damage, and to ensure the quality and effectiveness of pharmaceutical products. In Asia-Pacific, corrugated packaging is also utilized in the form of paper composite, which may be used in precision instruments, electromechanical equipment, household appliances, ceramic packing boxes, liners, and other products.
Historical Trends:
Henry Norris and Robert Thompson created the first corrugated boxes in the U.S. in 1894. They were sold to Wells Fargo for shipping reasons a year later. These cardboard boxes were not only less expensive and lighter than typical wooden boxes, but they were also easier to store.
Corrugated or pleated paper was first used as a liner in the construction of tall hats in England in 1856, but corrugated boxboard was not trademarked and utilized as a shipping medium until 1871. Albert Jones of New York City received the patent for single-sided corrugated board.   G. Smyth created the first machine for mass production of corrugated board in 1874, and the same year Oliver Long improved on Jones' design by developing corrugated board with liner sheets on both sides. Corrugated growth rates fell from more than 7% per year between 2009 and 2010, to just 3.4% per year on average from 2011 to 2017, as the sector recovered from the global recession.
Key Regulations:
Feedback Energy Distribution Company Limited (FEFCO), Goods Manufacturing Practice (GMP) standard is developed for the manufacturing of packaging made of corrugated board in order to support companies to fulfil the legal requirements according to EU Regulations 1935/2004/EG for food contact materials and EU Regulation 2023/2006 on good manufacturing practices.
Key Benefits For Stakeholders
This report provides a quantitative analysis of the market segments, current trends, estimations, and dynamics of the corrugated packaging market analysis from 2021 to 2031 to identify the prevailing corrugated packaging market opportunities.
The market research is offered along with information related to key drivers, restraints, and opportunities.
Porter's five forces analysis highlights the potency of buyers and suppliers to enable stakeholders make profit-oriented business decisions and strengthen their supplier-buyer network.
In-depth analysis of the corrugated packaging market segmentation assists to determine the prevailing market opportunities.
Major countries in each region are mapped according to their revenue contribution to the global market.
Market player positioning facilitates benchmarking and provides a clear understanding of the present position of the market players.
The report includes the analysis of the regional as well as global corrugated packaging market trends, key players, market segments, application areas, and market growth strategies.
 Corrugated Packaging Market Report Highlights
Aspects
Details
Market Size By 2031
USD 198.8 billion
Growth Rate
CAGR of 4.1%
Forecast period
2021 - 2031
Report Pages
380
By Wall Type

Single Wall
Double Wall
Triple Wall
Single Face

By Packaging Type

Containers
Others
Boxes
Trays
Sheets

By End Use Industry

Food and Beverages
Personal Care
Pharmaceuticals
Electronic Goods
Others

By Region

North America (U.S., Canada, Mexico)
Europe (Germany, France, UK, Spain, Italy, Rest of Europe)
Asia-Pacific (China, India, Japan, South Korea, Australia, Rest of Asia-Pacific)
LAMEA (Brazil, Saudi Arabia, South Africa, Rest of LAMEA)

Key Market Players
WestRock Company, Georgia-Pacific, LLC., Oji Holdings Corporation, Smurfit Kappa, Mondi Group, DS Smith Plc, Rengo Co., Ltd., International Paper, Nine Dragons Worldwide (China) Investment Group Co., Ltd., Packaging Corporation of America