Corrugated Pallets Market Outlook - 2026
Corrugated pallets (paper pallets) are the pallets made of corrugated material, paper board sheets, and other paper materials except wood. According to AMR, the global corrugated pallets market size was valued at $1,062.0 million in 2018, and is anticipated to reach $1,481.9 million by 2026, with a CAGR of 4.4% during the forecast period. The corrugated pallets market exhibit incremental revenue opportunity of $419.9 million from 2018 to 2026. Corrugated pallets have been manufactured through a variety of methods, which include corrugated top decks and bottom decks, internal support cells, honeycomb support blocks, corrugated runners, support blocks (manufactured by compressed corrugated material), and built up runners among others. The corrugated pallets are processed through many variations including manual and automated/machine assembly. The corrugated pallets are widely used among various end users, which include food & beverages, chemical and pharma, agriculture, metal & machinery, wholesalers, and others.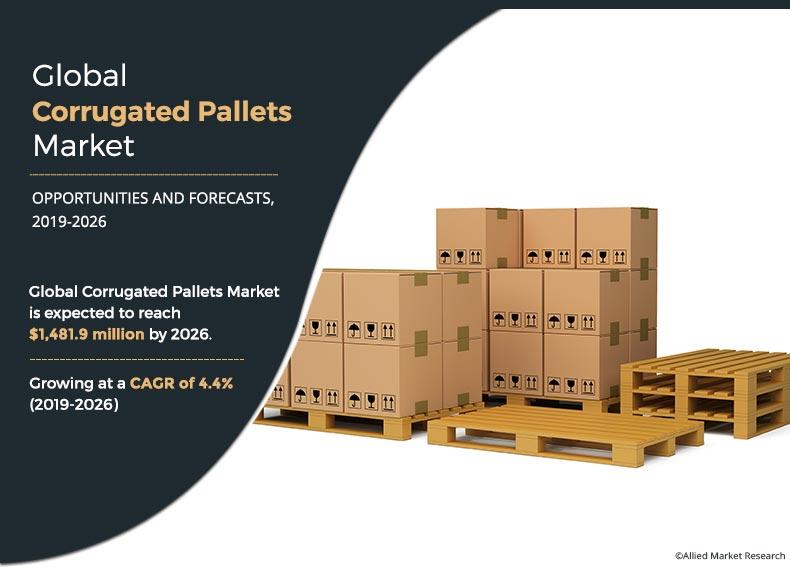 The e-commerce retail channels are gaining popularity among household and are growing in conscience of consumers. The companies using non-recyclable materials in their packaging are facing strong criticism and public debate. The usage of plastic in packaging is perceived as least sustainable form of packaging and always faces legal hurdles from environment protection agencies and government authorities. To overcome such public debate, the government are implementing more stringent policies. Recently, European Unions had implemented a policy where all plastic used in the market should be fully recyclable by 2030. Brands, retailers, and food processing companies are responding separately to such alarming situations and are targeting to replace least sustainable packaging materials with full recyclable one, e.g., supermarkets operating in Iceland pledge to go plastic free for their private label foods by 2023. This is expected to boost the growth of the corrugated pallets market.
Corrugated packaging is the one of the effective natural substitutes for plastic packaging material and is 100% recyclable. As per Eurostat, the corrugated packaging has highest recycling rate than any other form of packaging material. Market leaders in corrugated packaging products manufacturing are continuously taking efforts to identify the area of opportunity where corrugated materials can be used instead of plastic and other least sustainable materials.
Corrugated Pallets Market

---
By Product Type
<3 walls segment dominates the global Corrugated Pallets market and is expected to retain its dominance throughout the forecast period.
The significant growth in e-commerce platform has demand the high-quality packaging for its supply chain. The E-commerce retailing sectors is attributed to account for over 12% of total retail in Western Europe by 2022 and over 19% of total retail sector in the U.S. by 2022. In China, the retail sector is expected to achieve revenue share of 29% by 2022. This clearly shows scale of opportunity available for e-commerce retailers. The changing demographic, increased penetration of broadband, and other internet services in China and other Asian countries coupled with development in delivery infrastructure is likely to contribute toward revenue growth of e-commerce sectors in near future. 
The E-commerce retailer operating in above regions are thriving to gain maximum revenue share by reducing overall cost on product delivery. As a result, these stakeholders are adopting effective alternatives of traditional packaging materials and are also positioning themselves as participant of environment sustainability programs. Currently, the product deviled by e-commerce channel requires 50% more corrugated packaging than traditional retail channel. This is due to need for product protection during transit and single product shipments. The companies are using lighter weight packaging materials to reduce the overall shipping cost of products. The demand for more light and sustainable packaging materials is anticipate to scale the revenue opportunity for overall corrugated pallets market during the forecast period.
Corrugated Pallets Market

---
By End User
Wholesalers segment is projected to grow with fastest CAGR during the forecast period
The corrugated pallets market is segmented on the basis of product type, end user, and region. Based on product type, the corrugated pallets market is categorized into <3 walls, 3-5 walls, and 5+ walls. Based on end user, it is segmented into food and beverages, chemical and pharma, agriculture, metal & machinery, wholesalers, and others. 
Geographically, the global corrugated pallets market is analyzed across North America (U.S., Canada, and Mexico), Europe (Germany, France, Spain, Italy, and rest of Europe), Asia-Pacific (China, India, Japan, South Korea, and rest of Asia-Pacific), and LAMEA (Middle East, Latin America, and Africa). The Asia-Pacific region offers lucrative growth opportunity for corrugated pallets, owing to increased growth of e-commerce and retail sector, which are the key end user of sustainable packaging solutions. Countries from Asia-Pacific are also witnessing growth in terms of construction due to increased spending on infrastructure by government and private organizations. In addition, growth in food and beverage processing industry and rise in demand for organic food product from Europe and North America are anticipated to provide lucrative opportunity for the market. European countries are also holding significant growth opportunity for sustainable packaging materials (including corrugated pallets) due to regulatory imposition from European Union. End users from Europe are thriving for getting more cost-effective and innovative packaging solutions for their products. These end users are anticipating to contribute toward the revenue growth of the corrugated packaging market during the forecast period.
The key players operating in corrugated pallets industry include DS Smith, Smurfit Kappa, KraftPal Technologies, The Corrugated Pallets Company, Kamps Pallets, Milwood, PGS Group, Conitex Sonoco, Spanco Enterprises, and Brambles Limited.
Corrugated Pallets Market

---
By Region
Asia-Pacific dominates the Global Corrugated Pallets market and is expected to grow with a CAGR of 5.3% during the forecast period
Key Benefits for Corrugated Pallets Market :
The report provides detailed qualitative and quantitative analysis of the current corrugated pallets market trends and future estimations that help evaluate the prevailing corrugated pallets market share and opportunities.
The key drivers, restraints, opportunities, and detailed corrugated pallets market analysis are elucidated in the study.
The market analysis is conducted by following key product positioning and monitoring the top competitors within the industry.
The report provides extensive qualitative insights on the potential and corrugated pallets segments or regions exhibiting favorable corrugated pallets market growth.
The industry player positioning segment facilitates benchmarking and provides a clear understanding of the present position of players along with the corrugated pallets market forecast.
 Corrugated Pallets Market Report Highlights
Aspects
Details
By Product Type

<3 walls
3-5 Walls
5+ Walls

By End User

Food and Beverages
Chemical and Pharma
Agriculture
Metal and Machinery
Wholesalers
Others

By Region

NORTH AMERICA (United States, Canada, Mexico)
Europe (UK, Germany, France, Italy, Spain, Rest of Europe)
Asia-Pacific (China, India, South Korea, Japan, Rest of APAC)
LAMEA (Latin America, Middle East, Africa)

Key Market Players
Smurfit Kappa, Milwood, Kamps Pallets, KRAFTPAL TECHNOLOGIES, PGS Group, Conitex Sonoco, Spanco Enterprises, Brambles Limited, DS Smith