Corrugators Market Research, 2031
The global corrugators market size was valued at $2.7 billion in 2021, and is projected to reach $4.2 billion by 2031, growing at a CAGR of 4.2% from 2022 to 2031. The corrugators market primarily includes manufacturers and users of machines that are responsible for producing corrugated paperboards. Corrugation is a process of pressing paper sheets into a wave-like shape known as 'flutes', which is sandwiched and glued between two plain paper sheets. The corrugated boards are very strong and have high tensile strength, making it suitable for industrial applications mostly for box packaging. 
The corrugators market was severely hampered during the lockdown period owning to the outbreak of COVID-19. The end-users of corrugators i.e., food & beverages, logistics & supply chain, and other industries were severely affected. However, the market recovered by the end of 2021.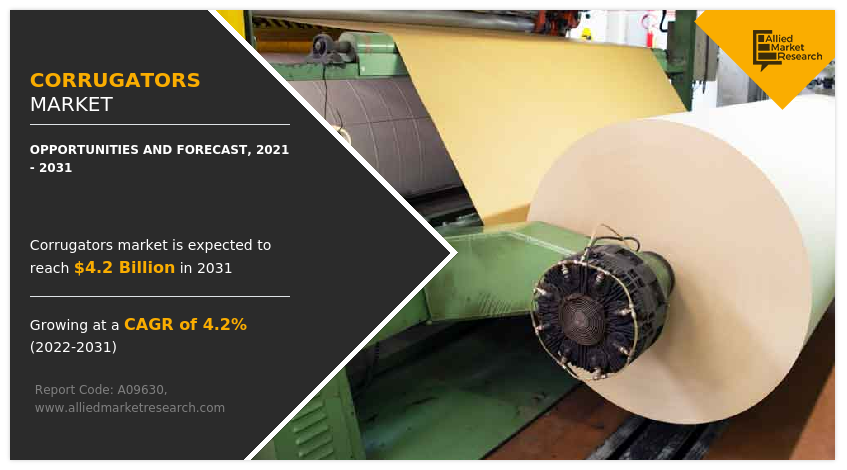 Market Dynamics 
The corrugators market has been witnessing rapid growth for the past few decades, largely due to increase in industrialization, and increased demand for sustainable packaging boxes from industries such as food and beverages, pharmaceuticals, logistics & supply chain, FMCG, and others. Furthermore, e-commerce along with the traditional retail industry is experiencing growth, with the rise in disposable income of people, which is also positively influencing the corrugators market outlook. In addition, various benefits associated with online purchases, such as ease of buying, the option to choose products at a discounted rate, and others are also playing important role in driving the growth of the e-commerce sector. For instance, the quarterly U.S. retail e-commerce sales as a percent of total quarterly retail sales increased to more than 14% in 2022, which was only 6% in 2013. Boxes made from corrugated paperboards are sturdy enough to hold heavy, delicate, fragile, and other types of products that are typically bought online. As a result of the growth in e-commerce and the retail sector, the demand for corrugated boxes has increased, which is positively affecting the market. Various companies such as U Pack, CANPAC, Packman Packaging Private Limited, and others offer a wide range of corrugated boxes for e-commerce and other industrial applications. Furthermore, the corrugated boxes produced by corrugator machines are typically made with recycled paper, if not, it is made with naturally occurring products such as sugarcane bagasse, trees, bamboo, and others. Therefore, producing the packaging requires less energy, and the use of organic materials reduces the carbon footprint of this packaging. Furthermore, these raw materials can be sourced locally; thereby, reducing the energy required for transportation. Moreover, according to UN Environment Programme, around 36% of all plastics produced are used for packaging purpose, out of which 85% or 400 million tones ends up in landfills or as unregulated waste. 98% of single-use plastic products are produced from fossil fuels, resulting in increased greenhouse gas emissions. Therefore, authorities in various countries such as U.S., UK, India, and others have restricted or banned the use of single-use plastic to safeguard the earth's environment and achieve sustainability. Furthermore, governments in developing countries such as India, Argentina, China, Vietnam, Indonesia, and Brazil have introduced initiatives and policies that aim to foster the growth of the manufacturing and other industrial sectors in the respective countries. For instance, in October 2022, Argentina launched a $3.2 billion scheme called 'Argentine Credit Programme'. This is done to help grow SMEs and large industrial and agro-industrial companies for investments and import substitution projects. Corrugated paperboards are widely used in the industrial sector in form of corrugated packaging; thus, the growth of the industrial sector is expected to positively influence the corrugators market. For instance, in November 2022, JK Paper an India-based business in the paper and pulp industry entered into Share Purchase and Shareholders' Agreements (SPSHAs) for the acquisition of 85% shares of Horizon Packs and Securipax Packaging, both of which are the major businesses dealing in corrugated packaging. 
However, fluctuations in the raw material prices are anticipated to restrain the corrugators market growth. Steel, the material primarily used for the production of corrugators machines is witnessing major fluctuations in the prices, owing to economic turmoil in the world. In addition, fluctuations in the prices of paper and pulp is a major obstruction for new businesses to enter the corrugated paperboard market; thereby, restraining the market growth. 
The demand for corrugator machines decreased in 2020, owing to low demand for corrugated paper, and paperboard from different industries due to lockdowns imposed by the government of many countries. The COVID-19 pandemic had shut-down the production of various products for the corrugated paperboard end-user. This has hampered the growth of the corrugators market significantly during the pandemic. The major demand for corrugators was previously noticed from giant manufacturing countries including the U.S., Germany, Italy, the UK, and China, which were badly affected by the spread of coronavirus, thereby halting demand for corrugators. However, owing to the introduction of various vaccines, the severity of the COVID-19 pandemic has significantly reduced. This has led to the full-fledged reopening of corrugator machine manufacturing companies, and their end user sector at their full-scale capacities. Furthermore, it has been more than two years since the outbreak of this pandemic, and many companies have already shown notable signs of recovery. Contrarily, as of end-2022, the number of Covid-19 infection cases are surging again, especially in China, this has brought negative sentiments in the market, which may have negative impact on the corrugators market. 
Segmental Overview 
The corrugators market is segmented on the basis of type, production capacity, end-user, and region. By paper type, it is divided into automatic and manual.  By production type, the market is categorized into less than 10 ton, 11-50 ton, 51-100 ton, and more than 100 ton. By end-user, it is classified into food & beverages, electronics, pharmaceuticals, logistics & shipping, and others. By region, it is analyzed across North America, Europe, Asia-Pacific, and LAMEA. 
By type: The corrugators market is bifurcated into automatic and manual. In 2021, the automatic corrugator machine segment dominated the market, in terms of revenue, and the same is expected to grow with a higher CAGR during the forecast period. The automatic corrugator machine segment includes the machines that function autonomously with little to no input from the operator. Companies such as Mitsubishi Heavy Industries, Ltd., and BW Papersystems, along with others offer automatic corrugator lines/machines. The productivity of automatic corrugator machines is substantially high, as they function autonomously. In addition to this, the elimination of human intervention significantly decreases the possibility of human error in the end product. Moreover, manual corrugator machines witness a slow yet positive demand from the small- and medium-scale industries.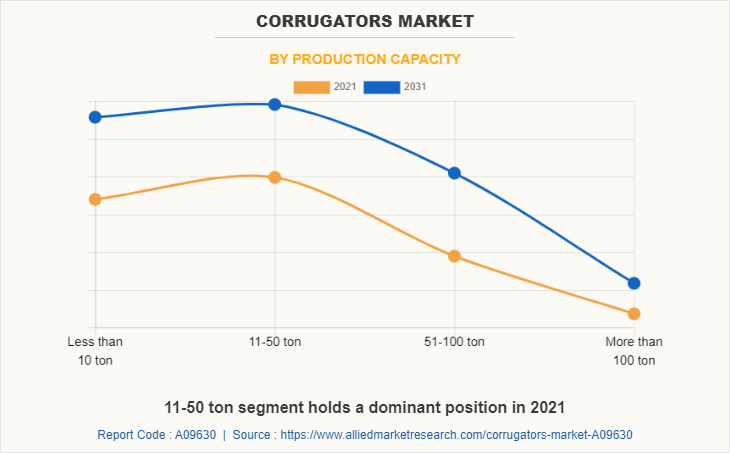 By production capacity: The corrugators market on the basis of production capacity is categorized into less than 10 ton, 11-50 ton, 51-100 ton, and more than 100 ton. The 11-50 ton segment accounted for a higher revenue in 2021. The 51-100 ton segment is expected to grow with the highest CAGR during the forecast period. The corrugator machine with 11-50 ton production capacity is widely demanded by the Small- and medium-scale industries owing to the smaller order volumes they receive. The increasing demand for corrugated paperboard from growing end-user industries is expected to positively influence this segment. Moreover, the higher growth rate for machines with 51-100 ton production capacity is attributed to growth in large scale industries.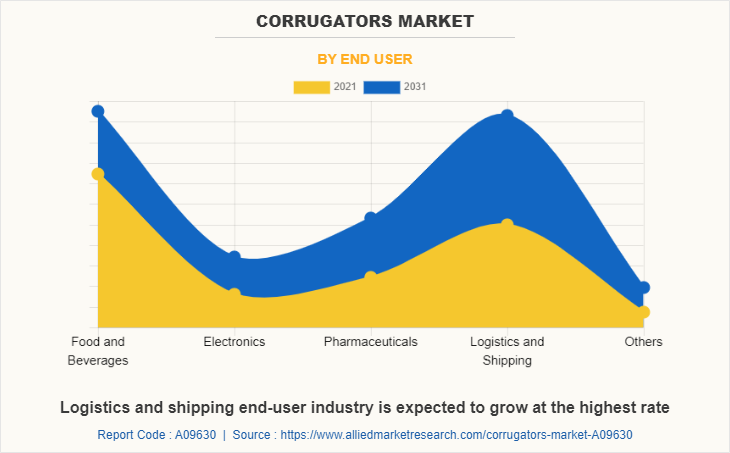 By end-user: On the basis of end-user, the corrugators market is classified into food & beverages, electronics, pharmaceuticals, logistics & shipping, and others. The food and beverages segment dominated the market in 2021, and the logistics & supply chain segment is expected to grow with the highest CAGR during the forecast period. The food and beverages industry is significantly large owing to a larger number of people who consume fast-food, order food online, and the rising global trade of food. This has been a profound reason for the introduction of various food grade corrugated packaging made form corrugated paper boards. For instance, Stora Enso, a leading provider of renewable products in packaging offers a wide range of corrugated box packaging for food and beverages. Moreover, increasing disposable income, rising industrialization, and rising globalization are playing a crucial role in the growth of the logistics & supply-chain industry. For instance, in June 2022, Delhivery, a logistic giant announced plans to expand its infrastructure in Mumbai, and Bangalore, two key cities of India by collaborating with Welspun.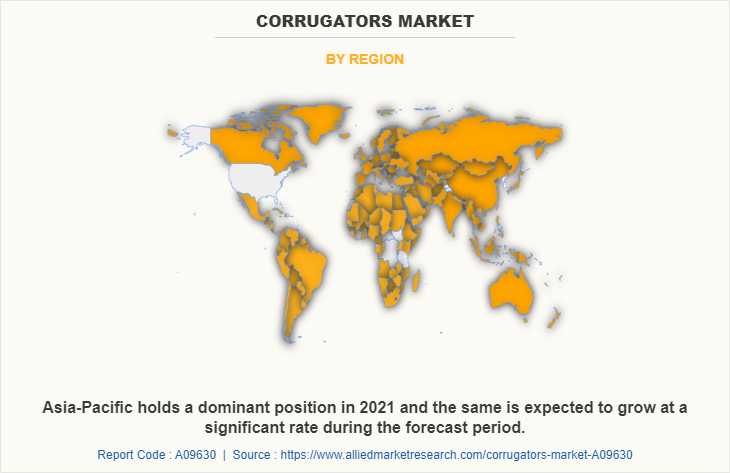 By region: The market is analyzed across North America, Europe, Asia-Pacific, and LAMEA. Asia-Pacific accounted for the highest corrugators market share in 2021, and the same is anticipated to secure the leading position during the forecast period, due to the high growth potential of the manufacturing sector including food and beverages, electrical and electronics, healthcare, and other industries. India, China, and Vietnam are a few of the major manufacturing hubs in Asia-Pacific, owing to relatively easy statutory guidelines. Therefore, major players are striving to develop manufacturing units in these markets to improve production quantities as well as serve the industries in Asia-Pacific. Moreover, various government initiatives to ban or restrict the usage of single-use plastic products and bags are also playing a crucial role in driving the growth of the corrugator market. In July 2022, the Indian government banned single-use plastic items. According to M.L. Agarwal, President of the Corrugated Box Manufacturers Association of Telangana, Hyderabad, at the end of last decade, the total corrugated box manufacturing business in India is worth $4.11 billion, approximately 8 million tons of production. Furthermore, in May 2022, Kerala Paper Products Ltd (KPPL), a manufacturer of paper products invested 126 million to increase its production capacity of packaging grades of kraft paper, which is expected to positively affect the market for corrugator machines, as corrugated packaging is largely made using kraft paper.  
Competition Analysis
Competitive analysis and profiles of the major players in the corrugators market, such as ISOWA Corporation, Mitsubishi Heavy Industries, Ltd., BW Papersystems, Wenzhou Kingsun Machinery Industrial Co., Ltd, Acme Machinery Co. Pvt. Ltd., HIC Machinery Co., Sai Engineering, BHS Corrugated Maschinen- und Anlagenbau GmbH, Champion Corrugated Co., LTD., and Guangdong Dongfang Precision Science & Technology Co., Ltd (Fosber S.p.A.) are provided in this report.  
Key Benefits For Stakeholders 
The report provides an extensive analysis of the current and emerging corrugators market trends and dynamics.   

In-depth corrugators market analysis is conducted by constructing market estimations for key market segments between 2021 and 2031.  

Extensive analysis of the corrugators market is conducted by following key product positioning and monitoring of top competitors within the market framework. 

A comprehensive analysis of all the regions is provided to determine the prevailing opportunities. 

The corrugators market forecast analysis from 2022 to 2031 is included in the report. 
 Corrugators Market Report Highlights
Aspects
Details
Market Size By 2031
USD 4.2 billion
Growth Rate
CAGR of 4.2%
Forecast period
2021 - 2031
Report Pages
289
By Type
By Production Capacity

Less than 10 ton
11-50 ton
51-100 ton
More than 100 ton

By End User

Food and Beverages
Electronics
Pharmaceuticals
Logistics and Shipping
Others

By Region

North America (U.S., Canada, Mexico)
Europe (Germany, France, UK, Italy, Rest of Europe)
Asia-Pacific (China, India, Japan, South Korea, Rest of Asia-Pacific)
LAMEA (Latin America, Middle East, Africa)

Key Market Players
Sai Engineering, Champion Corrugated Co., LTD., Wenzhou Kingsun Machinery Industrial Co.,Ltd., ISOWA Corporation, BHS Corrugated Maschinen- und Anlagenbau GmbH, Mitsubishi Heavy Industries, Ltd., Acme Machinery Co. Pvt. Ltd, BW Papersystems, HIC Machinery Co., Guangdong Dongfang Precision Science & Technology Co., Ltd (Fosber S.p.A.)