The global cosmetic dyes market was valued at $420.3 million in 2018 and is anticipated to reach $610.1 million by 2026, with a CAGR of 4.9% during the forecast period. The cosmetic dyes market exhibits an incremental revenue opportunity of $172.3 million from 2019 to 2026.
Cosmetic colors are used in the production of lipsticks, eye colors, nail enamels, and other cosmetic products. Color cosmetic manufacturers use both types (organic or synthetic) of dyes and colorant to produce highquality cosmetics. Cosmetic dyes and pigments are used in the production of cosmetic colorants, which are used for various applications. The rise in popularity of vibrant color cosmetic products and increased spending on premium cosmetic products have propelled the revenue growth of colors cosmetic.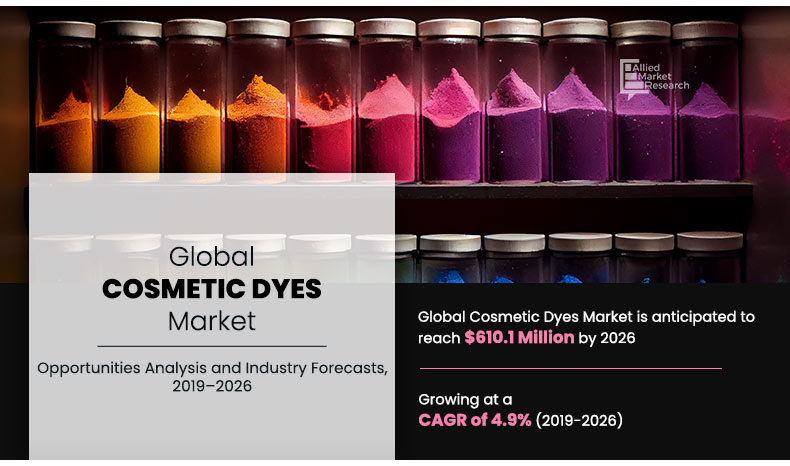 Cost reduction plays an important role in the make-up & cosmetics business. Consumers consider the price of a product along with the quality, before purchase. Although natural products or higher standard of ingredients are comparatively expensive as compared to synthetic and artificial products, continuous R&D by private organizations and government to develop low-cost cosmetics products, which are free of waxes, preservatives, and added chemicals encourage manufacturers to invest more in this market. This is expected to create remunerative growth opportunities for the cosmetics manufacturers and dealers, which in turn drives the growth of the market cosmetic dyes market.
It is projected that the growing popularity of facial makeup, lotions, and toners among working adults will fuel colour cosmetic product revenue growth. Because inorganic dyes produce a more brilliant and consistent colouring impact than organic dyes, consumers are choosing cosmetics with an inorganic foundation. These goods are also reasonably priced, easily accessible, and simple to use. Nowadays, the majority of cosmetic manufacturers use inorganic dyes in a variety of goods, including lipstick and facial makeup. Yet, compared to organic ones, these cosmetic goods made with inorganic dyes are more likely to have a shorter lifespan.
Due to rising rivalry in the cosmetics market, cosmetic manufacturers are shifting their attention to developing novel products. These stakeholders are investing a significant sum of money in R&D projects to introduce cutting-edge cosmetic colours. Today, chromium dioxides, ultramarines, iron oxides, and other types of colouring agents are used by cosmetic makers to create a wide range of colours. The increase in consumer spending on the appropriate colours and goods for personal and professional use is the main driver of such high levels of R&D expenditure.
The positioning of leading organisations in the market is further ensured by strict compliance policies and the application of quality compliances. Yet, the local manufacturing industry's use of inorganic cosmetic colours in their product lineup would be negatively impacted by these regulatory standards. It is anticipated that the regional companies will compete on the basis of distribution methods and pricing plans. Hence, it is projected that the price competition between regional and national cosmetic manufacturers will slow the market's overall expansion. Most of the top businesses are currently investing in expanding their capabilities through the use of cutting-edge technologies for product packaging and labelling. Strong income opportunities are provided over the long term by the products' ongoing improvement and robust distribution network through online sales channels.
An essential aspect driving the expansion of the global market for cosmetic dyes is an ever-evolving lifestyle. Customers' increasing need for skin and sun care cosmetics is influenced by the rapidly shifting environmental conditions in different places. The need for skin care products has increased among both men and women. Women between the ages of 45 and 65 are very interested in anti-aging lotions. The increased use of coloured skin care products by people of all ages is boosting the growth of the global market for cosmetic dyes.
Aloe vera, tea extract, lime content, black sugar, and other natural components are among those revitalising the expansion of the cosmetics industry. In nations like the United States, Canada, and Europe, where the cosmetics industry has already advanced, the market is expanding steadily. In order to increase sales, cosmetics manufacturers are taking advantage of consumers' growing interest in skin-friendly colour cosmetics and medicinal cosmetics. They have begun investing in goods with natural ingredients. Another significant driving force behind the growth of natural cosmetics is the shift in consumer behaviour towards healthier living. This supports the expansion of the global market for cosmetic dyes.
Carmine and other organic dyes are in greater demand as consumer knowledge of the negative effects and drawbacks of consuming synthetic colorants grows. Consumers' health is impacted by synthetic colourants, which can lead to many disorders of the skin. Although the use of synthetic components in cosmetic products has been permitted, there is a need to switch to natural alternatives, such as carmine and other types of organic cosmetic colors. Because of the rising demand for wholesome and natural ingredients, manufacturers are introducing a wide range of products. This in turn spurs the market for cosmetic dyes to increase.
However, pigments and lipids make up the majority of cosmetic goods. Due to strict government rules and environmental standards, the pigment sector is currently experiencing a decline. A wide range of pigments, including cadmium pigments, lead sulfochromate yellow, and lead chromate molybdate sulphate red, are now prohibited or subject to regulatory requirements. Due to their detrimental effects on human health, the European Union (EU) has placed tight restrictions on the use of cadmium pigments, lead (Pb) and its derivatives, dyes, and pigments that include CMR 1 or 2 classed aromatic amines. REACH is an illustration of the tight environmental laws that apply to goods made and marketed in Europe. REACH stands for registration, evaluation, authorisation, and restriction of chemicals.
An individual's skin or other portions of their body may become harmed by inorganic dyes used in the production of cosmetic items. Regular cosmetic product use is bad for the skin. Chemicals used in cosmetic products as ingredients can have a variety of negative side effects on the skin. Long-term use of cosmetics can have an impact on the skin; using lipstick, foundation, and other cosmetics frequently can cause rashes, spots, and itching. Also, regular use of eye and lip colour cosmetics can result in a variety of skin conditions and related health risks. Consequently, a significant factor limiting the growth of the cosmetic dyes market is the rise in consumer awareness of potential cosmetic side effects and skin issues.
On the contrary, there will likely be a major increase in demand for natural cosmetics. However, it is projected that in terms of overall sales (over the forecast period), it will continue to represent a little portion of mainstream products. The product categories for skin care and hair care have the most growth potential. Consumers favour using cosmetics that are safe to use and have few adverse effects. To meet consumer demands, manufacturers also use natural components in their skin care and hair care products. Numerous major market participants, including L'Oréal, Unilever, Color Bar, and Avon, intend to spend significant sums of money to promote the natural components of their cosmetics offerings.
In the cosmetics and makeup industry, cost cutting is crucial. When making a purchase, consumers weigh the price of a product against its quality. Although natural products or products with higher standards of ingredients are more expensive than synthetic and artificial products, ongoing research and development by government and private organisations to create affordable cosmetics products free of waxes, preservatives, and additional chemicals encourages manufacturers to invest more in this market. The expansion of the cosmetic dyes market is subsequently driven by the creation of lucrative growth prospects for the producers and dealers of cosmetics. Over the next five years, demand for natural cosmetics is expected to grow. However, it would remain a small  part of mainstream products in terms of overall sales (during the forecast period). Largest potential lies in hair care and skin care products. Customers prefer to use cosmetic products that are less harmful and have  minimum side effects. Further, manufacturers are anticipated to use natural ingredients in their skin care and hair care products to satisfy the consumer needs. Many big players in the market such as L'Oréal, Unilever, Colour Bar, and Avon are planning to invest big budgets in an effort to promote the natural aspects of their cosmetics products.
Segmental Overview
The cosmetic dyes market is segmented on the basis of type, application, and region. By type, it is categorized into organic dye and inorganic dye. By application, it is divided into facial make-up, nail products, eye make-up, lip products, and others. Region-wise, it is analyzed across North America (the U.S., Canada, and Mexico), Europe (Germany, France, the UK, Spain, Italy, and Rest of Europe), Asia-Pacific (China, India, Japan, Australia, South Korea, and Rest of Asia-Pacific), and LAMEA (the Middle East, Latin America, and Africa).
By Type
Depending on the type, the inorganic dyes segment dominated the market in 2021, garnering around half of the market share; however, the organic dyes is expected to grow at the highest CAGR of 6.0% from 2019 to 2026. In addition, Chemical formulations are used by inorganic pigments to achieve the necessary product characteristics for a variety of applications. Inorganic dyes use substances derived from salts and inorganic metallic compounds such chromates, metallic oxides, and sulphates. More colours are available in inorganic pigments than organic pigments, which has a smaller colour range. Although cosmetic items are typically utilised as colour variants, inorganic dyes are more popular among customers due to the availability of hues. When compared to organic dyes, inorganic dyes are more economical, which is what fuels the market's expansion.
Cosmetics dyes Market

---
By Product Type
Inoragnic dyes segment dominates the global market and is expected to retain its dominance throughout the forecast period.
By Application
Depending on the application, the facial make-up segment dominated the market in 2021, garnering around one-third of the market share; however, the nail products is expected to grow at the highest CAGR of 6.4% from 2019 to 2026. In addition, The production of organic dyes for facial makeup items is a goal of manufacturers. Face makeup items must be produced with extreme caution because any manufacturing error could harm the face. Manufacturers are attempting to include colours manufactured from organic substances to reduce these dangers. Throughout the anticipated period, the market for cosmetic dyes is anticipated to rise at a faster rate due to the new trend of organic dyes. New organic dyes are being introduced by significant industry players like Organic Dyes and Pigments LLC, which aids in growing the market for cosmetic dyes.
Cosmetics dyes Market

---
By Application
Nail products segment is projected to grow with fastest CAGR during the forecast period
By Region
Region wise, Asia-Pacific dominated the market in 2021, garnering a market share of 37.1%. In this location, consumers are more interested in goods that support skin care regimens. Also, people are asking for cosmetics that are made from natural and organic materials rather than synthetic ones. Also, there is an increase in consumer interest for specialised beauty goods including shampoos, conditioners, facial care, and others.
Cosmetics dyes Market

---
By Region
North America dominates the global market and is expected to grow with a CAGR of 4.7% during the forecast period
Competitive Analysis
The key players profiled in this report include Sensient Cosmetic Technologies, Neelikon, Pylam, Dystar, Organic Dyes and Pigments, Clariant, Koel Colours, Goldmann Group, Chromatech, and Kolorjet Chemicals Pvt. Ltd. Other key players tracked in the value chain are Aakash Chemicals and Dyestuffs, Arlex Chemi, Red Sun Dye Chem, Alliance Organics, Krishna Industries, Spectra Colors Corporation, Matrix Pharma Chem, Dynemic Products, Vanshi Chemicals, Shivam Exim, Jupiter Dyes, Prashant Group, Sugai Chemical, Hodogaya Chemical, and K.G. International.
Some Examples of Expansion in the Global cosmetic dyes Market
In April 2023, Clariant Ltd.  expanded its business by introducing new high tech production facility in China. This development will facilitate its product presence in the region.
Key Benefits For Stakeholders
This report provides a quantitative analysis of current trends, estimations, and dynamics of the global cosmetics dyes market from 2021 to 2031 to identify the prevailing market opportunities. 
The Porter's five forces analysis highlights the potency of the buyers and suppliers to enable stakeholders to make profit-oriented business decisions and strengthen their supplier–buyer network.
In-depth analysis of the market segmentation assists to determine the prevailing market opportunities.
Major countries in each region are mapped according to their revenue contribution to the global industry.
The market player positioning segment facilitates benchmarking while providing a clear understanding of the present position of the key market players.
The report includes analyses of the regional as well as global market, key players, market segments, application areas, and growth strategies.
 Cosmetics dyes Market Report Highlights
Aspects
Details
By Type

ORGANIC DYES
INORGANIC DYES

By APPLICATION

FACIAL MAKE UP
NAIL PRODUCTS
EYE MAKE UP
LIP PRODUCTS
OTHERS

By Region

NORTH AMERICA (US, CANADA, MEXICO)
EUROPE (GERMANY, FRANCE, ITALY, UK, REST OF EUROPE)
ASIA-PACIFIC (JAPAN, CHINA, SOUTH KOREA, INDIA, AUSTRALIA, REST OF ASIA-PACIFIC)
LAMEA (LATIN AMERICA, MIDDLE EAST, AFRICA)

Key Market Players
NEELIKON, CLARIANT, ORGANIC DYES AND PIGMENTS, DYSTAR, KOEL COLOURS, KOLORJET CHEMICALS PVT LTD, GOLDMANN GROUP, CHROMATECH, SENSIENT COSMETIC TECHNOLOGIES, PYLAM