Cosmetic Laser Market Overview:
The global cosmetic laser market size was valued at $1,819.49 million in 2018 and is expected to reach 5,416.70 million by 2026, registering a CAGR of 14.5% from 2019 to 2026. Cosmetic laser is a therapy that reduces facial wrinkles and skin irregularities, such as blemishes or acne scars. This technique directs brief, concentrated pulsating beams of light on uneven surfaces of skin, which precisely removes skin layer by layer and is also known as lasabrasion technique, laser peel, or laser vaporization. It is used to treat many medical conditions such as aging skin problems, age spots, fine lines, wrinkles on the face birthmarks, spider veins, droopy, dry, sagging eyelid skin, and dark circles. Further, it can also be used in uneven skin tone correction and texture, smokers' line, vascular lesions, and skin tightening.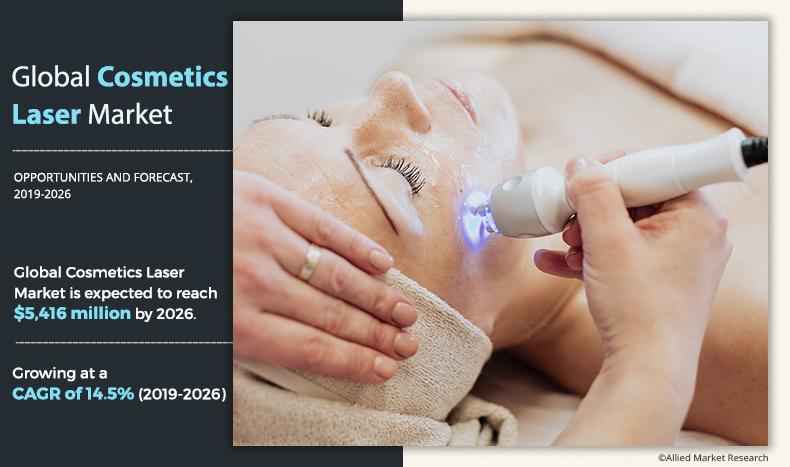 Significant increase in the preference for non-aesthetic procedures and technical advancements in laser technology are the major factors that drive the cosmetic laser market growth. In addition, surge in adoption of the non-invasive procedures, rise in cases of skin damages, increase in medical tourism & ever-changing lifestyles, and reduced procedural expenses propel the growth of cosmetics laser market. Other factors such as enhanced implementation of aesthetic procedures, development of laser technology, increased focus on body appearance among both men and women, and high disposable income in developing economies fuel the growth of cosmetic lasers market. However, factors such as less emphasis of manufacturers on aesthetic devices, strict regulations by governments on the usage of cosmetic lasers, and lack of reimbursement are anticipated to hamper the growth of cosmetic lasers market. Conversely, development in fillers, lasers, and injectables are estimated to create lucrative opportunities for the cosmetic laser market in the near future.
Global Cosmetics Lasers Market Segmentation
The cosmetic laser market is segmented on the basis of product, modality, application, end user, and region. By product, it is bifurcated into ablative, non-ablative, and laser. By modality, it is segregated into pulsed dye laser (PDL), YAG laser, carbon dioxide laser (CO2), Erbium, Intense pulsed light (IPL), radiofrequency, infrared, and others. By application, it is segregated into hair removal, skin resurfacing, vascular lesions, scar and acne removal, body contouring, and others. By end-users, it is segmented into hospitals, skin care clinics, and cosmetic surgical centers. Region wise, it is analyzed across North America, Europe, Asia-Pacific, and LAMEA.
Type segment review
By type, the non-ablative cosmetic laser segment accounted for 65% of the total cosmetic laser market share in 2018 and is expected to exhibit a prominent growth rate in the near future, owing to the fact that these devices require small incisions on the skin surface through which a cannula is inserted. Laser energy is delivered to the target tissues through the cannula, which results in destruction of adipocytes by coagulation. In addition, currently, available laser-assisted devices include Smartlipo by Hologic, Inc. ProLipo PLUS by Sciton, Inc., and others.
Cosmetic Laser Market

---
By Type
Cosmetic Lasers abblative lasers segment is projected as one of the most profitable segment.
Application segment review
By application, the body contouring segment dominated the cosmetic laser market in 2018 and is anticipated to maintain its dominance during the forecast period. This is attributed to the surge in awareness among individuals toward self-grooming and getting their bodies in shape. Moreover, a significant rise in obesity across the globe contributes to the growth of cosmetic lasers market. Further, body contouring devices are used to tighten lax skin or to remove undesired fat from various parts of the body, such as waist, abdomen, and upper torso. These devices work on different mechanisms such as radiofrequency, cryolipolysis, and high-intensity focused ultrasound (HIFU).
Cosmetic Laser Market

---
By Application
Vascular Lesions segment is projected as one of the most lucrative segments.
North America is projected to dominate the global cosmetics lasers market, due to the presence of major key players such as Hologic, Inc., Bausch Health Companies Inc., and Cutera, Inc., in this region. It exhibits constant growth in North America mainly due to rise in obese population. For instance, according to the U.S. ProCon.org, the percentage of obese adult population for 2016 was 36.2% in the U.S., 29.4% in Canada, and 28.9% in Mexico. According to the Organization for Economic Co-operation and Development, obesity levels are expected to be particularly high in the U.S. and Mexico. Moreover, easy availability of cosmetic laser, higher number of target population, and favorable reimbursement in healthcare system are the factors estimated to fuel the growth of the market. However, the Asia-Pacific cosmetic laser market is expected to register a significant growth during the forecast period. This is due to rise in promotional activities related to cosmetic lasers in this region , which is projected to drive the cosmetics laser market in the emerging Asia-Pacific countries.
Cosmetic Laser Market

---
By Region
Asia-Pacific region would exhibit the highest CAGR of 16.2% during 2019-2026.
The report provides a comprehensive analysis of the key players operating in the global cosmetic lasers market are Alma, Candela, Cutera, Cynosure, Deka, Hoyoconbio, Lumensis, Palomar, and Syneron, Aerolase El.En. Spa Lumenis Ltd., Aerolase Corporation Sciton, Inc., Sharp Light Technologies, Fosun Pharmaceutical, Syneron Medical Inc., and Solta Medical. The other players in the value chain include Aerolase Corporation, Iridex, ALLTEC GmbH, and Fotona.
Key Benefits for Stakeholders:
The cosmetic laser market forecast, and analysis is based on a comprehensive analysis of key developments in the market.
The development strategies adopted by the key market players are enlisted to understand the competitive scenario of the global market.
The study provides an in-depth cosmetic laser market analysis to elucidate the imminent investment pockets.
The global cosmetic laser market trends are studied from 2018 to 2026.
Information about key drivers, restrains, and opportunities and their impact analysis on the market size is provided.
Porter's five forces analysis illustrates the potency of buyers and suppliers operating in the industry.
The quantitative analysis of the global cosmetic lasers market from 2019 to 2026 is provided to determine the market potential.
 Cosmetic Laser Market Report Highlights
Aspects
Details
By Product

Ablative Lasers
Non-Ablative Lasers

By Modality

Pulsed Dye Laser (PDL)
YAG Laser
Carbon Dioxide Laser
Erbium laser
Intense Pulsed Light (IPL)
Radiofrequency
Infrared
Others

By Application

Hair removal
Scar removal and acne removal
Skin resurfacing
Vascular Lesions
Body Contouring
Others

By End User

Hospitals
Skin care clinics
Cosmetic Surgery Centers/Clinics

By Geography

North America
Europe

Germany
France
UK
Italy
Spain
Rest of Europe

Asia Pacific

Japan
China
Australia
India
Rest of Asia-Pacific

LAMEA

Brazil
Saudi Arabia
South Africa
Rest of LAMEA

Key Market Players
EL.EN. S.p.A. (ASCLEPION LASER TECHNOLOGIES GmbH), BAUSCH HEALTH COMPANIES INC., InMODE AESTHETIC SOLUTIONS, HOLOGIC, INC., ERCHONIA CORPORATION., MICROAIRE SURGICAL INSTRUMENTS, LLC., SHANGHAI FOSUN PHARMACEUTICAL (GROUP) CO., LTD., ALLERGAN PLC, CUTERA, INC., SCITON, INC.