The global Covid-19 diagnostics market generated $73.19 million in the first quarter of 2020, and is anticipated to generate $9,948.19 million in the fourth quarter of 2020. By the end of year 2020, global Covid-19 diagnostics market size is anticipated to reach $17,203.38 million. Currently, world is facing a pandemic situation due to corona virus outbreak, which started back in December 2019, in Wuhan city of China. Covid-19 is an infectious disease caused by a newly discovered coronavirus. The name Covid-19 depicts belonging of the virus to corona virus family, with its first human interaction noticed in 2019. Further, SARS-CoV-2 is a novel strain of coronavirus that has not been previously identified in humans. Corona virus is the term coined to the family of viruses that transmit between animals and humans thus are also known as zoonotic viruses. Moreover, as of 27th March, 2020 the virus outbreak has been confirmed in six continents and more than 197 countries. As per the World Health Organization (WHO), common symptoms of Covid-19 infection include fever, tiredness, and dry cough. In addition, other symptoms of the disease include shortness of breath, sore throat, aches and pains, and diarrhea in few cases, as well as nausea or a runny nose. Moreover, this infection may spread from one person to other person via saliva droplets or discharge from nose, when an infected person coughs or sneezes. The time from exposure of a person to Covid-19 to onset of symptoms is generally between two to fourteen days, with an average of five days.
At present, the most widely used diagnostic test for detection of Covid-19 is reverse transcriptase PCR or RT PCR. PCR is recognized as the gold standard for diagnosis of various infectious agents. The technique has an advantage that the primers required for performing such tests can be produced with relative speed. Moreover, multiplex RT-PCR that has the capability of performing multiple target sequences simultaneously are the most preferred diagnostic tests for Covid-19. In addition, leading manufacturers of diagnostic kits such as Roche Diagnostics, Thermo Fisher Scientific, and Quest Diagnostics are significantly increasing up their capacity to perform such tests by rolling out automated SARS-CoV-2 testing systems. However, few companies such as SureScreen are focusing towards developing rapid immunoassay tests for Covid-19 diagnosis.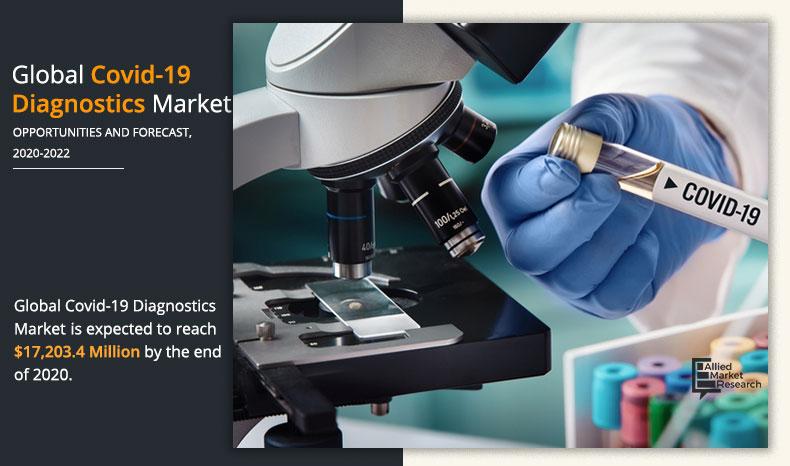 Get more information on this report : Request Sample Pages
The major factors that drive the covid-19 market growth include significant increase in patient population across the globe and immense need of rapid diagnostics. Covid-19 has been declared as a pandemic by WHO. On 26 March, 2020, as per WHO, the positive cases of covid-19 across the globe rose to 416,686 with 18,589 deaths. In addition, unavailability of specific medicine or a vaccine propels the covid-19 diagnostics market growth. However, lack of awareness among developing countries regarding the necessary precautions to be taken and dearth of medical professionals that have sufficient knowledge regarding the use of diagnostic kits for novel covid-19 are the major factors anticipated to hamper the growth of covid-19 diagnostics market. On the contrary, leading manufacturers of diagnostic kits can get benefited with several lucrative opportunities by developing rapid diagnostic kits. Further, various local players are also seeking immense opportunities by developing diagnostic kits and assays. For instance, Mylab, India has received approval by the Drug Controller of India for Covid-19 diagnostic kit, after the National Institute of Virology validated its test.
The Covid-19 diagnostics market is segmented on the basis of product, technology, end-users, and region. By product, it is categorized into PCR Kits, POC (point of contact) Kits and immune-assay. By technology, it is segmented into PCR and immunoassay. By end-users it is segmented into hospitals, physician's office & urgent care clinics and diagnostic labs. Region wise, it is analyzed across North America, Europe, Asia-Pacific, and LAMEA.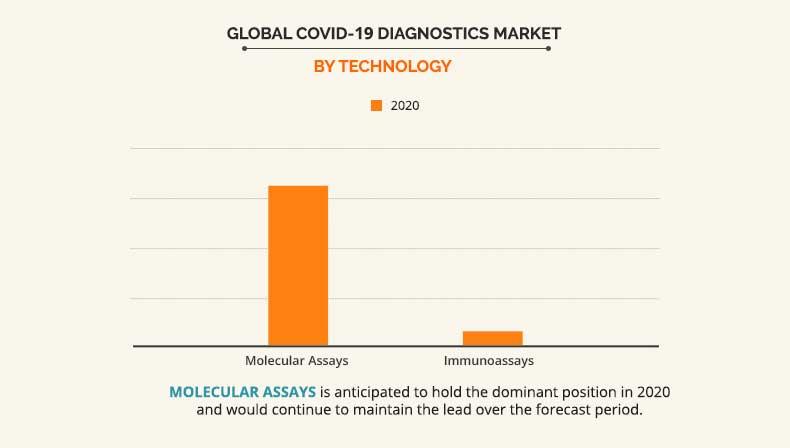 Get more information on this report : Request Sample Pages
Technology segment review
On the basis of technology, the PCR segment accounted for 80% of the total share in 2020 and is expected to exhibit a prominent growth rate in the near future, owing to its increased demand for diagnosis of coronavirus patients. In addition PCR is considered as a gold standard in terms of diagnosis of new virus infections. However, immunoassay segment is anticipated to grow at the fastest growth rate during the forecast period. This is attributed to the increased demand for rapid immunoassay tests for disease diagnosis. Many immunoassay test kits are being developed for the confirmation of Sars Cov 2 infections. For instance, qSARS-CoV-2 IgG/IgMtest developed by Cellex Inc.
End User segment review
By end user, the diagnosis labs segment is anticipated to dominate the Covid-19 diagnostics market in 2020, and continue to maintain its dominance throughout the forecast period. This is attributed to the fact that PCR test procedures require a laboratory to be processed as it includes the usage of various kinds of reagents and other instruments as well. 
Key companies working towards the development of rapid diagnostic kits for Covid-19 include F. Hoffmann-La Roche AG, Seegene Inc., Cepheid, Mylab Lifesolutions Pvt. Ltd., SureScreen Diagnostics Ltd, Cellex Inc., Genematrix, Thermo Fisher Scientific, Inc.and Robert Bosch GmbH among others.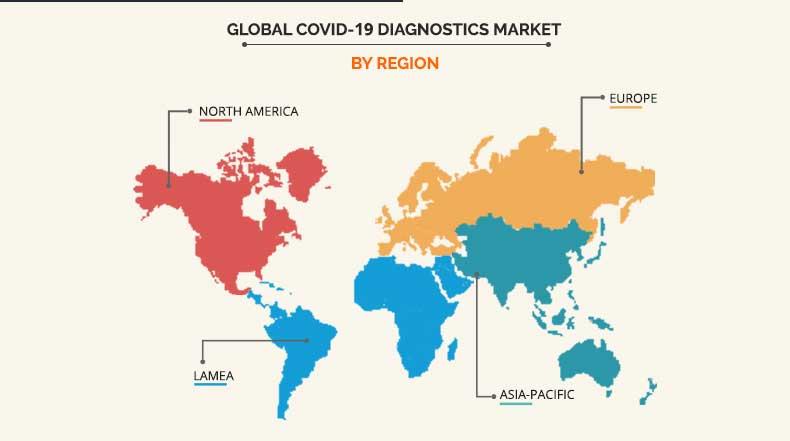 Get more information on this report : Request Sample Pages
Key Benefits For Stakeholders
This report provides a detailed quantitative analysis of the current Covid-19 diagnostics market trends and forecast estimations from 2020 to 2022, which assists to identify the prevailing market opportunities. 
An in-depth market analysis includes analysis of various regions, which is anticipated to provide a detailed understanding of the current trends to enable stakeholders formulate region-specific plans.
A comprehensive analysis of factors that drive and restrain the covid-19 market growth is provided.
The projections in this report are made by analyzing the current trends and future market potential from 2020 to 2022, in terms of value.
An extensive analysis of various regions provides insights that are expected to allow companies to strategically plan their business moves.
Key market players within the Covid-19 Diagnostics market are profiled in this report and their strategies are analyzed thoroughly, which help in understanding competitive outlook.
 Key Market Segments
By Technology

Molecular assay
Immunoassay/Serology

By Product

PCR Kits
Immunoassay test
POC (Point -of-care) test

By End User

Hospitals
Diagnostic laboratories
Physician offices & urgent care clinics

By Region

North America
Europe

France
UK
Germany
Spain
Italy
Austria
Estonia
Czech Republic
Rest of Europe

Asia-Pacific

Japan
China
India
Australia
South Korea
Thailand
Malaysia
Rest of Asia-Pacific

LAMEA

Brazil
South Africa
Saudi Arabia
Israel
Rest of LAMEA
 
Key Market Players
ABBOTT LABORATORIES
CELLEX INCORPORATED
CEPHEID
F. HOFFMANN-LA ROCHE LTD.
HOLOGIC, INC.
LABORATORY CORP OF AMERICA HOLDINGS
MYLABDISCOVERY SOLUTIONS PVT. LTD.
QUEST DIAGNOSTICS INCORPORATED
SEEGENE INC.
THERMO FISHER SCIENTIFIC, INC.