The global crash barrier systems market size was valued at $7,852.4 million in 2020, and is projected to reach $11,791.3 million by 2030, registering a CAGR of 4.2% from 2021 to 2030. A crash barrier is constructed along the side of a road or between the two parts of a highway to avoid accidents. Crash barriers are installed to prevent car intrusion. Two main testing standards have emerged as a result of various forms of invasion. Anti-ram barriers are those created specifically to protect perimeters from head-on collisions. Crash attenuation barriers are those designed to reduce the severity of accidents.
The COVID 19 outbreak has affected the growth of the crash barrier systems industry owing to the lockdown measure in the countries and delay in production and manufacturing of crash barrier systems which are utilized on roads and highways.
Investments in the development of roads, railways, and airports may necessitate the use of safety barrier systems. Crash barrier systems are required for roadway development, such as roads, highways, and bridges, to limit the incidence of road disasters. Increased expenditures in commercial infrastructure are also predicted to boost the demand for effective crowd control solutions, such as entry and exit, car parking areas, and pedestrian safety, which rely on safety barrier systems including bollards, swipe gates, guardrails, and drop arms.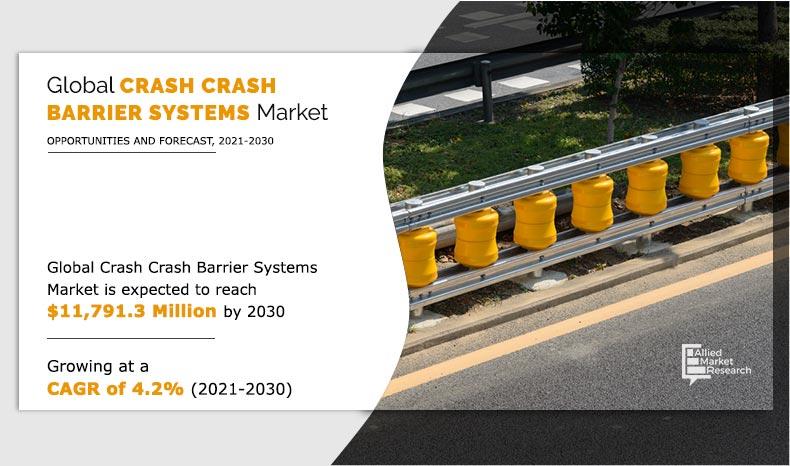 Furthermore, the qualities of plastic, such as cost-effectiveness, reusability, and recyclability, as well as low maintenance costs, encourage key companies to focus on developing crash barrier systems made of plastics with novel, easily apparent designs. Manufacturers are also focusing on advance technology crash barriers for security and safety purpose. For instance, in May 2019, Delta Scientific came up with self-contained MP5000 mobile development vehicle crash barriers, which can stop vehicle up to 7.5 ton travelling 64 kph. Also, various government investments are focusing on infrastructure development which is projected to create opportunities for crash barrier systems market growth. For instance, in 2019, the Government of Russia has come up with 6-year modernization plan for infrastructure development and invested around $96 billion, which includes airports, roads & railway, and other infrastructure. Such investments are expected to provide positive impact in the market during the forecast period.
Crash Barrier Systems Market

---
By Type
Fixed segment is projected to grow at a highest CAGR
The novel coronavirus has rapidly spread across various countries and regions, causing enormous impact on lives of people and overall community. Originating as a crisis to human health, it now poses significant threat to worldwide trade, economy, and finance. Due to the continuous lockdown in key global countries, the COVID-19 pandemic has halted production of many items in the crash barrier system business. The players in crash barrier systems market share can afford a complete lockdown only for a limited period, after which they would have to alter their investment plans. Furthermore, number of COVID-19 cases are expected to reduce in the near term as vaccine for COVID-19 has been introduced in the market. This is further expected to lead to re-initiation of crash barrier system companies at their full-scale capacities, which is anticipated to aid the crash barrier systems market to recover by the start of 2022. After COVID-19 infection instances start to decline, equipment and machinery producers are projected to focus on protecting their staff, operations, and supply networks to respond to urgent emergencies and establish new methods of working.
Crash Barrier Systems Market

---
By Application
Roadside segment holds dominant position in 2020
The global crash barrier systems market is segmented on the basis of type, technology, and application. On the basis of type, the market is bifurcated into portable and fixed. Technological segmentation includes rigid, semi-rigid, and flexible crash barrier systems. By application, the crash barrier systems market is divided into roadside, median, bridge and work zone. Region wise, the market analysis is conducted across North America (the U.S., Canada, and Mexico), Europe (the UK, France, Germany, Italy, and Rest of Europe), Asia-Pacific (China, Japan, India, South Korea and Rest of Asia-Pacific), and LAMEA (Latin America, the Middle East, and Africa). 
Competition Analysis
Some of the key players operating in the global crash barrier systems market include Arbus Limited, Avon Barrier Corporation Ltd, Barrier1 Systems, LLC, Hill Smith Holdings PLC, Lindsay Corporation, Nucor Corporation, N.V. Bekaert SA, Transpo Industries, Inc., Trinity Industries, Inc., and Valmont Industries, Inc.
Crash Barrier Systems Market

---
By Region
Asia-Pacific holds a dominant position in 2019 and is expected to grow at a significant rate during the forecast period.
Key Benefits For Stakeholders
The report provides an extensive analysis of the current and emerging crash barrier systems market trends and dynamics. 
Extensive analysis of the crash barrier systems is conducted by following key product positioning and monitoring of the top competitors within the market framework.
In-depth crash barrier systems market analysis is conducted by constructing estimations for the key segments between 2019 and 2027. 
A comprehensive analysis of all the regions is provided to determine the prevailing opportunities.
The global crash barrier systems market forecast analysis from 2020 to 2027 is included in the report.
The key players operating in the crash barrier systems industry are profiled in this report, and their strategies are analyzed thoroughly, which help understand the competitive outlook of the crash barrier systems industry. 
 Crash Barrier Systems Market Report Highlights
Aspects
Details
By Type
By TECHNOLOGY

Rigid
Semi-rigid
Flexible

By APPLICATION

Roadside
Median
Bridge
Work zone

By Region

North America (U.S., Canada, Mexico)
Europe (Germany, France, UK, Italy, Rest of Europe)
Asia-Pacific (China, India, Japan, South Korea, Rest of Asia-Pacific)
LAMEA (Latin America, Middle East, Africa)