Crawler Camera Systems Market Outlook: 2026
Global crawler camera systems market size was valued at $120.2 million in 2018 and is anticipated to reach $191.4 million by 2026 end with a CAGR of 6.3% during the forecast period. The crawler camera systems market exhibit incremental revenue opportunity of $71.2 million from 2018-2026. Crawler cameras or self-propelled camera are inspection systems which uses transporter to carry out inspections activities in pipelines remotely. These transporter are self-driven and are equipped with cameras on their wheels or tracks. Crawlers plays an important role in identifying leakages, damages in pipelines. These crawlers are mostly used in industrial and municipal inspection activities. The high end models of such crawler inspection systems are also capable of inspecting submerged pipelines.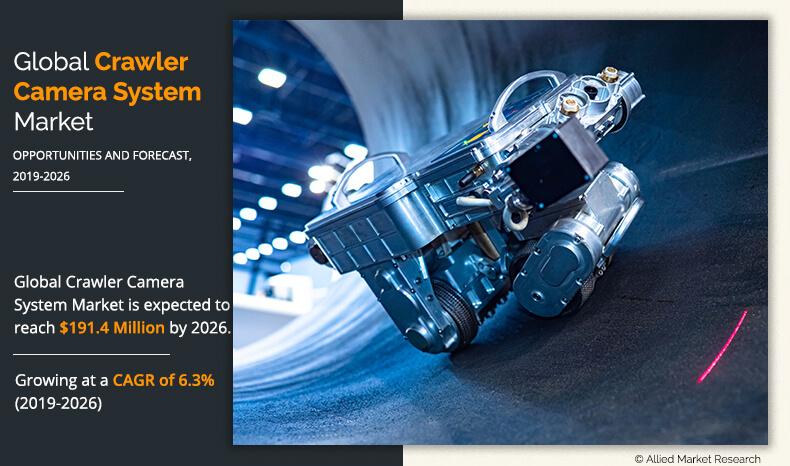 Government authorities from worldwide spent hefty amount on repairing and maintaining their sewer systems and waste management plants . Majority of the damage was caused due to corrosion of micro-organisms. This deterioration is caused due to acid excretion which damages the concrete surface, and also penetrate mortar surface in sewer systems. Such structural deterioration of billion dollar infrastructure systems largely decreases the overall lifespan and reliability of waste management and sewer management systems. The predication and assessment of structural deterioration in early sate can be helpful in for the management. This helps authorities to curb the probable threat to infrastructure systems affecting their life cycle. The advent of novel camera and inspection technologies had provided a strong support to the authorities.
Crawler Camera Systems Market

---
By Product Type
Camera segment dominates the market and is expected to retain its dominance throughout the forecast period.
Majority of the end user (municipal, industrial and residential) are strong relying on crawler camera systems. As a result, the companies are also investing into novel product development comparable for every type of sewer and waster management systems, industrial fluid management systems and other pipeline networks. The growing incidence of structural degradation in pipeline network is expected to enhance the revenue growth of crawler camera systems during the forecast period.
Crawler Camera Systems Market

---
By End User
Residential segment is projected to grow with fastest CAGR during the forecast period
The end users are constantly searching for advanced and user friendly inspection systems for their sewer and water management pipeline network. Industrial end users required constant and real time monitoring of their pipeline network due to different types of waste discharge from the similar network of pipeline. The varied nature of waste in industrial settings is largely responsible for structural degradation. The end user are adopting various modes of inspection systems including pipe inspection camera, CCTV inspection camera. These inspection systems are available in portable form and are equipped with borescopes, push rod cameras, robotic crawlers and Pan-Tilt-Zoom (PTZ) camera systems. These inspection systems are designed to meet the demands of industrial inspection environments including pipes, tubes, engines, turbines, boilers, mainline sewers and condensers. The innovative design and advanced features of crawler camera systems plays instrumental role in capturing high quality images and videos.
Crawler Camera Systems Market

---
By Region
North America dominates the market and is expected to grow with a CAGR of 5.0% during the forecast period
Premium prices of systems and associated accessories have decreased the adoption of pipeline inspection systems. End user from Asia region are largely focusing on procuring cost effect solution for waste management and sewage management activities due to limited expenditure by government authorities on repair and maintenance. Moreover, the manufacturer are main competing on the basis of product differentiation. Thus, these manufacturers are introducing novel products with high price which are further reduced overall adoption of crawler camera systems. The novel products are also equipped with various services such as software services, maintenance services which are a costlier affair for residential end user. The above factors are collective decreased the overall penetration of crawler camera systems.
The Crawler camera systems market is segmented on the basis of product type, end user, and region. Based on product type, the Crawler camera systems market is categorized into Camera, Crawler and Others. Based on end user, the crawler camera systems market is segmented into Residential end users, Industrial end users, Municipal end users. Geographically, the global Crawler camera systems market is analyzed across North America (U.S., Canada, and Mexico), Europe (Germany, France, Spain, Italy, and Rest of Europe), Asia-Pacific (China, India, Japan, Australia, South Korea, and Rest of Asia-Pacific), and LAMEA (Middle East, Latin America, and Africa). Asia-Pacific region hold lucrative growth opportunity for crawler cameras systems market owing increased spending on infrastructure from government authorities. Increasing urban population and rising incidence of hazardous waste leakages would create a need to effective sewage management technologies. The residential and municipal end user of Asia Pacific region would exhibit strong crawler camera systems market demand.
The key players operating in crawler camera systems industry include IBAK, Deep Trekker Inc., Rausch Electronics, Mini-Cam Ltd, CUES Inc., Inspector Systems Rainer Hitzel GmbH, iPEK International GmbH, AM Industrial (UK) Ltd., and Subsite Electronics. Other prominent players analyzed during the course of study are Inuktun Services Ltd., Kummert GmbH, Mini-Cam Ltd., Scanprobe, Spoutvac Industries, Envirosight LLC, Insight Vision Cameras among others.
Key Benefits for Crawler Camera Systems Market:
The report provides detailed qualitative and quantitative analysis of the current crawler camera systems market trends and future estimations that help evaluate the prevailing crawler camera systems market share and opportunities.
The key drivers, restraints, opportunities, and detailed crawler camera systems market analysis are elucidated in the study.
The market analysis is conducted by following key product positioning and monitoring the top competitors within the industry.
The report provides extensive qualitative insights on the potential and niche crawler camera systems market segments or regions exhibiting favorable crawler camera systems market growth.
Industry player positioning segment facilitates benchmarking and provides a clear understanding of the present position of players along with the crawler camera systems market forecast.
 Crawler Camera Systems Market Report Highlights
Aspects
Details
By Product Type
By END USER

RESIDENTIAL
INDUSTRIAL
MUNICIPAL

By Region

NORTH AMERICA (UNITED STATES, CANADA, MEXICO)
EUROPE (UK, GERMANY, FRANCE, ITALY, SPAIN, REST OF EUROPE)
ASIA-PACIFIC (CHINA, INDIA, SOUTH KOREA, JAPAN, REST OF ASIA-PACIFIC)
LAMEA (LATIN AMERICA, MIDDLE EAST, AFRICA)

Key Market Players
Subsite Electronics, MINI-CAM LTD, CUES INC, RAUSCH ELECTRONICS, IBAK, AM INDUSTRIAL (UK) LTD, iPEK International GmbH, Inspector Systems Rainer Hitzel GmbH, Envirosight LLC, DEEP TREKKER INC