CRISPR Cas9 Gene Editing Market Outlook - 2027
CRISPR gene editing is a genetic engineering technique in molecular biology by which the genomes of living organisms may be modified. It is based on a simplified version of the bacterial CRISPR-Cas9 antiviral defense system. By delivering the Cas9 nuclease complexed with a synthetic guide RNA (gRNA) into a cell, the cell's genome can be cut at a desired location, allowing existing genes to be removed and/or new ones added in vivo (in living organisms). The technique is considered highly significant in biotechnology and medicine as it allows for the genomes to be edited in vivo with extremely high precision and with ease. It can be used in the creation of new medicines, agricultural products, and genetically modified organisms, or as a means of controlling pathogens and pests. It also has possibilities in the treatment of inherited genetic diseases as well as diseases arising from somatic mutations such as cancer.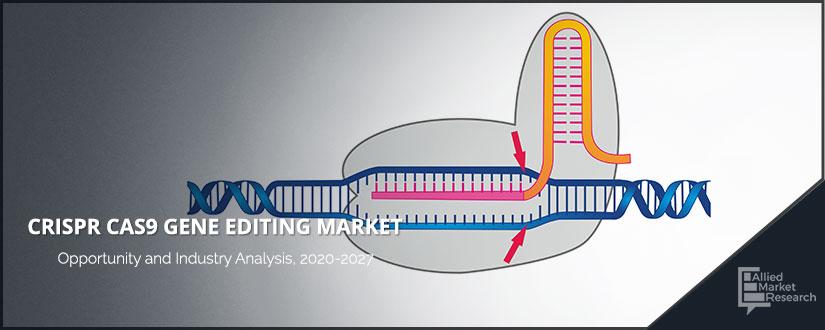 COVID-19 scenario analysis: 
Pharmaceutical and biotechnological companies together with governments around the globe are working to combat with the COVID-19 outbreak, from supporting the development of vaccines to schedule for medicines supply chain challenges. Furthermore, there are around 115 vaccine candidates and other 155 molecules that are kept in the R&D pipeline in the coming years. Moreover, commonly used drugs, such as hydroxychloroquine, have witnessed huge boost in demand for the management of COVID-19. There is an increase in demand for drugs,, which presented huge opportunity for manufacturers of COVID-19 management drugs, as many developed countries are short of these drugs. Attributed to the demand for vaccine and treatment drugs for COVID-19, the pharmaceutical and biotechnology industry is anticipated to witness a substantial growth in the next few years.
Top impacting factors: Market scenario analysis, trends, drivers, and impact analysis
The major factor affecting the industry includes growth in technological advancements in the gene editing platform. This is anticipated to help the industry propel in the coming years. Furthermore, there has been up gradation in newer versions of the protein such as eSpCas9 and SpCas9-HF. This has been engineered to reduce off-target editing activity without the requirement for two sgRNAs. There has been increase in research activities for new enzymes, proteins, gRNA engineering, and off-target detection methods, which are the need of the hour; hence, these would help the industry grow at a rapid pace in the coming years. Additionally, anti-CRISPR has been introduced in the market, which opens up the CRISPR Cas9 gene editing market and is expected to gain higher revenue in the coming years.
Growth in the number of product launches to boost the market
The surge in the number of product launches in recent years is anticipated to help the industry flourish. For instance, in September 2016, GenScript, a global provider of gene synthesis services, launched its most versatile CRISPR service, synthetic CRISPR RNAs (crRNA). This new addition complements its already extensive CRISPR service and product portfolio. Until now, CRISPR constructs have been DNA-based, carrying a risk of insertional mutagenesis, off-target effects, and toxic delivery into stem cells and primary cells. By working immediately after delivery into the cell, the synthetic CRISPR ribonucleoproteins results in quick DNA editing and rapid cell clearance with fewer off-target risks. 
GenScript's CRISPR RNAs expand gene-editing to even more research applications. CRISPR RNA, when combined with tracrRNA and Cas9 protein, forms a ribonucleoprotein (RNP) complex that is capable of efficient and effective gene editing. As a part of GenScript's new synthetic crRNA service, customers are able to pick from Broad Institute-validated crRNA sequences or custom sequences that are then synthesized and pre-duplexed to tracrRNA at GenScript. Once received by customers, the crRNA:tracrRNA sequences are complexed with Cas9 protein prior to delivery into cells or embryos, such as mouse and zebrafish, with no synthesis or in vitro transcription required.
Surge in number of mergers & acquisitions to propel the market
Mergers & acquisitions are anticipated to boost the industry in the coming years. For instance, in November 2020, PerkinElmer expanded its life sciences portfolio with CRISPR and gene editing offerings by snapping up the cell engineering specialist Horizon Discovery. The $383 million, all-cash deal will add gene modulation tools in combination with its own work in applied genomics solutions, which aims to provide
next-generation research tools and customized cell lines necessary for developers of new targeted therapies, and broaden PerkinElmer's partnership work with academic researchers and the biopharma industry.
The Cambridge, U.K.-based Horizon, with about 400 employees worldwide and offices in the U.S. and Japan, provides genetic base editing technologies for living cell models using CRISPR reagents as well as gene modulation products using RNA interference methods.
Key benefits of the report:
This study presents the analytical depiction of the global CRISPR Cas9 gene editing market along with the current trends and future estimations to determine the imminent investment pockets.
The report presents information related to key drivers, restraints, and opportunities along with detailed analysis of the global CRISPR Cas9 gene editing market share.
The current market is quantitatively analyzed to highlight the global CRISPR Cas9 gene editing market growth scenario.
Porter's five forces analysis illustrates the potency of buyers & suppliers in the market.
The report provides a detailed global CRISPR Cas9 gene editing market analysis based on competitive intensity and how the competition will take shape in coming years.
Questions answered in the market research report:
Which are the leading market players active in the market?
What are the current trends that will influence the market in the next few years?
What are the driving factors, restraints, and opportunities of the market?
What are the projections for the future that would help in taking further strategic steps?
 CRISPR Cas9 Gene Editing Market: Global Opportunity Analysis and Industry Forecast, 2020–2027 Report Highlights
Aspects
Details
By Product & Service

Kits & Enzymes
Vector-based Cas
DNA-free Cas
Antibodies
Libraries
Design Tool
Cell Line Engineering
gRNA Design
Microbial Gene Editing
DNA Synthesis
Others

By Application

Biomedical
Genome Engineering
Disease Model Studies
Functional Genomics
Epigenetics
Agricultural
Others

By End User

Biotechnology & Pharmaceutical Companies
Academics & Government Research Institutes
Contract Research Organizations (CROs)

By Region

North America (U.S., Canada, Mexico)
Europe (France, Germany, Italy, Spain, UK, Rest of Europe)
Asia-Pacific (China, Japan, India, South Korea, Australia, Rest of Asia-Pacific)
LAMEA (Brazil, South Africa, Saudi Arabia, Rest of LAMEA)

Key Market Players
Merck KGaA,, Caribou Biosciences, Inc.,, Egenesis,, CRISPR Therapeutics,, Cellectis,, AstraZeneca,, F. Hoffmann-La Roche Ltd.,, Danaher Corporation,, Takara Bio, Inc., Genscrip,, Addgene,, Horizon Discovery Group Plc,, Editas Medicine, Inc.,