CRISPR is defined as a tool for editing of genomes. It belongs to group of DNA sequences that are found in prokaryotic cells such as microbes. CRISPR technology is used to identify the DNA from microorganisms during contamination and later, destroy it. This technology allows genetic material to be added, removed, or altered at particular locations in the genome. These particular arrangements play a significant job in anti-phage protection system of prokaryotes. CRISPR (also called as Clustered Regularly Interspaced Short Palindromic Repeat) technology has created a system known as restoration system, which is considered as one of best methods for genome editing.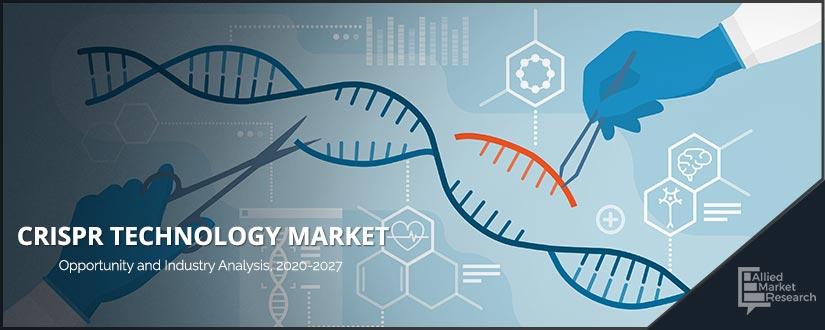 CRISPR technology is used in various industries and in the lab. The CRISPR technology has proven advantages in industrial processes such as certain viruses can infect bacterium and damage the quality   or quantity of the food. CRISPR-based immunity can be employed to make these cultures more resistant to viral attack. The bacterial immune defenses have improved, scientists have known the advantages of CRISPR technology in the lab, to make precise changes in the genes of organisms as diverse as fruit flies, fish, mice, plants and even human cells.
COVID-19 Scenario analysis:
With the outbreak of COVID-19 globally and the stipulated lockout, there is an ongoing downturn in the healthcare market. Aside from communities, COVID-19 was equally disastrous for major world economies, especially the healthcare sector. Prominent stakeholders are continuing to adapt their strategy to the rapidly changing situation. COVID-19 is projected to have significant long-term impacts on the healthcare industry. Countries and major players would have to undertake critical healthcare changes until the crisis takes a back seat.
Technological progress, cost containment and increased access will in the near future be an integral part of healthcare reforms. Digital health and telehealth have taken a front seat in the ongoing outbreak. COVID-19 re-emphasized the importance of remote diagnosis, care and consultation. Over the past few years, regulatory and behavioral barriers have slowed Telehealth growth. However, since many healthcare providers are currently working on video conferencing and telephone calls, this segment's growth will increase several folds over the next two years. The social distancing measures also mandated online consultation of patients with moderate symptoms. In addition, it greatly reduces the burden on hospitals already swamped by counts of COVID-19 patients. Medical IoT devices that live at home with patients are now being used for optimizing outpatient treatment and minimizing repeat visits, and these devices can be further used in a crisis situation. The pandemic led to severe resource constraints. This is expected to result in the development of competitive pricing and value-based pricing models, which will accelerate the CRISPR technology Market growth in future.
Many companies are currently using CRIPSR technology for the detection of COVID-19. The diagnostics tests developed are based on the CRIPSR technology and currently approved for the diagnosis. Hence, this would drive the growth of the market. 
Top impacting factors: Market Scenario Analysis, Trends, Drivers and Impact Analysis
CRISPR technology can be used in forming various drugs, which can further increase the quality of medicine. It can be used for making medicines, according to the blood disorders and heart diseases. The rate of adoption of this technology is increasing and leads to growth of the CRISPR technology Market. CRISPR technology is a complex and advanced technology which increases its cost, further restraining the growth. Also, increase in the availability of government and private funding are the main reasons to drive the growth of the market. Also, there is rise in the number of cases of genetic disorders, there is need of advanced therapies such as CRISPR technology, which can be used for the treatment of cancer and this is influencing market growth. Advancements in the technology will help in editing of gene, which leads to treatment of disorder, the increasing use of this techniques influence the mar CRISPR technology Market ket growth.
Expanding use of CRISPR frameworks in microbiology, advancement of genome altering, rising predominance of hereditary issue and builds use of CRISPR/Cas9 innovation to improve crop creation drives the CRISPR technology market. Also, lack of awareness and lack of experienced professionals are the restraining factors that can lead to misuse of gene editing technology. 
CRISPR can be used in understanding different types of epigenetic, genetic diseases and cancer. Cancer can be studied by CRISPR system and is done with two methods that is turning on suppressor genes and turning off oncogenes. This system can be used to create some special mutations in other cell lines. This helps in understanding many diseases like cancer and making more effective drugs.
Collaborations
In May 2020, Wyss Institute, for Biologically Inspired Engineering at Harvard University and Cytosurge AG, a company manufacturing unique high-precision nanotechnology instruments, collaborated to investigate CRISPR-based approaches.
In June 2019, CRISPR Therapeutics and Vertex Pharmaceuticals, expanding existing collaboration to develop treatments for genetic diseases causing muscle weakness using the gene editing tool CRISPR/Cas9.
In December 2019, Intellia Therapeutics collaborated with Novartis, and also announced an expansion of its existing cell therapy collaboration with Novartis, to include the ex vivo development of innovative cell therapies using certain ocular stem cells.
Key benefits of the report:
This study presents the analytical depiction of the global CRISPR technology market along with the current trends and future estimations to determine the imminent investment pockets.
The report presents information related to key drivers, restraints, and opportunities along with detailed analysis of the global CRISPR technology Market share.
The current market is quantitatively analyzed from 2020 to 2027 to highlight the growth scenario.
Porter's five forces analysis illustrates the potency of buyers & suppliers in the CRISPR technology Market.
The report provides a detailed analysis based on competitive intensity and how the competition will take shape in coming years. 
Questions answered in the CRISPR technology Market research report:
What are the leading market players active in the CRISPR technology Market?
What the current trends will influence the market in the next few years?
What are the driving factors, restraints, and opportunities in the market?
What can be the challenges for global CRISPR technology Market in future?
What are the projections for the future that would help in taking further strategic steps?
 CRISPR Technology Market: Global Opportunity Analysis and Industry Forecast 2020–2027 Report Highlights
Aspects
Details
By Product

CRISPER kits
Enzymes
Services

Design
Vector construction
Cell line engineering
Screening services
Others

By End user

Academic institutes
Research centers
Contract research organizations
Pharmaceuticals
Biotechnology companies

By Application

Biological applications
Agricultural applications
Industrial applications
Others

By Region

North America (US, Canada)
Europe (Germany, UK, France, rest of Europe)
Asia-Pacific (China, Japan, India, rest of Asia-Pacific)
Latin America (Brazil, Mexico, rest of LATAM)
The Middle East
Africa

Key Market Players
Thermo Fisher Scientific Inc., Merck Kraal, Cellecta, GenScript, Horizon Discovery Group plc., Agilent Technologies, GeneCopoeia, New England Biolabs, Origene Technologies, Inc., Synthego, Toolgen, Inc., Integrated DNA Technologies