Cristobalite Market Research, 2031
The global cristobalite market was valued at $36.3 million in 2021, and is projected to reach $56.6 million by 2031, growing at a CAGR of 4.6% from 2022 to 2031.
Report key highlighters 
The cristobalite market is fragmented in nature with few players such as C.E.D. Process Minerals, Inc, Dinglong Quartz Limited, Goldstar Powders Pvt. Ltd, Goyal Group of Minerals, GRENZEBACH GROUP, Hoben International Limited, Momentive Technologies, Quarzwerke GmbH, Sibelco, and SILMER, which hold a significant share of the market.

The report provides complete analysis of the market status across key regions and more than 15 countries across the globe in terms of value ($ Million).

Top winning strategies are analyzed by performing a thorough study of the leading players in the cristobalite market. Comprehensive analysis of recent developments and growth curves of various companies helps us to understand the growth strategies adopted by them and their potential effect on the market.   

The report provides competitive dynamics by evaluating business segments, product portfolios, target market revenue, geographical presence and key strategic developments by prominent manufacturers.   
Environment-friendly techniques for manufacturing of cristobalite-based products are expected to have a positive impact on the market. According to an article published by Springer in June 2017, Springer company manufactures low temperature cristobalite (Na1.55Al1.55Si0.45O4/mullite ceramic fibers) using a nanocellulose fiber aerogel template. In addition, they also use Rice Husk (RH) that is used as a starting material to extract silica via an environmentally friendly technique. This type of innovative and environmental-friendly technique for the production of cristobalite and silica will boost the global cristobalite market in the forthcoming years.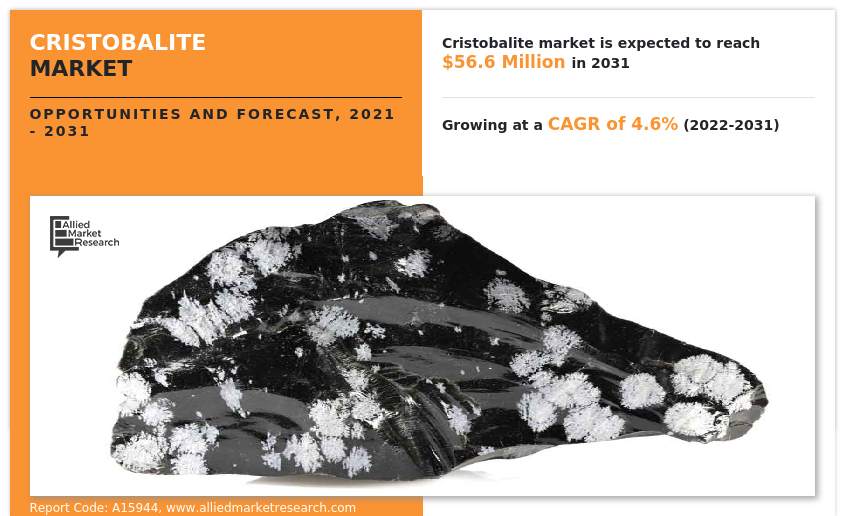 Cristobalite is a mineral polymorph of silica that is produced at 1,500°C through calcination and iron-free grinding process. It carries the same formula as granular SiO2 and has a distinct crystal structure. Cristobalite is found in enough quantities in volcanic rocks. For commercial purposes, it is synthetically produced from sand by heating a kiln at 1500 degree centigrade. It is offered in the form of powered/ sand and grain form. Cristobalite has a wide range of applications in various end-use industries including architecture, paints and coatings, metal casting, industrial, ceramic, and fiberglass industries, and others. 
Advancements in technology, an increase in the consumer's purchasing power, and growing demand for engineered stone from residential and commercial buildings have spurred the engineered stone manufacturing industry. For instance, according to an article published by Business Korea in September 2018, the North American region is the core market that accounts for more than 70% of the global demand for engineered stone, which is estimated at worth 3 trillion won a year. Cristobalite is extensively used in making engineered stone, ceramics, enamels, marbles, and others. The cristobalite-based engineered stone enhances the aesthetic looks of building infrastructure which increases its demand in the market.  
However, cristobalite poses a threat to humans if exposed beyond maximum concentration limits. For instance, prolonged exposure to ceramic fiber-based cristobalite may cause skin and upper respiratory irritation. In addition, the breathing of very small (crystalline) silica particles in the glass manufacturing industry may cause multiple health hazards such as silicosis or may even lead to death. This factor hampers market growth during the forecast period. In addition, data revealed by New Jersey Department of Health in April 2022, silica and cristobalite is a carcinogenic in nature due to which several manufacturers have switched their production capacities. This may act as one of the challenging factors for the cristobalite market. 
The rapid increase in the incidences of dental disorders, rise in awareness about oral health, and significant demand for cosmetic dentistry is expected to drive the demand for dental impression material market where powder form of cristobalite is widely used to make component of alginate impression materials as well as for making models of teeth.  According to data revealed by the World Health Organization in May 2021, around 3.5 billion people suffer from oral disease, and it is estimated that 2 billion people suffer from permanent teeth1, and 520 thousand children (about half the population of Montana) suffer from caries of primary teeth. These factors are anticipated to offer remunerative opportunities for the cristobalite market in the dentistry sector during the forecast period.
The cristobalite market is segmented into by form, application, and region. On the basis of type, the market is categorized into granular and powder. On the basis of applications, it is divided into glass and ceramic, building and construction activities, paints and coatings, foundry, and others. Region-wise, the market is studied across North America, Europe, Asia-Pacific, and LAMEA.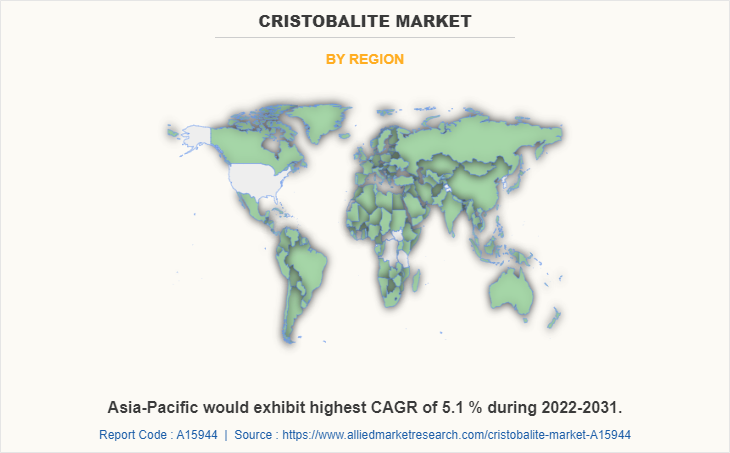 The Asia-Pacific cristobalite market size is projected to grow at the highest CAGR of 5.1% during the forecast period and account for 44% of cristobalite market share in 2021. The Indian foundry industry is one the growing sectors across India where cristobalites are extensively used for metal casting, manufacturing of industrial equipment, and others. For instance, according to an article published by Economics Times in April 2022, the domestic foundry industry is aiming to double its market size to USD 32 billion and annual production capacity to 21 thousand tons (MT) over the next 5-7 years.  This factor will create new avenues for the cristobalite market in the foundry industry. The utilization of cristobalite in the sectors such as building and construction, paints and coatings, glass ceramics, chemicals, industrial, and others are the major key market trend in the Asia-Pacific region. Proliferating demand for electronics products has boosted market growth. Cristobalite-based glass and ceramics are widely used in semiconductor and electronics devices owing to their thermal insulating and conducting properties. This factor will boost the potential sales of cristobalite market in the forthcoming years. 
"In an article revealed by India Brand Equity Foundation in July 2022, NHAI plans to construct 25,000 km of national highways in 2022-23 at a pace of 50 km per day. Additionally, the government has planned for an increase in allocation for the central road fund by 19%, the total fund was Rs. 2,95,150 crores (US$38.86 thousand). Such types of projects and initiatives from government bodies will enhance the powder form of the cristobalite market where it has been used as an additive during the cement production and sanding of roads in winter. "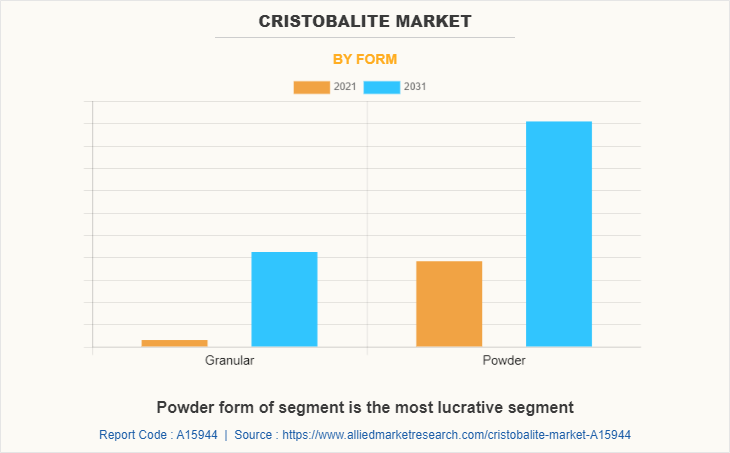 By form, the powder segment dominated the global market in 2021, and is anticipated to grow at a CAGR of 5.2% during the forecast period.  The demand for engineered stone has increased in recent years due to its cost-effectiveness, high strength, and physical properties. According to an article published by NPCs in 2021, USA's engineered stone imports amounted to 66.1 thousand sq. ft. during 2015, higher by 55.1% over the preceding year. Engineered stone, to account for 77 thousand ft² in the US countertops market annually by 2017. The powder form of cristobalite is extensively used as filler to make engineered stone. This may act as one of the driving factors for the cristobalite market for powder from the segment.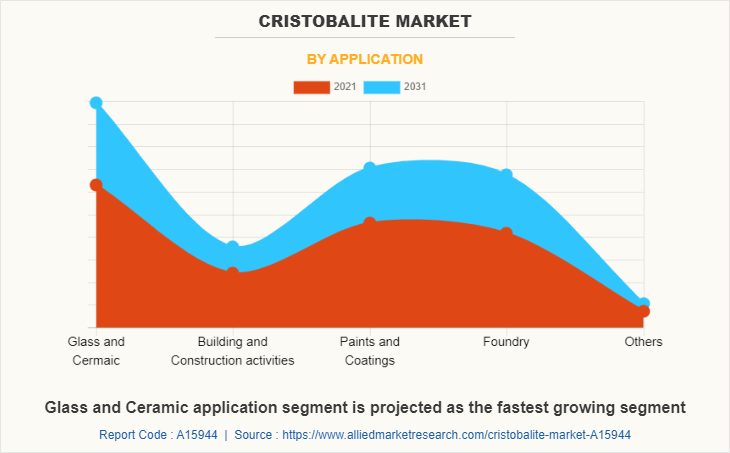 In 2021, the glass and ceramic segment was the largest revenue generator and is anticipated to grow at a CAGR of 5.2% during the forecast period. Ceramics is one of the distinctive materials used in both residential and commercial construction including tiles, washbasins, kitchen countertops, and others where cristobalite is used extensively as a glassifying and melting agent. This is fostering the growth of the ceramic industry during the forecast period. In addition, cristobalite helps in maintaining the melting point in respectable ranges and gives hardness to ceramics and helps in decrease their thermal expansion capacity. Furthermore, the increasing global population, improvement in the standard of living, and increasing purchasing power of consumers have led them to seek unique ceramic constriction materials for designing their homes.
Owing to rising demand several key manufacturers have increased their production capacities of ceramics in both developed and developing economies. For instance, according to an article published by IBIS World in the year November 2021, the ceramic manufacturing industry in the U.S. is expected to increase at an annualized rate of 1.6% to $2.5 billion, including a decrease of 7.1% in 2020. This is anticipated to increase the overall production rate of the cristobalite market in the ceramic industry; thus, creating remunerative opportunities for the market.    Key players operating in the global cristobalite market include C.E.D. Process Minerals, Inc., Dinglong Quartz Limited, Goldstar Powders Pvt. Ltd, Goyal Group of Minerals, GRENZEBACH GROUP, Hoben International Limited, Momentive Technologies, Quartz work GmbH, Sibelco, and SILMER.  
Impact Of Covid-19 On The Global Cristobalite Market: 
The cristobalite market had a negative impact due to the COVID-19 pandemic.  Furthermore, the building and construction industry had an adverse impact in 2020 owing to the rise in cases of COVID-19 and the imposition of lockdown in the second quarter of 2020. Moreover, the building & construction and glass & ceramics activities are projected to get back on track and start functioning at the full capacity post the COVID-19 period, which in turn is expected to enhance the performance of the cristobalite market in 2021. According to an article published by Invest India in November 2022, Cement production increased by 2.1% in July 2022 over July 2021. Its cumulative index increased by 13.3% from April to July 2022-23 over the corresponding period of the previous year. This factor will increase potential sales of the cristobalite market post-COVID-19.  
Key Benefits For Stakeholders
This report provides a quantitative analysis of the market segments, current trends, estimations, and dynamics of the cristobalite market analysis from 2021 to 2031 to identify the prevailing cristobalite market opportunities.
The market research is offered along with information related to key drivers, restraints, and opportunities.
Porter's five forces analysis highlights the potency of buyers and suppliers to enable stakeholders make profit-oriented business decisions and strengthen their supplier-buyer network.
In-depth analysis of the cristobalite market segmentation assists to determine the prevailing market opportunities.
Major countries in each region are mapped according to their revenue contribution to the global market.
Market player positioning facilitates benchmarking and provides a clear understanding of the present position of the market players.
The report includes the analysis of the regional as well as global cristobalite market trends, key players, market segments, application areas, and market growth strategies.
 Cristobalite Market Report Highlights
Aspects
Details
Market Size By 2031
USD 56.6 million
Growth Rate
CAGR of 4.6%
Forecast period
2021 - 2031
Report Pages
236
By Form
By Application

Glass and Cermaic
Building and Construction activities
Paints and Coatings
Foundry
Others

By Region

North America (U.S., Canada, Mexico)
Europe (Germany, UK, France, Spain, Italy, Rest of Europe)
Asia-Pacific (China, India, Japan, South Korea, Australia, Rest of Asia-Pacific)
LAMEA (Brazil, Saudi Arabia, South Africa, Rest of LAMEA)

Key Market Players
Quartz Works GmbH, SILMER, C.E.D. Process Minerals, Inc, Dinglong Quartz Limited, GRENZEBACH GROUP, Momentive Technologies, Goldstar Powders Pvt. Ltd, Goyal Group Of Minerals, Sibelco,, Hoben International Limited
Other Key Market Players
Silmer SA