Customer relationship management (CRM) Market Statistics: 2027
The CRM market size was valued at $41.93 billion in 2019, and is projected to reach $96.39 billion by 2027, growing at a CAGR of 11.1% from 2020 to 2027. Customer Relationship Management is an approach which helps organizations to improve existing customer relationships and for engaging new customers rapidly. The use of customer relationship management simplifies the process of communicating with customer and increase their satisfaction about the service or product. It not only contains direction and guidelines about how to direct interactions take place between customer and enterprise, but is also used for organizing and tracking all the relevant information. This information is needed to find leads, close deals and retain customers, increase sales, build stronger relationships, create more personalized customer service and make processes more efficient and simplified. Customer relationship management helps sales managers to automate their sales activities and track their team's performance. 
Due to COVID-19 pandemic, number of companies are being forced to re-visit and leverage their strategies in order to make sure sales are pursued, customers are served and at the same time employees are productive, even though the employees are remotely working due to which the adoption of CRM systems is increasing post COVID-19 pandemic. Also, due to the COVID-19 pandemic, companies only have one option i.e. to retain their existing and loyal customers which may help them during this lockdown. As CRM software offers several advantages like customer mapping from initial contact discovery to post-purchase interactions, which sometimes gets neglected by the companies drives the CRM system adoption among the ens users.
On the basis of component, the software segment dominated the overall CRM market share in 2019, and is expected to continue this trend during the forecast period. This is attributed to increase in adoption of CRM software among enterprises to gain strategic as well as competitive advantage and strong customer retention over their competitors. In addition, it helps industrial vertical to engage new customers easily and sustain them for a long time, which drives the growth of the market. However, the service segment is expected to witness highest growth, as service segment of customer relationship management market ensures effective coordination between software provider companies and users of CRM software by providing services such as implementation, training, consulting services, and managed services. The adoption of these software speeds up the customer satisfaction of various industrial verticals such BFSI, IT & telecommunication, and healthcare, which maximizes the value of existing customer by optimizing their needs and minimizes the cost of operation, which further fuel the adoption of services that are needed to handle the software properly.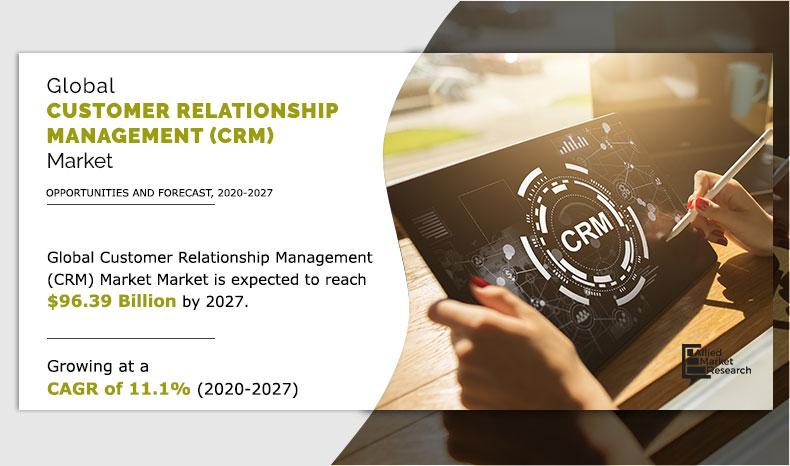 Depending on deployment mode, the cloud segment garnered the largest share in 2019, and is expected to continue this trend during the forecast period. The segment is expected to witness highest growth in the upcoming years as cloud deployment does not need any investment in IT infrastructure as all data is stored on cloud server, which increases the demand for customer relationship management software in small and medium scale organizations. 
North America dominated the CRM market share in 2019, as it is anticipated to continue the trend in the upcoming years, due to increasing use of emerging technology such as machine learning, and industrial automation and major shift of business toward the digital transformation and North America is becoming the hub for various industrial verticals such as healthcare, IT and Telecom and energy and utility sector. This industrial verticals have a large number of customer base, which is expected to create a need to adopt customer relationship management software. 
Asia-Pacific is expected to exhibit highest growth during the customer relationship management market forecast period, owing to strong economic growth along with the ongoing development in the customer retention and engagement, which drives organizations to invest heavily in customer relationship management market to sustain growth and improve productivity. In addition, factors such as major shift toward digital transformation, cloud deployment & technological advancement among small & medium businesses, and continuously ongoing modernization in marketing and sales strategy in emerging economies notably contribute toward the market growth. Furthermore, key players in Asia-Pacific are focusing on enhancing their operations and increasing their overall efficiency to stay competitive in the market, which is expected to provide lucrative customer relationship management market opportunity during the forecast period. 
Customer Relationship Management Market

---
By Deployment Model
Cloud segment is projected as one of the most lucrative segments.
The report focuses on the growth prospects, restraints, and CRM market analysis. The study provides Porter's five forces analysis of critical infrastructure protection industry to understand the impact of various factors such as bargaining power of suppliers, competitive intensity of competitors, threat of new entrants, threat of substitutes, and bargaining power of buyers on the CRM market trends.
Segment review
Customer relationship management market is segmented into component, deployment mode, organizational size, application, industry vertical, and region. By component, it is bifurcated into software and service.
Customer Relationship Management Market

---
By Organization Size
SMEs segment is projected as one of the most lucrative segments.
Depending on deployment mode, it is categorized into on-premise, cloud, and hybrid. On the basis of organization size, it is categorized into large scale and small and medium size enterprises. As per industry vertical, it is classified into BFSI, healthcare, energy & utility, it & telecommunication, retail & e-commerce, manufacturing, government & defense and others. Region wise, the market is analyzed across North America, Europe, Asia-Pacific, and LAMEA.
Impact of COVID-19 on Customer relationship management market
Post COVID-19, the global customer relationship management software market is estimated to grow from $46.03 billion in 2020, and reach $96.39 billion by 2027, at a CAGR of 11.1%. The CRM market is expected to flourish in the upcoming years due to upsurge in need for organizations to re-evaluate aspects of their customer management system to respond to the current context of their organizations. The companies are leveraging various advanced capabilities offered in intelligent customer relation management and customer engagement systems during the pandemic. These capabilities include connectivity to big data analytics and machine learning algorithms. Various customer behavior monitoring system includes telephone calls, mails, customer feedback and chat bots to help address and identify exact customer requirement. On the other hand, the introduction of hybrid customer relationship management software during the pandemic by leading players to help organizations enhance their customer engagement and reduce marketing costs fuels the market growth. Work from home is mandatory in these days and social distancing is a basic need to reduce the spread of the virus. This can also affect communication with customers. Most of the CRM solutions are effective in handling interconnections with customer and sales team. The data present on the database of CRM can be accessed by multiple users at the same. This reduces misleading communication by multiple sales officials. CRM software provides options like email and chat support to handle customer inquiries and queries. This helps to stay connected with customer in this tough condition. CRM software offers features and tools to coordinate tasks to better improve productivity. The automation system in CRM assorts data into the right location with utmost precision. This features of the CRM software boost the market globally.
Customer Relationship Management Market

---
By Application
CRM analytics segment is one of the most significant segments.
Top impacting factors    
The customer relationship management market growth is driven by factors such as increasing focus on customer engagement for long time and increasing use of customer relation management software in small and medium scale enterprises globally. Moreover the worldwide acceleration of digital transformation in enterprises due to COVID-19 outbreak boosts the growth of market. However, lack of security about the privacy of customer information and high initial and installation cost of this software may restrain the growth of the market globally. Furthermore, increasing adoption of bringing your own device (BYOD) ecosystem due to surge in use of smartphone as well as high operational efficiency and less operational cost of the CRM software will create lucrative opportunity in the CRM market during the forecast period. 
Worldwide acceleration of digital transformation in enterprises due to COVID-19 outbreak
The outbreak of the COVID-19 pandemic has brought in stay-at-home measures, minimalist business scenarios, limited mobility, and early signs of a looming recession around the globe, along with the volatile, complex, uncertain, and ambiguous situations for business processes. Thus, companies are accelerating their digital transformation strategies and adding more customer relationship management use cases in their daily activities to keep customer satisfied as they are trying to sustain customers in the competitive market. Due to rising need to address the mass fallout from COVID-19, project managers are paying attention to digital technology investments in customer relationship management. On the other hand, during the pandemic, CRM market players are helping enterprises in different industries to help them in digital transformation and to improve their customer relationship management capabilities.
Customer Relationship Management Market

---
By Region
Asia-Pacific region is projected as one of the most significant segments.
Key Benefits For Stakeholders
The study provides an in-depth analysis of the customer relationship management market along with the current trends and future estimations to elucidate the imminent investment pockets.
Information about key drivers, restraints, and opportunities and their impact analysis on the CRM market size is provided.
Porter's five forces analysis illustrates the potency of buyers and suppliers operating in the customer relationship management.
The quantitative analysis of the customer relationship management market from 2019 to 2027 is provided to determine the customer relationship management industry potential.
 Customer Relationship Management Market Report Highlights
Aspects
Details
BY CPMPONENT
BY DEPLOYMENT MODEL
BY ENTERPRISE SIZE

Large scale
Small and medium scale

BY APPLICATIONS

Customer Service
Customer Experience Management
CRM Analytics
Marketing Automation
Salesforce Automation
Others

BY INDUSTRY VERTICAL

BFSI
Healthcare
Energy & Utility
IT & Telecommunication
Retail & E-commerce
Manufacturing
Government & Defense
Media & Entertainment
Others

BY REGION

North America (U.S., Canada)
Europe (UK, Germany, France, Spain, Italy, Rest of Europe)
Asia-Pacific (China, India, Japan, South Korea, Australia, Rest of Asia-Pacific)
LAMEA (Latin America, Middle East, Africa)

Key Market Players
AUREA SOFTWARE, INC, INSIGHTLY, INC, MICROSOFT CORPORATION, ORACLE CORPORATION, PEGASYSTEMS, SAGE GROUP., SALESFORCE.COM, INC, SAP SE, SUGARCRM, ZOHO CORPORATION PVT. LTD