Crowd Analytics Market Research, 2030
The global crowd analytics market was valued at $912.68 million in 2020, and is projected to reach $5.7 billion by 2030, growing at a CAGR of 20.4% from 2021 to 2030.
The COVID-19 outbreak significantly impacted the global crowd analytics market and accelerated the usage & adoption of crowd analytics solutions especially in the medical sector to ensure the safety from the coronavirus. Moreover, crowd analytics tools gain momentum across the globe, owing to outbreak of COVID-19 pandemic. Thus, aforementioned factors contribute toward the growth of global crowd analytics market during the pandemic.
Crowd analytics is a commercial solution that provides in-depth analysis of crowd movement at large gathering locations, such as airports, train stations, city malls, retail stores, conference centers, and stadiums. Data from a variety of sources, including closed circuit television cameras (CCTV), commercial off-the-shelf cameras, and first & third-party consumer data is processed using powerful artificial intelligence approaches to offer prediction crowd flow models and customer preference patterns. It assists in the delivery of information on crowd movement, public lineups, wait time, asset utilization, and occupancies, which enables retail & transportation terminal authorities to increase operational efficiency by regulating and monitoring huge number of people.
Significant drivers for the growth of the crowd analytics market are rise in popularity for proficient group conveyance arranging in vibrant urban communities, increase in the number of carriers & train travelers, rise in concerns about safety & observation, and development in IoT appropriation across a few industry verticals. However, lack of IT infrastructure in developing nations restrains the growth of the global crowd analytics industry. On the contrary, the growth in market appeal of business intelligence solutions that examine behavioral patterns of any product or service helps organizations to plan for long-term success is expected to boost the crowd analytics market growth in future.
The report focuses on growth prospects, restraints, and trends of the global crowd analytics market analysis. The study provides Porter's five forces analysis to understand the impact of various factors such as bargaining power of suppliers, competitive intensity of competitors, threat of new entrants, threat of substitutes, and bargaining power of buyers on the global crowd analytics market outlook.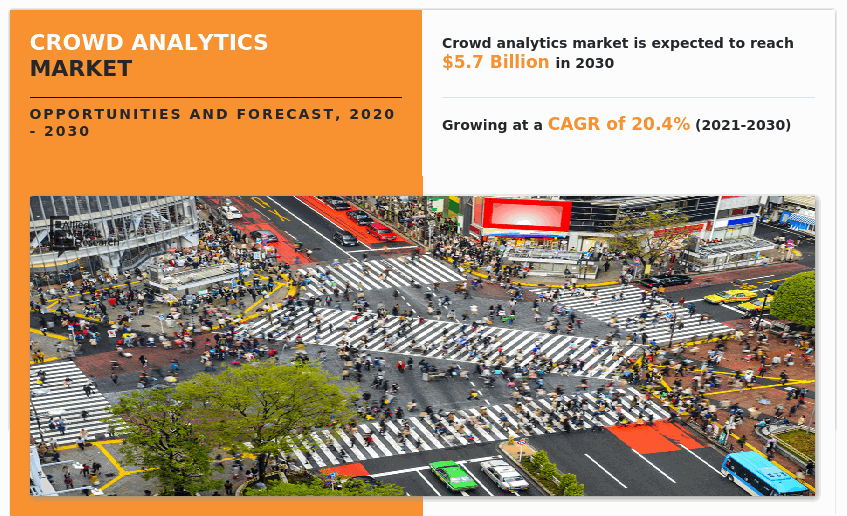 Segment review
The crowd analytics market is segmented on the basis of solution, deployment model, application, end user, and region. By solution, the market is differentiated into software and service. Depending on deployment model, it is fragmented into on-premise and cloud. According to application, it is classified into safety & security, crowd flow management, mobility & tracking, and others. As per end-user segment it is categorized into transportation, retail, hospitality & tourism, and others. Region wise, it is analyzed across North America, Europe, Asia-Pacific, and LAMEA.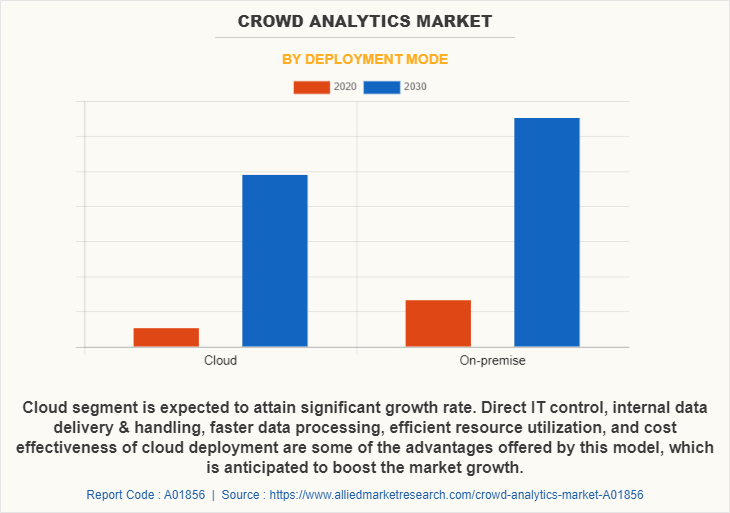 On-premise segment acquired the major share of crowd analytics market. The on-premises deployment mode is used by large enterprises, as it involves significant investment to implement and purchase interconnected hardware, servers, and software to manage the system.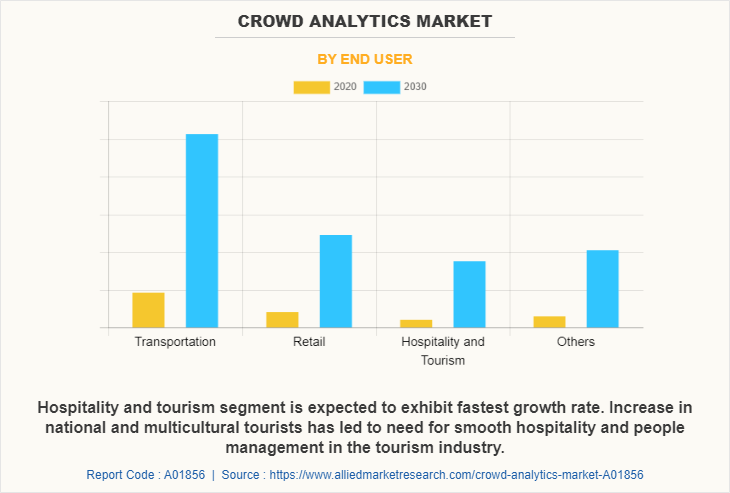 Hospitality and tourism segment is expected to exhibit fastest growth rate. Increase in national and multicultural tourists has led to need for smooth hospitality and people management in the tourism industry.
The global crowd analytics includes top companies operating in the market such as AGT International GmbH, Crowd Dynamics, Crowd Vision Limited, GEODAN, MIRA, NEC Corporation, Nokia Corporation, Savannah Simulations, Spigit, Inc. (Planview), and Walkbase (STRATACACHE). These players have adopted various strategies to increase their market penetration and strengthen their position in the global crowd analytics industry.
COVID-19 Impact Analysis
Market trends in crowd analytics software from a few business verticals resulted in significant financial losses as a result of the global lockdown imposed by governments to prevent the spread of the disease. Presently, crowd analytics industry innovation has aided medical treatment and several organizations. Swarm examination arrangements help establishments comply with COVID-19 guidelines by enabling them to screen the live inhabitancy of regions, distinguish human internal heat levels in swarms, identify face covers, perceive faces, and dissect crowds in real-time using a combination of human-made reasoning, big data, and investigation apparatuses. This factor boosted the growth of global crowd analytics market during the pandemic.
Top impacting factors
Upsurge in number of airlines and train passengers
Increase in the number of passengers travelling by air and rail modes of transport augmented the need for infrastructure and gateway planning to cater to mass crowd flowing from common junctions and ticket counters in regions ,such as North America, Europe, and Asia-Pacific. According to the International Air Transport Association (IATA) it announced full-year global passenger traffic results for 2021 depicting that demand (revenue passenger kilometers or RPKs) declined by 58.4% compared to the full year of 2019. This represented an improvement compared to 2020, when full year RPKs were dropped to 65.8% compared to 2019. .
Increase in ICT spending by developed nations
Several developed and developing countries, including the UK, the U.S., Germany, Australia, India, China, UAE, and others in North America, Europe, and Asia-Pacific regions have increased their ICT spending on crowd analytics software and monitoring solutions, owing to the increase in need for optimal resource utilization and public management system.  
Increase in demand for better crowd distribution planning in smart cities
Crowd management and public monitoring are considered as primary factors in city planning to ensure smooth flow of public transport, commercial events, retail malls, stadiums, and other mass gathering places. Several North American, European, and Asian countries, including Canada, the U.S., the UK, Germany, the Netherlands, Spain, Sweden, India, China, and Japan are inclined toward development of smart cities.
KEY BENEFITS FOR STAKEHOLDERS
The study provides in-depth analysis of the global crowd analytics market share along with current trends and future estimations to illustrate the imminent investment pockets.
Information about key drivers, restrains, and opportunities and their impact analysis on the global crowd analytics market size are provided in the report.
The Porter's five forces analysis illustrates the potency of buyers and suppliers operating in the global crowd analytics market.
An extensive analysis of the key segments of the industry helps to understand the global crowd analytics market trends.
The quantitative analysis of the global crowd analytics market forecast from 2021 to 2030 is provided to determine the market potential.
 Crowd Analytics Market Report Highlights
Aspects
Details
By Solutions
By Deployment Mode
By Application

Mobility and Tracking
Crowd Flow Management
Safety and Security
Others

By End User

Retail
Transportation
Hospitality and Tourism
Others

By Region

North America (U.S., Canada)
Europe (United Kingdom, Germany, France, Italy, Rest of Europe)
Asia-Pacific (China, India, Japan, Australia, Rest of Asia-Pacific)
LAMEA (Latin America, Middle East, Africa)

Key Market Players
AGT INTERNATIONAL GMBH, NEC CORPORATION, MIRA, NOKIA CORPORATION, GEODAN NEXT, WALKBASE, SPIGIT, SAVANNAH SIMULATIONS AG, CROWD DYNAMICS INTERNATIONAL, CROWD VISION LIMITED