Cryogenic Fuels Market Outlook - 2030
The global cryogenic fuels market was valued at $105.6 billion in 2020, and is projected to reach $188.7 billion by 2030, growing at a CAGR of 6.1% from 2021 to 2030. The cryogenic fuel is a fuel that requires storage at a very low temperature for maintaining itself in a liquid state. The cryogenic fuels are widely utilized in machinery which operates in space, where the ordinary fuel cannot be used owing to absence of an environment that supports combustion. These fuels comprise liquid nitrogen, liquid air, liquid helium, liquid neon, liquid hydrogen, and liquefied natural gas (LNG).
COVID-19 pandemic outbreak across the globe has halted the industrial manufacturing and space exploration activities amid government imposed lock down measures owing to which the demand of cryogenic fuels has been declined across the globe.
The global demand for cryogenic fuels market is primarily driven by surge in demand from energy/power generation, manufacturing, aerospace, biomedical & healthcare, and chemical industries. There is a huge demand for industrial gases such as oxygen, liquid oxygen, nitrogen, liquid nitrogen, nitrous oxide, laser mixes, specialty gases, compressed air, and helium in the healthcare sector. Liquid nitrogen is used during transplant procedures in blood bank storage units and for the cryogenic storage of body organs. Furthermore, economic growth of the emerging countries is anticipated to result in the establishment of new research facilities and institutes over the next four years. This rise in research and testing facilities, especially in the field of pharmaceuticals and biotechnology, will propel the demand for cryogenic gases for freezing biotechnology products, in turn, augmenting market growth.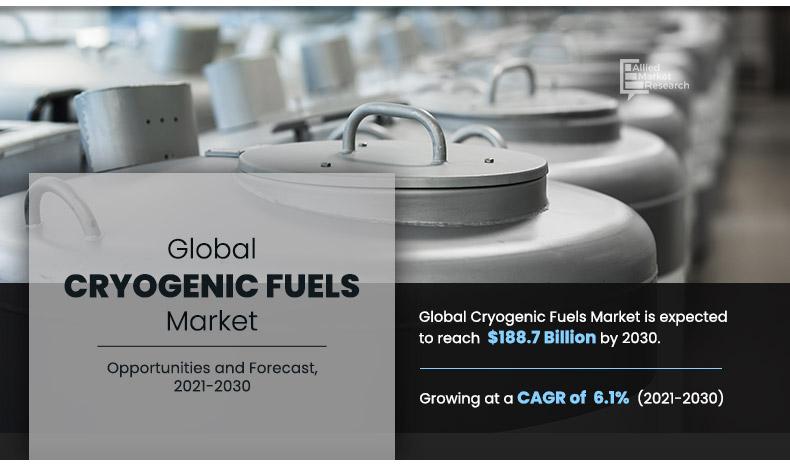 One of the latest trends that will gain traction in the global cryogenic fuels market is the development of carbon capture technologies. The greenhouse gases such as CO2, sulfur dioxides, nitrogen dioxides, and other toxic materials such as mercury, emitted from power plants and other industries, should be captured pre-and/or post combustion process to cut down on the harsh environment impacts. In addition, these gases should also follow the government regulations and energy solutions for the development of cryogenic carbon capture processes that can be applied to both new and existent sources of harmful emissions. This technique has a wide range of applications and can also be used in natural gas processing before pipeline transport, since it can capture sour gases and natural gas liquids. These factors are anticipated to surge the demand for cryogenic fuels during the forecast period.
In addition, major economies of the world are spending a significant share of their GDP on space exploration activities and launching new satellites. The competition among space agencies is significantly high, which has been evident for several decades. Even in the current scenario, several nations are investing heavily in space launch activities to achieve milestones in space explorations and in R&D, which may help them become pioneers in new space technologies. While NASA's space budget for 2019 stood at more than $22,630.0 million for space exploration activities, China allocated a budget of more than $11,000.0 million for CNSA (China National Space Administration) in 2019. During the forecast period, the same trend is expected to continue, and countries are projected to spend heavily on space exploration activities. This is particularly due to several ambitious space programs that are lined up in the next few years. NASA's plan to launch a rover to Mars, ISRO's plan to send a manned spacecraft to space, and similar projects from many other space agencies are expected to attract huge investments into the space launch industry, thereby driving the cryogenic fuels market.
However, high initial investment for setting up cryogenic plant for large-scale production of cryogenic fuel is expected to hamper the growth of the cryogenic fuels market during the forecast period. Furthermore, growing space and satellite missions across the globe is expected to provide growth opportunities for the cryogenic fuels market during the forecast period.
The global cryogenic fuels market size is segmented on the basis of type, end-use industry, and region. By type, it is analyzed across liquid nitrogen, liquid air, liquid helium, liquid neon, liquid hydrogen, and liquefied natural gas. By end-use industry, it is segmented into energy, manufacturing, aerospace, biomedical & healthcare, chemical, and others. Region-wise, it is studied across North America, Europe, Asia-Pacific, and LAMEA.
The major key players operating in the global cryogenic fuels industry include Air Liquide, Air Products & Chemicals, Air Water, Inc., Gulf Cryo, Maine Oxy, Messer Group GmbH, Mitsubishi Chemical Holdings (Taiyo Nippon Sanso), Narco Inc., Linde Plc (Praxair Technology, Inc.), and SOL Group.
Global cryogenic fuels market, by region
Asia-Pacific accounted for a major market share in 2020. Asia-Pacific was the largest market for industrial gases. China accounted for a major share of the consumption in the region. However, India is expected to witness the fastest growth in the region. India is the third-largest producer of iron and steel in Asia-Pacific, and the production is increasing at a rapid pace every year. In addition, cryogenic fuel such as liquid air that includes nitrogen, oxygen, and argon also find their application in the transportation sector including, tire manufacturing using pressurized nitrogen, high-pressure argon for airbags, and nitrogen for precise and secure welding. As of Q3 2019, China had produced 18.17 million vehicles and reached 16.96 million vehicles by Q3 2020, registering a decline rate of about 6.66%. Furthermore, growing demand for iron and steel from various industries and the upcoming steel ventures, coupled with the government initiatives to boost the manufacturing sector, are expected to boost the usage of cryogenic fuels. 
In addition, countries in the Asia-Pacific region, such as China and India, are investing heavily in space exploration activities, and they are expected to continue the same during the forecast period. The Indian Space Research Organization (ISRO) is currently focused on developing the indigenous space launch industry. For instance, in 2018, the Government of India approved $1,310.0 million for building 40 PSLV and GSLV rockets over the next five year span to launch communication satellites and increase broadband connectivity for rural areas. This may strengthen the space infrastructure and reduce the dependence on procured launches from foreign countries. In addition, there are many projects from the region that are lined up during the forecast period. For instance, from India, there are projects like Chandrayaan-3 in 2021 and Gaganyaan in 2021, in which the agency is planning to send astronauts in space. The Japanese agency, JAXA, is also planning to send its rover to the lunar surface in 2021. The country is supporting the organic growth of private companies by helping them invest in and penetrate the rocket propulsion systems market in the country. In 2019, a Japanese aerospace start-up, Interstellar Technologies, successfully launched the country's first privately developed rocket, the Momo-3 unmanned rocket. The governments' support for such private companies may help the ongoing efforts to achieve stable launches and the mass production of rockets in quick cycles in the upcoming period. These factors are expected to show a significant impact on the growth of the cryogenic fuels market in the coming years.
Cryogenic Fuels Market

---
By Region
Asia-Pacific would exhibit an CAGR of 6.6% during 2021-2030
Global cryogenic fuels market, by type
The liquid air segment accounted for a major share in the cryogenic fuels market in 2020. In recent years, technological innovations in the usage of various liquid air have bolstered the growth of the market. For instance, liquid air is being used in propellants to launch rockets that carry broadcast, communications and meteorological satellites into space. Apart from this, the leading companies are investing in R&D activities to develop new and improved methods to produce and distribute liquid air across the globe. These factors are anticipated to drive the demand for air liquid across the globe during the forecast period. However, the demand and production of liquid air are being affected by the spread of the coronavirus disease (COVID-19), which has led to a slow-down in the commercial, transportation and industrial activities. This trend is expected to continue for few more coming years till the government-imposed lockdown measures continue and the industrial activities resume.
Cryogenic Fuels Market

---
By Type
Liquid Air is projected as the most lucrative segment.
Global cryogenic fuels market, by end-use industry
The manufacturing segment accounted for a major cryogenic fuels market share in 2020, owing to increase in foreign direct investment and rapid industrialization across the developing economies such as China, India, and Brazil, have led to surge in setting up of various manufacturing or production units of various industrial verticals such as automotive, steel, and electrical & electronics across these countries. It is due to availability of raw materials and laborers at lower prices. Due to growing manufacturing industry across these developing economies, the demand for cryogenic fuels is expected to surge significantly during the forecast period.
Cryogenic Fuels Market

---
By End-use Industry
Manufacturing is projected as the most lucrative segment.
COVID-19 analysis:
According to the International Monetary Fund (IMF), owing to the outbreak of novel coronavirus (COVID-19), the global economy shrunk by 3.0% in 2020. Many countries are under strict lockdowns, which have forced several sectors to shut down their operations. This has halted manufacturing activities and reduced the demand and production of cryogenic fuels.
According to the United Nations Industrial Development Organization (UNIDO), the Micro, Small & Medium Enterprises (MSME) sector across developing economies, such as India, has been worst affected due to the COVID-19 outbreak and the lockdown imposed thereafter. This is expected to decline the demand for cryogenic fuels from various end-use industries such as building & construction, automotive, chemicals, and aerospace. In addition, in the second half of 2020, some countries started to lift restrictions and gradually start business operations in various sectors. Even with the gradual lifting of the lockdown, it is expected to be challenging for the manufacturing sector to get back to normal working conditions. This is expected to subsequently affect the cryogenic fuels market growth in the coming years.
According to the UNIDO, 30.0%–70.0% of pre-COVID-19 workforce of various manufacturing industries, such as automotive, steel, and electrical & electronics, have migrated back to their hometowns due to uncertainties and loss of income during the lockdown. This non-availability or less availability of workforce is expected to directly affect production activities of these industries, thereby resulting in decline in demand for cryogenic fuels. This is expected to decline growth of the market during the forecast period. 
The COVID-19 pandemic outbreak is having a huge impact on the automotive and chemical industry. There is a delay in imports and exports of chemical items due to the import-export restriction by the governments in various regions. Automotive manufacturing has been disruptively halted, leading to significant losses in the automobile sector as a whole. According to the European Association of Car Manufacturers, demand for new commercial vehicles across the EU remained low in June 2020 (-20.3%), although the rate of decline slowed as compared to April and May. Double-digit percentage decreases were recorded last month by three of the four largest markets in the region: Germany (-30.5 percent), Spain (-24.2 percent), and Italy (-12.8 percent), while France recorded a small increase (+2.2 percent). With the decrease in automotive production, the demand for liquid nitrogen has significantly fallen, which is having a major impact on the demand of liquid nitrogen.
The demand for liquid air was negatively impacted by COVID-19 in 2020. The construction works were on a temporary halt during the lockdown, thus led to a decrease in the consumption of liquid air like argon and hydrogen, which are used for welding purposes while construction, thus negatively impacted the market's growth. However, the demand for oxygen for resuscitation and inhalation therapy has increased from the medical industry during the pandemic situation, which stimulates the market's growth.
Due to the COVID-19 outbreak, the aerospace industry took a severe blow, which resulted in the contraction of the aerospace industry in recent times, which negatively affected the growth prospects of liquid helium in aerospace applications. Moreover, aircraft manufacturing companies have also been witnessing a decline in the number of orders as compared to previous years, with many aviation companies cutting down on their previous orders. For instance, in July 2020, Avolon canceled its additional 27 Boeing 737 MAX planes order after it already canceled about 75 of the jet orders in April, with the COVID-19 pandemic affecting its operations. Such trends may impact the new orders during the short and medium term as a result of changes in aviation companies' investment plans. Similarly, the slowing down of R&D activities due to economic slowdown and lockdowns due to the COVID-19 outbreak has negatively impacted the growth of the electronics and semiconductor industry in the short term, and thereby, the demand for liquid helium has been affected adversely.
The global crisis affected almost every industry's production, demand and supply chain. The liquid neon gas market was not immune to it. The semiconductor industry which requires liquid neon for its processing has also taken a hit due to the pandemic. The work from home is expected to promote smart home products and thus, in this field, the demand is expected to surge. In addition, amid lockdown there will be decrease in production of original equipment manufacturing resulting in drop in demand for liquid neon. Furthermore, there is expected to be drop in demand for mobile phones and consumer electronics, due to loss of income and stay-at-home orders. Thus, the production of these products and hence, the consumption of liquid neon for processing will be significantly affected.
Key benefits for stakeholders
The global cryogenic fuels market analysis covers in-depth information of major industry participants.
Porter's five forces analysis helps analyze potential of buyers & suppliers and the competitive scenario of the industry for strategy building.
Major countries have been mapped according to their individual revenue contribution to the regional market.
The report provides in-depth analysis of the global cryogenic fuels market forecast for the period 2021–2030.
The report outlines the current global cryogenic fuels market trends and future scenario of the global cryogenic fuels market from 2020 to 2030 to understand the prevailing opportunities and potential investment pockets. 
Key drivers, restraints, & opportunities and their detailed impact analysis are explained in the global cryogenic fuels market study.
Key market segments
By Type
Liquid Nitrogen
Liquid Air
Liquid Helium
Liquid Neon
Liquid Hydrogen
Liquefied Natural Gas (LNG)
By End-Use Industry
Energy
Manufacturing
Aerospace
Biomedical & Healthcare
Chemical
Others
By Region
North America
Mexico

Europe
Germany
France
Italy
Spain
UK
Rest of Europe

Asia-Pacific

China
Japan
South Korea
India
Australia
Rest of Asia-Pacific

LAMEA

Brazil
Saudi Arabia
South Africa
Rest of LAMEA