Crypto ATM Market Outlook – 2030 
The global crypto ATM market size was valued at $35,80 million in 2020, and is projected to reach $3,557.05 million by 2030, growing at a CAGR of 58.5% from 2021 to 2030.
Dealing with an unprecedented increased risk & compliance management, administering existing solutions, and rising changes across regulatory frameworks are some of the critical challenges faced crypto ATM providers during the pandemic situation.
Cryptocurrency is the alternative form of payment to cash, credit cards, and check. In cryptocurrency, the customer directly sends money without interaction with the bank. Crypto ATM is the ATM from which individuals can transfer cryptocurrency easily through an ATM machine. For purchasing cryptocurrency through the crypto ATM, the individual must go through KYC, input the address of the crypto wallet to make deposit into, insert the order money through crypto ATM, and finally confirm the transaction. The crypto ATM auto-generates receipts for every transaction. These receipts contain public and private keys in the form of QR code for security purpose.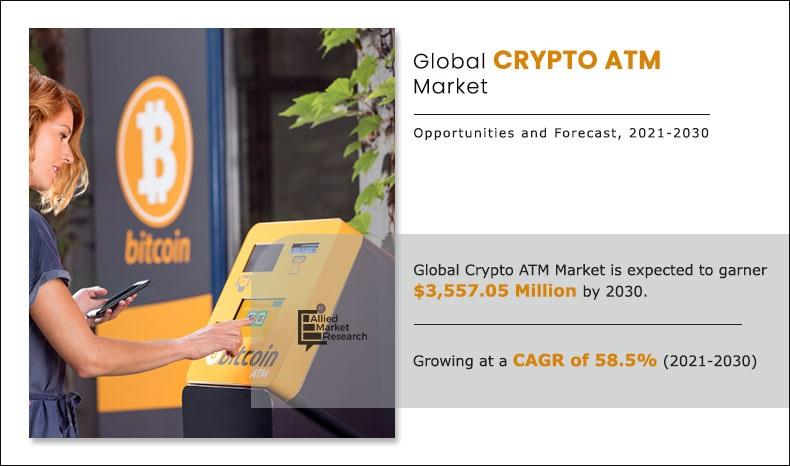 Crypto ATMs provide easier trading options for customers, and users do not need to set up an account, online wallet, or deal with lengthy public keys. In addition, growing demand for cryptocurrencies and surge in number of crypto adopters suggest a shift in the investment paradigm, which is mostly driven by the growing younger population, thereby propelling the crypto ATM market growth. However, limited acceptance of cryptocurrencies as a legal tender and fewer locations & limited availability of ATM and kiosk hampers the growth of the market. On the contrary, growing number of startups increasingly investing in cryptocurrencies and generating profits with an aim of higher return on investment is becoming a major factor anticipated to provide potential growth opportunity for the market. 
The report focuses on growth prospects, restraints, and trends of the crypto ATM market analysis. The study provides Porter's five forces analysis to understand the impact of various factors such as bargaining power of suppliers, competitive intensity of competitors, threat of new entrants, threat of substitutes, and bargaining power of buyers on the crypto ATM market outlook.
Segment Review
The crypto ATM market is segmented into offering, type, coin, and region. By offering, the market is bifurcated into hardware and software. The hardware segment is further segregated into display, ATM printer, QR scanner, and others Based on type, the market is divided into one way and two ways. Coins covered in the study include bitcoin (BTC), litecoin, ethereum (ETH), dogecoin, bitcoin cash, dash, tether (USDT), and others. Region-wise, the market is analyzed across North America, Europe, Asia-Pacific, and LAMEA. 
The report analyzes the top crypto ATM companies operating in the market such as BITCOIN DEPOT, Bitstop, Cash Cloud, Inc, Coinsource, Covault, LLC, GENERAL BYTES s.r.o., Genesis Coin Inc., Kurant GmbH, Lamassu Industries AG, and RockitCoin. These players have adopted various strategies to increase their market penetration and strengthen their position in the crypto ATM industry. 
COVID-19 Impact Analysis
COVID-19 pandemic has a significant impact on the crypto ATM industry, as consumers have increasingly invested in cryptocurrencies during the pandemic. In addition, before the pandemic, the growth of cryptocurrencies had been slow but during the pandemic, there is significant growth in the investment in Bitcoin, Ethereum, Dogecoin, and others. This, in turn, has become one of the major growth factors for the crypto ATM market during the global health crisis. 
Crypto ATM Market

---
By Type
One Way segment accounted for the highest market share in 2020
Top Impacting Factors
Crypto ATMs Provide Instant Transaction and Easier Trading Options 
Crypto ATMs engage in an instant transaction process, which propels the market growth. For buy order, as soon as money has been inserted into the ATM, a purchase is executed for the total payment amount. In addition, if the customer is looking to make a sell order, the crypto ATMs make it, so that customers no longer need to wait several days to receive cash. Furthermore, it provides easier trading options for customers, and users do not need to set up an account, online wallet, or deal with lengthy public keys. The customer receipt contains a QR code, with the public & private key, which can be scanned and immediately recognized by standard wallet apps, and a transaction can be easily executed. Thus, these are the major factors boosting the growth of the crypto ATM market.
Limited Acceptance of Cryptocurrencies as a Legal Tender
Several countries have denied considering cryptocurrencies to be a legal tender due to its volatility, decentralized nature, perceived threat to current monetary systems, and links to illicit activities such as drug trafficking and money laundering. Some nations have banned digital currency while others have tried to cut off any support from the banking and financial system essential for its trading and use. Bitcoin is essentially banned in China, Russia, and Vietnam. All banks and other financial institutions, such as payment processors, are prohibited from transacting or dealing in Bitcoin. Furthermore, cryptocurrency exchanges are banned by several country governments, which further hampers the market growth.  
Crypto ATM Market

---
By Coin
Bitcoin (BTC) segment aquired major share during the forecast period.
Growing Startups and Investments in the Crypto ATM Market
Most countries are investing in startups for crypto ATMs to boost the growth of cryptocurrency exchange. These startups are getting venture capital funding worth millions, thus proving that the market for crypto ATMs will grow exponentially in the coming years. Moreover, investors are keen on investing in these startups as crypto ATMs are a good source of generating profits, and thus return on investment is higher.
Startups, such as Las Vegas-based Robocoin, Vancouver-based Bitcoiniacs, and the U.S.-based LibertyX, have generated trillion dollars of investments. Therefore, these factors will provide lucrative opportunities for the growth of the crypto ATM market in the coming years.  
Crypto ATM Market

---
By Region
Asia-Pacific would exhibit the highest CAGR of 64.0% during 2021-2030
Key Benefits for Stakeholders 
The study provides in-depth analysis of the global crypto ATM market share along with current trends and future estimations to illustrate the imminent investment pockets.
Information about key drivers, restrains, and opportunities and their impact analysis on the global crypto ATM market size are provided in the report.
Porter's five forces analysis illustrates the potency of buyers and suppliers operating in the crypto ATM market.
An extensive analysis of the key segments of the industry helps to understand the crypto ATM market trends.
The quantitative analysis of the global crypto ATM market forecast from 2021 to 2030 is provided to determine the market potential. 
Key Market Segments
By Offering
Hardware

Display
ATM Printer
QR Scanner
Others

Software
By Type
By Coin
Coin
Bitcoin (BTC)
Litecoin
Ethereum (ETH)
Dogecoin
Bitcoin Cash
Dash
Tether (USDT)
Others
By Region
North America
Europe

UK
Germany
France
Italy
Spain
Netherlands
Rest of Europe 

Asia-Pacific 

Hong Kong
Australia
Thailand
Taiwan
Singapore
Rest of Asia-Pacific   

LAMEA

Latin America 
Middle East
Africa
Key Market Players
BITCOIN DEPOT 
Bitstop
Cash Cloud, Inc
Coinsource
Covault, LLC
GENERAL BYTES s.r.o. 
Genesis Coin Inc.
Kurant GmbH
Lamassu Industries AG
RockitCoin     
 Crypto ATM Market Report Highlights
Aspects
Details
By Offering

Hardware

Display
ATM Printer
QR Scanner
Others

Software

By Type
By Coin

Bitcoin (BTC)
Litecoin
Ethereum (ETH)
Dogecoin
Bitcoin Cash
Dash
Tether (USDT)
Others

By Region

North America (U.S., Canada, Mexico)
Europe (France, Germany, Italy, Spain, UK, Russia, Rest of Europe)
Asia-Pacific (China, Japan, India, South Korea, Australia, Thailand, Malaysia, Indonesia, Rest of Asia-Pacific)
LAMEA (Brazil, South Africa, Saudi Arabia, UAE, Argentina, Rest of LAMEA)

Key Market Players
GENERAL BYTES s.r.o., Bitstop, Lamassu Industries AG, Covault, LLC, RockitCoin, Cash Cloud, Inc, BITCOIN DEPOT, Genesis Coin Inc., Coinsource, Kurant GmbH