Curing Agents Market Research, 2031
The global curing agents market size was valued at $11.3 billion in 2021, and is projected to reach $22.2 billion by 2031, growing at a CAGR of 7.0% from 2022 to 2031.
Covid-19 had a negative impact on curing agent demand owing to lockdown imposed by governments and decreased demand from end-use industry.
Curing agents are utilized to harden a substance or surface. They are applied to polymer surfaces in order to bind the molecular components; the stronger the bond, the harder the material's surface. Their primary function is to improve the material's hardness or viscosity. They include active hydrogen-containing compounds, anionic & cationic initiators, and reactive cross-linkers. In can & coil, protective, marine, ornamental, and general industrial coatings, curing agents are utilized. Curing agents are used in primers to improve the adhesion quality of coated components in marine and other applications, particularly on metal surfaces where corrosion and chemical resistance are necessary to prevent damage and wear.
The curing agents market is segmented into type and end use industry, and region. Depending on type, the curing agents industry is categorized into epoxy, polyurethane, silicone rubber, and others. On the basis of end-use industry, the market is categorized into paints & coatings, building & construction, electrical & electronics, composites, and others. On the basis of region, the market is studied across North America, Europe, Asia-Pacific, and LAMEA.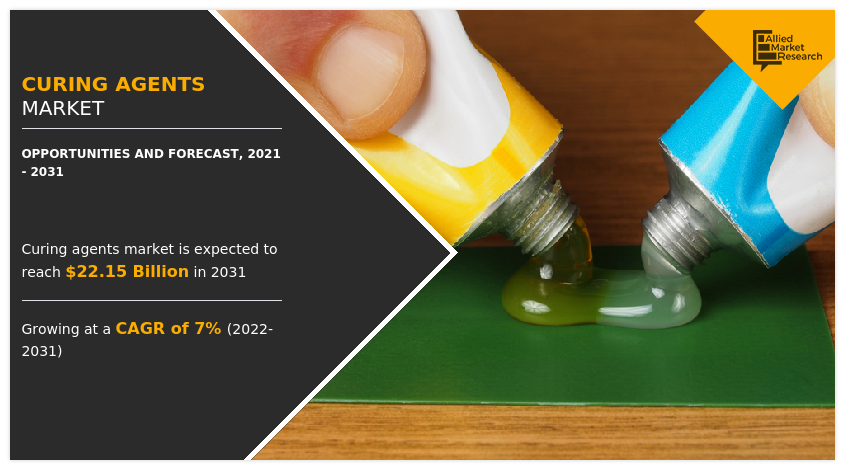 The expansion of the economy and the industrial activities of end-users are major factors that drive the expansion of the worldwide curing agent market. In addition, curing agents are preferred for the construction of wind blades due to their high sheer, compressive strength, and low weight, which is anticipated to drive the expansion of the market. For example, Hexion develops epoxy resins for infusing carbon fiber and makes strong carbon fiber composites that manage heat development in a composite during infusion and give high temperature glass transition, which benefits in the production of wind turbine blades.
In addition, the demand for epoxy curing agents, particularly those based on amines, have grown due to their usage in a variety of applications, which drives the expansion of the worldwide market. In addition, curing agents are resistant to heat, have low volatility, and low toxicity that contributes to the expansion of the global market. In addition, they are employed in the food preservation and flavoring process to take moisture out of the food via osmosis, so contributing to the expansion of the market. However, it is expected that the high costs of raw materials used in the manufacturing of curing agents can limit the expansion of the target market.
Curing Agents Market

---
By Type
Epoxy segment accounted for highest share and polyurethane segment is projected as fastest growing segment.
The epoxy segment accounted for the largest share i.e., 42.9%. Epoxy curing agent segment is the fastest growing segment, growing around 6.4% CAGR over the forecasted period, this is due to increased demand for epoxy resin from construction industry.
Curing Agents Market

---
By End Use Industry
Paints and coatings industry has garner major share in the curing agent market in 2021 and composites industry is projected as the most lucrative segment.
The Paints and coatings segment accounted for the largest share i.e., 24.1%. Paints and coatings segment is the fastest growing segment, growing around 6.6% CAGR over the forecasted period. This is due to increased demand for curing agent by Paints and coatings sector in flooring, interior painting, decorative coatings, can & coil coatings and marine coatings.
Curing Agents Market

---
By Region
Asia-Pacific holds a dominant position in 2021 and is projected as the most lucrative region for curing agent market.
Asia-Pacific contributed the 33.62% curing agents market share in 2021 and is projected at a CAGR of 8.1% during the forecast period. Owing to the increased demand from construction and electronics industries. 
Major players that operate in the global Curing agent market include Albemarle Corporation, Alfa Chemical, Arnette Polymers LLC, Atul Ltd, BASF SE, Cardolite Corporation, Epochemie - Epoxy Curing Agents, Evonik Industries AG, Hexion Inc., Huntsman Corporation, Kumho P&B Chemicals, Inc., Mitsubishi Chemical Holdings Corporation, Olin Corporation, Shandong Deyuan Epoxy Resin Co. Ltd, Vijai poly products Pvt.
Other players operating in the Curing agent market are LEUNA-Harze GmbH, Cargill, Aditya Birla Chemicals, Kumiai Chemical Industry Co. Ltd.
IMPACT OF COVID-19 ON THE GLOBAL CURING AGENT MARKET
The recent COVID-19 pandemic negatively impacted the market for curing agents in a significant way.

During COVID-19, the demand for curing agents in the construction, transportation and industrial sectors has decreased as a result of the closure of several industrial manufacturing facilities.

The most of these sectors have experienced damage as a result of insufficient transportation and labor shortages during the pandemic.

The need for curing agents has expanded alongside the demand for medical equipment like as incubators and other medical storage devices.

As a consequence, it is anticipated that the mentioned factors would restrain the growth of the global curing agent market in the near future.
Key Benefits For Stakeholders
This report provides a quantitative analysis of the market segments, current trends, estimations, and dynamics of the curing agents market growth analysis from 2021 to 2031 to identify the prevailing curing agents market opportunities.
The market research is offered along with information related to key drivers, restraints, and opportunities.
Porter's five forces analysis highlights the potency of buyers and suppliers to enable stakeholders make profit-oriented business decisions and strengthen their supplier-buyer network.
In-depth analysis of the curing agents market segmentation assists to determine the prevailing market opportunities.
Major countries in each region are mapped according to their revenue contribution to the global market.
Market player positioning facilitates benchmarking and provides a clear understanding of the present position of the market players.
The report includes curing agnets market analysis at the regional as well as global curing agents market trends, key players, market segments, application areas, and market growth strategies.
 Key Market Segments & Key Market Players
Segments
Sub-segments
Type

Epoxy
Polyurethane
Silicone Rubber
Others

End use industry

Paints and coatings
Building and construction
Electrical and Electronics
Composites
Others

By Region

North America (U.S., Canada, Mexico)
Europe (France, U.K., Spain, Italy, Rest of Europe, Germany)
Asia-Pacific (China, Japan, India, South Korea, Rest of Asia-Pacific)
LAMEA (Brazil, Saudi Arabia, South Africa, Rest of LAMEA)

Key Market Players
Evonik Industries AG, BASF SE, Huntsman International LLC, Hexion, Olin Corporation, Cardolite, cardolite, aditya birla chemicals, Mitsubishi Chemical Corporation, Atul Ltd, Albemarle Corporation, Arnette Polymers, cargill, Alpha chemicals, KUMIAI CHEMICAL INDUSTRY CO. LTD.