Cyber Situational Awareness Market Insights - 2027
The global cyber situational awareness market size was valued at $31,431 million in 2019, is projected to reach $152,656 million by 2027, registering a CAGR of 22.6% from 2020 to 2027. Cyber situational awareness system is emerging as a key component for all commercial and industrial sectors. Technology has gained a rapid traction in almost every sector right from education, media & entertainment to high end heavy machinery and manufacturing units, owing to rise in risk of cyber threats and attacks. Increase in cases of cyber-attacks along with its huge economic losses is the major factor that propels the market growth.
Post COVID-19 pandemic, there was a greater transition towards the adoption of online and cloud systems with every industries adopting work from home policies. Though this action has resulted in increased efficiency, however at the same time the risk of cyber threats and attacks has also increased. Rise in the number of multiple cyber-attack modes has created a on priority need for monitoring the current cyber systems and its loopholes. Thus, the demand for effective cyber situational awareness methods has achieved a greater heights, which in turn is propelling the market growth.
Growth in number of IoT and BYOD devices has resulted in generation of large amount of data that needs to be managed effectively. Cyber situational awareness solution helps in analyzing storage infrastructure and reduces overall risk, which creates a safe site for such data. However, huge reliance on cloud system for data storage has resulted in high attack prone scenarios that has led to fear among users in adopting the system and sharing sensitive data, which in turn restrains the overall market growth.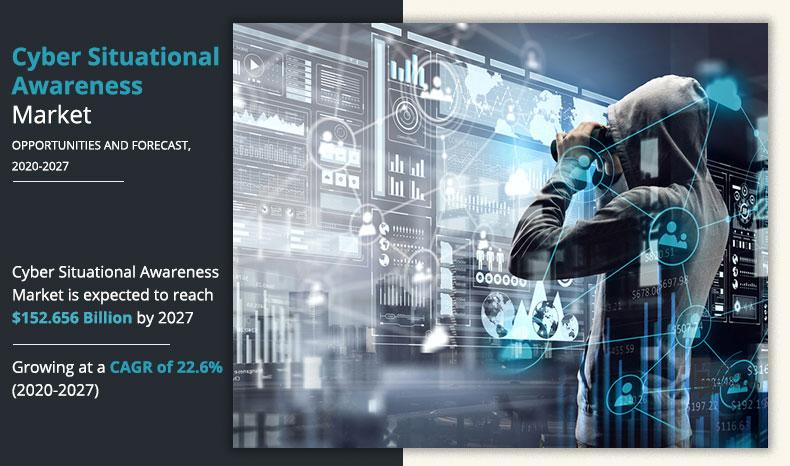 By component, the global cyber situational awareness market share was dominated by the solution segment in 2019, and is expected to maintain its dominance in the upcoming years. These solutions also help in prioritizing resources to focus on critical challenges/issues or changes that can impact an organization, region, and technology negatively, with real-time insights. It also provides strategic view by analyzing incidents to identify threats, recognize trends in their activities, and malicious objectives to offer strategic understanding of events or situations in cyberspace, which helps operational teams to take actions quickly.
Cyber Situational Awareness Market

---
By Component
Service segment is projected as one of the most lucrative segments.
By solution type, the global cyber situational awareness market was dominated by the network forensic segment in 2019, and is expected to maintain its dominance during the forecast period as investments in security in technological landscape is on the rise.
Network forensics solutions are emerging as one of the leading solutions in the cyber situational awareness industry. In addition, major shift toward bring-your-own-devices (BYOD) policy and adoption of remote computing, owing to COVID-19 pandemic has generated the need for technologies that can be deployed instantly and scaled without the need for additional infrastructure. Further, as industries are shifting most of their computing needs to cloud, need for data security in this application is continuously on the rise. As number of vendors offer flexible pricing along with demand-based models, cloud-based network forensic solutions are experiencing accelerated growth, which is opportunistic for the market.
Cyber Situational Awareness Market

---
By Industry Vertical
Healthcare is projected as one of the most lucrative segments.
North America dominated the cyber situational awareness market, owing to various factors such as businesses in North America are continuously under the threat of cyber-attacks and data security issues. BFSI is the most targeted sector by hackers for data breaches. In recent past, hackers have targeted the energy & utility sector, owing to which the industry faced frequent attacks. In such scenarios, organizations need effective systems for proactive monitoring of their networks to protect their environment from frequent attacks from hackers and other entities. Moreover, within the region, threat of security breaches has become extremely common. Instances of targeted attacks commonly known as advanced persistent threats (APT), which are increasingly used to gain access to proprietary and confidential enterprise data, are on the rise. This, in turn, increases adoption of cyber situational awareness solutions. However, Asia-Pacific is expected to observe highest growth rate during the forecast period, as proliferation of mobile phones, social media, and gaming apps is progressively on the rise, which propels growth of the cyber situational awareness market across Asia-Pacific.
Cyber Situational Awareness Market

---
By Region
Asia-Pacific is projected as one of the most significant region.
The report focuses on growth prospects, restraints, and cyber situational awareness market. The study provides Porter's five forces analysis of the internet advertising industry to understand impact of various factors such as bargaining power of suppliers, competitive intensity of competitors, threat of new entrants, threat of substitutes, and bargaining power of buyers on the media & entertainment storage market trends.
Segment review
The cyber situational awareness market is mainly divided on the basis of component, deployment, organization size, solution type, and industry vertical. On component, the market is bifurcated into solution and services. On the basis of solution type, it is segmented into network forensics, network traffic analysis, DNS threat analysis, network detection & response, network performance monitoring & diagnosis, network monitoring & management, intrusion detection system, intrusion prevention system, and others. By deployment model, it is segmented into on premise and cloud. On the basis of organization size, the market is studied across small & medium enterprises and large enterprise. By industry vertical, it market majorly covers, military & defense, healthcare, aerospace, marine security, automotive, mining oil & gas, IT & telecom, government agencies, BFSI, energy & utilities, and others. Region wise, it is analyzed across North America, Europe, Asia-Pacific, and LAMEA.
Impact of COVID-19 Pandemic on Cyber Situational Awareness Market (Pre and Post Analysis):
Post COVID-19, size of the cyber situational awareness market is estimated to grow from 36,580 million in 2020 and projected to reach $152,656 million by 2027, at a CAGR of 22.6%. The current estimation of 2027 is projected to be higher than pre-COVID-19 estimates. COVID-19 pandemic has bought a positive impact on the cyber situational awareness market, achieving a growth rate of 5-10% in the year 2020.
according to a recent report by Nasscom-Data Security Council of India, the Indian cybersecurity services industry is expected to grow to $ 7.6 billion in 2022, and register an average annual growth rate of 21% by 2025 to reach $ 13.6 billion. In terms of economic impact, there has been a positive growth on the cyber situational awareness market, for instance Israel's cybersecurity startups have jumped to the challenge and posted a 70% growth in funding for 2020, raising a record $ 2.9 billion in 100 transactions. Exports of cybersecurity products from Israel in 2020 was $ 6.85 billion, up from $ 6.5 billion in 2019. Five cybersecurity firms, namely, Snyk, SentinalOne, Cato Networks, Forter and BigID achieved significant growth.
Top impacting factors    
Cyber situational awareness market growth is driven by factors such as rise in level of cybercrimes, coupled with higher economic losses. Though digital technologies have raised the standard of every phase within day-to-day routines, it has led to rise in associated risks, which has increased the gap of losses occurred within it. As per the statistics by McAfee, cybercrime incidents now cost the world economy more than $1 trillion in 2019 or just more than 1% of global GDP. Rapid advancements in wireless and mobile devices has put forth new technologies, which are primarily termed as Internet of Things (IoT) and Bring Your Own Device. Both these technologies have gained a tremendous demand within the past four to five years. For instance, IoT technology has achieved a rapid spike in China with Chinese telecom companies accounting for roughly one quarter (27%) of all cellular IoT connections.
Rapid increase in electronic data 
Electronic data has acquired a massive place on the current business model, owing to several advantages such as cost effectiveness, speed of processing, and easy storage of large amount of data. Sectors such as manufacturing, healthcare, retail, and education are moving toward adoption of electronic media for data storing or data transfer. Electronic data interchange (EDI) is continuously gaining importance among various sectors along with storage of data on electronic media. The need to improve business efficiency is a major factor that leads to rise in adoption of EDI. However, this electronic data is either exchanged or stored on devices, which are prone to attacks from various entities.
E-commerce to be a game changer for the cyber situational awareness
Globally, smartphone adoption has reached a spike and is estimated to alleviate, thereby achieving a twofold growth during the forecast period. Advancements in network technology right from integration of optical fibers and high end wireless connectivity has led to easy availability of internet for normal users.  Moreover, almost all e-commerce activities need secure platforms and proper validation for transactions.
Most banks use high-end encryption such as 128-bit SSL encryption standard. With handling of such high confidential data, the need for minute inspection of the network and associated infrastructure raises, which creates lucrative opportunities for the overall market.
Key Benefits For Stakeholders
This study includes the cyber situational awareness market analysis, trends, and future estimations to determine imminent investment pockets.
The report presents information related to key drivers, restraints, and CSA market opportunity.
The cyber situational awareness market is quantitatively analyzed from 2019 to 2027 to highlight the financial competency of the industry.
Porter's five forces analysis illustrates the potency of buyers & suppliers in global cyber situational awareness market.
 Cyber Situational Awareness Market Report Highlights
Aspects
Details
By Component
By Solution Type

Network Forensics
Network Traffic Analysis
DNS Threat Analysis
Network Detection & Response
Network Performance Monitoring & Diagnosis
Intrusion Detection System
Intrusion Prevention System
Others

By Deployment Type
By Organization Size

Large Enterprise
Small & Medium Enterprise

By Industry Vertical

Military & Defense
Healthcare
Aerospace
Marine Security
Automotive
Mining and Oil & Gas
IT & Telecom
Government Agencies
BFSI
Energy and Utilities
Others

By Region

North America
Europe

UK
Germany
France
Russia
Poland
Hungary
Czech Republic
Rest of Europe

Asia-Pacific

China
India
Japan
India
Australia
Indonesia
Thailand
Singapore
Malaysia
Philippines
Sri Lanka
Bangladesh
New Zealand
Rest of Asia-Pacific

LAMEA

Brazil
Mexico
Colombia
Saudi Arabia
South Africa
UAE
Oman
Qatar
Rest of LAMEA

By Key Market Players

IBM Corporation
Verint
Palantir Technologies
SAS Institute Inc.
Cyware
Honeywell
Firemon LLC
MarkLogic Corporation.
Darktrace
Paolo Alto Network