The global cyber weapons market size was valued at $9.2 billion in 2021, and is projected to reach $23.7 billion by 2031, growing at a CAGR of 10.1% from 2022 to 2031.
Cyber weapons are tools that are used, created, or planned to be used to injure, kill, damage, or destroy people or things—in other words, to achieve the outcomes required to classify a cyber operation as an assault. Malicious software made for intelligence, military, or paramilitary security or surveillance objectives is called a defensive cyber weapons. It is supported by public or private individuals or organizations. Defense cyber weapons are used to invade individuals' right to privacy or to endanger a country's sovereignty. The use of virus malware as defensive cyber weapons can also result in or prevent the theft of intellectual property or the destruction of data and systems. Moreover, offensive cyber operations are the ability of an opponent to influence digital services or networks (OCOs). The organizational, technological, and human resources that go into offensive cyber operations are known as OCCs.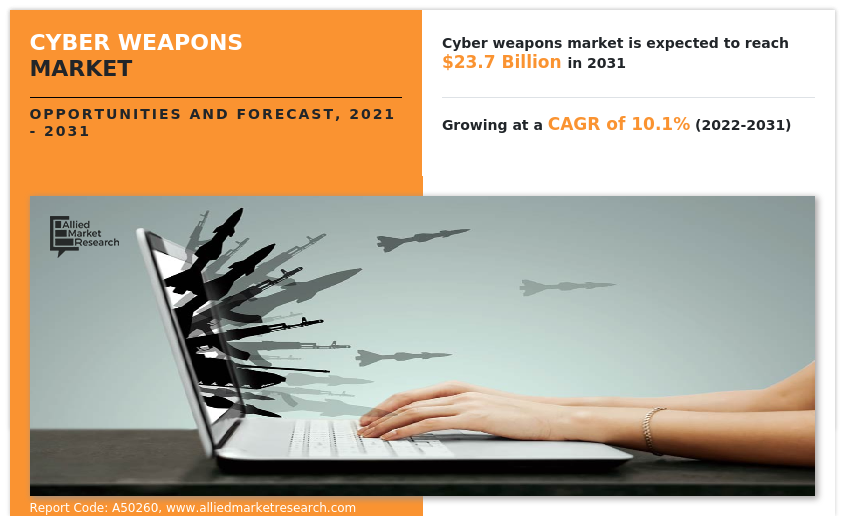 The cyber weapons market is segmented into Application, End User and Type.
The development of cyber weapons as a military tool and rise in defense spending together fuel market expansion. Armed forces, paramilitary organizations, and intelligence services infiltrate the adversary's network with a cyber weapons, or more particularly malware or a virus. Also, the surge in desire to violate the target's privacy and defend the sovereignty of the host country is anticipated to greatly speed up market expansion throughout the anticipated period. Thus, the requirement for cyber weapons may be larger in terms of military and security readiness. The increased usage of the internet for various purposes is also escalating cybercrime and related problems, which increases the demand for cyber weapons globally and accelerate the growth of the defensive cyber weapons market during the forecast period.
The rise in the need for infrastructure protection, advancements in technologies such as AI and ML, a significant rise in international conflicts, and an increase in expenditure for cyber weapons by government and commercial entities are the major factors that propel the cyber weapons market growth. However, high cost of development of cyber weapons and technical difficulties in the deployment of effective cyber weapons are the major factors that hamper the growth of the market. Furthermore, rise in demand for defense intelligence and surveillance in military operations and increase in presence of relevant digital equipment for cyber warfare is expected to fuel the growth of the market during the forecast period.
Cyber Weapons Market

---

By Application
Communication Network is projected as the most lucrative segment
The cyber weapons market is segmented on the basis of type, application, end user, and region. By type, it is bifurcated into defensive and offensive. By application, it is classified into national defense systems, public utility, automated transportation systems, smart power grid, industrial control systems, financial systems, communication networks, and others. By end user, it is categorized into government, BFSI, corporate, and others. By region, it is analyzed across North America, Europe, Asia-Pacific, and LAMEA.
One of the primary markets for cyber weapons is Europe, which is home to powerful nations like France, the UK, and Russia. In Europe, Russia plays a significant role in the development of cyberweapons. In addition, Russia is actively developing new cyberweapons to add to its arsenal and is reported to have a large cyberwarfare program. Another country expanding its ability to use cyber weapons is the UK. The National Cyber Security Centre (NCSC), a specialized cyber defense organization, was established by the UK after considerable expenditures were made in its cybersecurity infrastructure. The NCSC is in charge of developing offensive cyber capabilities as well as protecting the country's critical networks and infrastructure from online dangers.
Together with Russia and the UK, several other European countries are also enhancing their cyberwarfare capabilities. For instance, France has established the Cyber Defense Command, a specialized cyberwarfare unit tasked with conducting offensive cyberoperations and safeguarding the country's military networks. Another reason driving the development of cyber weapons in Europe is the growing digitization of essential infrastructure, including power grids, transportation networks, and banking networks. As these systems become increasingly technologically reliant and networked, they are more vulnerable to cyberattacks. Governments are investing in the development of offensive and defensive cyber capabilities to ward off attacks on these vital systems.
Cyber Weapons Market

---

By End User
Corporate segment is projected as the most lucrative segment
Some leading companies profiled in the cyber weapons market report comprise BAE Systems, Booz Allen Hamilton Inc., Broadcom, Cisco Systems, FireEye Inc., General Dynamics Corporation, Kasperksky Lab, Lockheed Martin Corporation, Mandiant, and Raytheon Technologies Corporation.  
The leading companies are adopting strategies such as partnerships, contracts, and collaborations to strengthen their market position. In October 2021, BAE Systems Plc, a leading defense and security company, entered into a collaboration with the Center for Threat-Informed Defense (Center), operated by MITRE EngenuityTM, as a research sponsor to help the organization with its work to develop resources that protect against cyber-attacks. In April 2019, Northrop Grumman Corporation signed a contract with the U.S. Army to support a full spectrum of cyber and electronic warfare capabilities for Army forces. Such strategies are expected to increase the cyber weapons market share in warfare.
Rise in need for infrastructure protection 
The rise in need for infrastructure protection has fueled the expansion of the cyber weapons market. The reliance on technology and digital systems in different areas such as finance, healthcare, and transportation has increased the vulnerability of these systems to cyber-attacks. Therefore, there is an increase in demand for strong national critical infrastructure protection measures for banking systems and electrical grids. Cyber weapons, also defined as hacking tools or exploits, are used by both defensive and offensive cyber security teams to identify and rectify system vulnerabilities. As cybercriminals develop new and more sophisticated methods of attack, the use of these tools has become increasingly important. This boosts the expansion of the cyber weapons market.
Moreover, developments in cloud computing and the Internet of Things (IoT) has added another layer of complexity to cyber security, emphasizing the importance of infrastructure protection. Finally, the increased demand for infrastructure protection is a key driver of the market. Corporations are dependent on advanced cyber weapons to protect their critical systems and data as the threat of cybercrime evolves and expands. This, in turn, has increased the demand for advanced cyber weapons, fueling the growth of the cyber weapons market during the forecast period.
Advancements in technologies such as AI and ML
The increased demand for technological advancements such as artificial intelligence (AI) and machine learning (ML) has been a driving factor in the cyber weapons market. These weapons are intended to assist enterprises in detecting and fixing vulnerabilities in their systems before they are exploited by hackers.
Organizations are keen to invest in advanced solutions to defend their networks and systems as the potential for cyber attacks and data breaches grows. For example, the SolarWinds hack, which began in September 2019 and lasted until March 2020, and affected numerous government agencies and significant organizations, underlined the necessity for modern security measures to protect against such attacks. As a result, the development and production of AI-powered cyber weapons have increased significantly.
Furthermore, another major breach that made headlines in January 2021 was the Microsoft Exchange Server hack. This attack impacted hundreds of organizations worldwide, highlighting the importance of advanced security solutions. This increased demand for AI and ML-based cyber weapons.
The trend is predicted to continue in the coming years, with organizations wanting to invest in advanced technology to secure their systems from cyber-attacks. This will cause the cyber weapons market to develop, making it an appealing investment opportunity for companies looking to benefit from the growing need for enhanced security solutions.
High cost of the development of cyber weapons
The development of cyber weapons is an expensive and complicated task that involves substantial investment in terms of time, resources, and technological knowledge. Due to the fact that only a few firms have the finances and capability to invest in the development of these complex technologies, the high cost of development is a major restraint on the cyber weapons market. Furthermore, cyber weapons research is sometimes shrouded in secrecy, making it impossible for potential customers to evaluate the cost and capabilities of these systems.
Another factor that contributes to the high cost of cyber weapons is the requirement for continuous maintenance and upgrade. As cyber attacks evolve and new flaws are identified, cyber weapons developers must constantly upgrade their systems to guarantee that they stay relevant and effective. This needs major expenditures in research and development and the recruitment of experienced employees to manage and run the systems.
Despite these obstacles, demand for cyber weapons continues to rise as companies strive to protect themselves from the growing threat of cyber attacks. However, the high cost of development and continuous maintenance is likely to remain a significant barrier to the expansion of the cyber weapons market, which restricts the number of organizations that can invest in these technologies.
Cyber Weapons Market

---

By Type
Offensive segment is projected as the most lucrative segment
Rise in demand for defense intelligence and surveillance in military operations
Defense intelligence and surveillance in military operations have seen a considerable increase in demand in recent years. The growth in international tensions and the increased use of unconventional warfare, have required the development of more precise surveillance capabilities. Military groups want to obtain the latest technologies to gain a tactical advantage on the battlefield. This creates a big opportunity for the cyber weapons market. Cyber weapons are becoming increasingly important components of modern military operations. These tools help military groups collect intelligence, track enemy activities, and launch attacks on hostile infrastructure and communication networks. The increased demand for defense intelligence and surveillance has resulted in a lucrative market for cyber weapons, with an increasing number of companies dedicated to the development of these capabilities.
One of the most significant advantages of cyber weapons is their capacity to collect intelligence in real time. This enables military groups to react swiftly to changing events and make informed decisions based on the most up-to-date information. Cyber weapons also enable military organizations to conduct secret operations, lowering the risk of collateral harm while boosting the likelihood of success. The increased demand for defense intelligence and surveillance in military operations represents a substantial opportunity for the cyber weapon business. Companies specializing in the creation of cyber weapons are expected to experience further growth and expansion in the sector as military organizations seek the latest technologies to obtain a tactical advantage on the battlefield.
Cyber Weapons Market

---

By Region
Asia-Pacific would exhibit the highest CAGR of 11.2% during forecast period 2022-2031
Both individuals and the entire society were very vulnerable owing to the COVID-19 pandemic. Technology is progressively having an impact on both personal and professional lives. The spread of numerous types of cybercrimes was greatly influenced by social isolation since it allowed criminals to hide while viciously abusing their victims and exploiting societal flaws. Crime and violence are migrating from the physical world to the internet, which has a measurable impact on day-to-day life. Since cyberattacks are occurring frequently, all types of criminal activities have moved online and is affecting many aspects of daily life.
Key Benefits For Stakeholders
This report provides a quantitative analysis of the market segments, current trends, estimations, and dynamics of the cyber weapons market analysis from 2021 to 2031 to identify the prevailing cyber weapons market opportunities.
The market research is offered along with information related to key drivers, restraints, and opportunities.
Porter's five forces analysis highlights the potency of buyers and suppliers to enable stakeholders make profit-oriented business decisions and strengthen their supplier-buyer network.
In-depth analysis of the cyber weapons market segmentation assists to determine the prevailing market opportunities.
Major countries in each region are mapped according to their revenue contribution to the global market.
Market player positioning facilitates benchmarking and provides a clear understanding of the present position of the market players.
The report includes the analysis of the regional as well as global cyber weapons market trends, key players, market segments, application areas, and market growth strategies.
 Cyber Weapons Market Report Highlights
Aspects
Details
Market Size By 2031
USD 23.7 billion
Growth Rate
CAGR of 10.1%
Forecast period
2021 - 2031
Report Pages
335
Application

National Defense System
Public Utility
Automated Transportation system
Smart Power Grid
Industrial Control System
Financial System
Communication Network
Others

End User

Government
BFSI
Corporate
Other

Type
By Region

North America (U.S., Canada, Mexico)
Europe (UK, Germany, France, Russia, Rest of Europe)
Asia-Pacific (China, Japan, India, South Korea, Rest of Asia-Pacific)
LAMEA (Latin America, Middle East, Africa)

Key Market Players
BAE Systems plc, Northrop Grumman Corporation, Booz Allen Hamilton Inc., Broadcom Inc., Raytheon Technologies Corporation, AO Kaspersky Lab, FireEye Inc., Lockheed Martin Corporation, General Dynamics Corporation, Cisco Systems Inc.