Cybersecurity In Banking Market Research, 2032
The global cybersecurity in banking market size was valued at $74.3 billion in 2022, and is projected to reach $282 billion by 2032, growing at a CAGR of 14.4% from 2023 to 2032.Cybersecurity in banking covers the technology and protocols for preventing and responding to attacks that target financial institutions data, networks, and digital infrastructure. The financial sector is an obvious treasure trove of sensitive data and money, which makes it catnip for hackers. The industry poses compelling challenges, such as the potential vulnerabilities related to remote work or risky customer behaviors such as sharing passwords or username while digital banking that can be difficult to control.
The cybersecurity in banking market growth is influenced by the digital transformation in the banking sector. Mostly banks and financial institutions are implementing omni-channel approach to improve the customer experience. With the adoption of digital banking services, banks and financial institutions can make banking simple, convenient, and available to the population across the globe. For instance, Nelitos FinCraft Digital Banking Suite helps financial institutions provide compelling digital banking experiences, and is designed to attract, engage, and extend customer relationships. Fincraft provides an Omni-Channel digital banking suite that consists of core banking, mobile banking, Internet banking, and doorstep banking solutions, enabling the institutions to drive innovation and growth, provide seamless customer experience, achieve operational excellence, and gain a competitive advantage.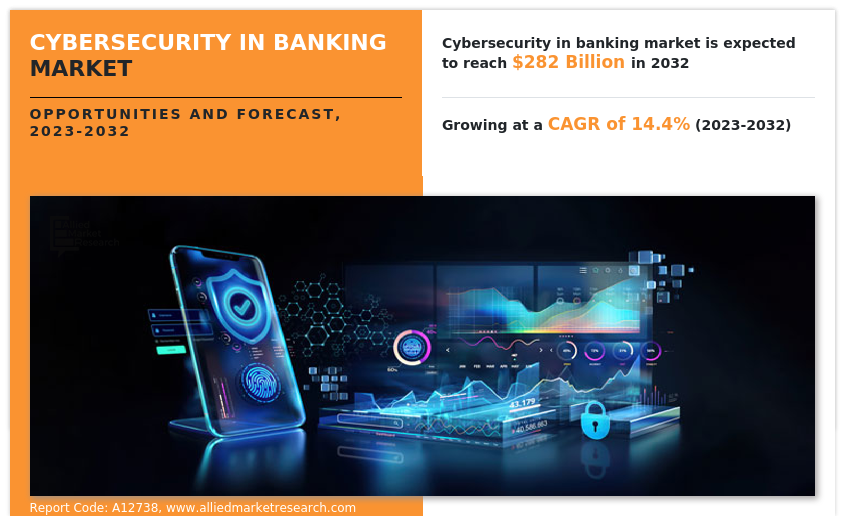 Shortfall of talent gap is one of the major concerns for cybersecurity in the banking industry. Organizations must ensure that they are working on fulfilling the skills gap by focusing on training programs related to cybersecurity in banking industry awareness and also retaining the right talent. Whilst the skills shortage commonly relates to hiring, with cybersecurity it also extends to the basic security skills of employees. As the cybersecurity threat landscape is constantly changing, many employees lack basic security awareness knowledge and are unable to accurately detect a potential social engineering attack. Cybersecurity skills shortage does not only affect businesses but also vendors and service providers, which makes it even more important to work with trusted providers. Thus, banking sector should focus on bridging the talent gap in order to enhance security of their products and services.
The cybersecurity in banking market forecast has tremendous opportunity due to the development of the various technologies such as artificial intelligence (AI), Internet-of-Things (IoT), Blockchain, 5G, and others. Rapid development of internet of things (IoT) and artificial intelligence (AI) are changing conventional business processes in the banking, financial services, and insurance (BFSI) sector. Banks are discovering new ways to run more efficient business and offer enhanced customer experience as various new regulatory requirements are building pressure on the sector to create more stringent policies. Therefore, companies in the BFSI sector are increasingly utilizing digital technologies for bringing innovation in the payment methods and transforming the know-your-customer (KYC) processes. By using IoT and AI in payment methods, banks are working to transform their back-end processes and integrate them with front-end systems to develop a holistic and robust finance operation. As IoT offers advanced connectivity for devices, it can help automate payments through sensors, tracking devices, near-field communication (NFC) chips and payment apps. Banks need to enable their back-end payment processing teams to support all these payment endpoints. Their transaction processing platform should be able to handle the operations in real-time, which requires banking professionals to collaborate with various departments in real time. IoT, along with blockchain-enabled smart contracts and digital identity, can also fully automate payment. Thus, usage of emerging technologies in the banking industry will create growth opportunities for cybersecurity in the future.
The key players profiled in this report include JP Morgan Chase & Co. Bank of America, Wells Fargo, BNP Paribas, CITI Group Inc, Bank of China, Barclays, HSBC, Standard Chartered, Agricultural Bank of China, and Mitsubishi UFJ Financial Group. Partnerships and agreement are common strategies followed by major cyber security in banking market players. For instance, in January 2022, JPMorgan Chase announced that it will allocate $12 billion for technological updates - including cloud migration, upgrading legacy architecture, data strategy, and emerging technologies and will work towards security modernization, and digital innovation in order to protect the firm against cyberattacks. Also, in 2020, JP Morgan became a founding member of the OpenSSF, which supports and advances the security of open source software while bringing together efforts from the Core Infrastructure Initiative, GitHub Security Lab, and others. Other founding members include Google, GitHub, IBM, Intel, Microsoft, NCC Group, and Red Hat.
Segment Review
The cybersecurity in banking market is segmented on the basis of deployment mode, organization size, type, and region. By deployment mode, the market is divided into public cloud, private cloud, data center, and managed services. By organization size, the market is classified into small, medium, and large. By type, the cyber security in banking market is classified into data protection, governance, risk & compliance, email security & awareness, cloud security, network security, identity and access management, security consulting, web security, IoT/OT, endpoint security, application security, and others. By region, the market is analyzed across North America, Europe, Asia-Pacific, and LAMEA.
The cybersecurity in banking market is segmented into Type, Organization Size and Deployment Mode.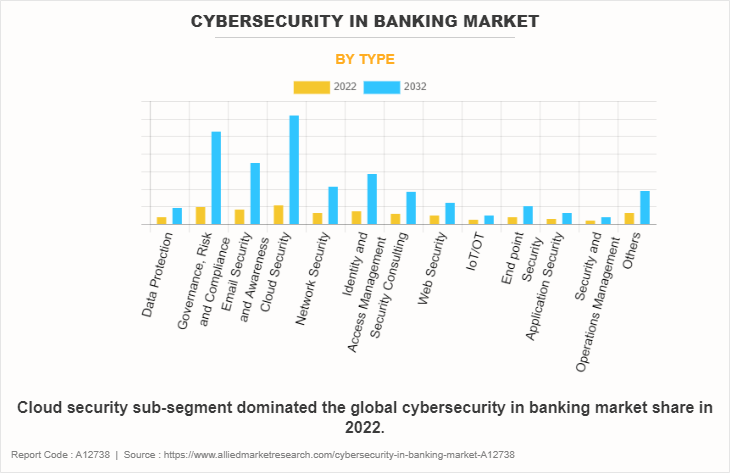 By type, the cloud security sub-segment dominated the global cybersecurity in banking market share in 2022. The trend to migrate workloads to the cloud is prevalent across sectors especially in banking sector. According to Flexera 2022 State of the Cloud Report, out of the total 154 survey respondents from financial services organizations, 62% indicated plans to make progress on this measure in the coming year. The migration of workloads on cloud indicate that there is an increase in the number of security tools and processes of cloud providers to implement adequate protection. According to the same report, a third (33%) of financial services organizations anticipate using a mix of on-prem and cloud/software-as-a-service (SaaS) for corporate financial data. Even more (35%) anticipate using a mix of on-prem and cloud/SaaS for consumer data, such as personally identifiable information (PII) and protected health information (PHI). Furthermore, financial services organizations are more likely to take centralization of cloud responsibilities which will help them to control costs by governing cloud use and formation of different policies. Therefore, demand for cloud security is expected to increase in the banking industry.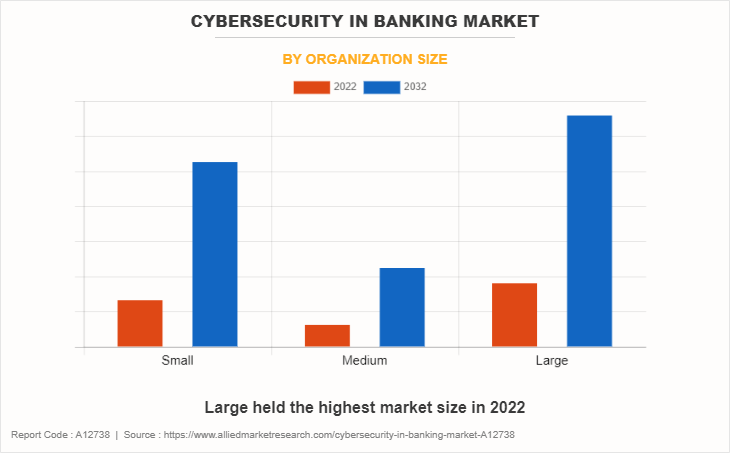 By organization size, the large sub-segment dominated the global cybersecurity in banking market outlook in 2022. The spending by large banks on cybersecurity is generally high as compared to small and medium sized banks. For instance, Bank of America in 2021 stated that it spends over $1 billion annually on cybersecurity. Thus, the market concentration is more for cybersecurity in large banks as compared to small and medium sized banks. These factors are projected to drive the segment growth in the upcoming years as well.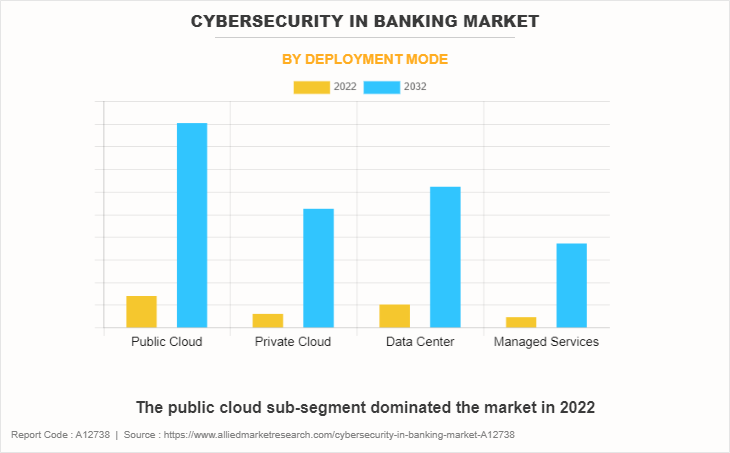 By deployment mode, the public cloud sub-segment dominated the cyber security in banking market in 2022. Banking industry is mostly migrating its data on public cloud as it offers various benefits as compared to private cloud such as infinite scalability, agility and speed to the market, infrastructure cost efficiency, security and resilience, and future proofing. For instance, Wells Fargo, in September 2021, announced an ambitious digital infrastructure goal to move all of its workloads to multiple public clouds within the next ten years. Under this initiative, the bank will be decommissioning its on-prem data centers and migrate services to Microsoft Azure and Google Cloud Platform, where each vendor has different competencies. Wells Fargo will utilize Azure as its primary public cloud provider for business-critical bank functions and applications, while Google will be used for advanced workloads, and complex artificial intelligence and data solutions, allowing the company to move faster on driving personalized experiences for its customers and clients. Thus, the adoption of public cloud service will greatly increase the scope for cybersecurity in banking market.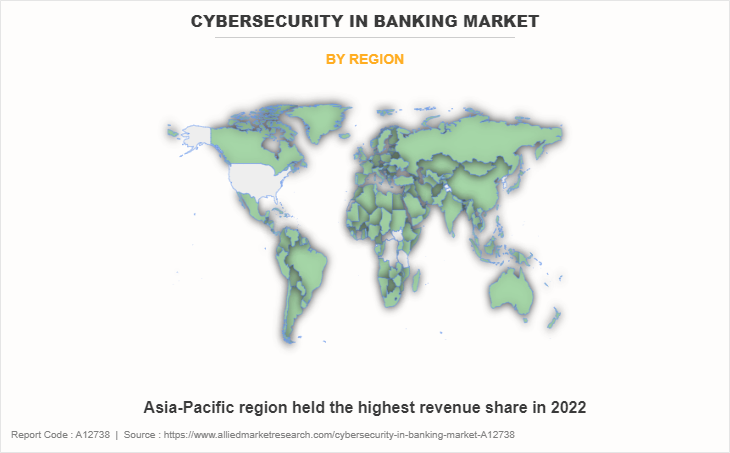 By region, Asia-Pacific dominated the global cyber security in banking market in 2022. The growing usage of mobile banking has boosted the regional market for cybersecurity in banking. Asia-Pacific has been the world's largest regional banking market for a decade. The region is known for its growing banking sector. Industrial & Commercial Bank of China Ltd., China Construction Bank Corp., Agricultural Bank of China Ltd., and Bank of China Ltd are few leading players in this region with their total assets growing 10.16% year over year to $19.081 trillion in 2021.
Impact of COVID-19 on the Global Cybersecurity in Banking Industry
During the COVID-19 pandemic, financial institutions had been at the foremost to the response to cyber risk or cyberattack. The sectors already large exposure to cyber risk had been further increased by the shift towards more working from home (WFH) and other operational challenges.
During the pandemic, the global financial system went through a tremendous digital transformation. Moreover, the pandemic led to an increase in demand for online financial services and made work from home arrangements a new normal.
Central banks across the globe are considering focusing on digital currencies and modernizing their payment systems. During this time of transformation, when any cyber incident or attack could easily weaken the trust and disturb any innovations, cybersecurity becomes more essential.
A rise in online shopping due to the lockdowns and travel restrictions has also led to an increase in cybercrimes. Rapid increase in shopping from the fraudulent sites during the pandemic led to concerns regarding sharing data, leaving consumers anxious about their digital identity and personal information online.
Key Benefits For Stakeholders
This report provides a quantitative analysis of the market segments, current trends, estimations, and dynamics of the cybersecurity in banking market analysis from 2022 to 2032 to identify the prevailing cybersecurity in banking market opportunities.
The market research is offered along with information related to key drivers, restraints, and opportunities.
Porter's five forces analysis highlights the potency of buyers and suppliers to enable stakeholders make profit-oriented business decisions and strengthen their supplier-buyer network.
In-depth analysis of the cybersecurity in banking market segmentation assists to determine the prevailing market opportunities.
Major countries in each region are mapped according to their revenue contribution to the global market.
Market player positioning facilitates benchmarking and provides a clear understanding of the present position of the market players.
The report includes the analysis of the regional as well as global cybersecurity in banking market trends, key players, market segments, application areas, and market growth strategies.
 Cybersecurity in Banking Market Report Highlights
Aspects
Details
Market Size By 2032
USD 282 billion
Growth Rate
CAGR of 14.4%
Forecast period
2022 - 2032
Report Pages
294
By Type

Cloud Security
Network Security
Identity and Access Management
Security Consulting
Web Security
IoT/OT
End point Security
Application Security
Security and Operations Management
Others
Data Protection
Governance, Risk and Compliance
Email Security and Awareness

By Organization Size
By Deployment Mode

Public Cloud
Private Cloud
Data Center
Managed Services

By Region

North America (U.S., Canada, Mexico)
Europe (Germany, UK, France, Netherlands, Spain, Rest of Europe)
Asia-Pacific (China, Japan, India, South Korea, Australia, Rest of Asia-Pacific)
LAMEA (Brazil, UAE, Saudi Arabia, South Africa, Rest of LAMEA)

Key Market Players
BNP Paribas., Mitsubishi UFJ Financial Group,Inc., HSBC, Barclays PLC, Agriculture Bank of China, Bank of China Limited, jp morgan chase & nspcc, Standard Chartered PLC, citi group, bank of america, Wells Fargo & Company