Cyclic Olefin Copolymer Market Research, 2031
The global cyclic olefin copolymer market was valued at $825.4 million in 2021, and is projected to reach $1.4 billion by 2031, growing at a CAGR of 5.5% from 2022 to 2031. Cyclic Olefin Copolymer (COC) are an amorphous polymer produced by a number of polymer manufacturers. In comparison to commodities such as polypropylene and polyethylene, COC is a relatively new class of polymers. COC has a wide range of desirable properties, including good melt flowability, excellent moisture, heat, and chemical resistance, high clarity, and low birefringence, excellent gas barrier properties, and the absence of halogens and BPA.
The COVID-19 pandemic has created several uncertainties for cyclic olefin copolymer (COC) manufacturers. This was majorly owing to a significant impact on the application segment of the cyclic olefin copolymer that has led to a shortage of raw materials which has affected the packaging sector. For instance, COC is widely used across packaging sector for floatable shrink label & films, making recyclable pouches, and others which had faced significant delays in terms of raw material availability.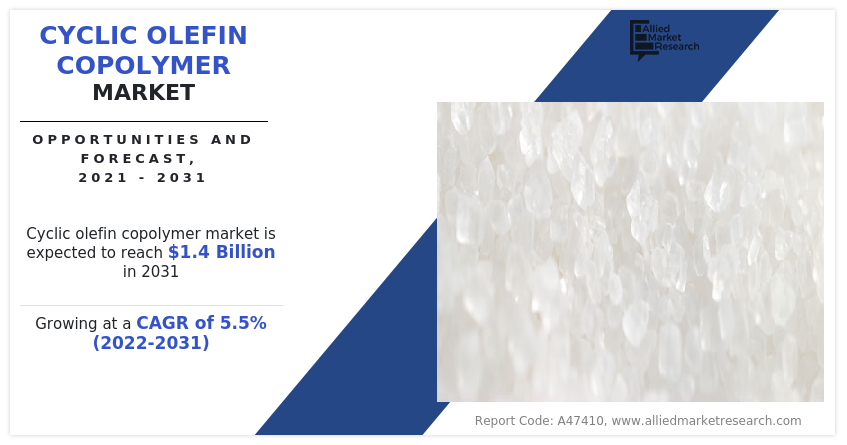 The high chemical performance of cyclic olefin copolymer (COC) for packaging materials, including resistance to dilute bases, acids, and alcohol but susceptibility to ketones and aromatic solvents, as well as exceptional moisture barrier qualities and permeation resistance, is driving the demand for COC. Because of its high resistance property, cyclic olefin copolymer are viewed as a viable solution by a wide range of packaging industries. This is expected to fuel an increase in cyclic olefin copolymer in the packaging sector. cyclic olefin copolymer are being used at an exponentially increasing rate in the medical technology industry due to their exceptional benefits in medical designs.
Currently, cyclic olefins are not widely available since they are expensive to produce and only have limited applications. The market is also being hampered by a lack of knowledge about the advantages of cyclic olefin copolymer. The goal of businesses in the packaging sector is to make packaging more affordable. This has a negative impact on the use of cyclic olefin copolymer in industries other than medicine.
The industry players are investing a lot of effort on the R&D of smart and unique strategies to sustain their growth in the market. These strategies include product launches, mergers & acquisitions, collaborations, partnerships, and refurbishing of existing technology. In September 2021, Polyplastics company decided to expand its production ability of TOPAS cyclic olefin copolymer. Mitsui Chemicals planned to expand its production of cyclic olefin copolymer in April 2020. Furthermore, in microfluidics, cyclic olefin copolymer are emerging as 'go-to' materials. OEMs will continue to use cyclic olefin copolymer because of their ability to improve the design and manufacture of microfluidic parts used in analytical systems, research, and biomedical devices. These factors are projected to create several growth opportunities for the key players operating in the cyclic olefin copolymer market in the upcoming years.
The key players profiled in this report include Zeon Corporation, Borealis Group, Topas Advanced Polymers, Inc., MITSUI & CO., Ltd, JSR Corporation, Polysciences, Inc., Entec Polymers, Lyondellbasell Industries Holdings B.V., Ravago Group, and VELOX GmbH
The cyclic olefin copolymer market is segmented on the basis of application, end use industry, and region. By application, the market is divided into packaging, diagnostics, and others. By end use industry, the market is classified into pharmaceuticals and biotechnological, medical, chemical, food and beverage, and others. By region, the market is analyzed across North America, Europe, Asia-Pacific, and LAMEA.
The cyclic olefins copolymer market is segmented into Application and End Use Industry.
Cyclic Olefin Copolymer Market

---
By Application
Packaging sub-segment accounted for the highest market size in 2021
By application, the packaging sub-segment dominated the market in 2021. In either five-layer coextruded or three-layer laminated film constructions, COC is used as a core layer in push-through packaging. For food and consumer goods, it is also used as rigid and flexible packaging. These are predicted to be the major factors affecting the cyclic olefin copolymer market size during the forecast period.
Cyclic Olefin Copolymer Market

---
By End Use Industry
Medical sub-segment held the highest market share in 2021
By end use industry, the medical sub-segment dominated the global cyclic olefin copolymer market share in 2021. COC is experiencing strong market growth in the medical sector as its benefits become more widely known and supply increases. Prefilled syringes are an eye-catching breakthrough story, building on the exceptional purity and drug stability of COC syringes. Wearable insulin delivery devices are another important and useful application, where the purity and dimensional stability of COC result in high potency and specific medication control. These factors are responsible for the sub-segment growth during the forecast period.
Cyclic Olefin Copolymer Market

---
By Region
Asia-Pacific region accounted for the highest market share in 2021
By region, Asia-Pacific dominated the global market in 2021 and is projected to remain the fastest-growing region during the forecast period. Asia-Pacific is a prominent region in terms of cyclic olefin copolymer production and consumption. China is a highly profitable country in the Asia-Pacific cyclic olefin copolymer market. The regional market is being boosted by the expansion of production capacity and an increase in research activities aimed at producing low-cost cyclic olefin copolymer. Also, significant expenditure on healthcare and medical technology highlights the region's COC growth potential.
Impact of COVID-19 on the Global Cyclic Olefin Copolymer Industry
The COVID-19 pandemic has had a significant impact on industrial activity and consumer markets in a number of countries worldwide. Authorities around the world imposed quarantine and travel restrictions to combat the coronavirus during the pandemic
This has had a significant impact on financial conditions, as several workplaces remain closed, factories lack workforce and permits, and the supply chain remains obstructed. It is also unintentionally disrupting the global demand trend for cyclic olefin copolymer
The pandemic's impact varies depending on the application segment of cyclic olefin copolymer. With the virus's spread, the market saw a shortage of medical equipment needed to diagnose and treat COVID-19-related conditions. This provided relief to the market for cyclic olefin copolymer, as various governments relied on their production
Countries with insufficient raw materials, on the other hand, faced inadequacies as a result of strict global trade restrictions. Furthermore, millions of employees in the cyclic olefin copolymer market began working tirelessly to supply the material required at the frontlines
Key Benefits For Stakeholders
The report provides an exclusive and comprehensive analysis of the global cyclic olefin copolymer market trends along with the cyclic olefin copolymer market forecast
The report elucidates the cyclic olefin copolymer market opportunity along with key drivers, and restraints of the market. It is a compilation of detailed information, inputs from industry participants and industry experts across the value chain, and quantitative and qualitative assessment by industry analysts.
Porter's five forces analysis helps analyze the potential of the buyers & suppliers and the competitive scenario of the market for strategy building
The report entailing the cyclic olefin copolymer market analysis maps the qualitative sway of various industry factors on market segments as well as geographies
The data in this report aims at market dynamics, trends, and developments affecting the cyclic olefin copolymer market growth
 Cyclic Olefin Copolymer Market Report Highlights
Aspects
Details
Market Size By 2031
USD 1.4 billion
Growth Rate
CAGR of 5.5%
Forecast period
2021 - 2031
Report Pages
260
Application

Others
Packaging
Diagnostics

End Use Industry

Pharmaceuticals and Biotechnological
Medical
Chemical
Food and Beverage
Others

By Region

North America (U.S., Canada, Mexico)
Europe (Germany, UK, France, Spain, Italy, Rest of Europe)
Asia-Pacific (China, Japan, India, South Korea, Australia, Rest of Asia-Pacific)
LAMEA (Brazil, Saudi Arabia, UAE, South Africa, Rest of LAMEA)

Key Market Players
zeon corporation, borealis group, Topas Advanced Polymers, Inc, MITSUI & CO.,Ltd, jsr corporation, polysciences, inc., entec polymers, Lyondellbasell Industries Holdings B.V., Ravago Group, VELOX GmbH