Cycloalkanes Market Research, 2031
The global cycloalkanes market size was valued at $5.3 billion in 2021, and is projected to reach $9.1 billion by 2031, growing at a CAGR of 5.7% from 2022 to 2031.
Report Key Highlighters:
The study covers nearly 20 countries. The segment analysis of each country in terms of value and volume during the forecast period 2021-2031 is covered in the cycloalkanes market report.
More than 3,700 product literatures, annual reports, industry releases, and other such documents of major industry participants have been reviewed in order to obtain a better understanding of the market.
The cycloalkanes industry is highly fragmented, with various players including Alfa Aesar, Thermo Fisher Scientific, Ethos Chemical, Forecast Chemicals, Haldia Petrochemicals Limited, HCS Group, INEOS Group, Labdhi Chemicals, MARUZEN PETROCHEMICAL CO.,LTD., Reliance Industries Limited, and Tokyo Chemical Industry Co., Ltd. (TCI). 
Increasing demand for pharmaceuticals and organic solvent products resulted in the increased use of products such as anesthetic drugs and hair care products consequently bolstering the demand for cycloalkanes.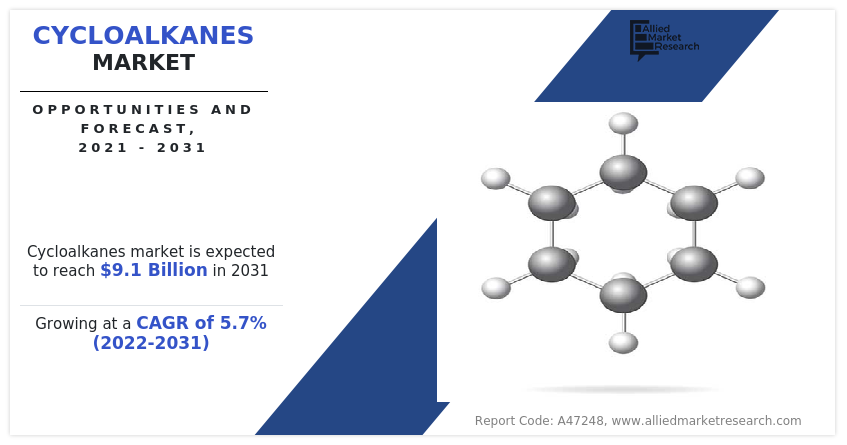 Cycloalkanes are hydrocarbons with a molecule having a ring of carbon atoms connected by single bonds that are utilized as an intermediary in the chemical manufacture of synthetic rubbers that are used in a variety of manufacturing and medical applications. Many synthetic products, including plastics, textiles, adhesives, and solvents, are made from cyclohexane. New o-substituted 2-phenyl imino-1-aza-cycloalkanes and their production which have new, useful and surprising properties as compared to prior known compounds lacking such o-substitution which is used as blood pressure depressant substances.
Cycloalkanes are utilized in internal combustion engines (ICE) that run largely on natural gas and other specific gases such as shale gas, mine gas, biogas, landfill gas, sewage gas, and syngas. ICE engines typically attain more than 90% efficiency due to their great electrical and thermal efficiency, low operating and servicing costs, and excellent dependability. Cycloalkanes are also utilized in a variety of applications such as power generation, cogeneration, mechanical drive, and tri-generation.
Cycloalkanes comprise of different types which includes cyclopropane, cyclobutene, cyclopentane, cyclohexane, cycloheptane and many more. Cyclopropane forms with air an extremely burning mixture, while normal propane (linear propane) is less active, Cyclopropane is chemically active due to the small angles between the bonds in cyclopropane that lead to an overlap between the atomic orbitals, therefore, the combination between carbon atoms is very weak, so they are very active.
Cyclopropane is only soluble in water but is extremely lipophilic. Further, cyclopropane is an inhaled anesthetic used for analgesia, as well as the induction and maintenance of general anesthesia. It relaxes skeletal muscles, is non-irritant, and the induction and recovery times are quick, allowing light anesthesia to be used with adequate abdominal and diaphragmatic muscle relaxation.
Cyclobutene's are important structural motifs found in numerous biologically significant molecules, and they are useful intermediates for chemical synthesis. Cycloalkanes are mostly derived from natural gas, coal, and oil as petrochemicals. It manufactures shampoos, detergents, aspirin, fuel, insecticides, carpets, milk bottles, and other consumer goods.   The worldwide cycloalkanes demand rises due to rising demand in the oil and gas, pharmaceuticals and other industries.
Cyclopentane is utilized in the construction sector as an insulating substance, especially as a blowing agent in polyurethane insulation boards. A foam blowing agent is an ingredient added to the formulation mixture used in the production of stiff and flexible polymer foams. Foam blowing agents ensure that the polymer matrix expands before solidifying. Cyclohexane is used to make intermediates for nylon, which has a wide range of uses including clothes, tents, and carpets, as well as thermoplastics. Cyclohexane is also utilized as a solvent in chemical and industrial processes, and it has lately been adopted in several applications in place of benzene.
Anesthesia with cyclopropane is a drug that keeps from experiencing pain during surgical procedures. Anesthetics are pain relievers that help patients relax during surgical operations. General anesthesia drugs, regional anesthesia, epidural, spinal, and nerve block anesthesia drugs, and combined general and epidural anesthesia are all examples of anesthesia. Each form of anesthesia blocks a certain sort of pain feeling. Some anesthetics numb specific regions of the body, while others numb the brain, producing sleep during more invasive procedures, such as those in the belly, head, or chest.
Surge in demand for cycloalkanes in motor fuel and petroleum gas is expected to drive the cycloalkanes market growth during the forecast period.
Motor fuel is primarily produced by the processes of fractional distillation, isomerization, and aromatization of crude petroleum oil. Cycloalkane is used as a motor fuel in spark-ignited internal combustion engines. It contains mostly organic compounds obtained by the process of fractional distillation of petroleum. Motor fuel is added with a variety of additives to enhance the performance of gasoline. It is blended with ethanol to reduce pollutants generated by gasoline combustion. According to the Economic Times, local demand for motor fuel, which is mostly used in passenger vehicles, is predicted to increase by 7.8% to 33.3 million tons, while gasoil consumption is expected to increase by 4% to 79.3 million tons in India.
Further, petroleum gas is commonly demanded as fuel for gas barbecue grills and gas cooktops and ovens, for gas fireplaces, and in portable heaters. Petroleum gas is a highly flammable mixture of hydrocarbon gases which is widely used as a fuel in household cooking applications. It is also used as a fuel in some automobiles. According to the U.S. Energy Information Administration, in 2021, the U.S. petroleum consumption average around 19.78 million barrels per day (b/d), including about a million b/d of biofuels and cycloalkanes. Total petroleum consumption in the U.S. was around 8% higher in 2021 than in 2020.
However, confusion, giddiness, nausea, headache, blurred vision, dizziness, and weakness are all possible side effects of cycloalkanes presented in gasoline.  High amounts of inhaled cycloalkanes can cause anesthetic effects or narcosis in humans. Alkanes are (central nervous system) CNS depressants. However, individuals breathing hydrocarbon vapors are those found in gasoline have been linked to abrupt fatalities, presumably as a result of irregular heartbeats.
Gasoline consumption causes mild to severe inflammation of the gastrointestinal mucosa. The systemic consequences of gasoline exposure are mostly caused by CNS depression. Confusion, giddiness, nausea, headache, blurred vision, dizziness, and weakness are all possible side effects of cycloalkanes presented in gasoline. Thus, the toxic nature of cycloalkanes is predicted to hinder the market growth of cycloalkanes during the forecast period.
The rise in interest in eco-friendly blowing agent is expected to provide sufficient development prospects for the cycloalkanes market in the future years. The demand for eco-friendly blowing agents has quickly expanded in recent years and is projected to continue in the future. Cycloalkanes are employed as environment-friendly blowing agents in a wide range of industries, including refrigerators, building insulation, vehicles, furniture, and packaging. Environmental awareness and governmental regulations have forced the use of environmentally friendly blowing agents. As a result of severe climate change, market participants will benefit from a shift in focus on ecologically beneficial blowing agents.
In 2021, Kumyang introduced KY-ECO, an innovative eco-friendly blowing agent containing cycloalkanes. Cellcom KY-ECO contains no harmful gases such as ammonia, formamide, or sulphur dioxide. The UK government mandated the recovery and recycling of (HCFC) hydrochlorofluorocarbons used in refrigeration units. HCFC is predicted to have a favorable influence on eco-friendly blowing agents throughout the projection period due to its contribution to ozone depletion and probable phase out in the coming years.
The cycloalkanes market is segmented into type, application, and region. On the basis of type, the market is categorized into small rings, common rings, medium rings, and others. On the basis of application, it is categorized into pharmaceutical, personal care, oil and gas, and others. Region wise, the cycloalkanes market share is studied across North America, Europe, Asia-Pacific, and LAMEA.
Cycloalkanes Market

---
By Region
Asia-Pacific dominated the market in 2021
Asia-Pacific segment dominated the global cycloalkanes market in 2021. In Asia-Pacific, cycloalkanes have benefits over jet fuels, such as higher density, higher volumetric heat of combustion, and improved operability. The combination of bio-based cycloalkanes with synthetic paraffinic kerosene enables the production of 100 percent bio-based fuels that outperform typical petroleum-based fuels in Asia-Pacific.
Cycloalkanes Market

---
By Type
Small rings segment was the highest revenue contributor to the market in 2021
Small rings segment dominated the global cycloalkanes market in 2021. Small rings cycloalkanes comprise of cyclopropane and cyclobutene, where cyclopropane, also referred as trim ethylene, and used as an explosive, colorless gas in medicine as a general anesthetic in medications that put patients to sleep before surgery or other medical treatments. It is also used in a closed (rebreathing) system, where an absorbent material, such as soda lime, collects exhaled carbon dioxide and recirculates the anesthetics.
Cycloalkanes Market

---
By Application
Oil and Gas segment was the highest revenue contributor to the market in 2021
Oil and Gas segment dominated the global cycloalkanes market in 2021. Cycloalkanes are found in motor fuel, natural gas, kerosene, diesel, and other heavy oils. They are used as a transportation fuel in automobiles and are only rivalled in internal combustion engines (ICE) by diesel fuel, which is popularly demanded in commercial cars and trucks. The combination of bio-based cycloalkanes and synthetic paraffinic kerosene allows for the creation of 100% bio-based fuels that outperform typical petroleum-based fuels.
Major players operating in the global cycloalkanes market includes Alfa Aesar, Thermo Fisher Scientific, Ethos Chemical, Forecast Chemicals, Haldia Petrochemicals Limited, HCS Group, INEOS Group, Labdhi Chemicals, MARUZEN PETROCHEMICAL CO.,LTD., Reliance Industries Limited, Tokyo Chemical Industry Co., Ltd. (TCI). 
Key Benefits For Stakeholders:
This report provides a quantitative analysis of the market segments, current trends, estimations, and dynamics of the cycloalkanes market analysis from 2021 to 2031 to identify the prevailing cycloalkanes market opportunities.
The market research is offered along with information related to key drivers, restraints, and opportunities.
Porter's five forces analysis highlights the potency of buyers and suppliers to enable stakeholders make profit-oriented business decisions and strengthen their supplier-buyer network.
In-depth analysis of the cycloalkanes market segmentation assists to determine the prevailing market opportunities.
Major countries in each region are mapped according to their revenue contribution to the global market.
Market player positioning facilitates benchmarking and provides a clear understanding of the present position of the market players.
The report includes the analysis of the regional as well as global cycloalkanes market trends, key players, market segments, application areas, and market growth strategies.
 Cycloalkanes Market Report Highlights
Aspects
Details
Market Size By 2031
USD 9.1 billion
Growth Rate
CAGR of 5.7%
Forecast period
2021 - 2031
Report Pages
200
Type

Small rings
Common rings
Medium rings
Others

Application

Pharmaceuticals
Personal Care
Oil and Gas
Others

By Region

North America (U.S., Canada, Mexico)
Europe (Germany, Italy, France, Spain, UK, Rest of Europe)
Asia-Pacific (China, Japan, India, South Korea, Australia, Rest of Asia-Pacific)
LAMEA (Brazil, Saudi Arabia, South Africa, Rest of LAMEA)

Key Market Players
INEOS Group, MARUZEN PETROCHEMICAL CO.,LTD., Forecast Chemicals, Ethos Chemical, Reliance Industries Limited, Alfa Aesar, Thermo Fisher Scientific, Haldia Petrochemicals Limited, Labdhi Chemicals, Tokyo Chemical Industry Co., Ltd. (TCI), hcs group