Data Center Power Market Research, 2031
The global data center power market size was valued at $11.2 billion in 2021, and is projected to reach $24 billion by 2031, growing at a CAGR of 8% from 2022 to 2031. A data center is a dedicated hardware structure created inside a building that incorporates networking, storage, and communications technologies in addition to computational hardware such as servers. Every organization that generates or uses data, including governments, educational institutions, financial institutions, retailers of all sizes, providers of online information, and social networking services has some need for data centers. The majority of the money spent by data centers is on power. Data centers have power management options, which are necessary to complete a number of tasks. These solutions are employed to control the data centers' effectiveness and efficiency in terms of power usage.
The data center's power was crucial during the COVID-19 pandemic as the data consumed by various businesses and individuals increased globally. The pandemic increased the number of trustworthy and highly accessible data centers across the world. Also, the increased number of work-from-home employees fuelled the demand for data centers.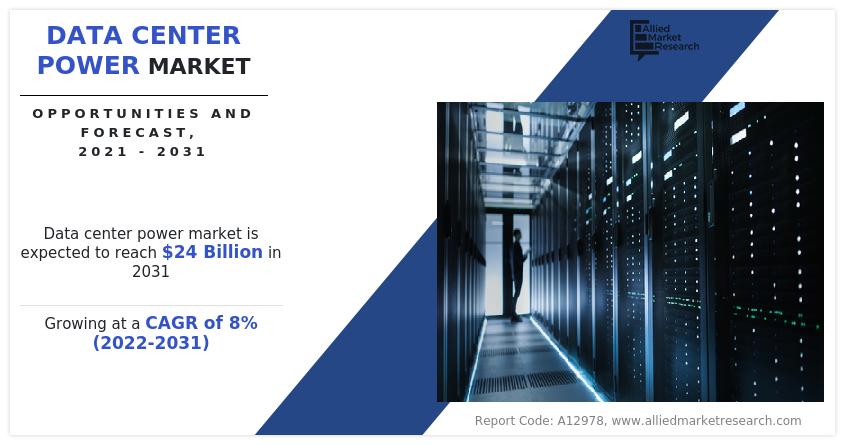 The expansion of digital infrastructure brought on by rising digitization is anticipated to determine the direction of the data center power industry's growth. Furthermore, the market for data center power is being driven by the growing popularity of cloud computing. Throughout a 24-hour period, data centers with thousands of servers continuously use electricity. To manage the significant increase in energy consumption, such data centers need ongoing improvements in storage systems. Servers are utilized efficiently in hyper scale data centers, which results in significant overall energy savings. Hyperscale data centers' efficient cost-cutting measures allow the company to restructure its cooling needs, reduce energy costs, and add more computing for the same amount of cooling. These factors are anticipated to propel the global data center power Market share
Cloud storage companies such as AWS, Microsoft, and Google are increasing the amount of storage they can offer to provide a more effective cloud workflow. These businesses are investing in hyperscale deals. For instance, in May 2022 Duo a cloud-based secure access provider that is currently a part of CISCO, launched its first data center in Mumbai, India to help customers strengthen cyber defenses and meet their data localization requirements.
The key players profiled in this report include Vertiv Group Corp., ABB, General Electric, Schneider Electric, Anord Mardix, ZincFive, Inc., Siemens, Mitsubishi Electric Corporation, Cisco Systems, Inc., and Eaton.
The global data center power market is segmented on the basis of product, end user, and region. By Product, the market is sub-segmented into PDU, UPS, Busway, and others. On the basis of end user, the market is classified into IT & telecommunications, BFSI, government, energy, healthcare, retail, and others. By region, the market is analyzed across North America, Europe, Asia-Pacific, and LAMEA.
The data center power market is segmented into Product and End Use.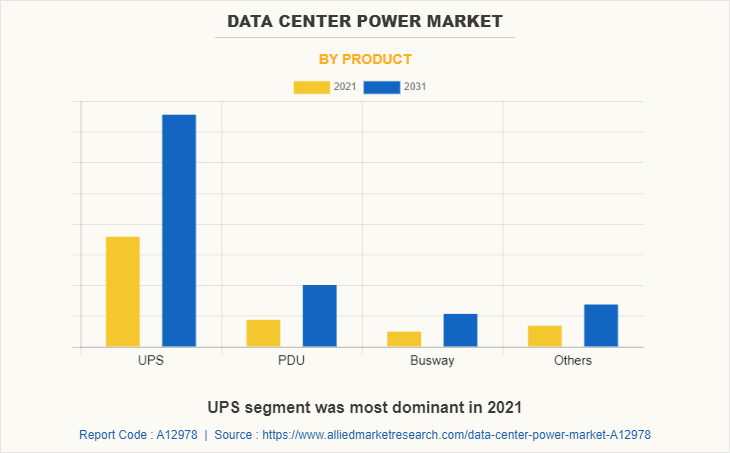 By product, the UPS sub-segment shall have a significant market share during forecast years. An increase in implementation of cloud computing along with the extensively rising demand for ubiquitous and sensitive data has created a positive impact on the sub-segment, in the analysis period. Furthermore, clean, consistent, and uninterrupted power flow, accessibility to Software as a Service (SaaS), and high performance are predicted to boost the market growth in the analysis timeframe. Hence, companies involved in this market are following business development strategies such as capacity expansion and product innovations to grow in the global industry. These are predicted to be the major factors driving the data center power market growth during the forecast period.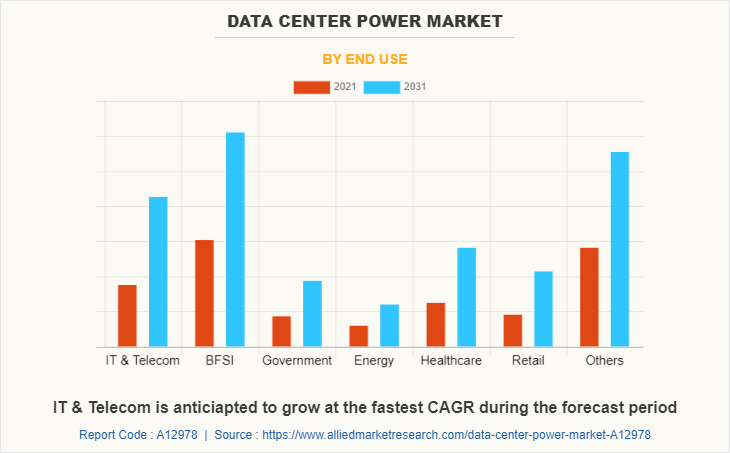 By end-user, the IT & telecommunications sub-segment is expected to grow at an exponential rate in the coming years in the global data center power market. The growth of this sub-segment can be attributed to emerging IT & telecom service providers deployment of huge data center infrastructure to manage the extensively increasing amount of data. Furthermore, the government's supportive policy implementations along with the strong presence of key players such as CtrlS Datacenters and Schneider Electric in the emerging countries are expected to have a positive impact on the sub-segment, throughout the projected period.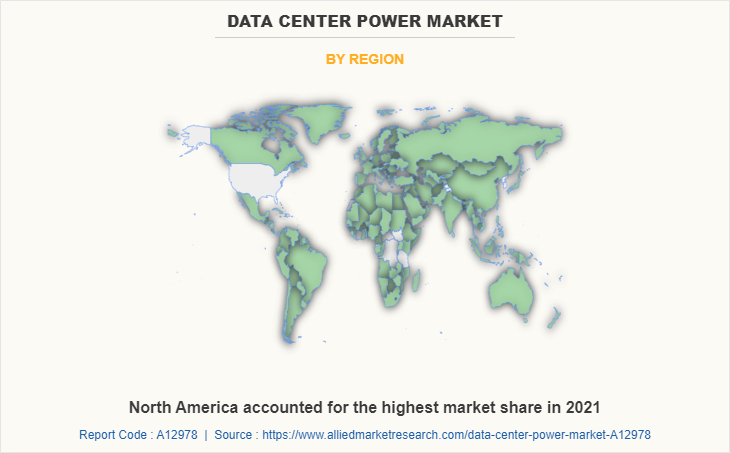 By region, Asia-Pacific has significant market growth and is projected to remain the fastest-growing sub-segment during the forecast period. Asia-Pacific is anticipated to grow the fastest, mainly due to the predominantly growing adoption of advanced technologies, such as AI and IoT. Furthermore, governments in this region have been actively supporting data center power projects in recent years. For instance, in India's Budget 2022-23 has increased allocation toward critical infrastructure segments, including transportation, supply chain, industrial capacity, digital ecosystem, as well as sustainability. As a well-rounded approach for the data center industry, the Budget has set a very strong foundation. Granting infrastructure status, on the lines of affordable housing and other key industries, is a major positive. This is expected to bring-in long term benefits – availing long-term credit at relatively lower cost from international and domestic lenders on easier terms of credit.
Impact of COVID-19 on the Global Data center power industry
The outbreak of the novel coronavirus disease (COVID-19) has had a significant impact on the global data center power market. Some of the factors driving the rise in demand for data centers include the ensuing demand for software as a service (SaaS), a rapid shift to a work-from-home culture during the pandemic, and other factors. In addition, COVID-19 outbreak gave rise to a new business environment that is expected to increase demand for cloud services and digitization, having a significant impact on the world market for data center power.

Globally, the COVID-19 health emergency has had a significant impact on businesses in the food and beverage, retail, automotive, and semiconductor industries. As a result, major players in the data center power market stepped up to support other companies. For instance, the COVID-19 pandemic suddenly increased Romania's demand for online services such as gaming, streaming video, and

live events. So, to meet the needs of the company, INVITE Systems, a leader in technological innovation, collaborated with Huawei to install a highly reliable data center in September 2020.
Key Benefits For Stakeholders
This report provides a quantitative analysis of the market segments, current trends, estimations, and dynamics of the data center power market analysis from 2021 to 2031 to identify the prevailing data center power market opportunities.
The market research is offered along with information related to key drivers, restraints, and opportunities.
Porter's five forces analysis highlights the potency of buyers and suppliers to enable stakeholders to make profit-oriented business decisions and strengthen their supplier-buyer network.
An in-depth analysis of the data center power market segmentation assists to determine the prevailing market opportunities.
Major countries in each region are mapped according to their revenue contribution to the global market.
Market player positioning facilitates benchmarking and provides a clear understanding of the present position of the market players.
The report includes an depth study regarding the data center power market forecast, an analysis of the regional as well as global data center power market trends, key players, market segments, application areas, and market growth strategies.
 Data Center Power Market Report Highlights
Aspects
Details
Market Size By 2031
USD 24 billion
Growth Rate
CAGR of 8%
Forecast period
2021 - 2031
Report Pages
289
By Product
By End Use

IT & Telecom
BFSI
Government
Energy
Healthcare
Retail
Others

By Region

North America (U.S., Canada, Mexico)
Europe (Germany, United Kingdom, France, Spain, Italy, Rest of Europe)
Asia-Pacific (China, Japan, India, South Korea, Australia, Rest Of Asia Pacific)
LAMEA (UAE, South Africa, Rest of LAMEA, Brazil, Saudi Arabia)

Key Market Players
Delta Electronics, Inc., legrand, EATON, Siemens, Anord Mardix, cyber power systems b.v., Mitsubishi Electric, PDU Experts UK, ABB, Vertiv Group Corp.