Data Center UPS (uninterruptible power supply) system is a critical component of data center backup power that helps to maintain the infrastructure until consistent power returns and suppresses power surges, hence preventing equipment damage. UPS systems work by converting AC power to DC power using rectifier and DC power to AC power using inverter and is connected by the bypass circuit into computing equipment. 
Data Center UPS are used in large-scale in hyper-scale data centers to maintain infrastructure during power fluctuations to suppress power surges by providing backup power, improving energy-efficiency, and reduces operating cost. UPS solutions help in providing high power performance, optimal reliability, and scalability to match increasing power requirements as well as offers advanced power monitoring and metering by protecting sensitive, customized data from critical applications. UPS device maintains continuity of operation by constantly monitoring incoming voltage through power converter that suppresses voltage spikes, filters utility AC power and regulates voltage to provide required power to equipment. Line Interactive UPS is used to clean incoming power before sending it to the output and by adjusting output it ensures that the entire electronic system is not subject to failure. Developments in the software industry and increase in data traffic necessitating business security implies that the data center UPS market share would undergo steady growth in the coming years.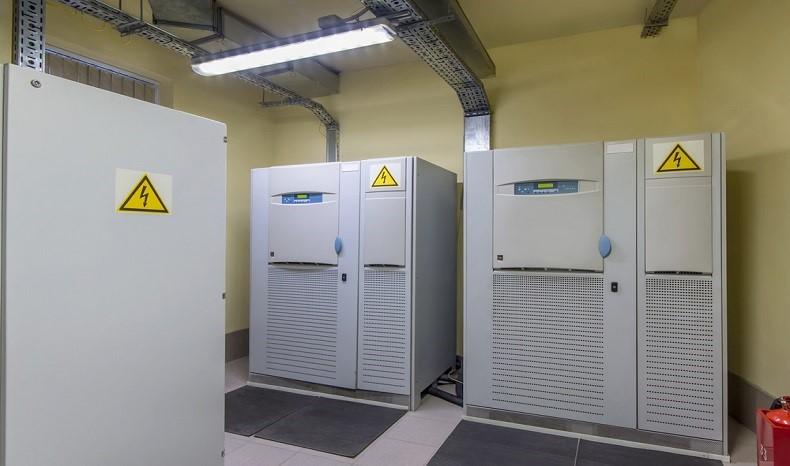 Covid-19 Scenario Analysis:
COVID-19 outbreak in Wuhan, China is certain to create a demand lapse as China is the largest consumer and supplier of electronic components. Prices of communication devices tend to flatten, owing to shortage of products caused by halt in manufacture during this worldwide lockdown scenario. This disruption in demand-supply chain is expected to cause the Data Center UPS market shares to undergo slight temporary shortfall, owing to travel restriction on a global basis.
In contrast to the related consumer electronics and semiconductor industry, the data center UPS industry ensures efficient operations by providing back-up power in data centers is expected to be more buoyant with strategic investments made to support increased data traffic for remote working of organizations amidst COVID-19 pandemic. Demand for communication services has witnessed unprecedented rise during lockdown scenario owing to the necessity of students to attend virtual classroom as well as the government to communicate virus updates. Wireless digital services including telemedicine is expected to remain in high demand even after lockdown restrictions are lifted thereby ensuring strong growth in Data Center UPS industry.
Top Impacting Factors: Market Scenario Analysis, Trends, Driver, and Impact analysis
Surge in demand for cloud-based services and rise in trend to maintain secure, continuous power supply to prevent power fluctuations at increasing number of data centers to maintain infrastructure are the major factors that drive the data center UPS market growth. However, periodic maintenance, intense competition for price, rise in cost of raw materials, and slow rate of technological advances in this sector tends to restrain market growth.
On the contrary, distribution of content, news, and entertainment through various media channels propel growth of streaming services of video-on-demand in media and entertainment industry, which further boosts the data center UPS market revenue. Rise in smartphone penetration as well as emergence of IoT and Big Data requiring data center facilities to manage growing amount of data traffic reliably is expected to pave new avenues to the data center UPS industry.
New Product Launches to flourish the market:
Key data center UPS market players have adopted necessary steps to develop reliable, redundant, safe, smart, sustainable power solutions with reduced energy losses to fulfil the vision for zero-emission reality.
In March 2020, ABB Ltd., a market leader in UPS technology, announced MegaFlex range, which is a compact uninterruptible UPS system with reduced footprint of about 45% and power ranges up to 1.5 and 1.6MW. The MegaFlex UPS solution include high efficiency converters in VFI (Voltage Frequency Independent)mode with 97.4% efficiency improving energy consumption and is compatible with lithium-ion battery for external storage. It has optional redundant power capacity of 1000KW N+1 and 1250KW N+1 and standardized power distribution architectures in compliance with Uptime Institute classification system. The graphic system display allows the operator to display measurements, events and alarm as well as optical communication boards such as SNMP, Modbus TCP/IP, Modbus RS-485 helps in connectivity. The UPS solution is adaptable to variable IT load, provides up to 6MW and satisfies "six-nines" requirement of most demanding data centers.
Surge in use in Industrial and Automotive application:
In April 2019, Legrand, a global specialist in electrical and digital building infrastructures, introduced the LP-series Power Distribution Units (PDU) and LU-series Uninterruptible Power Supplies (UPS) to support network installations in network closets, data centers, retail applications, and commercial environments. 
The LU-Series single-phase UPS products ranges from 1-3KVA in both online and line-interactive topologies and serve ideal to protect mission critical hardware whether it is rack-mounted in a network room or free-standing near critical end user devices. The UPS systems are built to fulfil the needs of rapidly evolving hybrid data center landscape in mind in order to support to support the demands of clean power and backup capabilities to smaller network installations. The optional remote management control is able to provide visibility and control of power usage and availability either in an onsite location or remote unmanned facility. The UPS product sets are designed to add high-value, cost-effective, and readily available solutions as well as offer customers wide range of standard solutions to choose from while building network environment.
Key benefits of the stakeholders:
The study gives an analytical overview of data center UPS market forecast with current trends and future estimations to determine imminent investment pockets.
The report provides information related to key drivers, restraints, and opportunities along with detailed data center UPS market analysis.
The current data center UPS market trends are quantitatively analyzed from 2021 to 2027.
Porter's five forces analysis illustrates the potency of buyers & suppliers in the market. 
Questions answered in the Data Center UPS Market research report:
Who are the leading players in the Data Center UPS market?
What are the current trends that would influence the market in the next few years?
What are the driving factors, restraints, and opportunities in the market?
What are the projections for the future that would help in taking further strategic steps?
What would be the detailed impact of COVID-19 on the market?
 Data Center UPS Market Report Highlights
Aspects
Details
By Component Type

Solution
Services
Managed
Professional

By Product Type

Small Data Center UPS
Medium Data Center UPS
Large Data Center UPS

By Technology

Line Interactive
Standby
Double Conversion
Others

By Application

Cloud Storage
Enterprise Resource Planning
Data Warehouse
File Servers
Application Servers
Others

By Industry Vertical

IT and Telecommunication
BFSI
Commercial
Energy and Power
Entertainment and Media
Healthcare
Others

By Region

North America (U.S., Canada)
Europe (Germany, UK, France, Italy, Spain, rest of Europe)
Asia Pacific (India, Japan, China, Australia, South Korea, rest of Asia Pacific)
LAMEA (Latin America, Middle East, Africa)

Key Market Players
ABB Ltd., Belkin International Inc., Delta Electronics, Eaton Corp., Schneider Electric, General Electric, Emerson Network power Inc., Toshiba Corp., Clary Corp., Mitsubishi Electric.