DC-DC Converter Market Outlook – 2027
The global DC-DC Converter market size was valued at $8.76 billion in 2019, and is projected to reach $17.85 billion by 2027, growing at a CAGR of 11.10% from 2020 to 2027. DC-DC converters are high-frequency power conversion circuits that use high-frequency switching and inductors, transformers, and capacitors to smooth out switching noise into regulated DC voltages. DC-to-DC converters are used to reduce High voltage DC input to low voltage DC output for some specific appliances. They are also used to isolate some highly sensitive components in a circuit from its other components to avoid any kind of damage.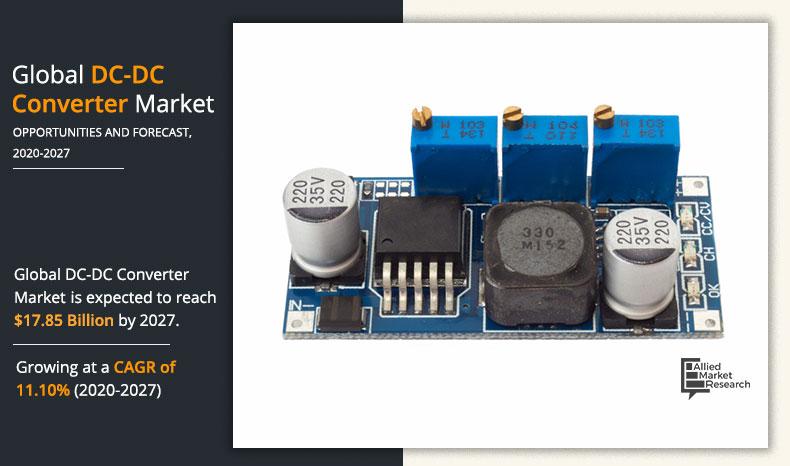 The DC-DC converters are increasingly used in portable electronic devices such as cellular phones, laptops, and computers. As the demand for these portable devices is on the rise, the global DC-DC converter market is expected to witness growth. The DC-DC converter finds its application in computers, laptop, cellular phone, spacecraft power systems, buses, and lighting system, which are then used in various end uses such as consumer electronics, IT & telecommunication, energy & power, and automotive.
DC-DC Converter Market

---

By Input Voltage
5-36V segment is projected to be the most lucrative segment
Segment Review
The global DC-DC converter market is segmented on the basis of input voltage, output voltage, mounting style, application, and region. Based on the input voltage, the market is divided into 5-36V, 36-75V, and 75V & above. Based on the output voltage, the market is divided into 3.3V, 5V, 12V, and 15V & above. By mounting style, the market is bifurcated into, surface mount and through hole. Based on the application, the market is categorized into smartphone, servers & storage, EV battery management unit, railway, and medical equipment. Based on region, the market is analyzed across North America, Europe, Asia-Pacific, and LAMEA.
DC-DC Converter Market

---

By Output Voltage
5V segment will maintain the lead throughout the forecast period
Top Impacting Factors
The significant factors impacting the growth of the global DC-DC Converter market include rise in adoption of electric vehicles, surge in usage of DC-DC converter in railway application, and increase in demand for power electronics component drive the market growth. However, regulation and safety standards hamper the DC-DC Converter market growth. On the contrary, rising adoption of 5G technology in developed countries is expected to create lucrative DC-DC converter market.
DC-DC Converter Market

---

By Mounting Style
Through Hole segment will secure the leading position during 2020 - 2027
Rise in Adoption of Electric Vehicles
Electric Vehicles (EVs), Hybrid Electric Vehicles (HEVs) and Fuel Cell Electric Vehicles (FCEVs) have been typically proposed to replace conventional vehicles in the near future. Process of adoption of electric vehicles and required infrastructure has been started over the last few years. DC-DC converters are used to interface the elements in the electric power train by boosting or cutting down the voltage levels. Further, the advancement of DC-DC converter such as lightweight, small volume, with high efficiency, low electromagnetic interference and low current/voltage ripple has increased its demand in various applications.
DC-DC Converter Market

---

By Application
Smartphone segment will maintain the dominant position throughout the forecast period
In addition, the growing sensitivity of various governments toward a cleaner environment has increased the demand for zero-emission vehicles. Developed nations such as the U.S., Germany, and the UK are actively promoting the use of electric vehicles to reduce emissions, which has resulted in the growth of electric vehicle sales. The increase in adoption of electric buses, in countries such as India and China, has contributed to the growth of the electric commercial automobile industry. Other nations are expected to replace their existing fuel-based bus fleet with electric buses. The increase in market trend for replacement of fossil fuel based public transport vehicle fleet with electric buses will drive the demand of DC-DC converters among automotive industry during the forecast period.
DC-DC Converter Market

---

By Region
Asia-Pacific region would exhibit the highest CAGR of 12.3% during 2020 - 2027
Surge in Usage of DC-DC Converter in Railway Application
DC/DC converters are used in railway environments to convert DC battery voltages to a lower voltage for usage in a variety of control and energy circuits. This is because railway rolling stock uses a DC power distribution system so that batteries can be used to maintain electrical power in the event of a generator failure. Therefore, the applications in railway industry such as railway rolling stock, On-board and trackside application, industrial applications, high voltage battery-powered applications, and distributed power supply architectures, among others demand the use of DC-DC converters. The railway uses DC/DC converters of specification EN 50155 to meet the harsh environmental condition for application.       
Competitive Analysis
The key players that have major global DC-DC Converter market share include Ericsson, Texas Instruments, Murata Manufacturing Co. Ltd., General Electric (GE), Delta Electronics Inc., Vicor Corporation, TDK-Lambda Corporation, Traco Electronic AG, RECOM Power GmbH, among others are profiled in this report. The global DC-DC Converter industry key market players adopt various strategies such as product launch, product development, collaboration, partnership, and agreement, among others to influence the market growth.
Covid-19 Impact Analysis
Global DC-DC Converter market has been significantly impacted by the covid-19 outbreak. The production facilities of the DC-DC Converter have been halted, owing to the slowdown and unavailability of the workforce across the globe. COVID-19 outbreak has caused a significant and protracted drop in manufacturing utilization, and travel bans & facility closures kept workers out of their factories, which may lead to slowdown in the growth of the DC-DC Converter market in 2020.  
Key Benefits For Stakeholders
This study comprises analytical depiction of the global DC-DC Converter market size along with the current global DC-DC Converter market trends and future estimations to depict the imminent investment pockets.
The overall DC-DC Converter market analysis is determined to understand the profitable trends to gain a stronger foothold.
The report presents information related to key drivers, restraints, and DC-DC Converter market opportunities with a detailed impact analysis.
The current DC-DC Converter market forecast is quantitatively analyzed from 2019 to 2027 to benchmark the financial competency.
Porter's five forces analysis illustrates the potency of the buyers and suppliers in the DC-DC Converter industry.
 DC-DC Converter Market Report Highlights
Aspects
Details
By Input Voltage

5-36V
36-75V
75V and above

By Output Voltage

3.3V
5V
12V
15V and above

By Mounting Style

Surface Mount
Through Hole

By Application

Smartphone
Servers PCs
EV Battery
Railway
Medical Equipment

By Region

North America (U.S., Canada, Mexico)
Europe (Germany, UK, France, Italy, Rest of Europe)
Asia-Pacific (China, Japan, India, South Korea, Rest of Asia-Pacific)
LAMEA (Latin America, Middle East, Africa)

Key Market Players
TEXAS INSTRUMENTS INCORPORATED, ERICSSON, MURATA MANUFACTURING COMPANY, LTD., GENERAL ELECTRIC, MORNSUN, RECOM Power GmbH, Traco Electronic AG, Delta Electronics, Inc., Vicor Corporation, TDK-Lambda Corporation