Deep Learning Chip Market Outlook - 2030
The deep learning chip market size was valued at $4,465.2 million in 2020, and is projected to reach $81,776.8 million by 2030, growing at a CAGR of 35.2% from 2021 to 2030.
The automotive segment impacted negatively, due to COVID-19.
Deep learning is a sub-set of machine learning, which is a sub-set of artificial intelligence (AI) that is achieved to perform tasks related to AI. Deep learning works as a brain, which has been penetrating in several industries around the world. This technology is achieved with software, such as computer vision, voice recognition, speech synthesis, machine translation, game playing, drug discovery, and robotics. Deep learning chips are specialized Silicon chips, which incorporate AI and machine learning technology.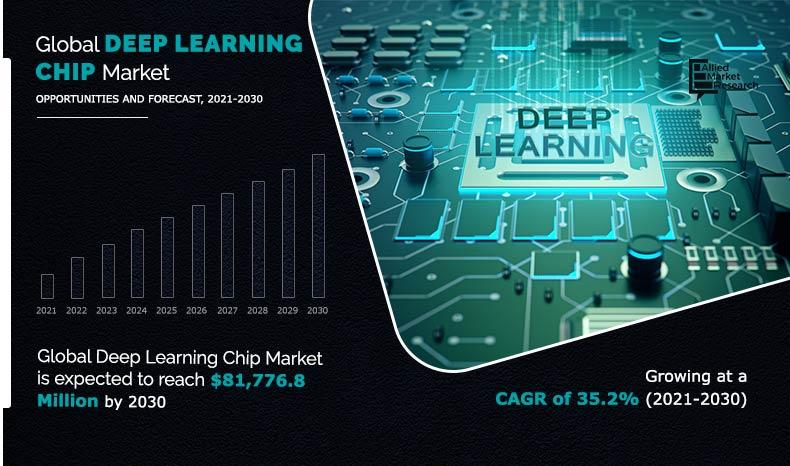 Emergence of quantum computing and enhanced implementation of deep learning chips in robotics drive the growth of the global market. In addition, emergence of autonomous robots that develop and control themselves autonomously is anticipated to provide potential growth opportunities for the market. However, dearth of skilled workforce is one of the major restraints of the market. Most of the tasks, such as testing, bug fixing, cloud implementation, and others, are taken over by deep learning chips; however, delivery of such tasks lacks essential skillsets.
Segmentation
The deep learning chip market is segmented based on chip type, industry vertical, technology, and region. On the basis of chip type, the market is categorized into graphics processing unit (GPU), application-specific integrated circuit (ASIC), field-programmable gate array (FPGA), central processing unit (CPU), and others. On the basis of technology, the market is segmented into system-on-chip, system-in-package, multi-chip module, and others. On the basis of industry vertical, the market is divided into media & advertising, BFSI, IT & telecom, retail, healthcare, automotive & transportation, and others. By region, the market is studied across North America, Europe, Asia-Pacific and LAMEA.
Deep Learning Chip Market

---
By Chip Type
FPGA segment will grow at a highest CAGR of 36.90% during 2021 - 2030.
Competitive Analysis 
The key players operating in this market are AMD (Advanced Micro Devices), Google, Inc., Intel Corporation, NVIDIA, Baidu, Bitmain Technologies, Qualcomm, Amazon, Xilinx, and Samsung. These key players have adopted strategies, such as product portfolio expansion, mergers & acquisitions, agreements, regional expansion, and collaboration, to enhance their market penetration.
COVID-19 Impact Analysis
The ongoing spread of COVID-19 has become one of the biggest threats to the global economy and is causing widespread concerns and economic hardship for consumers, businesses, and communities across the globe. The "new normal" that includes social distancing and working from home has created challenges with daily activities, regular work, needs, and supplies, causing delayed initiatives and missed opportunities.
Deep Learning Chip Market

---
By Industry Vertical
Automotive & Transportation segment would exhibit highest CAGR of 37.5% during 2021-2030
The COVID-19 pandemic is impacting the society and overall economy across the globe. The impact of this outbreak is growing day-by-day as well as affecting the supply chain. It is creating uncertainty in the stock market, reducing business confidence, hampering the supply chain, and increasing panic among customers. European countries under lockdown have suffered a major loss of business and revenue due to shutdown of manufacturing units in the region. Operations of production and manufacturing industries have been heavily impacted by the deep learning chip market growth in 2020.
According to the deep learning chip market trends, the COVID-19 pandemic has severely impacted the manufacturing and industrial sectors as production facilities have stalled, which, in turn, leads to significant demand in industries. The emergence of COVID-19 has lowered the growth of the market in 2020. Nevertheless, the market is estimated to witness significant growth during the forecast period. 
Top Impacting Factors
Notable factors positively affecting the growth of the deep learning chip market include increase in demand for smart homes and smart cities. Deep learning provides impetus to initiate smart city programs in developing countries, such as India. Tools and technologies that are artificially intelligent possess a massive potential to transform interconnected digital homes and smart cities. Furthermore, creation of a chip that embeds inbuilt AI network has emerged as an opportunity for the market. Further, emergence of quantum computing and increase in number of AI applications boost the growth of the deep learning chip industry.
Deep Learning Chip Market

---
By Region
Asia-Pacific region would exhibit the highest CAGR of 37.1% during 2021-2030
Key Benefits For Stakeholders
This study comprises analytical depiction of the deep learning chip market share along with the current trends and future estimations to depict imminent investment pockets.
The overall deep learning chip market analysis is determined to understand the profitable trends to gain a stronger foothold. 
The report presents information related to key drivers, restraints, and opportunities with a detailed impact analysis.
The present deep learning chip market forecast is quantitatively analyzed from 2020 to 2030 to benchmark the financial competency. 
Porter's five forces analysis illustrates the potency of the buyers and the market share of key vendors.
The report includes the market trends and competitive analysis of key vendors operating in the deep learning chip market trends.
 Deep Learning Chip Market Report Highlights
Aspects
Details
By Chip Type

GPU
ASIC
FPGA
CPU
OTHERS (NPU & HYBRID CHIP)

By Technology

System-on-chip (SoC)
System-in-package (SIP)
Multi-chip module
OTHERS (PACKAGE IN PACKAGE, TSV)

By Industry Vertical

Media & advertising
BFSI
IT & telecom
Retail
Healthcare
Automotive
Others

By Region

North America (U.S., Canada, Mexico)
EUROPE (U.K., Germany, France, Russia, Rest of Europe)
ASIA-PACIFIC (China, Japan, India, Australia, Rest of Asia-Pacific)
LAMEA (Latin America, Middle East, Africa)

Key Market Players
BITMAIN TECHNOLOGIES LTD., BAIDU, INC., NVIDIA CORPORATION, QUALCOMM INCORPORATED, XILINX, INC., AMAZON.COM, INC., ADVANCED MICRO DEVICES, INC., SAMSUNG ELECTRONICS CO. LTD., ALPHABET INC. (GOOGLE INC.), INTEL CORPORATION