Defense IT Spending Market Statistics 2030 -
The global defense IT spending market was valued at $79.68 billion in 2020, and is projected to reach $137.65 billion in 2030, registering a CAGR of 6.1%.    
The rapid spread of COVID-19 had a significant impact on the global defense IT spending market in 2020, owing to the implementation of strict lockdown measures across the world. COVID-19 pandemic led to several challenges for the defense IT spending industry such as disruption in the supply chain of essential raw materials, logistics challenges, reduction in defense spending across various countries, and others. On the other hand, the defense IT hardware manufacturers and service providers had to reduce expansion and R&D investments to withstand the decline in revenue and operating performance of the defense industry. The delay in purchase orders and slow production rate were some of the challenges observed in the defense IT spending market throughout the year, and are expected to continue for a few years.
Adoption of IT solutions in defense operations has become critical, owing to exponential evolution in type and frequency of attacks across the globe. To counter the rise in conflicts between different countries and digital threats, various countries continue to build up their military capabilities. Defense IT systems are becoming a critical element of security and are being utilized in countering potential attacks. Several nations around the world have launched and implemented policies related to adoption of IT technologies for defense forces.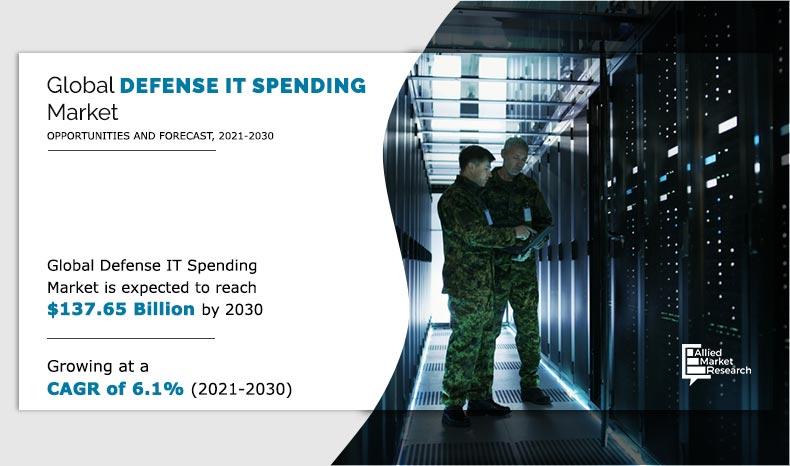 Rise in need to prevent cyberattacks to protect critical national defense data is forcing government agencies worldwide to increase their spending on acquiring defense IT solutions and services. For instance, in 2020, the U.S. Department of Defense announced a staggering $721.5 billion defense budget that included a significant allocation of capital to develop secure communications and enhance defense IT infrastructure. Furthermore, growing political tensions and increase demand for building up military capabilities is expected to lead the nations to adopt cutting-edge IT systems. Such factors are expected to fuel growth of the global defense IT spending market during the forecast period. 
The market segmentation is based on system, type, force, and region. The system segment is further divided into IT infrastructure, cybersecurity, logistics and asset management, and others. By type, the market is segmented into services, hardware, and software. On the basis of force, the market is segmented into defense forces and civilian forces. Region wise, the market is analyzed across North America, Europe, Asia-Pacific, and LAMEA.
Key players operating in the global defense IT spending market include Accenture, Amazon.com, Inc., BAE Systems plc, Dell, Inc., General Dynamics Corporation, Hewlett Packard Enterprise Development LP, International Business Machines Corporation (IBM), Microsoft Corporation, Northrop Grumman Corporation, and Oracle Corporation. 
Rise in spending on information technology products and services 
Rise in use of IT hardware, software, and services has resulted in a number of changes in the defense industry, including real-time combat surveillance, superiority in air & space, smart weapons and battlefield management in a network-centric environment, and force multipliers based on software. Defense IT spending is on the rise across different nations across the globe in countries such as the U.S., the UK, France, and China. According to a new analysis from data science company Govini, in July 2021, the U.S. Department of Defense requested a 7.8% increase in its fiscal 2022 budget for IT. National security knowledge graph and decision science platform of Govini are used by the U.S. federal government and the national security sector. The total defense IT spending in the U.S. has been increasing since 2019 and is expected to reach $38.7 billion by 2022. This is anticipated to rise in demand for cutting-edge technologies such as 5G, artificial intelligence, cloud computing, data analytics, cybersecurity, and autonomous systems across different defense systems. Shift of the U.S. Department of defense to new cloud-based infrastructure is expected to increase agility of defense forces, offering better remote capabilities and setting foundation for enterprise deployment of artificial intelligence (AI). In addition, subcontracted network operations and 5G pilots have the potential to deliver faster capabilities, while both offensive and defensive cyber operations are becoming a critical part of almost every defense mission. Furthermore, in October 2019, the UK Ministry of Defense signed a contract worth $28 million with Atos SE to deploy digital transformation of healthcare. Under the agreement, Atos SE is to provide support to the UK Ministry of Defense (MOD) to ensure digital transformation in delivery of healthcare within defense services of the UK. Such developments are expected to drive growth of the global defense IT market during the forecast period.
Proactive health surveillance and augmented reality remote training
Monitoring health of a fighter on the field is pretty difficult. A variety of sensors can be attached to jackets of soldiers using IT technologies and they can sense, track, and direct warnings about their varying health conditions to the command center, where an individual soldier can be centrally checked and in the event of an emergency, pulled out from the field or provided remedial supplements based on their medical conditions.
Using historical real-world data, automated models are constructed and then a training simulation environment is created. Combatants are outfitted with VR/AR technology, which is then transported to virtual environment to collect and evaluate its emotional state, speed of movement, accuracy, and other parameters. A flight simulator is offered to pilots for test and to gain near physical skill in using a flight simulator before flying the aircraft. Physical training for these situations can be costly and even deadly. Simulation is the best option for teaching pilots in such scenarios. Such benefits offered by IT technologies are expected to propel growth of the defense IT spending market during the forecast period
Issues related to digital sovereignty
Defense business, like all other sectors, is grappling with data security challenges and significant growth in their volume brought on by adoption of new information technology. As a scalable, flexible, and dematerialized digital data sharing setting, cloud computing is setting itself up as a favored solution in response to rapid surge in data, although it necessitates a dramatic cultural shift in the defense sector.
With Google, Microsoft, IBM, and Amazon as the prominent cloud service providers on a global scale, the U.S.-based players are a step ahead in data sovereignty. Even if other European enterprises, for instance, OVH Cloud, a French frontrunner in the cloud infrastructure (IaaS) market, are establishing themselves, however, only a handful of them are capable to match with solutions like Microsoft Azure or Amazon Web Services (AWS) in terms of performance and functionality. Furthermore, as a result of indiscretions of the U.S.-based players subject to the Cloud Act that allows the U.S. government to access data stored abroad by U.S. companies, mistrust has quickly spread throughout Europe, and the issue of digital sovereignty has become crucial across the globe. Certainly, many European companies are now using U.S. cloud platforms, which poses critical questions regarding integrity, confidentiality, and potential availability of data. Such issues are expected to limit growth of the defense IT spending market during the forecast period.
Emergence of IoT analytics in defense applications
Application of data analysis techniques and procedures to gain value from massive volumes of data created by connected Internet of Things devices is known as IoT analytics.  Current military actions are aimed at a tough, multifaceted, deeply distinct, and difficult state – some with unexpected allies and opponents. By combining sensor systems, actuators, and control systems with present military infrastructures, military may become more efficient and effective. IoT has already had an influence on various industries, owing to its connected devices architecture and autonomous presence within a closed-loop network of devices.
Many countries are attempting to leverage Internet of Things in military and defense applications to address various difficulties in war and warfare. This is expected to boost growth of the defense IT spending market during the forecast period.
COVID-19 Impact Analysis 
The COVID-19 impact on the defense IT spending market is unpredictable and is expected to remain in force till fourth quarter of 2021. 
The COVID-19 outbreak forced governments across the globe to implement strict lockdowns and banned import-export of non-essential items for most of 2020. This led to sudden fall in the availability of important raw materials. 
Moreover, nationwide lockdowns forced manufacturing facilities to partially or completely shut their operations.
Adverse impacts of the COVID-19 pandemic have resulted in delays in activities and initiatives regarding development of reliable and innovative defense IT products and services globally.
Key Benefits For Stakeholders
This study presents analytical depiction of the global defense IT spending market analysis along with current trends and future estimations to depict imminent investment pockets.
The overall defense IT spending market opportunity is determined by understanding profitable trends to gain a stronger foothold.
The report presents information related to key drivers, restraints, and opportunities of the global defense IT spending market with a detailed impact analysis.
The current defense IT spending market is quantitatively analyzed from 2020 to 2030 to benchmark the financial competency.
Porter's five forces analysis illustrates the potency of the buyers and suppliers in the industry.
Key Market Segments
By System
IT Infrastructure
Cybersecurity
Logistics and Asset Management
Others
By Type
By Force
Defense Forces
Civilian Forces    
By Region
North America
Europe

Russia
Germany
France
UK
Rest of Europe

Asia-Pacific

China
Japan
India
South Korea
Rest of Asia Pacific

LAMEA

Latin America
Middle East
Africa
Key Players
Accenture 
Amazon.com, Inc. 
BAE Systems plc 
Dell, Inc. 
General Dynamics Corporation 
Hewlett Packard Enterprise Development LP 
INTERNATIONAL BUSINESS MACHINES CORPORATION (IBM)
Microsoft Corporation 
Northrop Grumman Corporation
Oracle Corporation