Dental Equipment Market Research, 2031
The global dental equipment market size was valued at $8.5 billion in 2021, and is projected to reach $15.5 billion by 2031, growing at a CAGR of 6.5% from 2022 to 2031. Dental equipment consists of devices used to treat and diagnose dental diseases. The majority of the population is affected by dental caries and gingival inflammation. The use of dental equipment is predicted to increase in response to the rise in demand for dental procedures. Furthermore, dental equipment help in detection and treatment of caries, which is caused by bacterial infection.
The dental equipment market, in the COVID-19 pandemic, observed a negative growth. Since the Corona viral transmission was at its peak, prohibition of social gathering and complete lockdown was practiced by the government and people. As the virus is majorly transmitted due to saliva and breath, the dental treatment for major patients was paused for some time. Also, most dental patients restricted themselves from visiting the hospitals and dental clinics in the fear of COVID-19 transmission. This resulted in the less use of dental equipment and reduced demand for advanced equipment for non-invasive treatment dental methods. Furthermore, due to financial crises faced by many people in the pandemic, they were unable to afford expensive dental treatment which has further resulted in the decreased growth of dental equipment market. Apart from this, the dental equipment market saw a decline in its growth in the pandemic time due to decreased dental equipment manufacturing activities by the major market players. Most of the manufacturing companies either paused their production activities or completely shut down their units for some time due to less availability of labor. All these factors have restrained the dental equipment market growth in the pandemic period.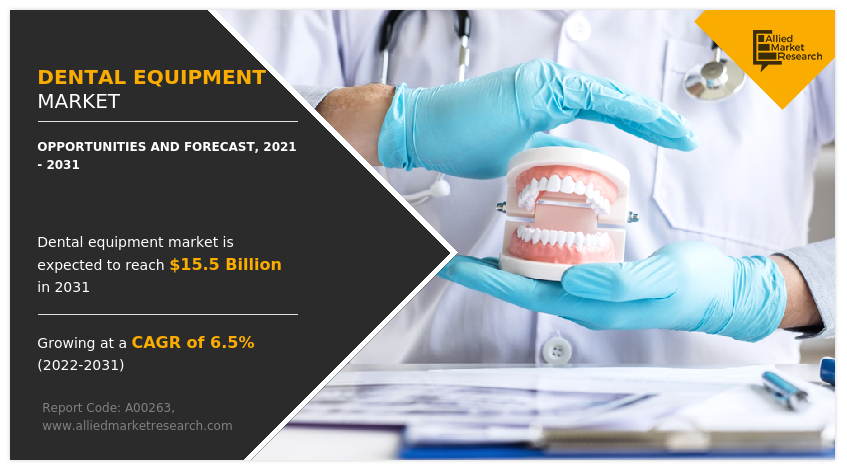 The use of new dental materials in the dental sector has evolved over time. This is because patient compliance has improved in parallel with a surge in demand for minimally invasive procedures. Thus, dental lasers are increasingly being used in surgical treatments, including gum raising and teeth whitening to prevent or reduce blood loss and patient pain. Furthermore, adhesive dentistry is the fastest growing field in dental science, which use composite materials to increase aesthetics and strengthen teeth while causing minimal damage to tooth components. Moreover, dental diagnostic and treatment technology has become more accurate, less painful, faster, and cost-efficient, which is anticipated to fuel the dental equipment market growth during the forecast period.
However, laser dental treatment is significantly more expensive than traditional dental procedures. It ranges between $6,700 and $78,000, depending on parameters, such as specifications, wavelengths, and distribution networks, thus hampering the dental equipment market size.
Increasing awareness among consumers regarding oral hygiene propels the dental equipment market opportunity growth. People's increasing focus on beauty has compelled them to seek prostheses, and technological breakthroughs and product launches, which have also contributed to the market growth. The advancement in technology to improve surgical treatment is expected to offer lucrative opportunities to the dental equipment market. As a result, it helps in the more effective treatment and efficient way for the dental surgery.
The dental equipment market forecast is segmented on the basis of procedure type, product type, end user, and region. By procedure type, the market is segmented into restorative, peridontal, endodontic, orthodontic, and others. By product type, the market is divided into dental laser equipment, dental radiology equipment, dental software and imaging, mechanical systems, and others. By end user, the market is classified into hospitals, academic institute and research centers, and dental clinics. By region, the market is analyzed across North America, Europe, Asia-Pacific, and LAMEA.
The key players profiled in this report include, A-Dec Inc., Aseptico Inc., 3M, Biolase Inc., Bien-Air Medical Technologies, Dentsply Sirona, GC Corporation, Danaher Corporation, Henry Schein Inc., and Ivoclar Vivadent AG.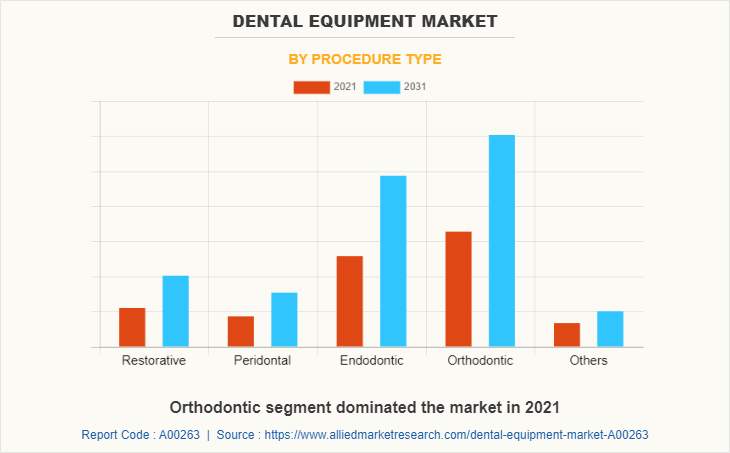 By procedure type, the orthodontic segment dominated the market in 2021. Orthodontics is a type of dentistry that focuses on diagnosis, prevention, treatment, and correction of misaligned teeth and jaws. It may also address dentofacial orthopedics, which is the modulation of facial growth. These are predicted to be the major factors affecting the dental equipment market share during the forecast period.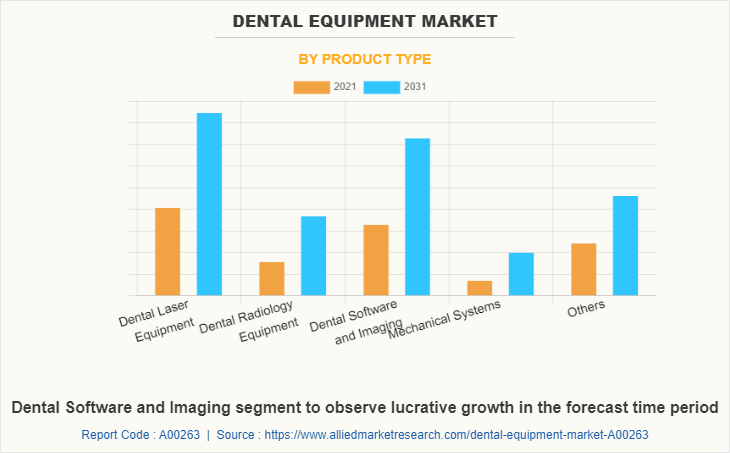 By product type, the dental laser equipment segment dominated the global dental equipment market in 2021. Dental lasers are devices that emit a narrow beam of light and are used in dental treatment procedures to remove or shape tissue. Dental lasers have made it feasible to do painless and quick dental procedures. They are quite effective, depending on the competence of the dentist to adjust the exposure period and laser power output. There are numerous benefits to using dental lasers, including increased patient comfort due to less post-operative discomfort, bleeding, and morbidity, as well as reduced anesthetic consumption and quicker process time. Such applications of dental equipment in the automotive sector are bound to create a scope of growth for the segment during the forecast period.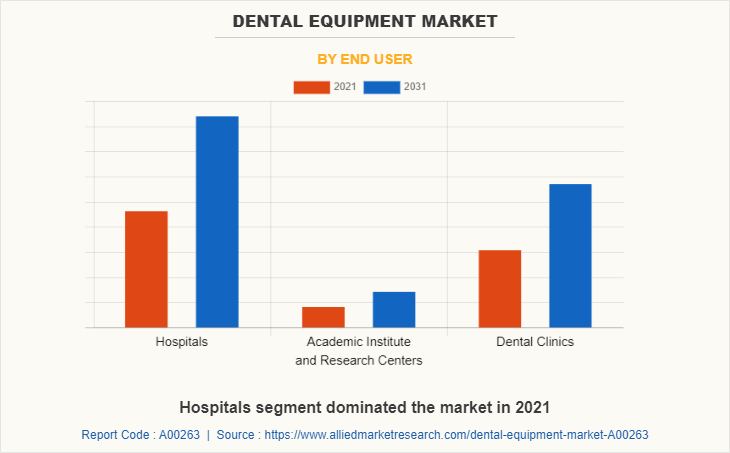 By end user, the hospital's segment dominated the global dental equipment market in 2021, owing to the use of dental equipment due to improved access to modern and digitally upgraded technology, and an increasing number of institutions with a dentistry section. Furthermore, an increase in the prevalence of oral problems can significantly fuel segment growth. Such applications of dental equipment in hospitals are anticipated to create growth for the segment during the forecast period.
By region, North America dominated the global market in 2021 and is projected to remain the fastest-growing segment during the forecast period. The demand for dental equipment in countries, namely the U.S. and Canada, is growing rapidly owing to an increase in dental disorders and growing awareness among the population. For instance, in July 2021, Lakewood Ranch Dental joined North American Dental Group (NADG), a leading dental support group with 250+ associated offices in 15 states. Lakewood Ranch is a multi-specialty practice in Lakewood Ranch, Florida, near Sarasota, that provides general, pediatric, and cosmetic dentistry treatments. All these aspects are estimated to drive market growth and increase the demand for dental equipment in North America during the forecast period.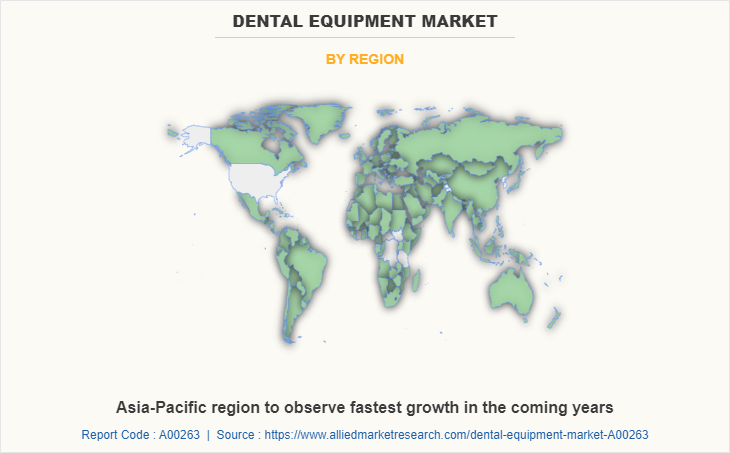 Key Benefits For Stakeholders
The report provides exclusive and comprehensive analysis of the global dental equipment market trends along with the dental equipment market forecast.
The report elucidates the dental equipment market opportunity along with key drivers, and restraints of the market. It is a compilation of detailed information, inputs from industry participants and industry experts across the value chain, and quantitative and qualitative assessment by industry analysts.
Porter's five forces analysis helps analyze the potential of the buyers & suppliers and the competitive scenario of the market for strategy building.
The report entailing the dental equipment market analysis maps the qualitative sway of various industry factors on market segments as well as geographies.
The data in this report aims on market dynamics, trends, and developments affecting the dental equipment market growth.
Impact of COVID-19 on the Global Dental Equipment Industry
The COVID-19 pandemic disrupted many business activities globally, as several countries shut down their ports, airports, and domestic transportation globally while imposing severe lockdowns and social isolation.

Lockdown and social isolation restriction affected the business R&D activities related to dental equipment. Despite a global shortage of PPE during the peak of the COVID-19 pandemic up to April 2020, most dental professionals limited their clinical practise to emergencies and became on-call dentists.  Dental hospitals were limited to serve emergency patients only during pandemic.

The sales of dental equipment is directly proportional to the demand from end-use industries, such as hospitals, academic institute and research centers, and dental clinics.

During the pandemic, initiatives such as adoption of remote working, imposition of travel restrictions, and government-ordered vaccine mandates impacted dental equipment operations.
 Dental Equipment Market Report Highlights
Aspects
Details
Market Size By 2031
USD 15.5 billion
Growth Rate
CAGR of 6.5%
Forecast period
2021 - 2031
Report Pages
300
By Procedure Type

Restorative
Peridontal
Endodontic
Orthodontic
Others

By Product Type

Dental Laser Equipment
Dental Radiology Equipment
Dental Software and Imaging
Mechanical Systems
Others

By End user

Hospitals
Academic Institute and Research Centers
Dental Clinics

By Region

North America (U.S., Canada, Mexico)
Europe (Germany, UK, France, Spain, Italy, Rest of Europe)
Asia-Pacific (China, Japan, India, South Korea, Australia, Rest of Asia-Pacific)
LAMEA (Brazil, Saudi Arabia, UAE, South Africa, Rest of LAMEA)

Key Market Players
Plameca Group, Henry Schein Inc., zimmer biomet dental, Biolase, Inc., straumann, DANHER CORPORATION, Osstem Implant Co. Ltd, Dentsply Sirona Inc., Algin Technology, envista