Deoxidizer Market Research, 2031
The global deoxidizer market size was valued at $2.8 billion in 2021, and is projected to reach $4.7 billion by 2031, growing at a CAGR of 5.5% from 2022 to 2031.
Report Key Highlighters:
20 countries are covered in the deoxidizer market report. The segment analysis of each country in both value ($million) and volume (kilotons) during the forecast period 2021-2031 is covered in the report.

Over 6,700 product literatures, industry statements, annual reports, and other similar materials from major industry participants were reviewed in order to have a deeper knowledge of the market.

The deoxidizer industry is highly fragmented, with several players such as Arkema, Avient, Chemfax, Clariant, Ecolab Inc., Guardian Chemicals Inc., Henkel Corporation, Hydrite Chemical, Sealed Air Corporation, and Thermax Limited

. Also tracked key strategies such as acquisitions, product launches, mergers, and expansion of the players operating in deoxidizer market.
Increasing demand for deoxidizers in the food and beverage packaging sector has benefited the deoxidizer market. Advanced packaging requires the use of deoxidizers to prolong the shelf-life of perishable products such as fruits, vegetables, drinks, frozen food, nuts, and bakery items, which, in effect, are expected to fuel the market development during the forecast period.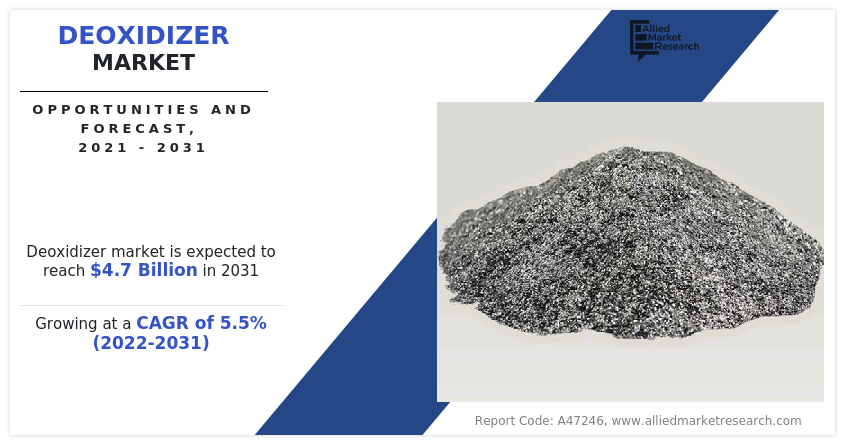 Deoxidizers, known as oxygen absorbers, are typically used to decrease or eliminate oxygen from boiler system packages and boiler feedwater. These help avoid deteriorative reactions caused by oxygen availability, which improve the working capabilities of different products and processes. Deoxidizers used particularly for packaging purposes are classified as active packaging which is commonly used in the food and beverage and pharmaceutical industries, and it responds to changes in the surrounding environment. The product reduces the harmful effects of oxygen while prolonging the shelf life of consumer purchasing. They are used in boilers with deaerators to eliminate residual oxygen content and prevent corrosion. They are also utilized in the production of oil and gas, the preservation of artworks, and the solderability of electronic devices, among other things.
Increasing use of deoxidizers in food and beverage industry is driving the deoxidizer market growth
The deoxidizers are frequently used during packaging in the food and beverage sectors to eliminate or lower the oxygen content in products, consequently extending shelf-life and reducing contamination. Deoxidizers are simply irreversible chemical absorbers that efficiently reduce the aerobic atmosphere to 0% oxygen, significantly prolonging packaged food goods' shelf life. In contrast to vacuum packing, deoxidizer sachets do not crush or squeeze the food goods, making them easy to use.
Deoxidizers absorb trapped oxygen present inside sealed packaging. Generally, during packaging, these oxygen absorbers are used to prevent spoilage, mold growth, color change, rancidity, loss of nutritional values, and loss of overall product quality. These scavengers maintain the original food quality and extend the shelf life of the products. Deoxidizers prevent the growth of aerobic pathogens and food spoilage organisms, degradation and rancidity of polyunsaturated fats, oils oxidation of vitamins A, C, and E, and delay non-enzymatic browning in fruits and some vegetables. The use of oxygen absorbers makes products healthier.
As per Carolyn Washburn, deoxidizers are used with baked goods, nuts, coffee, processed food, seasonings, flour, grains, pharmaceuticals, vitamins, pet foods, dehydrated fruits, vegetables and meats. The goal is to reduce oxygen to .01% or less. This is achieved through the number of deoxidizer packets and the size of the container. The packaged deoxidizer will last from 6 months to about 1 year before opening and the shelf life of an oxygen absorber is very short, use within 15 minutes after it gets open.
Modern deoxidizer sachets use a mixture of iron powder and sodium chloride. Activated carbon is also included as deoxidizer as it absorbs some other gases and many organic molecules, further preserving products and removing odors. Thus, the rise in use of fresh and high-quality packaged food is expected to drive the growth of the deoxidizer market during the forecast period.
However, the availability of substitutes such as silica gel is predicted to hinder the growth of the deoxidizer market during the forecast period. Silica gel is mostly composed of silicon dioxide or porous sand which is useful for minimizing condensation and keeping stored objects dry even in extremely moist and humid environments. Silica gel is most commonly found in the packaging of bags, supplements, shoes, and other computer equipment. Silica gel's ability to repel moisture provides it a significant advantage over deoxidizer in preventing microbial contamination in packaging.
Silica gel is used in the form of pellets stored in paper envelopes and is widely utilized in the packaging and shipping industry, where products must be protected from moisture while being transported. It is used in the food & beverage industry, due to its properties, such as non-toxicity, chemical inertness, and tastelessness, to extend the shelf life of packaged food by keeping it moisture-free. It is also used to deoxidize odors from refrigerators, cars, shoes, lockers, and other places. In the petrochemical sector, silica gel is used as catalyst support in manufacturing polyolefins, chemical separation, filtration, and plastics.
Nevertheless, growth in pharmaceutical industry is expected to provide sufficient development prospects for the deoxidizer market in future years. Deoxidizers are oxygen absorbers that may absorb both oxygen and moisture. They can protect‐¯oxygen-sensitive medical devices and equipment by preventing oxidation and hydrolysis in medications which includes DEA Schedule II and IV drugs, parenteral, and drugs that require an extended shelf life. The simultaneous absorption of oxygen and moisture is beneficial in providing a possible benefit for medication. Oxygen and moisture absorber offers two types bottle and envelope and which can be used with a wide range of different sized containers in the pharmaceutical industry.
Further, as per the National Investment Promotion and Facilitation Agency, the Indian pharmaceuticals industry plays a prominent role in the global pharmaceuticals industry. India ranks 3rd worldwide for production by volume and 14th by value. The pharmaceutical industry in India offers 60,000 generic brands across 60 therapeutic categories. Major segments include oxygen sensitive drugs, generic drugs, over the counter (OTC) medicines, bulk drugs, vaccines, contract research & manufacturing, biosimilars and biologics.
The deoxidizer market is segmented into form, type, application, and region. On the basis of form, the market is divided into powder, solution, and others. On the basis of type, the market is categorized into metallic and non-metallic. On the basis of application, the market is categorized into food & beverage, pharmaceutical, water treatment, oil & gas, chemical, pulp & paper and others. Region-wise, the deoxidizer market share is studied across North America, Europe, Asia-Pacific, and LAMEA.
Key Players & Strategies:
Major players operating in the global deoxidizer market include Arkema, Avient, Chemfax, Clariant, Ecolab Inc., Guardian Chemicals Inc., Henkel Corporation, Hydrite Chemical, Sealed Air Corporation, and Thermax Limited.
In November 2022, Sealed Air Corporation completed the acquisition of Liquibox, a provider of Bag-in-Box sustainable fluids and liquids packaging and dispensing solutions, to drive to market. This acquisition is projected to contribute toward the increased use of deoxidizers in fresh food, beverage, consumer products, and industrial end-markets.
Deoxidizer Market

---
By Region
Asia-Pacific dominated the market in 2021
Deoxidizer is used as sealed packaging, which is absorbed by oxygen scavengers mainly used in the Asia-Pacific region. The deoxidizers are typically employed during packaging to stop spoilage, mold development, color change, rancidity, loss of nutritional content, and loss of overall product quality. The oxygen absorber keeps the food's original quality while extending the product's shelf life. Oxygen absorbers delay the non-enzymatic browning of various fruits and vegetables along with the growth of aerobic pathogens and food spoilage organisms.
In Asia-Pacific, deoxidizers are used as bleaching chemicals in food products, allowing the food color to be lightened. The bleaching agent is mostly utilized in the production of dairy processed goods, bread items, and oil.
Besides, deoxidizer is in high demand in water purifiers in Asia-Pacific, owing to increased occurrences of waterborne infections. They are used in a variety of medicinal, pharmaceutical, chemical, and industrial applications that demand clean and drinkable water.
Deoxidizer Market

---
By Form
Solution segment was the highest revenue contributor to the market in 2021
The most widely used acid solutions for deoxidizing are hydrofluoric, nitric, and chromic acid-based solutions. These are suitable for cleaning with little or no etching; desmutting; removal of oxide, corrosion products, heat-treatment scale or welding fluxes; heavy-duty deoxidizing for castings; and light-duty deoxidizing.
Nitric-acid solution deoxidizers are primarily light-duty solutions and are widely used as desmutting agents. They are also used for salvaging parts. Besides, they are effective deoxidizers/desmutting solutions that can be employed at room temperature without the need for fume exhaust. Moreover, these deoxidizers are usually considered environment-friendly, since there is no chromium involved.
Further, chromic-acid-based non-etching deoxidizers are used to remove heat-treat films and design aluminum alloys for zinc immersion plating, painting, chromic-acid anodizing, and different chemical treatments. They are employed in tanks produced from 18-8 stabilized, stainless steel-clad material or lined with lead or high-density polypropylene.
Hydrofluoric-acid-based deoxidizers are used on castings or blasted parts, delivering a light etch and a matte finish. These deoxidizers are remarkably useful on casting alloys owing to the fluoride's ability to dissolve silica, which is used to make glass and in aluminum castings.
Deoxidizer Market

---

By Type
Metallic segment was the highest revenue contributor to the market in 2021
Metallic deoxidizer is used for broad structural applications of semi-killed steel. The most frequent deoxidizers used in steel manufacture are aluminum, silicon, and manganese. Metallic deoxidizers are chemical substances that either oxidize or reduce. It may be used to make goods such as glassware, jewelry, and others. There is a diverse selection of metallic deoxidizers that may be utilized for a variety of applications based on characteristics such as cost-effectiveness.
Deoxidizer Market

---

By Application
Food and Beverage segment was the highest revenue contributor to the market in 2021
Deoxidizers are used in the food and beverage industry to remove oxygen from molten steel. This reduces oxidation and improves working conditions in a furnace by reducing hot metal scale production. Deoxidizers also reduce the energy expenses involved with heating furnaces to high temperatures for smelting. Deoxidizer is used as a food additive that often absorbs oxygen, lengthening food shelf life, and making food safer and healthier. Oxygen absorbers are mixed with dried onions, powdered vegetables, and bulk spices in a mason jar. All of the deoxidized foods and herbs are got vacuum sealed in bags into a larger, sealed mylar bag (to block out light and to protect from mice and insects) where each individual vacuum-sealed bag gets an oxygen absorber.
Key Benefits For Stakeholders
This report provides a quantitative analysis of the market segments, current trends, estimations, and dynamics of the deoxidizer market analysis from 2021 to 2031 to identify the prevailing deoxidizer market opportunities.
The market research is offered along with information related to key drivers, restraints, and opportunities.
Porter's five forces analysis highlights the potency of buyers and suppliers to enable stakeholders make profit-oriented business decisions and strengthen their supplier-buyer network.
In-depth analysis of the deoxidizer market segmentation assists to determine the prevailing market opportunities.
Major countries in each region are mapped according to their revenue contribution to the global market.
Market player positioning facilitates benchmarking and provides a clear understanding of the present position of the market players.
The report includes the analysis of the regional as well as global deoxidizer market trends, key players, market segments, application areas, and market growth strategies.
 Deoxidizer Market Report Highlights
Aspects
Details
Market Size By 2031
USD 4.7 billion
Growth Rate
CAGR of 5.5%
Forecast period
2021 - 2031
Report Pages
250
Form
Type
Application

Food and Beverage
Pharmaceutical
Water Treatment
Oil and Gas
Chemical
Pulp and Paper
Others

By Region

North America (U.S., Canada, Mexico)
Europe (Germany, France, Italy, Spain, UK, Rest of Europe)
Asia-Pacific (China, India, Japan, South Korea, Australia, Rest of Asia-Pacific)
LAMEA (Brazil, South Africa, Saudi Arabia, Rest of LAMEA)

Key Market Players
Clariant, Ecolab Inc., arkema, Sealed Air Corporation, Henkel Corporation, Avient, Thermax Limited, Chemfax, Guardian Chemicals Inc., Hydrite Chemical