Diabetes Care Devices Market Research, 2030
The global Diabetes Care Devices Market Size was valued at $20.0 billion in 2020 and is projected to reach $38.3 billion by 2030, growing at a CAGR of 6.6% from 2021 to 2030. Diabetes is a disorder that develops when the blood glucose levels rise over normal levels, owing to a defect in insulin production that controls glucose levels. Blood glucose acts as the main source of energy and can be obtained from the food we consume. Insulin, the pancreatic hormone maintains blood glucose levels. Defect in the synthesis of insulin in the body cannot regulate the blood glucose level and causes diabetes. The Blood glucose level range in a normal individual is  70 – 100 mg/dL and in a diabetic patient it increases up to 80 – 130 mg/dL. Diabetes care devices are used to monitor the glucose levels of a  diabetic patient. A continuous glucose monitor (CGM) is a medical device that tracks and monitors the blood glucose of a diabetic patient throughout the day. This wearable technology is particularly useful for people with diabetes as it can help them manage glucose levels. Different types of devices that monitor diabetic conditions include ketone monitors, blood glucose monitors, continuous glucose monitors, insulin pumps, smart insulin pens, and diabetes management applications. Glucose monitoring devices help to maintain and control glucose levels, improving the health of the patient.
COVID -19 impact remains positive on the diabetes care devices market. This was owing to patients with different health issues, including diabetes and high blood pressure being at higher risk of getting infected by this virus. The mortality rate was high in patients with diabetes compared to the general population. People with diabetes require continuous access to insulin (administrated with syringes or pens) and care. Thus, the adoption of insulin pens and continuous glucose monitoring devices increased the demand for close monitoring and optimal management of diabetes.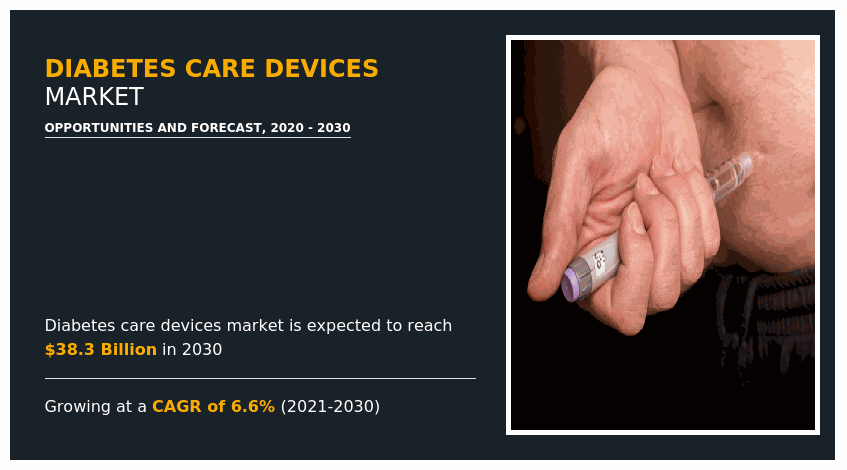 The key factor that drives the Diabetes Care Devices Market Growth includes an increase in the incidence of diabetes and a change in urbanization & sedentary lifestyle. In addition, technological advancements in the field of diabetes devices, a rise in the diabetic population across the globe, a surge in the need for fast & safe diagnosis, and a rise in treatments for diabetes dominate the diabetic care market during the forecast period.
However, blood glucose monitoring devices do not measure the exact level of glucose in the blood but give a range of blood glucose levels. In addition, adverse effects associated with some of the diabetes care devices hinder the market growth. A rise in awareness about diabetes monitoring devices and untapped market opportunities in developing regions are expected to provide Diabetes Care Devices Market Opportunity.
TheDiabetes Care Devices Industry is segmented on the basis of product and region. Depending on the product, the market is bifurcated into blood glucose monitoring devices and insulin delivery devices. The blood glucose monitoring devices segment is categorized into testing strips, self-monitoring blood glucose meters, lancets, and continuous glucose monitoring devices. The insulin delivery devices segment is classified into insulin syringes, insulin pens, insulin pumps, and insulin jet injectors. Region-wise, it is analyzed across North America (the U.S., Canada, and Mexico), Europe (Germany, France, Italy, the UK, Spain, and the Rest of Europe), Asia-Pacific (China, Japan, Australia, India, South Korea, and Rest of Asia-Pacific), and LAMEA (Brazil, South Africa, Saudi Arabia, and Rest of LAMEA).
Segment Review, by Product
Diabetes Care Devices Market

---

By Product
Insulin Delivery Devices segment holds a dominant position in 2020 and would continue to maintain the lead over the forecast period.
Get more information on this report :

Request Sample Pages
On the basis of product, the market is bifurcated into blood glucose monitoring devices and insulin delivery devices. The insulin delivery devices segment dominated the market in 2020 and is expected to dominate the market in the forecast period. The growth of this segment is attributable to the factors, including rising in the adoption of unhealthy lifestyles and a surge in the prevalence of type 1 and type 2 diabetes across the globe.
Segment Review, by Region
Diabetes Care Devices Market

---

By Region
North America region holds a dominant position in 2020 and would continue to maintain the lead over the forecast period.
Get more information on this report :

Request Sample Pages
Region-wise, North America has Diabetes Care Devices Market Share in 2020, owing to the rise in prevalence of diabetes, increase in healthcare expenditures and surge in presence of key players of insulin syringe manufacturers. However, Asia-Pacific is expected to grow at the highest rate during the forecast period, owing to a rise in diabetes prevalence in Asia- Pacific along with a large diabetic & pre-diabetic patient population, an increase in the strengthening of distribution networks of global product manufacturers, and surge in the expansion of advanced medical facilities in emerging countries, including China and India.
The list of key players profiled diabetes Care Devices Industry includes Abbott Laboratories, ACON Laboratories, Inc., Ascension Diabetes Care Holdings AG (formerly diabetes case business of Bayer AG), Becton, Dickinson and Company, Nipro corporation., F. Hoffmann-La Roche Ltd., Johnson & Johnson, Medline Industries, Novo Nordisk A/S, and Terumo Corporation.
The key players in the value chain include Arkray, Inc., Echo Therapeutics, Inc., Glysens Incorporated, Insulet Corporation, Sanofi, and Ypsomed AG.
Key Benefits For Stakeholders
This report provides a quantitative analysis of the market segments, current trends, estimations, and dynamics of the diabetes care devices market analysis from 2020 to 2030 to identify the prevailing diabetes care devices market opportunities.
The market research is offered along with information related to key drivers, restraints, and opportunities.
Porter's five forces analysis highlights the potency of buyers and suppliers to enable stakeholders make profit-oriented business decisions and strengthen their supplier-buyer network.
In-depth analysis of the diabetes care devices market segmentation assists to determine the prevailing market opportunities.
Major countries in each region are mapped according to their revenue contribution to the global market.
Market player positioning facilitates benchmarking and provides a clear understanding of the present position of the market players.
The report includes the analysis of the regional as well as global diabetes care devices market trends, key players, market segments, application areas, and market growth strategies.
 Diabetes Care Devices Market Report Highlights
Aspects
Details
BY PRODUCT

Blood Glucose Monitoring Devices
Insulin Delivery Devices

By Region

North America (U.S., Canada, Mexico)
Europe (Geramny, France, U.K., Italy, Spain, Rest of Europe)
Asia-Pacific (Japan, China, Australia, India, Rest of Europe, South Korea)
LAMEA (Brazil, Saudi Arabia, South Africa, Rest of LAMEA)

Key Market Players
ABBOTT LABORATORIES, ACON LABORATORIES, INC., BECTON, DICKINSON AND COMPANY, JOHNSON & JOHNSON, MEDTRONIC PLC, NOVO NORDISK A/S, TERUMO CORPORATION