The increase in internet penetration across the world has provided a platform to buy and sell several different products and services in a convenient manner. Social media has helped increase awareness about products that are unknown to most people. Product innovation, customization to individual needs, and brand expansion to various countries make way for new growth opportunities for foreign and domestic players. Moreover, a rise in demand for new designs of socks and an increase in awareness about healthy & energetic lifestyles are expected to create lucrative opportunities for the diabetic socks market during the forecast period. Moreover, key players are focusing on R&D and the introduction of new products to enhance their product offerings. Furthermore, players are focusing on increasing awareness among consumers pertaining to the availability of these socks by increasing expenditure on promotional and advertising activities. Thus, all these factors collectively are anticipated to drive the growth of the global diabetic socks market. Some of the key brick-and-mortar stores such as specialty stores, retail pharmacies, and franchisee stores are being considered in the offline store segment. These stores offer a variety of options in diabetic products promoting both branded and private-labeled segments. Moreover, these kinds of stores initiate several key promotional and marketing events such as customer loyalty programs, discounts, and seasonal offers to generate higher revenue sales, which significantly contribute toward the growth of the global market.
The diabetic socks market size was valued at $292.5 million in 2018, and is projected to reach $435.4 million by 2026, registering a CAGR of 5.4% from 2019 to 2026. The calf length segment led in terms of diabetic socks market demand in 2018, and is expected to retain its dominance throughout the forecast period.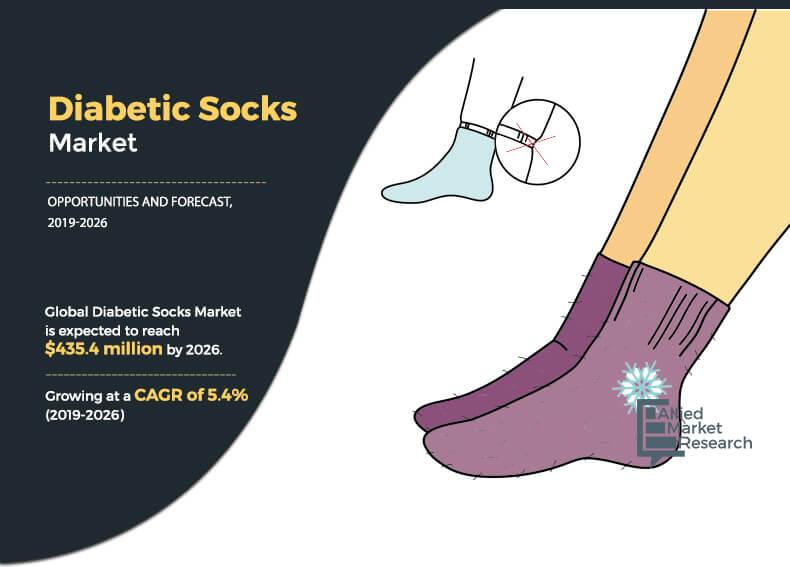 Diabetes is a chronic disease, which arises when the pancreas fail to produce insulin or when the body does not effectively utilize the insulin produced. Past few decades have seen significant increase in the population suffering from diabetes in both developing and developed regions. Diabetes and its related complications are serious, expensive to treat, and life threatening. Some of the major diseases associated with diabetes include stroke, heart disease, kidney damage, amputation, and blindness.
People suffering from diabetes can efficiently manage and improve their health with the help of preventive care practices. Some of these practices include periodically receiving annual eye and foot examination. Prevention of type 1 diabetes with current knowledge has not been established yet; however, effective approaches for prevention of type 2 diabetes along with related complications and premature death has been established around the world. Some of the major practices and policies include eating healthily, exercising regularly, control on blood pressure& intake of lipids, and avoiding smoking. Taking a life-course perspective early diagnosis and treatment of diabetes to remain at cynosure for the engaged stakeholders in the healthcare industry.
According to the IDF Diabetes Atlas, about 463.0 million adults aged between 20 and 79 years of age worldwide suffer from diabetes with majority of about 79.4% live in low- and middle-income countries. By the end of 2030, people suffering from diabetes are projected to reach 578.4 million, and by 2045 a total of 700.2 million adults would be suffering from diabetes. Furthermore, incidence of type 1 diabetes among children less than 15 years of age has been increasing steadily. Annual increment is estimated to be around 3% with strong indications of geographical differences. About 1 million children with age less than 20 suffer from type 1 diabetes. Approximately 4.2 million adults aged 20–79 years were estimated to die as a result of diabetes and its complications in 2019. 
Foot care is one of the most important part to be managed when a person is suffering from diabetes, as even small calluses, cuts, cracks, or blisters can lead to foot ulcers. Diabetes results in poor circulation of blood, making it difficult for healing of wounds. As a result, diabetic socks play a prominent role in keeping infections and foot ulcers under control. In addition, diabetic socks help toes, feet, and legs to inhibit infections, thus preventing amputation. According to medical experts, approximately 80% of limb loss from diabetes can be prevented by taking strong corrective measures. 
Plethora of materials are being used for the manufacturing of diabetic socks. Some of these materials includes acrylic, merino wool, and bamboo fibers. Fibers used for manufacturing diabetic socks hold the moisture and aid to keep feet moisture free. Furthermore, these fibers have natural bacteria-fighting properties.
Segment Review
The global diabetic socks market is segmented into type, sales channel, and region. On the basis of type, the global diabetic socks market is segregated into ankle length, calf length, and knee length. Depending on sales channel, the global market is segmented into offline channels and online channels. Region wise, the market is studied across North America, Europe, Asia-Pacific, and LAMEA 
By type, the calf length segment leads in terms of diabetic socks market share, and is poised to grow with the highest CAGR during the forecast period. The calf length has better leg coverage, offering maximum comfort and support, resulting in its widespread adoption
Diabetic Socks Market

---
By Type
Calf Length segment would exhibit the highest CAGR of 5.7% during 2019-2026.
On the basis of sales channel, the offline channel dominates in the global diabetic socks industry; however, the online channel is anticipated to grow with a robust CAGR during the forecast period. Increase in the internet penetration especially in the North America, Europe, and Asia-Pacific regions coupled with diverse network of e-commerce players will result in online channels to gain share in the estimated forecast.
Diabetic Socks Market

---
By Sales Channel
Online Channels segment would exhibit the highest CAGR of 6.1% during 2019-2026.
Region wise, the diabetic socks market is studied across North America, Europe, Asia-Pacific, and LAMEA. North America region garners the highest market share; however, Asia-Pacific region is expected to grow at the highest CAGR during the forecast period. High prevalence of diabetes in North America along with heavy expenditure on diabetic products contributes toward the market share of the region in global diabetic socks market.
Diabetic Socks Market

---
By Region
Asia-Pacific would exhibit the highest CAGR of 6.4% during 2019-2026.
The report focuses on the growth prospects, restraints, and opportunities of the global diabetic socks market. The study provides Porter's five forces analysis to understand the impact of various factors such as competitive intensity of competitors, bargaining power of suppliers, threat of substitutes, threat of new entrants, and bargaining power of buyers of the diabetic socks market.
Some of the key players operating in the diabetic socks market analysis includes Colfax Corporation, I-Runner, Orthofeet Inc., European Lingerie Group, Drew Shoe, Creswell Sock Mills, Pantherella International Group, Nishikaa Garments International LLP, Simcan Enterprises Inc., and Drew Shoe. 
Key Benefits for Stakeholders:
The diabetic socks report provides an extensive analysis of the current and emerging trends and opportunities.
The report provides detailed qualitative and quantitative analysis of the current diabetic socks market trends and future estimations that help evaluate the prevailing diabetic socks market opportunities in the market.
Diabetic socks market forecast is offered along with information related to key drivers, restraints, and opportunities.
The diabetic socks market analysis is conducted by following key product positioning and monitoring the top competitors within the market framework.
The report provides extensive qualitative insights on the potential and niche segments or regions exhibiting favorable diabetic socks market growth.
 Diabetic Socks Market Report Highlights
Aspects
Details
By Type

ANKLE LENGTH
CALF LENGTH
KNEE LENGTH

By Sales Channel

OFFLINE CHANNELS
ONLINE CHANNELS

By Region

NORTH AMERICA (US, CANADA, MEXICO)
EUROPE (GERMANY, EGYPT, RUSSIA, UK, REST OF EUROPE)
ASIA-PACIFIC (CHINA, INDIA, JAPAN, INDONESIA, REST OF ASIA-PACIFIC)
LAMEA (LATIN AMERICA, MIDDLE EAST, AFRICA)

Key Market Players
Colfax Corporation (DJO Global), Knit-Rite, Inc., ORTHOFEET INC., Nishikaa Garments International LLP (Syounaa), Creswell Sock Mills, European Lingerie Group (Lauma Fabrics), Drew Shoe, Simcan Enterprises Inc, Pantherella International Group (HJ Hall Socks), I-RUNNER