Die Casting Machines Market Research, 2030
The global die casting machines market size was $2,664.7 million in 2020, and is projected to reach $4,864.6 million by 2030, growing at a CAGR of 6.1% from 2021 to 2030. Die casting machine engages in the process of forcing molten metal into reusable metal die under high pressure. Dies are classified into single & multiple cavity and combination dies. This process is utilized to manufacture accurately dimensioned, defined, smooth, and textured surface alloy and metal parts. These metal parts include chassis, air valve, flywheel & bracket, smart locks, and automobiles appliances.
The COVID-19 outbreak has negatively affected the growth of the global die casting machines industry owing to the lockdown measure in different countries globally and delay in manufacturing of die casting machines.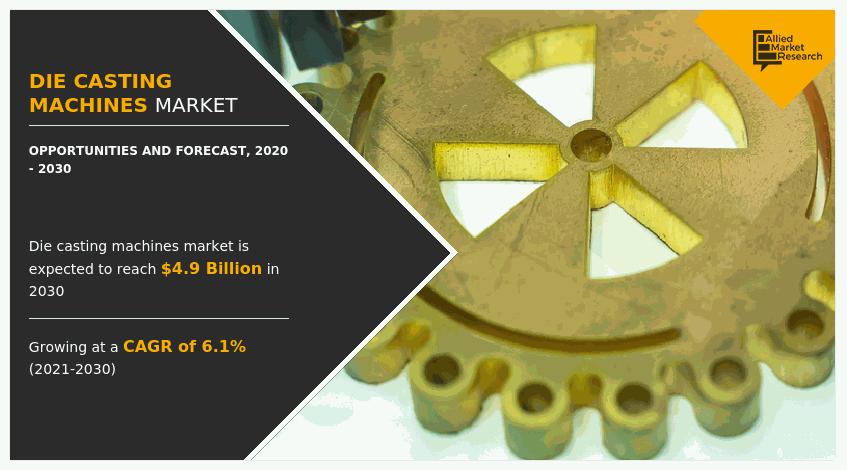 Factors such as rise in market for light-weight vehicles and increase in adoption of high pressure die casting (HPDC), owing to technological advancements fuel the die casting machines market growth. Moreover, many automotive component producers utilize aluminum die casting machines to manufacture lightweight aluminum cast parts, which are used in automotive assembly. This growing trend of producing light weight metals in the automotive industry coupled with the growth in automobile sales boost the demand for die casting machinery. In addition, various government initiatives have propelled the manufacturing industry in the Asia-Pacific region, thereby increasing the use of metal and positively influencing the die casting machines market.
Die Casting Machines Market

---

By Type
The hot chamber die casting machine segment is expected to lead the market throughout the study period.
The global demand for more fuel efficient and zero emission vehicles is significantly increased owing to increasing awareness amongst masses and increased investments from private sector companies. Also, the automotive industry in countries such as China and India is experiencing rapid growth. For instance, according to the India Brand Equity Foundation, India exported 4.77 million automobiles in 2020, up from 4.63 million in 2019. In addition, electric vehicles market in India registered a growth of 20% in 2020, to reach 156 thousand units. Furthermore, governments in emerging economies have focused on boosting the manufacturing sector for rapid development of the economy. For instance, 'Make in India' initiative launched by the Indian Government and 'Made in China 2025' initiative by the Chinese government have positively influenced the manufacturing sector in the Asia-Pacific region. Increase in manufacturing activities have fueled the demand for a wide range of metal components, thereby propelling the die casting machines market. In addition, major players in the industry are expanding their portfolio of large die casting machines. For instance, in March 2021, Bühler launched Carat 560 and Carat 610 die casting machines that can apply locking forces of up to 6220 tons.
Die Casting Machines Market

---

By End-user
The mechanical and manufacturing equipment segment is expected to exhibit highest growth rate throughout the study period.
The novel coronavirus has rapidly spread across various countries and regions, causing an enormous impact on the lives of people and the overall community. It began as a human health condition and has now become a significant threat to global trade, economy, and finance. The COVID-19 pandemic has halted the production of automobiles and electronics due to the lockdown, thereby negatively impacting the market. Furthermore, the number of COVID-19 cases are expected to reduce in the near future as the vaccine for COVID-19 is introduced in the market. This has led to the reopening of die casting machines companies at their full-scale capacities. This will help the market to recover by the start of 2022. After COVID-19 infection cases begin to decline, die casting machines manufacturers must focus on protecting their staff, operations, and supply networks to respond to urgent emergencies and establish new methods of working.
Furthermore, increase in demand for electronics and other products such as medical devices fueled by rising population and increasing purchasing capacity of masses in anticipated to boost the global manufacturing industry. In addition, development of newer technologies, significantly increase the efficiency and production capacity of die casting machines. These factors are anticipated to positively influence the die casting machines market throughout the forecast period.
Die Casting Machines Market

---

By Material
The aluminum segment held the largest market share during the forecast period.
The global market for die casting machines is segmented on the basis of type, material, end user, and region. By type, the market is categorized into cold chamber die casting machine, hot chamber die casting machine and gravity die casting machines. By material, the market is divided into aluminum, zinc, magnesium and others. By end user, the market is segmented into transportation, mechanical & manufacturing equipment, building & construction and others. Region wise, the market is analyzed across North America, Europe, Asia-Pacific, and LAMEA. Asia-Pacific led the die casting machines market share in 2020, and is anticipated to maintain this trend throughout the forecast period. This is attributed to increase in population and rapid growth of automotive and manufacturing industry.
Die Casting Machines Market

---
By Region
In 2020, Asia-Pacific was the dominant segment and is anticipated to witness significant CAGR from 2021 to 2030.
 COMPETITION ANALYSIS
Key companies profiled in the die casting machines report include Agrati AEE Srl, Bühler AG, Form Technologies, L.K. Machinery International Limited, Norican Global A/S, Oskar Frech GmbH + Co. KG, Shibaura Machine Co., Ltd., Toyo Machinery & Metal Co., Ltd., UBE, and Zitai Precision Machinery Co., Ltd.
KEY BENEFITS FOR STAKEHOLDERS
The report provides an extensive analysis of the current and emerging

die casting machines market

trends and dynamics. 

In-depth

die casting machines market

analysis is conducted by constructing market estimations for key market segments between 2021 and 2030.

Extensive analysis of the

die casting machines market

is conducted by following key product positioning and monitoring of top competitors within the market framework.

A comprehensive analysis of all the regions is provided to determine the prevailing die casting machines market opportunities.

The global die casting machines market

forecast analysis from 2021 to 2030 is included in the report.

The key players within

die casting machines

market are profiled in this report and their strategies are analyzed thoroughly, which help understand the competitive outlook of the

die casting machines

industry.
 Die Casting Machines Market Report Highlights
Aspects
Details
By Type

Cold Chamber Die Casting Machine
Hot Chamber Die Casting Machine
Gravity Die Casting Machine

By Material

Aluminum
Zinc
Magnesium
Others

By End-User

Transportation
Mechanical And Manufacturing Equipment
Building And Construction
Others

By Region

North America (U.S., Canada, Mexico)
Europe (Germany, France, Italy, Russia, Rest of Europe)
Asia-Pacific (Japan, China, India, South Korea, Rest of Asia-Pacific)
LAMEA (Latin America, Middle East, Africa)

Key Market Players
Agrati - AEE Srl, Bühler AG, Dynacast, Idra srl, Italpresse Gauss, Oskar Frech GmbH + Co. KG, Toyo Machinery & Metal Co.,Ltd., UBE, Zitai Precision Machinery Co., Ltd., Shibaura Machine