Digital Freight Forwarding Market Statistics 2030 -
The global digital freight forwarding market was valued at $2.92 billion in 2020, and is projected to reach $22.92 billion in 2030, registering a CAGR of 23.1%.    
The COVID-19 outbreak proved very drastic for a variety of businesses and forced governments across the globe to implement strict lockdowns and led to social distancing being made mandatory to contain the spread of the virus, which disrupted the supply chain and halted logistics activities across the world. As a consequence of the COVID-19 epidemic, countries were left with no alternative but to temporarily halt their transportation and logistical operations with one another, which significantly impacted the supply of commodities, consequently producing a disruption in the supply chain. The digital freight market observed substantial recovery in 2021, owing to relaxing social distancing measures, exponentially rise in e-commerce, retail, and pharmaceutical sales, and refurbishment initiatives of automotive industry. With the revival in trade owing to fast pace of vaccination across the world, the demand for digital freight forwarding services—that offer a solution to cost-effective and fast delivery of items, —is soon expected to grow significantly.
Digital freight forwarder uses digital tools that help in smooth communication flow and get status updates regarding any shipment in a short timeframe. Digital freight forwarder employs a completely transparent system that provides comparison of various shippers to offer the best deal to the customers. It aims to reduce paper work by generating, uploading, and sharing all documents on the web platform, providing easy access to all stakeholders.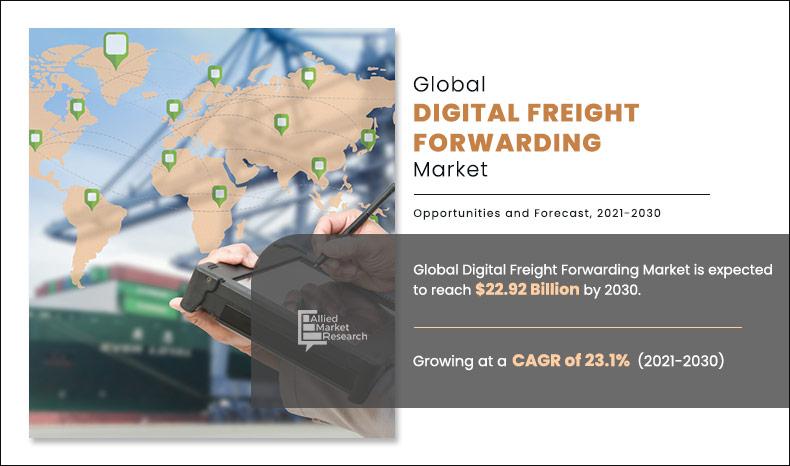 The growth of the global digital freight forwarding market is majorly driven by factors such as expansion of the e-commerce industry and rise in free trade agreements. However, poor infrastructure & higher logistics costs and stringent regulations for air freight hinder the market growth. On the contrary, rise in adoption of direct-to-consumer (DTC) e-commerce logistics and cost cutting and lead time reduction due to adoption of multi-modal system are expected to open new avenues for the market growth during the forecast period.
The global digital freight forwarding market is segmented into mode of transport, function, vertical, deployment mode, and region. On the basis of mode of transport, the market is segregated into land, sea, and air. Depending on function, it is bifurcated into warehouse management and transportation management. By vertical, it is fragmented into retail and e-commerce, manufacturing, healthcare, automotive, and others. As per deployment mode, it is categorized into cloud and on-premises. Region wise, it is studied across North America, Europe, Asia-Pacific, and LAMEA. 
The key players operating in the global digital freight forwarding market include Descartes Kontainers, Deutsche Post DHL Group, Flexport, Inc., Forto GmbH, iContainers, Kuehne+Nagel International AG, Transporteca, Turvo Inc., Twill, and Uber Freight LLC. 
Expansion of the e-commerce industry globally
E-commerce is a virtual store where goods & services do not require any physical space and are sold through websites. The e-commerce industry utilizes logistics services to manage and oversee the supply chain of e-commerce companies, thus allowing these companies to focus on marketing and other business operations. Easy accessibility, convenient shopping experiences, and heavy discounts & offers make e-commerce a popular medium for the purchase of a wide variety of products. These factors have collectively contributed toward the growth of the market for e-commerce services. For instance, according to the latest estimates by the United Nations Conference on Trade and Development (UNCTAD), the compiled online retail sales data by National statistical offices in several countries suggest that online retail sales as a share of total retail sales escalated by 3% points in 2020 (from 16% in 2019 to 19% in 2020). The share of online sales amounted to 25.9% in South Korea, 24.9% in China, and 23.3% in the UK. 
Digital Freight Forwarding Market

---
By Mode Of Transport
Sea is projected as the most lucrative segments
Currently, international trade involves more complex communications among several individuals and organizations. Supply chains of shipments span different countries and regions and the trade has become a 24/7 business. High performance in logistics not only requires improved connectivity along sea, rail, and roads but also spans across different areas such as information-processing, financial markets, and telecommunications. Furthermore, the adoption of digital freight forwarding services is on rise owing to numerous benefits provided by logistics to e-commerce companies, for instance, efficient track systems, cost-effective shipments, and a faster-quoting process. Such developments are expected to fuel the growth of the global digital freight forwarding market during the forecast period.
Rise in free trade agreements
Dynamic market conditions and improvement in the global economy are the key factors driving the growth of the logistics industry. In addition, attributed to rapid globalization, various activities related to trade are witnessing a considerable increase. Therefore, it is becoming difficult for manufactures or retailers to keep track of supply chain activities in an efficient manner. This factor is expected to drive the growth of the digital freight forwarding market during the forecast period. 
Digital Freight Forwarding Market

---
By Function
Transportation Management is projected as the most lucrative segments
Digital freight forwarding services are becoming beneficial for cost-sensitive customers who seek an extensive variety of high-quality products with faster delivery timelines. Thus, increase in trading activities due to globalization is propelling the demand for digital freight forwarding services. The signing of free trade agreements facilitates better trade between two parties and results in rise in import–export activities, which boosts the development of the entire logistics ecosystem. Reduction or elimination of tariffs, intellectual property protection, fair treatment of investors are some of the important advantages of free trade agreements. The U.S. currently has 14 free trade agreements with 20 countries in force. In Asia, China, Singapore, and India have 47, 44, and 43 FTAs, respectively, which offer lucrative opportunities for logistics to thrive and support the economy of the nations. UK and India are expected to sign an Early Harvest Agreement by March 2022, which permits both nations to establish selective benefits in commodities and services. The decision was taken after a meeting between the Indian and British Commerce and Industry on September 13, 2021. Thus, all these factors are expected to increase the import–export activities, thus driving the growth of the digital freight forwarding market during the forecast period.
Poor infrastructure and higher logistics costs
An efficient logistics ecosystem demands sophisticated infrastructure, a well-organized supply chain, and trade facilitation policies. Without these, logistics firms have to invest in building more stock reserves and working capital, which can strongly affect national and regional competitiveness due to high financial costs. In addition, lack of infrastructure development in various nations hinders logistics, as it increases costs and reduces supply chain reliability. 
Digital Freight Forwarding Market

---
By Vertical
Retail and E-Commerce is projected as the most lucrative segments
Factors such as inefficiencies in transport management systems, poor condition of storage infrastructure, complex tax structure, low rate of technology adoption in the logistics sector, and low proficiency of logistics professionals in using digitalization tools hamper the pace and productivity of logistics companies. For instance, according to a report by the Economist, an international newspaper, Latin America lacks adequate infrastructure, as more than 60% of the region's roads are unpaved. Furthermore, inconsistency in the address and postal system is the other challenge faced by parcel delivery teams in Latin American countries. As many countries lack postal codes and rely on local landmarks for addresses, shipping companies often have trouble in delivering parcels successfully. Moreover, logistics costs are heavily determined by the availability and quality of infrastructure. Infrastructure directly influences transport costs and indirectly affects the level of inventories, and consequently financial costs. 
Thus, owing to poor transport infrastructure, firms need to have high levels of inventories to account for several contingencies, which can result in higher overall logistics costs. Therefore, poor infrastructure along with high inventory prices and insufficient warehousing space are expected to act as the key deterrents of the global digital freight forwarding market.
Digital Freight Forwarding Market

---
By Deployment Mode
Cloud is projected as the most lucrative segments
Rise in adoption of DTC e-commerce logistics
In the developing sector of digital freight forwarding, direct-to-consumer (DTC) e-commerce logistic plays a critical role. Increased demand for domestic and international goods fuels the growth of e-commerce logistics. Moreover, DTC e-commerce eliminates the need for a middleman, allowing firms to connect with customers directly. In addition, the goal of digital freight forwarding is to get those goods to their final destination as quickly as possible, while assisting in the creation of enhanced customer experiences. Freight forwarding digitization further aids the modern supply chain by automating several activities for business owners. 
DTC e-commerce helps streamline shipping and other services in a number of ways. The use domestic freight forwarders help with overall communication. On-demand tracking allows freight forwarders for real-time monitoring of shipments, making it easier for shippers to see the process. Real-time data monitoring allows data to be accessed at all levels of the transportation process, potentially saving thousands of errors that would otherwise go undiscovered. These benefits associated with DTC e-commerce are expected to bolster the growth of the global digital freight forwarding market during the forecast period.
Digital Freight Forwarding Market

---
By Region
Asia-Pacific would exhibit the highest CAGR of 24.7% during 2021-2030.
COVID-19 Impact Analysis 
The COVID impact on the digital freight forwarding market is unpredictable and it is expected to remain in force till the second quarter of the 2021. 
The COVID-19 outbreak forced the governments to impose strict lockdown measures that resulted in flight cancellations and ban on e-commerce services, which led to massive decline in and logistics activities across the world. 
The adverse impacts of the COVID-19 pandemic resulted in huge supply–demand issues and resulted in long delays in the activities of digital freight forwarding operations globally.
Key Benefits For Stakeholders
This study presents analytical depiction of the global digital freight forwarding market analysis along with the current trends and future estimations to depict imminent investment pockets.
The overall digital freight forwarding market opportunity is determined by understanding profitable trends to gain a stronger foothold.
The report presents information related to key drivers, restraints, and opportunities of the global digital freight forwarding market with a detailed impact analysis.
The current digital freight forwarding market is quantitatively analyzed from 2020 to 2030 to benchmark the financial competency.
Porter's five forces analysis illustrates the potency of the buyers and suppliers in the industry.
 Digital Freight Forwarding Market Report Highlights
Aspects
Details
By Mode of Transport
By Function

Warehouse Management
Transportation Management

By Vertical

Retail and E Commerce
Manufacturing
Healthcare
Automotive
Others

By Deployment Mode
By Region

North America (U.S., Canada, Mexico)
Europe (Germany, UK, France, Russia, Rest of Europe)
Asia-Pacific (China, Japan, India, South Korea, Rest of Asia Pacific)
LAMEA (Latin America, Middle East, Africa)

Key Market Players
Descartes Kontainers, Deutsche Post DHL Group, Flexport, Inc., Forto GmbH, Icontainers, Kuehne+Nagel International AG, Transporteca, Turvo Inc., Twill, Uber Freight LLC