The global digital manufacturing market is expected to reach $1,370.3 billion by 2030, from $276.5 billion in 2020, registering a CAGR of 16.5% from 2021 to 2030. Digital manufacturing is an integrated approach to manufacture or construct products using a computer system. It uses computer aided design (CAD), computer aided modeling (CAM), Internet of Things (IoT), and Big data analytics concepts. Digital manufacturing has features such as maximized productivity, improved quality, reduced operating costs, and limited repetitive work.  
The COVID-19 outbreak had a mixed effect on the growth of the digital manufacturing market as the lockdown during the COVID-19 has enabled wide adoption of newer technologies to allow projects to continue in a virtual and digital environment even when participants were unable to meet in person. The pandemic has forced to find safer and smarter ways for operating smoothly and effectively in manufacturing industries. On the other hand, the market was hampered owing to limited manufacturing activities carried out due to lockdown.
Efficient safety management on manufacturing sites is a major driving factor for implementation of IoT technologies in the manufacturing industry. The industry is one of the major employers of human resources. These workers are constantly prone to accidents on sites due to falling objects, fatigue, working on dangerous areas, and others.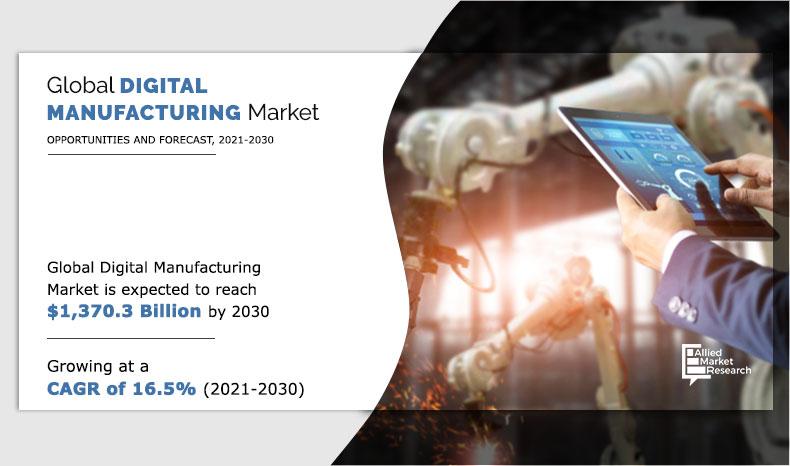 Major players offer artificial intelligence (AI) based software system to the manufacturing industry. For instance, in November 2020, Autodesk Inc. launched a new set of products for Autodesk manufacturing cloud, which is a cloud connected platform for design manufacturing and construction firms. Three products launched were Autodesk build, Autodesk Takeoff, and Autodesk BIM Collaborate. These products are cloud- and AI-based systems. All such instances are expected to fuel growth of the market.
Trends show that adoption of Industry 4.0 in automotive and transportation industry accelerates automotive production at a faster pace. Digital manufacturing equips interior suppliers and manufacturers of automotive with necessary tools and connected devices in modern area. It provides day-to-day information related to fabrication, construction operations, weak links, equipment downtimes, and upcoming responsibilities, which reduces vehicle downtime and achieves maximum productivity from vehicles in minimum fuel consumption. In addition, rise in spending on research & development in manufacturing industries fuels growth of the market in France. For instance, spending on research & development in France grew by 4.5% from 2018 to 2019. The company uses artificial intelligence (AI), Internet of Things (IoT), and 5G in industrial practices. Rise in awareness regarding digital transformation in manufacturing sectors drives growth of the digital manufacturing market. Robotics technology is largely adopted in medical devices applications, automotive, and defense applications. Rise in spending on information and telecommunication in Italy grew by 21.7% from 2018 to 2020. All such instances drive growth of the market.
Hence, advantages of growing productivity on manufacturing industries drives growth of the digital manufacturing market. However, rise in concerns regarding cyber security hinders adoption of IoT technologies and machine learning in the manufacturing industry. Data-driven decision-making at the planning stage of construction projects is anticipated for better management of resources; thereby, improving project efficiency. However, robotics in manufacturing sites and rise in awareness about use of IoT, big data, and analytics in manufacturing sites, is anticipated to provide lucrative opportunities for growth of the digital manufacturing market. 
Digital Manufacturing Market

---
By Component
Hardware segment holds dominant position in 2020
The digital manufacturing market is segmented on the basis of component, technology, application, and region. By component, the digital manufacturing market is fragmented into hardware, software, and services. Hardware segment sub-divided into RFID tags, sensors, intelligent systems, and others. Software segment is sub-divided into data and operation management software, safety and security systems, connectivity solutions, analytics solutions, remote management & logistics solutions. Services segment sub-divided into support and maintenance, system integration, and consultancy services. By technology, it is categorized into robotics, 3D printing, internet of things (IoT), and others. By application, it is classified into automotive and transportation, aerospace & defense, consumer electronics, industrial machinery, and others. 
Regionally, the digital manufacturing market has been analyzed across North America (the U.S., Canada, and Mexico), Europe (Germany, the UK, France, Italy, and rest of Europe), Asia-Pacific (China, Japan, India, Australia, and rest of Asia-Pacific), and LAMEA (Latin America, the Middle East, and Africa). 
Digital Manufacturing Market

---
By Application
Consumer electronics segment is expected to grow at a significant CAGR
Competition Analysis
Key companies profiled in the report include Dassault Systems, Tata Consultancy Services, Siemens AG, Autodesk Inc, Mentor Graphics Corporation, Parametric Technology Corporation Inc, SAP SE, ARAS Corporation, Cogiscan Inc, and Bestplant.
Major players are adopting acquisition, product launch, and business expansion as key developmental strategies to improve product portfolio of digital manufacturing products. For instance, in May 2021, Siemens EDA acquired Supplyframe, specialized in providing design-to-source platform to electronics value chain. This acquisition would help reduce cost, improve quality of decisions, and increase agility to customers. This is also expected to enhance portfolio by SaaS in the industry including printed circuit board, electronic design automation, and other technological fields
Digital Manufacturing Market

---
By Region
North America Region is expected to dominate the market during the forecast period.
Key Benefits For Stakeholders
The report provides an extensive analysis of the current trends and future estimations.  
Extensive analysis of digital manufacturing market is conducted by following key product positioning and monitoring of the top competitors within the market framework.
A comprehensive analysis of all the regions is provided to determine the prevailing opportunities.
The digital manufacturing market forecast analysis from 2021 to 2030 is included in the report.
The key market players within the digital manufacturing market are profiled in this report and their strategies are analyzed thoroughly, which help understand the competitive outlook of the digital manufacturing market.
Digtial Manufacturing Market Segments
By Component
Hardware

RFID Tags
Sensor
Intelligent System
Others

Software 

Data and Operation Management Software
Safety and Security Systems
Connectivity solutions
Analytics Solutions
Remote Management & logistic solutions
Asset Management Solutions

Services

Support and maintenance
System Integration
Consulting Services
By Technology
Robotics
3D Printing
Internet of Things (IoT)
Others    
By Application
Automotive and Transportation
Aerospace and Defense
Consumer Electronics
Industrial Machinery
Others
By Region
North America
Europe

Germany
UK
France
Italy
Rest of Europe

Asia-Pacific

China
India
Japan
Australia
Rest of Asia-Pacific

LAMEA

Latin America
Middle East
Africa
Key Players
Dassault Systemes
Tata Consultancy Services
Siemens AG
Autodesk Inc
Hexagon AB
Parametric Technology Corporation Inc
SAP SE
ARAS Corporation
Cogiscan Inc
Bestplant
 Digital Manufacturing Market Report Highlights
Aspects
Details
By COMPONENT

Hardware

RFID Tags
Sensor
Intelligent System
Others

Software

Data and Operation Management Software
Safety and Security Systems
Connectivity solutions
Analytics Solutions
Remote Management & logistic solutions
Asset Management Solutions

Services

Support and maintenance
System Integration
Consulting Services

By Technology

Robotics
3D Printing
Internet of Things (IoT)
Others

By Application

Automotive and Transportation
Aerospace and Defense
Consumer Electronics
Industrial Machinery
Others

By Region

North America (U.S., Canada, Mexico)
Europe (France, Germany, Italy, Spain, UK, Russia, Rest of Europe)
Asia-Pacific (China, Japan, India, South Korea, Australia, Thailand, Malaysia, Indonesia, Rest of Asia-Pacific)
LAMEA (Brazil, South Africa, Saudi Arabia, UAE, Argentina, Rest of LAMEA)

Key Market Players
SAP SE, HEXAGON AB, TATA Consultancy Services, Autodesk Inc., Bestplant, ARAS Corporation, Dassault Systèmes, Siemens AG (Mentor Graphics Corporation), DURR Group (Cogiscan), Parametric Technology Corporation