Digital Perfume Market Statistics: 2027
Digital perfume technology is the main application of electronic transfer of fragrance. With digital perfume technology, it is possible to sense, transmit, and receive smell through the internet. The basic idea for digital perfume was given by perfume making companies for advertisements of their perfumes. Digital perfume technology works by continuously feeding odours from vaporizing gel pellets into four air streams, one in each corner of the screen. These air streams are blown out parallel to the screen's surface by fans, and varying the strength and direction of them spreads the scent to any given spot on the screen. NOTA is another new concept of mixing perfume, a concept by which perfume becomes part of the user's daily routine, allowing the user to prepare and wear unique perfumes for every day, night, mood, and event.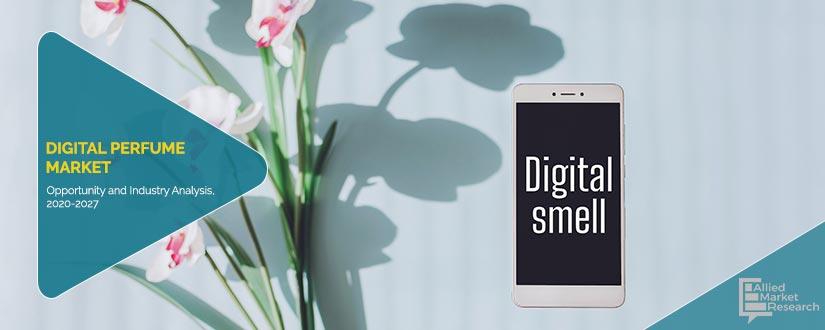 COVID-19 Scenario Analysis:
ENT UK, a body representing ear, nose, and throat (ENT) specialists in the United Kingdom, has found out that a significant number of patients with proven COVID-19 infection from South Korea, China, and Italy developed anosmia, a partial or complete loss of sense of smell. The effect from COVID-19 spread is likely to impact the digital perfume market negatively as people would be resistant to try new digital perfume technology as precaution.
Weizmann Institute scientists, in collaboration with researchers and physicians in the Edith Wolfson Medical Center, developed Smell Tracker, an online platform that enables self-monitoring of one's sense of smell as this seems one of the symptoms for COVID-19.
Top impacting factors: Market Scenario Analysis, Trends, Drivers, and Impact Analysis
Rise in adoption of digital scent technology for clinical diagnostics in the healthcare sector is one of the major factors supporting growth of the digital perfume market. Electronic noses adoption benefits a variety of commercial industries, including agricultural, biomedical, cosmetics, environmental, food, manufacturing, military, pharmaceutical, regulatory, and various scientific research fields, increasing the demand for E-nose. Use of digital scents technology for sending scented e-mails, playing scented games, and watching scented DVDs are also some of the other factors that fuel growth of the digital perfume market. Furthermore, use of digital scent technology to enhance experience of virtual reality in entertainment & media verticals is a factor that boosts growth of the digital perfume market. However, high cost of electronic scent device and change in airflow, owing to these devices is a factor that hinders growth of the digital perfume market. Contrarily, increase in adoption of fragrance and perfumes in various industry verticals such as food & beverage, military & security, and entertainment is expected to boost the market growth in during the forecast period.
Advancement of technologies in digital scent
Cyrano is a scent speaker, which uses a range of scent capsules to emit "playlists" of smells. Cyrano also allows users to create a mood melody and then send combo to a friend through their app. The scent is paired with a video on the app so they travel through each scene. Another, Japanese device Scentee Machina is the next generation smart room diffuser equipped with AI technology, allowing users to control fragrance via smartphone. This diffuser can integrate with users calendar to prepare the house when he or she comes home. Thus, increase in advancements in technology is expected to accelerate growth of the digital perfume market.
Rise in use of virtual reality 
Developments in virtual reality precedes expansion of the digital scents market across the globe. Virtual reality enhances features of computers and customer experience by introducing new concepts such as Digi smell, which is a combination of hardware and software. The hardware part produces odour and the software part helps in generating specific signals for specific smells to align with odours. As, odour pollution has become a sensitive issue in many parts of the world, use of digital perfume can help in detecting odour.
Key benefits of the report:
This study presents analytical depiction of the global digital perfume industry along with the current trends and future estimations to determine the imminent investment pockets.
The report presents information related to key drivers, restraints, and opportunities along with detailed analysis of the digital perfume market share.
The current digital perfume market is quantitatively analyzed to highlight the market growth scenario.
Porter's five forces analysis illustrates the potency of buyers & suppliers in the market. 
The report provides a detailed global digital perfume market analysis based on competitive intensity and how the competition will take shape in coming years.
 Digital Perfume Market Report Highlights
Aspects
Details
By Hardware
By Application

Smartphones
Smelling Screens
Music and Video Games
Explosives Detectors
Quality Control Products
Medical Diagnostic Products
Others

By End User

Food & Beverage
Military & Defense
Medical
Marketing
Environmental Monitoring
Entertainment
Others

By Region

North America (U.S., Canada)
Europe (France, Germany, Italy, Spain, UK, Russia, Rest of Europe)
Asia-Pacific (China, Japan, India, South Korea, Australia, Thailand, Malaysia, Indonesia, Rest of Asia-Pacific)
LAMEA (Latin America, Middle East, Africa)

Key Market Players
Aromajoin Corporation, Smiths Detection Group Ltd, Alpha MOS, The eNose company, Odotech, Inc., Scent Sciences Corporation, ScentSational Technologies, AIRSENSE Analytics GmbH, AMS AG, Electronic Sensor Technology