Digital Printing Market Outlook - 2028
The global digital printing market size was valued at $25.74 billion in 2019, and is projected to reach $35.71 billion by 2028, registering a CAGR of 3.7% from 2021 to 2028. Digital printing systems are the innovative printing technology that use electronic files conceptualized using computer software for printing. Digital printing carries images using digital formats such as PDF & JIP and other media surfaces such as paper, fabric, and ceramic. The digital printing process enables the end-use manufacturer to streamline the image design and production process. The inkjet-based printing utilizes thermal bubble formation technology to eject the ink onto the surface to form a specific design. Further, inkjet printing allows three-dimensional printing of efficient materials. 
 
Digital printing methods are designed to provide cost-effective, accurate, and short-run color printing within short time frame. The digital printing systems are devices designed to offer high-quality finish products compared to offset method. It provides the most affordable solution for customized marketing material such as business cards, letter, direct mail, and more as compared to traditional methods. In addition, digital printing shortens the production cycle, and as a result, deliver the final product quicker.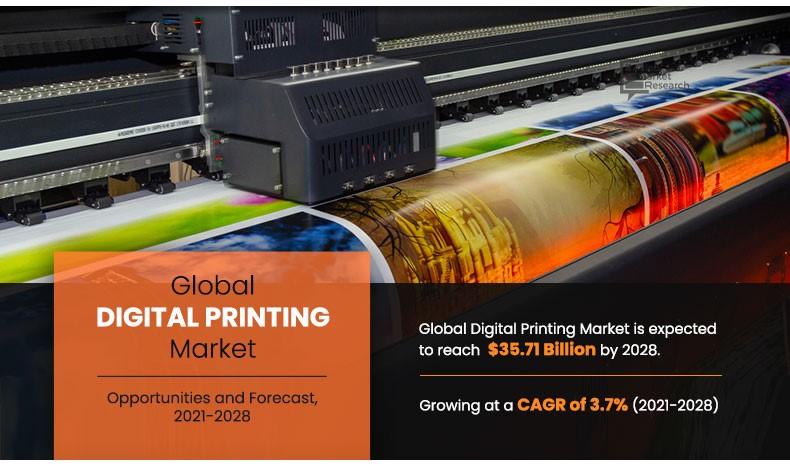 The digital printing industry is expected to witness growth during the forecast period, owing to rapid adoption of laser and inkjet printing solution across packaging and paper sector due to flexible and cost-efficient feature. The market for global digital printing is expected to be driven by surge in adoption of IoT and AI-based technologies. Moreover, increase in use of digital printing in consumer electronics is expected to boost the demand for smart thermostats. Considering these factors, the global digital printing market is estimated to experience a steep growth in the future.
Surge in sustainable printing solution in pharmaceutical, healthcare, packaging, and label industries coupled with demand for cost-efficient printing methods are some of the drivers of the global digital printing market growth. However, high initial investment for digital printing plants in developing countries acts as a major challenge for this market. Further, innovation in printing technology for small- and medium-sized companies provides lucrative opportunities for the global digital printing market. 
Emergence of COVID-19 has declined growth rate of the market in 2020, and the market is estimated to witness relatively slow growth till the end of 2021. The market was primarily hit by several obstacles created amid the COVID-19 pandemic in the construction industry including availability of food, health and safety measures, deliverables, contractual obligations, and project delays or cancellations. Consequently, it resulted in decreased demand for global digital printing industry.
Digital Printing Market

---
By Type
Ink-Jet segment is projected as one of the most lucrative segments.
The digital printing market is analyzed by type, ink type, application, and region. On the basis of type, it is fragmented into inkjet and laser. The Inkjet printer segment dominated the market, in terms of revenue in 2019, and is expected to follow the same trend during the forecast period. On the basis of ink type, the market is segregated into aqueous, solvent, UV-curable, dye sublimation, latex, and others. By application, the market is segment into plastic films or foils, textile, glass, paper/books, and ceramic. The paper segment dominated the market, in terms of revenue in 2019, however, the films & foil conditioning segment is projected to witness significant market share during the forecast period.
Digital Printing Market

---
By Ink Type
Solvent segment is expected to secure leading position during forecast period.
Region wise, the digital printing market trends are analyzed across North American (the U.S., Canada, and Mexico), Europe (the UK, Germany, France, Spain, Italy, and rest of Europe), Asia-Pacific (China, Japan, India, and rest of Asia-Pacific), and LAMEA (Latin America, the Middle East, and Africa). APAC is expected to develop at highest growth rate during the conjecture time frame. APAC specifically Japan, remains a significant participant in the global supply chain market, organizations in the country are intensely putting resources into the technology; for example, usage of multifunction printing technology for cost-efficient methods.
Digital Printing Market

---
By Country
Asia-Pacific region would exhibit the highest CAGR of 5.5% during 2021-2028
Top Impacting Factors
Significant factors that impact the growth of the global digital printing industry include rapid adoption of digital printers in residential & commercial sectors, surge in penetration of IoT and AI-based technologies, and increase in use of inkjet printer technology in food & beverage. However, high cost of products in developing countries acts as a major barrier for early adoption, which hampers the growth of the market. On the contrary, adoption of digital printing in automotive, healthcare, and textile industries is anticipated to provide lucrative opportunities for digital printing market during the forecast period.
Competition Analysis
Competitive analysis and profiles of the major global digital printing market players such as Canon, Inc, DIC Corporation, Epson Co. Ltd, Hewlett-Packard, Konica Minolta, Ricoh Co., Ltd, Sakata INX Co. Ltd, Toshiba, Toyo Ink SC Holdings Co., and Xerox Corporation are provided in this report. 
Key Benefits For Stakeholders
This study comprises analytical depiction of the global digital printing market size along with the current trends and future estimations to depict the imminent investment pockets.
The overall global digital printing market analysis is determined to understand the profitable trends to gain a stronger foothold.
The report presents information related to key drivers, restraints, and opportunities with a detailed impact analysis.
The current global digital printing market forecast is quantitatively analyzed from 2019 to 2027 to benchmark the financial competency.
Porter's five forces analysis illustrates the potency of the buyers and suppliers in the global digital printing market.
The report includes the global digital printing market share of key vendors and market trends.
Key Market Segments
By Type
By Ink Type
Aqueous
Solvent
UV-curable
Dye Sublimation
Latex
Others
By application
Plastic Films or Foils
Fabric
Glass
Paper/Books
Ceramic
By Region
North America
Europe

U.K.
Germany
France
Spain
Italy
Rest of Europe

Asia-Pacific

China 
Japan
India
Rest of Asia-Pacific

LAMEA

Latin America
Middle East 
Africa
Key Players
Canon, Inc
DIC Corporation
Epson Co., Ltd
Hewlett-Packard
Konica Minolta
Ricoh Co., Ltd
Sakata INX Co., Ltd
Toshiba Co. Ltd
Toyo Ink SC Holdings Co.
Xerox Corporation