Digital Radiology Market Research, 2030
The global digital radiology/radiography market was valued at $3.9 billion in 2020, and is projected to reach $8.3 billion by 2030, growing at a CAGR of 6.6% from 2021 to 2030.Digital radiology is a radiographic technique that uses X-ray sensitive plates to capture data directly while patient examination. Digital radiology is an advanced technique of X-ray inspection that produces radiographic image on a computer. Picture is replaced by sensor that collects the data in digital radiology. The digital radiology is used in medical imaging. Digital radiology is recommended as a significant choice for clinical diagnosis, owing to high-quality picture processing and less radiation exposure. Manufacturers focus on increasing qualities, including contrast, sharpness, and ability to inspect injuries in real time. Technological advancements in X-ray imaging improved diagnostic accuracy and minimized radiation dosages.
The digital radiography market was impacted during the pandemic. Initially, pandemic negatively impacted the market, due to imposed lockdowns and social distancing regulations. As the lockdown emerged, diagnostic imaging procedures were postponed but eventually, pandemic put diagnostic imaging in the limelight, with necessity of high-speed workflow and effective patient management. Demand for digital radiology systems increased, as it requires less than one minute between exposure and image collection. Many companies developed or changed their products for diagnostic imaging to address these rising needs. Hence, COVID-19 pandemic positively impacted the digital radiography market.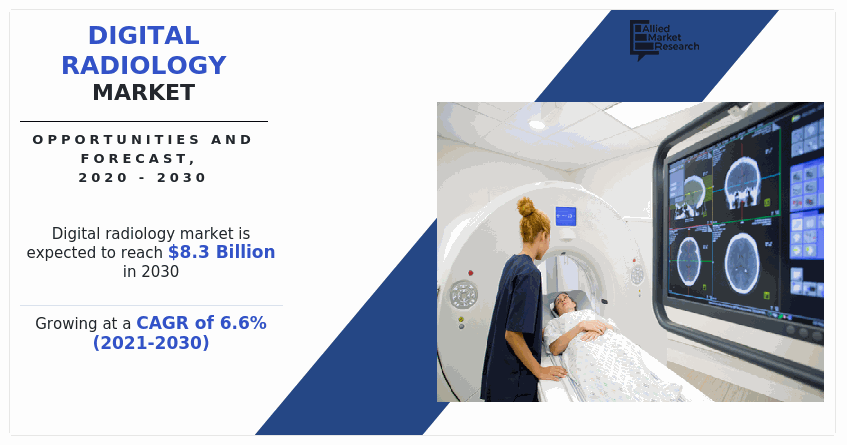 .
The growth of digital radiology industry is driven by surge in the frequency of chronic diseases, sports-related injuries, and cancer. Every year, many patients, particularly in underdeveloped countries undergo imaging testing. In addition, growth in population boost demand for digital radiology detectors in future and thus boosts the digital radiology market growth. Furthermore, senior citizens develop age-related disorders, necessitating use of variety of radiographic examinations is one of the major digital radiography market trends. However, high costs of these tests and scarcity of competent professionals hinder growth of the market. Furthermore, major manufacturers focus on providing new technologies to end customers, particularly for C-arms and fluoroscopy devices, which flourish the digital radiology market opportunity in future.

The World Health Organization (WHO) on January 30, 2020 declared COVID-19 as pandemic. COVID-19 impacted 210 countries across the globe. State-run administrations across the globe declared inescapable lockdowns and social distancing measures to prevent the healthcare system from collapsing, owing to COVID-19 pandemic. In addition, state governments implemented constraints and restrictions on ongoing medical procedures and elective surgeries. These restrictions continue to hinder the growth of various industries. The distribution, production, and supply networks have been impacted, due to implementation of lockdown across the globe. 
Digital Radiology Market Segmentation  
The global digital radiography industry is segmented on the basis of product, application, technology, end user, and region. On the basis product the market is segmented into stationary digital radiology system and portable digital radiology system. Depending on stationary digital radiology system segment, it is classified into ceiling-mounted and floor-to-ceiling mounted digital radiology systems. As per portable digital radiology system segment, it is divided into handheld radiology systems and mobile radiology systems.
According to application, it is fragmented into cardiovascular imaging, chest imaging, dental imaging, digital mammography, orthopedic imaging, and other applications. By technology, it is bifurcated into computed radiography and direct digital radiography. On the basis of end user, it is categorized into diagnostic center and hospital. Region wise, it is analyzed across North America, Europe, Asia-Pacific, and LAMEA.
Segment Review
Depending on product, the portable digital radiology systems accounted as the fastest growing segment, which is attributed to its portability and ease of use.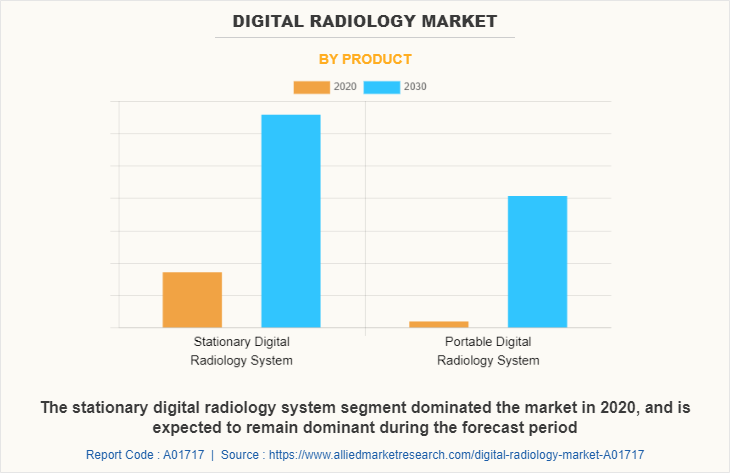 By application, dental radiology segment accounted as the largest segment, which is attributed to the surge in demand of high quality imaging and lowered radiation exposures for dental procedures.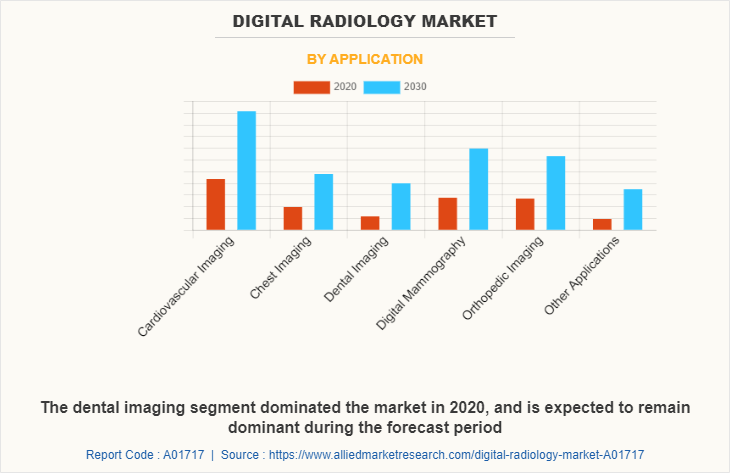 According to technology, direct digital radiology segment accounted for the largest share in the market, which attributed to increase in efficiency and quality criteria in digital radiology market.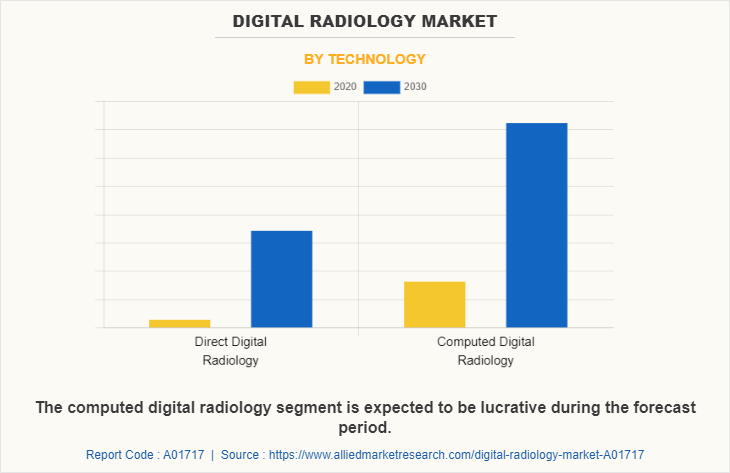 According to end user, diagnostic clinics segment accounted for the largest share in the market, owing to surge in the patient pools and rising awareness for early diagnosis.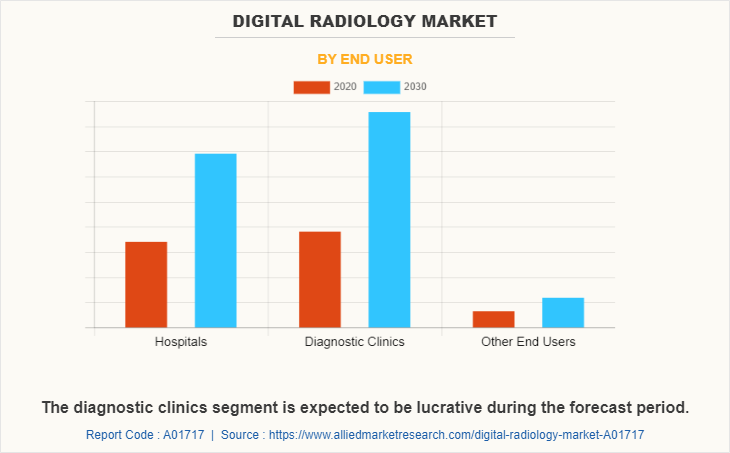 North America dominated the digital radiography market size, which attributed to surge in healthcare settings shifting from computed radiology based X-Ray systems to DR-based X-Ray systems have been accounted as a prominent reason for the dominance of this region. However, LAMEA digital radiography market share is expected to grow with highest CAGR during the forecast periods owing to the rising investments. Moreover, Brazil and South Africa are expected to grow at high CAGR in LAMEA digital radiography market forecast.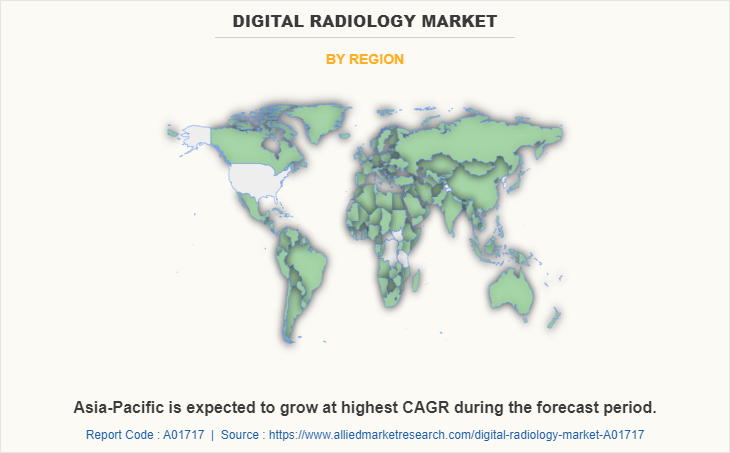 Key Benefits For Stakeholders
This report provides a quantitative analysis of the market segments, current trends, estimations, and dynamics of the digital radiology market analysis from 2020 to 2030 to identify the prevailing digital radiology market opportunities.
The market research is offered along with information related to key drivers, restraints, and opportunities.
Porter's five forces analysis highlights the potency of buyers and suppliers to enable stakeholders make profit-oriented business decisions and strengthen their supplier-buyer network.
In-depth analysis of the digital radiology market segmentation assists to determine the prevailing market opportunities.
Major countries in each region are mapped according to their revenue contribution to the global market.
Market player positioning facilitates benchmarking and provides a clear understanding of the present position of the market players.
The report includes the analysis of the regional as well as global digital radiology market trends, key players, market segments, application areas, and market growth strategies.
 Digital Radiology Market Report Highlights
Aspects
Details
By Product

Stationary Digital Radiology System
Portable Digital Radiology System

By Application

Cardiovascular Imaging
Chest Imaging
Dental Imaging
Digital Mammography
Orthopedic Imaging
Other Applications

By Technology

Direct Digital Radiology
Computed Digital Radiology

By End User

Diagnostic Clinics
Other End Users
Hospitals

By Region

North America (U.S., Canada, Mexico)
Europe (Germany, France, U.K., Italy, Spain, Rest of Europe)
Asia-Pacific (China, Japan, Australia, India, South Korea, Rest of Asia-Pacific)
LAMEA (Brazil, Saudi Arabia, South Africa, Rest of LAMEA)

Key Market Players
Samsung Electronics Co Ltd, Hitachi,Ltd, Detection Technology, Koninklijke Phillips, , Agfa-Gevaert group, Fujifilm Holdings, Cannon Inc., General Electrics, Medtronics