The global digital shipyard market was valued at $0.84 billion in 2021, and is projected to reach $5.09 billion by 2031, growing at a CAGR of 19.6% from 2022 to 2031.
A shipyard (also called a dockyard) is a place where ships are built and repaired. At present shipbuilding companies are focusing on the automation process over the last few years. The automation process helps to save the time taken for ship building. Meanwhile, various companies are taking initiatives to implement digitization in shipbuilding. The "digital shipyard" is the term applied to the adoption of Industry 4.0 capabilities in designing, building, maintaining our ships and submarines as well as using this technology to monitor and maintain the associated infrastructure. It utilizes sensors and monitoring systems deployed by Cyber-Physical Systems (CPS) that can communicate enormous quantities of data to an IoT device, providing an enhanced capacity for predicting and planning future maintenance. This collected data can be shared with other IoT devices in an industrial environment, collectively called the Industrial IoT, or IIoT to reduce the operational downtime.
The COVID-19 crisis is creating uncertainty in the market. Governments of different regions have already announced total lockdown and temporarily shutdown of industries, thereby adversely affecting the overall production and sales. Countries around the globe have posed stringent restrictions ranging from days to months of lockdown periods. Owing to this pandemic, many businesses are halted and are waiting for the market conditions to improve. Unlike other industries, the shipping industry have also suffered due to the COVID-19 disease. Shipyards are forced to stop all ship building operations due to government-imposed lockdown in the wake of COVID-19 pandemic. Digitalization projects of shipyards are put on hold due to lack of workforce owing to the travel restrictions imposed by the governments to control the COVID-19 outbreak. In addition, naval ship building projects such as submarine and destroyers are prone to delay due to delay in procurement of state-of-art equipment & components essential for such naval vessels, since countries are witnessing financial globally during COVID-19 scenario. Hence, due to decreased demand for marine transport and trade, the new ships orders have been cancelled. Cruise ships are the most profitable section of shipbuilding in European countries. However, due to drop in sea passenger travel during COVID-19 outbreak, the manufacturing & travelling of cruise ships were tied & moored. However, the pandemic has encouraged shipping companies to set up digital technologies and remote working for fleet optimization and continuation of the businesses. This actions, on the other hand, is expected to be a digitalization catalyst, resulting in increased potential for advanced automated technologies in shipbuilding industry, as the demand has surged in response to the labor shortage that arose in pandemic.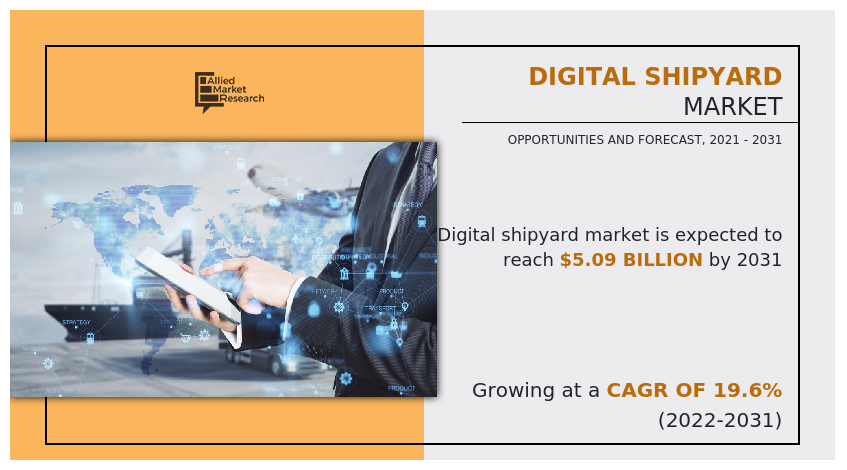 Currently, due to an expansion in worldwide trade and tourism activities via ships, the size of the digital shipyard market is expected to grow significantly in the future years. A digital shipyard is hired to integrate various digital technologies into a shipyard, such as augmented reality/virtual reality and IoT, to boost operational efficiency. For instance, in April 2022, Wartsila revealed its virtual and augmented simulation solutions for scalable and realistic training experience using the latest augmented reality (AR) and virtual reality (VR) technology. The solution creates real-life immersive environments to make a simulation of the operations performed on board any ship, and the lifelike scenarios improve learning retention, job performance and team collaboration. Hence, owing to a boom in process automation, the worldwide digital shipyard market is witnessing tremendous expansion.      
Digital Shipyard Market

---

By Type
Commercial Shipyards is projected as the most lucrative segment
The factors such as increase in demand for cargo ships due to increased maritime trade, rise in environmental concerns worldwide to lower the carbon footprint generated in the shipping industry, and rise in adoption of digital twin technology supplement the growth of the digital shipyard market. However, high cost of digitalization and training cost products and complexity associated with the systems are the factors expected to hamper the growth of the digital shipyard industry. In addition, rising implementation of robot technology in shipbuilding industry and increasing use of industrial internet of things (IIoT) are expected to create ample opportunities for the key players operating in the digital shipyard market.
The digital shipyard market is segmented into type, technology, capacity, and digitalization level. By type, the market is divided into military shipyards and commercial shipyards. By technology, it is fragmented into artificial intelligence & big data analytics, robotic process automation, augmented reality (AR) & virtual reality (VR), and other (digital twin, blockchain, industrial Internet of Things (IIOT)). By capacity, it is categorized into small shipyards, medium shipyards, and large shipyards. By digitalization level, it is fragmented into semi-digital shipyard and fully-digital shipyard. By region, it is analyzed across North America, Europe, Asia-Pacific, and LAMEA.
Digital Shipyard Market

---
By Technology
Other technology is projected as the most lucrative segment
The leading players operating in the digital shipyard market are Accenture, Altair Engineering Inc., Aras., AVEVA Group Plc, BAE Systems Plc, Damen Shipyards Group, Dassault Systems, Hexagon AB, iBASEt, Inmarsat Global Limited, Kranendonk Production Systems BV, Kreyon Systems Pvt. Ltd., Pemamek OY, PROSTEP AG, SAP SE, Siemens, and Wartsila.
Increase in demand for cargo ships due to increased maritime trade
There is a rise in demand for the transportation of cargo through water ways due to a lot cargos being efficiently transferred securely to the other end. Moreover, cargo ships are less expensive for shipping goods as compared to road and air transits as by ships, more cargo can be carried from one place to another within a short span of time. As per the records of UNCTAD, approximately 1,687 million tons of cargo is transported every year in around 177.6 million containers covering 998 billion tons. The recent developments in commercial vessels and giant players innovation of cargo ships equipped with latest technology such as advanced sensors, navigation system, and other components, is creating a demand for the autonomous cargo ships globally. For instance, Norwegian-based Yara Birkeland is planning to introduce the first autonomous cargo ship in 2020. Hence, the rise in the seaborne trade results in increase in demand for large capacity carrying ships (cargo ships) or container ships equipped with latest technologies is expected to foster the demand for digital shipyard market.
Digital Shipyard Market

---

By Capacity
Large Shipyards is projected as the most lucrative segment
Rise in adoption of digital twin technology
The steps toward automation in shipping industry with the adoption of Industry 4.0 capabilities in designing, manufacturing, and maintaining marine vessels leads to the contribution in the development of shipyards. Presently, the introduction of digital twin technology by marine engineers are contributing to the rise of the digital shipyard to reduce overall production time, and to improve the overall quality, reliability and safety of the end product. Moreover, it helps to resolve design issues such as line of sight, emergency evacuation routes, storage and transportation, and compartment sealing if there's a hull breach. For instance, in February 2020, PROSTEP AG launched digital twin technology to optimize shipbuilding in its ProProS research project in partnership with the Machine Tool Laboratory (WZL) at RWTH Aachen University. This technology offers the planning data from the target process (product structure, work orders, assembly sequence, scheduling, etc.) in a consistent data model and compares it in real time with the actual data from production and assembly. Thus, based on the autonomous systems such as implementation of digital twin technology in shipping industry helps to increase demand for digital shipyard market.
Digital Shipyard Market

---

By Digitalization Level
Fully-digital Shipyard is projected as the most lucrative segment
High cost of digitalization and training cost products
The software and hardware used in the shipbuilding industry is highly sophisticated with advance technologies. Moreover, the early stage of automating a manufacturing requires procuring, accessories, programming, integration, and others. Hence, the huge capital expenditure at initial stage can be challenging for small players. Many small & medium scale shipbuilders find it tough to initiate huge funds owing to low production volume. In addition, the installation of new components such as hardware & software makes the network complex as the components are installed as per the demand of the service providers and need to be upgraded frequently to meet the compatibility that further increases the data complexity. Thus, companies are reluctant to implement it, which hamper the digital shipyard industry growth.
Rising implementation of robot technology in shipbuilding industry
The steps toward automation and giant companies demonstrations of autonomous ships creates various countries for joining hands to develop automated vessels for their system, which eventually leads to automation of the shipyards. Moreover, the shipbuilding companies worldwide are focusing on automation of manufacturing operation such as cutting, welding, painting, assembly, and others to speed up the operational efficiency & lower the cost. For instance, Samsung Industries and Daewoo Shipbuilding & Marine Engineering have implemented welding robots such as cleaning pipe robots, wall-climbing robots, spider automatic welding robots, vaccum blasting robots, and inspection robots to reduce the production cost of the ship. Not only does this provide a much safer testing environment, but it also saves vast amounts of energy and resources that would otherwise be wasted in producing physical models. Hence, with the rising implementation of robot technology in shipbuilding industry is expected to create lucrative opportunities for digital shipyard market in the forecast period.
Digital Shipyard Market

---

By Region
LAMEA would exhibit the highest CAGR of 25.8% during 2022-2031
Key Benefits For Stakeholders
This study presents analytical depiction of the global digital shipyard market analysis along with current trends and future estimations to depict imminent investment pockets.

The overall digital shipyard market opportunity is determined by understanding profitable trends to gain a stronger foothold.

The report presents information related to the key drivers, restraints, and opportunities of

the global digital shipyard market with a detailed impact analysis.

The current digital shipyard market is quantitatively analyzed from 2022 to 2031 to benchmark the financial competency.

Porter's five forces analysis illustrates the potency of the buyers and suppliers in the industry.
 Digital Shipyard Market Report Highlights
Aspects
Details
Type

Military Shipyards
Commercial Shipyards

Technology

Artificial Intelligence & Big Data Analytics
Robotic Process Automation
AR & VR
Others

Capacity

Large Shipyards
Small Shipyards
Medium Shipyards

Digitalization Level

Semi-digital Shipyard
Fully-digital Shipyard

By Region

North America (U.S., Canada, Mexico)
Europe (U.K., Germany, France, Italy, Greece, Norway, Denmark, Rest of Europe)
Asia-Pacific (China, Japan, India, South Korea, Singapore, Rest of Asia-Pacific)
LAMEA (Latin America, Middle East, Africa)

Key Market Players
Accenture, Altair Engineering, Inc., Aras Corporation, AVEVA Group Plc, BAE Systems, Damen Shipyards Group, Dassault Systemes, Hexagon, Ibaset, Inmarsat Plc., Kranendonk Smart Robotics, Pemamek Ltd., SAP, Siemens, Wartsila, Kreyon Systems Pvt Ltd. (Key Innovators), Prostep AG (Key Innovators)