Direct-to-consumer (DTC) genetic testing is a technique to promote genetic tests to consumers via television, print media, Internet, and the tests are available for sale on online or in stores and this marketing is usually done without the direct involvement of a health care provider. Customers send their DNA sample directly to the company and the results can be obtained through their website in the form of electronic reports. Direct-to-consumer genetic testing is beneficial for people residing in remote areas as it provides people access to their genetic information at ease without visiting the hospital or getting involved with a healthcare provider or health insurance company in the process. Some consumers of DTC genetic testing view it as an opportunity to gather essential medical information about themselves. The DTC genetic testing is of three types mainly; Ancestry tests, which can be used to investigate an individual's deep ancestry; Paternity tests, which have been used to establish definitive parental rights and health information and Disease Risk test, which is used in disease risk assessments of diseases like cancer, obesity, Alzheimer's disease, and heart attacks.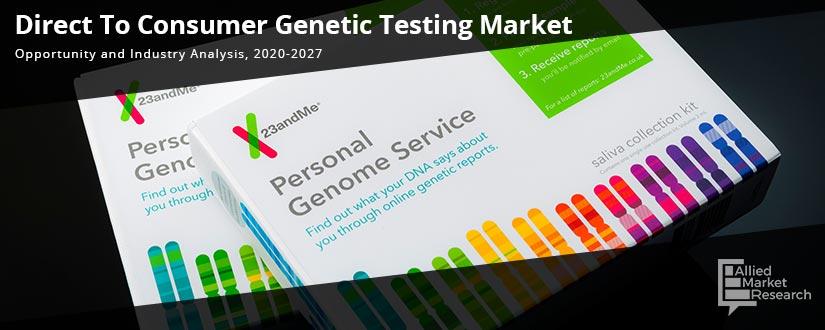 COVID – 19 scenario analysis:  
The COVID-19 pandemic has emerged as a humanitarian as well as economic crisis, creating strain on the society and affecting millions of people and businesses
Industry closures and people are asked to stay in their homes which has cause taken a huge toll in terms of money and economic growth
Over 4 million people affected globally, with 300 thousand losing their lives due to SARS-CoV-2
Healthcare organizations are already working in battle mode, preparing new plans to respond growing COVID-19 patients, right from sourcing rapid diagnosing kits to sufficient PPE kits for workers
Due to diversion of medical field towards treating COVID-19, the funding to R&D activities related to genetic testing has been reduced and this segment have to face negligence subsequently causing negative impact on direct to consumer genetic testing market
Top impacting factors: Market Scenario Analysis, Trends, Drivers and Impact Analysis
The rising incidences of genetic diseases such as cancer across the world along with escalating patient count in developed economic regions like North America and Europe demanding for personalization of genetic testing service will surge the demand for DTC genetic testing. Various genetic predisposition to several genetic diseases can be detected in earlier stages with the use of DTC genetic tests. Growing acceptance of DTC genetic testing due to its capabilities of early disease diagnosis and recognition of genetic mutation preceding its manifestation will further propel the DTC genetic testing market. In addition, the fears of genetic discrimination push the DTC testing, as a significant alternative to undergoing testing, because it allows individuals to keep their test results out of their medical records. In the U.S., implementation of the Genetic Information Nondiscrimination Act (GINA) in May 2008 is expected to reduce consumer fears in this area. The consumers though are increasingly participating genetic tests in order to gather more information stored in their DNA thus surging the demand for DTC genetic tests which is fueling the market growth. Rising public awareness in North America and increasing healthcare expenditure to further boost the market growth. The U.S. health agency, CDC stats high increase in the number of consumers opting for DTC genetic testing registered year 2017.
On the contrary, the higher costs of (DTC) genetic testing and defects in the testing kits increase the risk associated with incorrect interpretations and may restrict the direct-to-consumer (DTC) genetic testing market growth causing a negative impact on the market.
Recent technological advancements owing to R&D activities have enabled researchers and healthcare professionals to decode the information in human genetic material and derive valuable insights to aid in the treatment of various diseases. This has led to development of wide verity of direct-to-consumer genetic tests resulting into opportunities for expansion of the market.
Rising incidence of genetic disorders and geriatric population to propel the market growth
Rising prevalence of genetic disorders, aging population coupled with rising incidences of chronic disorders such as cancer, cardiovascular diseases, type 2 diabetes, diabetic retinopathy, and other chronic diseases will fuel the growth of DTC genetic testing market in coming years. Genetic diseases such as achondroplasia, colorectal cancer, breast cancer, and other diseases have elevated the need for cost-effective and efficient genetic testing avenues in the healthcare market. The diagnostic screening helps in identifying the gene responsible for chronic diseases such as cancer making it highly important, hence is expected to amplify the growth of this market. As per the study by World Cancer Research Fund (WCRF), more than 2 million new cases of cancer were detected allover in 2018. Owing to capabilities of advanced direct-to-consumer genetic testing has changed the healthcare scenario by curbing the mortality rates in cancer patients by providing vigilant monitoring data before the onset of the disease resulting into better survival chances. Hence, these factors will foster the direct-to-consumer genetic testing market growth.
Rising awareness regarding direct-to-consumer genetic testing will propel the market growth
Rising awareness among about various genetic diseases, availability of direct-to-consumer genetic tests and benefits of these tests in diseases detection is fueling the demand for DTC testing kits in developed as well as developing nations resulting into will fueling of the market growth in near future. Industry players such as Ancestry and 23andMe have concentrated on developing advanced direct-to-consumer genetic testing solutions by making efforts in minimizing the defects. These tests ensure to efficacy and accurate results. Moreover, industry players like 23andMe has implemented various different strategies in marketing of their DTC tests by various means like retail pharmacies, and online channels to improve their visibility and market penetration for the consumers. The companies also offer various promotional offers and festive discounts on purchase of their product. The rising awareness among consumers and the self-curiosity to gather genetic information to obtain insights is also driving the market growth.
Key benefits of the report:
This study presents the analytical depiction of the global direct to consumer genetic testing industry along with the current trends and future estimations to determine the imminent investment pockets.
The report presents information related to key drivers, restraints, and opportunities along with detailed analysis of the global direct to consumer genetic testing market share.
The current market is quantitatively analysed to highlight the global direct to consumer genetic testing market growth scenario.
Porter's five forces analysis illustrates the potency of buyers & suppliers in the market.
The report provides a detailed global direct to consumer genetic testing market analysis based on competitive intensity and how the competition will take shape in coming years.
Questions answered in the Direct to Consumer Genetic Testing Market research report:
Who are the leading market players active in the direct to consumer genetic testing market?
What are the current trends that will influence the market in the next few years?
What are the driving factors, restraints, and opportunities in the direct to consumer genetic testing market?
What are the projections for the future that will help in taking further strategic steps?
 Direct-To-Consumer Genetic Testing Market Report Highlights
Aspects
Details
By Type

Carrier testing
Predictive testing
Ancestry & Relationship Testing
Nutrigenomic Testing
Others

By Technology

Targeted analysis
Single nucleotide polymorphism (SNP) chips
Whole genome sequencing (WGS)

By Distribution channels

Over-the-counter
Retail Pharmacies
Online Platforms

By Region

North America (US, Canada, Mexico)
Europe (France, Germany, UK, Italy, Spain, rest of Europe)
Asia-Pacific (Japan, China, India, Australia, South Korea, rest of Asia-Pacific)
LAMEA (Brazil, Saudi Arabia, South Africa, rest of LAMEA)

Key Market Players
Easy DNA, Full Genome Corporation, Karmagenes, Color Genomics, Identigene, Genesis Healthcare., Pathway genomics, Mapmygenome, Ancestry, Helix OpCo LLC, FamilytreeDNA